Coupe
Chassis #: 964018
Engine #: 62M11440

Sold for $1,050,000 at 2022 RM Sothebys : Amelia Island.
The Porsche 911 Carrera Lightweight was a performance-oriented variant that had its mass substantially reduced while retaining its sophisticated, mechanically adjustable, all-wheel-drive system from the Type 953, which was also featured in the first 959 Paris-Dakar rally cars. The center and rear differentials were manually adjustable using rotary controls, giving the driver a high degree of control, while two temperature gauges monitored the individual differentials. In preparation for motorsports, the Carrera 4 Lightweight received a seam-welded tub and fixed windows with sliding panels. The standard rotating spoiler was replaced with a fixed unit for maximum downforce at all times. Recaro race black fabric-covered sports bucket seats from the 964 Cup were installed along with factory five-point harnesses, an integrated roll cage, auxiliary gauges and switches mounted where the radio and climate controls usually resided, and a Halcon fire-suppression system. The suspension was lowered by an inch, staggered six-ich-wide front and eight-inch-wide rear wheels installed, or optional seven- and nine-inch-wide wheels. The Carrera RS's 3.6-liter flat-six was installed but with a modified exhaust and lack of air cleaner, squeezing out five additional horsepower - to 265 hp. A special clutch and flywheels were mated to the car's five-speed manual transmission. The Carrera 4 Lightweight had an overall weight of 2,415 pounds (1,095 kilograms). A total of 22 examples were constructed.
This Carrera 4 Lightweight is the 18th serialized example and was originally delivered to Hans Jürgen Tiemann, who at the time oversaw Porsche Customer-Sport at Weissach. It was given a number of special-order equipment items including the optional seven- and nine-inch wide Cup 1 RS magnesium wheels and lightweight Kevlar Recaro seats. This is the only lightweight 964 with a Blütengelb (yellow) exterior.
Along with being featured in several magazines, it was awarded Best Lightweight at the 2018 Concours Masters at Salon Privé within the 70th Anniversary of Porsche celebration.In 2019, this 911 entered the care of the respected collection of Garage 26 in Miami Florida.
By Daniel Vaughan | Jun 2022
1991 Porsche 911 Carrera 4 Leichtbau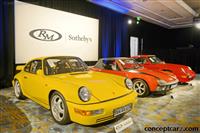 2022 RM Sothebys : Amelia Island
Pre-Auction Estimates :
USD $700,000-USD $900,000
Sale Price :
USD $1,050,000
Recent Sales of the Porsche 911 Carrera 4 Leichtbau
(
Data based on Model Year 1991
sales)
Porsche 911 Carrera 4 Leichtbaus That Failed To Sell At Auction
1991 Porsche 911 Carrera 4 Leichtbau's that have appeared at auction but did not sell.
| Vehicle | Chassis | Event | High Bid | Est. Low | Est. High |
| --- | --- | --- | --- | --- | --- |
Vehicles With Comparable Market Values
Similar sales to the $753,000 range.
1930 Cadillac Series 452 V-16 Roadster
Chassis#:702092
Sold for $758,500
2022 Worldwide Auctioneers : The Enthusiast Auction
1928 Bentley 4½ Liter Le Mans-Style Tourer Replica Vanden Plas
Chassis#:3043
Sold for $747,500
2021 Bonhams : Quail Lodge
1967 Lamborghini 350 GT
Chassis#:0547
Sold for $758,500
2021 Gooding & Company : Pebble Beach Concours Auction
1993 Porsche 911 Carrera RSR 3.8
Chassis#:WP0ZZZ96ZPS496069
Sold for $750,000
2021 RM Sothebys : Amelia Island Auction
1960 Chevrolet Corvette LM
Chassis#:00867S103535
Sold for $758,500
2021 RM Sothebys : Amelia Island Auction
1956 MERCEDES-BENZ 300 SC CABRIOLET
Chassis#:188.013.5500007
Sold for $748,000
2020 Gooding : Geared Online
1972 Maserati Ghibli 4.9 SS Spider
Chassis#:AM115S/49*1273*
Sold for $753,000
2020 Gooding & Company : Amelia Island
1957 Mercedes-Benz 300 SL Roadster
Chassis#:198.042.7500397
Sold for $758,500
2020 RM Sothebys : Amelia Island Auction
2009/2019 MAT New Stratos Coupé
Chassis#:ZFFKZ64B000166472
Sold for $756,861
2020 Bonhams : Les Grandes Marques du Monde au Grand Palais
2001 Ferrari 550 GTZ Barchetta
Chassis#:ZFFZR52C00124138
Sold for $756,355
2019 Bonhams : The Bond Street Sale
2015 Mercedes-Benz G63 AMG 6×6
Chassis#:WDCYC7CF8FX237493
Sold for $748,750
2019 RM Sothebys : Abu Dhabi
2016 Ferrari F12tdf
Chassis#:ZFF81BHB000223160
Sold for $758,864
2019 Bonhams : The Zoute Sale
1931 Bentley 8-Litre Tourer
Chassis#:YR5094
Sold for $749,436
2019 The Saragga Collection
1930 Ruxton Model C Roadster by Baker-Raulang
Chassis#:11005
Sold for $747,500
2019 RM Sothebys : The Guyton Collection
1933 Bugatti Type 51 Grand Prix
Chassis#:51153
Sold for $758,500
2019 RM Sothebys : Amelia Island
1957 Mercedes-Benz 300 Sc Cabriolet
Chassis#:188.013.7500015
Sold for $750,000
2018 Gooding & Company : Pebble Beach
1961 Aston Martin DB4 Series II
Chassis#:DB4/580/L
Sold for $748,000
2017 RM Sothebys : Monterey
1967 Toyota 2000GT
Sold for $750,000
2017 Mecum : Indianapolis
2011 Porsche 997 GT3 RS 4.0
Chassis#:WP0AF2A95BS785618
Sold for $748,000
2017 Gooding & Company : Amelia Island
1967 Ferrari 330 GTC by Pininfarina
Chassis#:10267
Sold for $748,000
2017 RM Auctions : Amelia Island