Drop Head Coupe
Coachwork: Hooper
Chassis #: 51233
Registration #: LJJ11

Sold for $249,000 at 2009 Bonhams - Quail Lodge Resort and Golf Club.
At the Earls Court British Motor Show in 1948, this automobile made its debut, painted in a special jade green color. The car was given the name 'the Green Goddess' by the motoring press, and later used for several years after the show by Sir Bernard Docker, Chairman of Birmingham Small Arms (BSA). The Daimler DE36 was introduced during 1946 and powered by a 5.4-liter straight-eight engine offering 150 horsepower. It came equipped with a pre-selector controlled Daimler Fluid Flywheel transmission. The large and heavy formal coachwork was designed to carry the important. In total, there were 216 examples created with many built for British Royalty. This example was assembled in early 1948 and was the first DE36 chassis designated for a special Hooper's drop head coupe body. Just after New Year's, body no. 9352 was commissioned, to be built to the coachbuilder's design no. 8183. Hooper received the car on June 7th of 1948. The task was given to Osmund F. Rivers, Hooper's chief designer, to prepare the car for the Earls Court show. As the show drew near, 24-hour departmental commitments were required to complete the car before the October 27th opening.
The body was created from a wooden framework of English ash, over which hand-beaten aluminum panels were applied. In the front was a stacked pairing of inset Lucas head and passing lamps that faired into the leading edges of the front wings. The lights were protected by clear Perspex covers, surrounded by molding crowned with trademark Daimler fluting. The rear wheels were partly concealed by covers. There are three windshield wipers spread across the wide base of the curved Triplex glass windshield. The hydraulically operated top is made of fawn cloth and when lowered, is concealed by a painted metal cover.
Inside, there is a full set of Smiths gauges set into the instrument board. There is a specially concealed lockable steel box mounted behind the dash cubby. The seats are tripped in green-piped Connelly's Beige leather. The front upper cushion is divided into three sections with the outer ends tilting forward for access to two armchair-type seats provided for rear passengers. This example could be considered a prototype. After its debut at the motor show, work continued on the car. It went through an 'extended test' period, after which Daimler made 19 changes and adjustments. Modifications were made almost weekly for several months.After several years of service, chassis 51233 was given a full body transplant. It was given the body from chassis number 52825. In preparation for the new body, chassis 51233 as renewed and upgraded late in 1953 with new suspension from the Daimler works factory. The original body, body number 9352, was 'broken up.'The 'Green Goddess' was offered as a 'new' car in 1954 as it had been carried on the books as a factory 'demonstrator' since 1948. The new coachwork was given a two-tone green combination and newly chromed side-sweep trim. It retained its original UK registration of LJJ11.Records of the eventual first private owner's name do not exist. The next record of its sale was in 1956, by the London specialty car dealer Simmonds. It later made its way to the United States where it was in the ownership of Pennsylvanian George Daggett. A short time later, it was offered by Mr. Daggett to the Jaguar-Daimler Heritage Trust, which declined to meet his price. During the 1970s, the car was refinished in a color and trim combination inappropriate to its heritage.
In 1996, the car was purchased by John H. Sweeney of Massachusetts. Mr. Sweeney had the car repainted in proper colors, in addition to a full restoration. The project was halted mid-way and the disassembled parts returned to its owner. It later returned back to the shop by Mr. Sweeney's estate, in preparation for its sale at auction.
In 2009, this Daimler was offered for sale by Bonhams Auction Company at the Exceptional Motorcars and Automobilia at the Quail Lodge Resort in Carmel, Ca. The car was sold for $249,000 inclusive of buyer's premium.
By Daniel Vaughan | Mar 2011
2009 Bonhams - Quail Lodge Resort and Golf Club
Sale Price :
USD $249,000
Recent Sales of the Daimler DE36
(
Data based on Model Year 1948
sales)
Daimler DE36s That Failed To Sell At Auction
1948 Daimler DE36's that have appeared at auction but did not sell.
| Vehicle | Chassis | Event | High Bid | Est. Low | Est. High |
| --- | --- | --- | --- | --- | --- |
| 1948 Daimler DE36 Limousine 330 CI, Automatic | | 2012 Mecum's 25th Original Spring Classic Indianapolis | $37,500 | | |
| 1948 DAIMLER DE36 LIMOUSINE | | 2011 Auctions America Auburn Fall Auction | $22,500 | $30,000 | $40,000 |
| 1948 Daimler DE36 Limousine | 51236 | 2011 Dana Mecum's Original Spring Classic Auction 24th Year | | | |
Vehicles With Comparable Market Values
Similar sales to the $375,500 range.
1964 Aston Martin DB5 'Project'
Chassis#:DB5/1482/R
Sold for $378,356
2022 RM Sothebys : London
1994 Lola-Ford Cosworth T94/20
Chassis#:HU 20
Sold for $379,000
2022 RM Sothebys : The House That Newman/Haas Racing Built
2009 Mercedes-Benz SL 65 AMG Black Series
Chassis#:WDBSK79FX9F157692
Sold for $379,000
2022 Broad Arrow Auctions : The Passion for the Drive
1964 Aston Martin DB5 Sports Saloon
Chassis#:DB5/1674/R
Sold for $372,555
2022 Bonhams : Goodwood Revival
1922 Duesenberg Model A Phaeton
Chassis#:798
Sold for $379,000
2022 Worldwide Auctioneers : The Auburn Auction
1931 CADILLAC SERIES 452A V-16 ROADSTER
Chassis#:7/1/2338
Sold for $379,000
2022 Gooding & Company : Pebble Beach
1994 PORSCHE 964 TURBO 3.6
Chassis#:WP0AC2964RS480155
Sold for $379,000
2022 Gooding & Company : Pebble Beach
1960 LANCIA FLAMINIA SPORT
Chassis#:824.001436
Sold for $379,000
2022 Gooding & Company : Pebble Beach
1971 Mercedes-Benz 280 SE 3.5 'Sunroof' Coupe
Chassis#:111.026.12.002445
Sold for $379,000
2022 RM Sothebys : Monterey
1999 Williams-Supertec Renault FW21 Formula 1 Racing Single-Seater
Chassis#:FW21-05
Sold for $377,130
2022 Bonhams : Les Grandes Marques a Monaco
1938 Horch 853 Sport Cabriolet
Chassis#:853286
Sold for $374,000
2022 RM Sothebys : Fort Lauderdale
1934 Packard Twelve Custom Individual Sport Phaeton in the style of LeBaron
Chassis#:902228
Sold for $379,000
2022 RM Sothebys : Amelia Island
1956 PORSCHE 356 A SPEEDSTER
Chassis#:82181
Sold for $379,000
2022 Gooding & Company : Amelia Island Auction
1993 JAGUAR XJ220 COUPÉ
Chassis#:SAJJEAEX8AX220863
Sold for $376,387
2022 Bonhams : Les Grandes Marques du Monde à Paris
1962 ASTON MARTIN DB4 SERIES II SPORTS SALOON
Chassis#:DB4/589/L
Sold for $379,000
2022 Bonhams : Scottsdale Arizona
1974 FERRARI DINO 246 GTS
Chassis#:08294
Sold for $374,000
2022 Gooding & Company : Scottsdale Geared Online
DAVID SPADES 1968 CHEVROLET CHEVELLE CUSTOM COUPE
Chassis#:136378A161013
Sold for $374,000
2022 Barrett-Jackson : Scottsdale, Arizona
1967 Shelby GT500 Fastback
Sold for $374,000
2022 Mecum : Kissimmee
2020 Lamborghini Huracan Super Trofeo Evo
Sold for $374,000
2022 Mecum : Kissimmee
2016 McLaren 675LT
Sold for $374,000
2022 Mecum : Kissimmee
1948 Daimler DE36 Profiles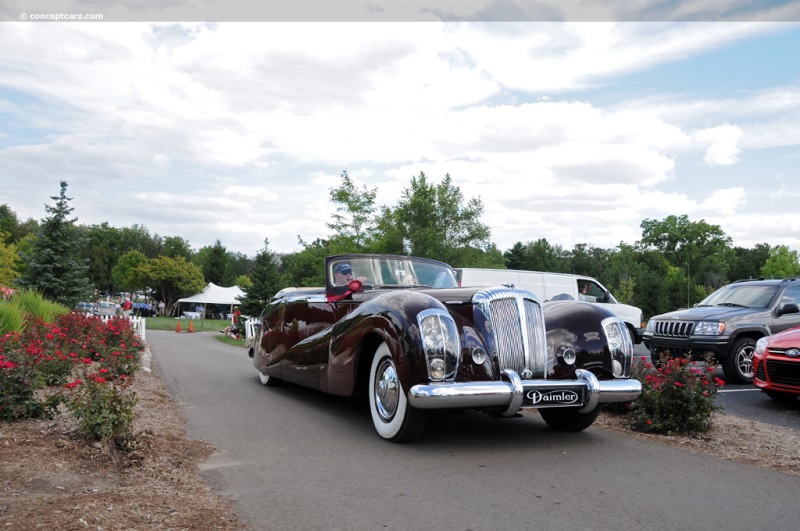 Coachwork: Hooper
Chassis #:
52802
Coachwork: Hooper
Chassis #:
51233