Ettore Bugatti built a reputation for building cars that were renowned for performance both on and off the track. Due to the racing successes, Ettore remained committed to his single-cam engine, only adopting the more advanced double-overhead-camshaft method of valve actuation, after much persuasion by his eldest son Jean, on the Type 50 of 1930. From that point forward, Jean Bugatti took greater responsibility for design, and among his creations was the Type 55 roadster. This was followed by the Type 57 powered by a 3.3-liter (3257cc), double-overhead-camshaft straight-eight engine (72x100mm). Located at the engine's rear, the camshafts are operated by a train of helical-tooth gears with a further crankshaft bearing behind them. The crankshaft had five main bearings and finger cam followers minimized side thrust on the valve stems. The transmission was fixed to the engine crankcase, a first for Bugatti, and employed a single plate clutch. The top three gears in the four-speed gearbox were constant mesh. An independent front suspension system using transverse leaf springs was used on the first two Type 57 examples before Ettore insisted it be replaced by a proper Bugatti hollow tubular live axle. From that point forward, the suspension was traditional Bugatti semi-elliptical front and reversed quarter-elliptical rear leaf springs with cable-operated mechanical drum brakes.

Development of the Type 57 would continue, despite financial travail, with a rubber-mounted engine, stiffened frame, and the supercharged 160 horsepower Type 57C in 1936. In 1938, Lockheed hydraulically actuated brakes were added, and lightweight but expensive aluminum-spoked wheels and brake drums were replaced with Rudge-Whitworth center-lock wire wheels and separate brake drums.

More than just a Grand Touring machine, the Type 57 won at Le Mans on two occasions.

Many Type 57s received bespoke bodies, however, the most popular coachwork was built to Jean Bugatti's design (perfected by in-house stylist Joseph Walter) by the marque's preferred carrossier, Gangloff of Colmar. Factory offerings on the Type 57 chassis included the Stelvio cabriolet, Galibier four-door saloon, two-seater Atalante faux cabriolet (coupé), and the four-seater Ventoux coupé. The athletic huntress Atalanta, in Greek mythology, would only marry a man that could outrun her - thus a suitable appellation for the fast and stylish Bugatti Atalante. 34 examples of the Atalante were produced from 1936 to 1938 and is much rarer than the Galibier, Ventoux, or Stelvio.

A shorter and lower 'S' variant (for 'sousbaisse') was available to clients seeking additional performance. Its reduced height was accomplished by mounting the rear axles through two holes in the frame, thus making these the first Bugatti with an underslung chassis design. By mounting the axles above the chassis center line, it reduced the overall height of the car, which helped improve the vehicle's handling. Its wheelbase was also shortened by 32cm, enhancing the performance even further. Produced for three years, they were equipped with the more powerful version of the Naturally Aspirated and Supercharged engine. The engine received a dry-sump lubrication system which allowed the engine to be mounted lower in the chassis. Additional upgrades included a higher compression ratio which helped increase horsepower from 135 to 170 bhp. The optional Roots-Type supercharger boosted that figure by an additional 40 bhp. Production of the standard Type 57 and 57C lasted until the outbreak of World War II.
by Daniel Vaughan | Nov 2019
---
Related Reading : Bugatti Type 57 History
Many manufacturers during this time produced multi-purpose vehicles that could be driven to a race track, raced, and then driven home. The Bugatti Type 57, however, was solely a road-going vehicle and is considered the most celebrated non-racing Bugatti. Even though the Type 57 was strictly a road-going vehicle, a racing version was created for the 1937 24-Hours of Le Mans race. This vehicle, based....
Continue Reading >>
Related Reading : Bugatti Type 57 History
Ettore Arco Isidoro Bugatti was born in Milan, Italy in 1881. His father, Carlo, was a furniture designer of some fame. The fathers brother, Rembrandt, was a gifted sculptor of animals. When he was old enough, Ettore attended the Brera Academy of Art where he studied sculpture. Soon, he turned his attention to mechanical endeavors. The first Bugatti motor car was built in 1899 though the....
Continue Reading >>
Similarly Sized Vehicles
from 1935
Chassis Num: 57260

Chassis Num: 57222a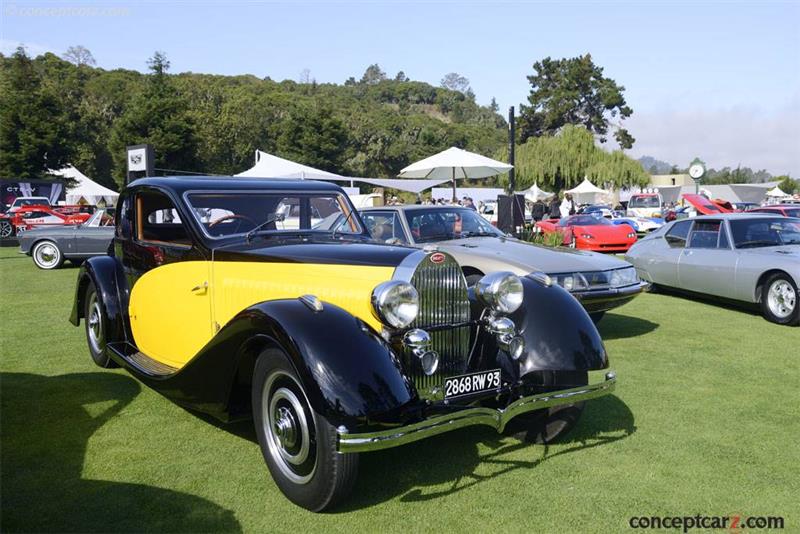 Chassis Num: 57286

Chassis Num: 57236

Chassis Num: 57245

Chassis Num: 57222

Performance and Specification Comparison
Industry Production
| | | | | |
| --- | --- | --- | --- | --- |
| | #1 | #2 | #3 | Bugatti |
| 1940 | Chevrolet (764,616) | Ford (541,896) | Plymouth (430,208) | |
| 1939 | Chevrolet (577,278) | Ford (487,031) | Plymouth (423,850) | |
| 1938 | Chevrolet (465,158) | Ford (410,263) | Plymouth (285,704) | |
| 1937 | Chevrolet (815,375) | Ford (765,933) | Plymouth (566,128) | |
| 1936 | Ford (930,778) | Chevrolet (918,278) | Plymouth (520,025) | |
| 1935 | Ford (820,253) | Chevrolet (548,215) | Plymouth (350,884) | |
| 1934 | Ford (563,921) | Brewster (563,921) | Chevrolet (551,191) | |
| 1933 | Chevrolet (486,261) | Ford (334,969) | Plymouth (298,557) | |
| 1932 | Chevrolet (313,404) | Ford (210,824) | Miller (210,824) | |
| 1931 | Chevrolet (619,554) | Ford (615,455) | Buick (138,965) | |
| 1930 | Ford (1,140,710) | Chevrolet (640,980) | Buick (181,743) | |
Related Automotive News
The production of the Veyron 16.4 started in 2005. We take a look at what happened years before. Molsheim, 15 04 2020 In 1997, on the Shinkansen express train between Tokyo and Nagoya, a sketch was created that would change the automotive...
Santa Monica, Calif. (22 January 2020) – Gooding %26 Company, the internationally recognized auction house, is honored to reveal the automobiles comprising the companys first-ever London sale, Passion of a Lifetime, at Somerset House in central...