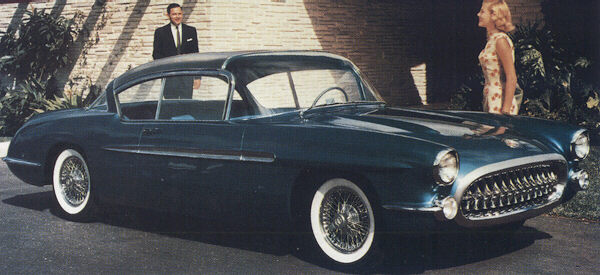 1956 Chevrolet Impala Show Car
The 1950's Impala was big, very big. It actually began its life as a top option level of the Bel Air. Due to sales being so well for this body style, Chevrolet decided to create the Impala as its own model. Its styling has been termed 'bat-winged' due to the rear-styling of the vehicle. A variety of engines were available ranging from an inline-6 cylinder up to a triple carburetor, 348 cubic-inches V8 capable of producing 315 horsepower. A fuel injected V8 became available in 1959.

From the front of the car, the design was fairly normal for the 1950's era. Extensive amounts of chrome littered the front end. Two headlights, located side-by-side, were placed on each sides of the vehicle. A front grill was used to help keep the engine cool. View the car from the side and it becomes immediately clear that this is a big vehicle. The length of the vehicle could be extended an additional 11 inches by adding the Continental spare tire cover to the rear of the car. Viewing the car from the rear, the car quickly ends up in a league of its own, with only a few other vehicles such as the Cadillac Series 62 / DeVille having such a radical rear-end. The vehicle featured rear-fins that resembled cats-eyes. To top it all off, this car was not-only long, it was also very wide.

Drum brakes were used and due to the weight of the vehicle, tended to wear out rather quickly. The Impala came in three different body styles including a four-door sedan, two-door coupe, and a convertible coupe. Even though the vehicle weighed 3650 lbs, it could achieve a zero-to-sixy run in about 9 seconds. Top speed was in the neighborhood of 130 miles-per-hour.
© 1998-2019. All rights reserved. The material may not be published, broadcast, rewritten, or redistributed.
© 1998-2019 Conceptcarz.com Reproduction or reuse prohibited without written consent.