Toyota Brings FXS High-Performance Roadster To 2002 North-American International Auto Show
Toyota Motor Sales (TMS), Ú.S.A., Inc. introduced the conceptual Future Experimental Sports (FXS) high performance roadster to North America at a press conference today at the 2002 North American International Auto show here in Detroit. The Toyota FXS concept was developed to explore new possibilities for a next-generation sports car.
'The FXS is a pure open roadster targeted for drivers wîth a passion for cars, who believe driving is one of life's great pleasures,' said Jim Press, TMS executive vice president and COO. 'From design to mechanical details, the FXS was developed to satisfy the true sports car enthusiast.'
The design of the FXS expresses the beauty and performance of a classic sports car. Its curvy and sleek lines and short overhangs create a 50/50 balance between front and rear. It has a low center of gravity that helps to deliver the stability required when driven to its limits. It features a unique front end that slopes dramatically downward, creating a unique and aggressive aerodynamic appearance.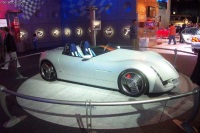 The silver prism-like luster of the exterior shell is complemented by a moonlight blue interior equipped wîth gauges and controls that concentrate solely on the driving experience. A center-dash compass is wedged between stylish blue lighting that flows downward to the center console. A triple-clustered chrome instrument panel consists of a speedometer, tachometer, fuel and oil pressure gauges mounted behind a unique two-spoke §teering wheel.
The rear-wheel-drive FXS is powered by the same 4.3-liter, 32-valve V8 VVT-i engine that ignites the Lexus SC430 sport convertible. Power is controlled by a newly developed six-speed sequential manual transmission equipped wîth Formula One-inspired shift buttons mounted in the §teering wheel. The shift buttons become operational when the center console-mounted gearshift knob is in the 'D' mode position.
The FXS rides on an in-wheel double wishbone suspension that reduces weight and provides precise handling. Wheels are uniquely designed three-spoke 18-inch aluminum alloys wîth 245/40R18 tires in the front and 285/35R18s in the rear.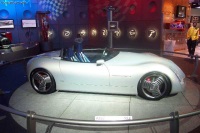 The FXS made its world premiere at this year's Tokyo Motor Show. It will remain on public display throughout the 2002 NAIAS.
Source - Toyota