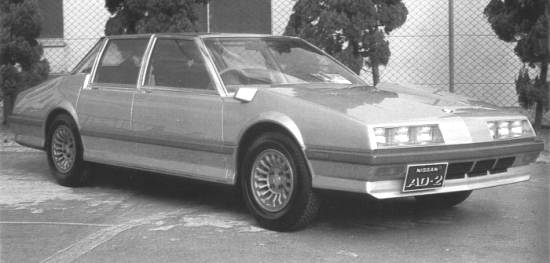 1978 Nissan AD-2
The AD-1 concept was introduced at the 1975 Tokyo Motorshow. Based on the 1400 Cherry F10 running gear, the AD-1 was a personal sports coupe. The AD-1 utilized a cantilever roof design that made room for remarkably thin front pillars. The concept came with impact resisting bumpers along with other safety related features. Unfortunately this concept never made it past the concept stage.A surprisingly awkward concept vehicle, the Nissan AD-2 was unveiled in 1977. Just a brief taste of what was to come in the 1980's, the Nissan Ad-2 was a square shaped vehicle with flared body panels, a rear wrap-around window for improved visibility and an airdam. At the time square vehicles were the rage for a short period, though fortunately no vehicle ever went into production looking like the Nissan AD-2 concept.
The Nissan AD-2 concept was originally designed as a luxury 6-passenger sedan. Inside was a L28E 2.8 liter EFI inline-6 cylinder engine with a 4-link rear from the Nissan Laurel. The AD-2 body featured flared body panels, a rear wrap-around window and an airdam.
By Jessica Donaldson
© 1998-2020. All rights reserved. The material may not be published, broadcast, rewritten, or redistributed.
© 1998-2020 Conceptcarz.com Reproduction Or reuse prohibited without written consent.