The four-cylinder Porsche 356 had gained a loyal following, and company management feared they would alienate its faithful base with the introduction of its new six-cylinder 911 in 1964. So they offered a 912 companion model which shared its body and chassis with the 911 but powered by the smaller and proven 356 engine. The eventual successor to the 912 was the 914, a joint collaboration created with Volkswagen, who was seeking a replacement for the aging Karmann-Ghia. Porsche did not have the money to design a sports car from scratch, but Volkswagen did. The two companies' bosses formed a Gentleman's agreement to jointly develop and market a new sports car. The plan was for four-cylinder cars to be badged as Volkswagen and sold by their dealers, while six-cylinder cars would be badged and sold by Porsche.

After the sudden passing of Volkswagen's chief, a new CEO named Kurt Lotz took his place, and he had no desire to continue the project or pay for any of Porsche's cars. In his view, the 914 was a Volkswagen product and Porsche had to pay if they wanted to be a part of the project. As a result, the price of the car escalated and it hit the market costing nearly as much as a base 911T. The uniqueness of the car, its design, and its brilliance saved it from obscurity. Offered in both four and six-cylinder form, the car was perfectly balanced and handled exceptionally well. The mid-engine chassis was lightweight and a true sports car down to its essence.

The Volkswagen-Porsche 914 was a Targa-top sports car assembled by Karmann of Osnabruck. First seen at the Frankfurt Auto Show, the 914 used the 1,679cc, four-cylinder, air-cooled motor of the Volkswagen 411. The 914/6 was powered by the Porsche 911T's 2.0-liter six. Both versions had an all-independent suspension created from a mixture of 911 and Volkswagen parts, four-wheel disc brakes, and a five-speed gearbox.

The Porsche 914/6 was badged as a Porsche in all markets and sold for over $2,500 more than the four-cylinder car, about $6,100 in the United States. Due to the price they were difficult to sell and were quietly dropped in late 1972 after 3,351 examples had been sold. The 914/6 was effectively replaced by the 1,971cc, 95 horsepower four-cylinder '914 2.0' from the company's fuel-injected Type 4 unit. These versions also came with forged alloy wheels, an improved interior with additional instrumentation, and anti-roll bars in the front and back. Sales were strong and had it not shown signs of surpassing the flagship 911, production may have lasted longer than 1976.

Porsche's competitions department developed the 914/6 into a rally and GT-class winner, having homologated it for racing in March 1970. A small batch of GT cars were built in 1970 with the engines tuned to produce around 220 horsepower, and fiberglass panels and Plexiglass windows helped reduce the overall weight, and dramatically flared arches accommodated wider wheels. The factory also offered a GT kit that could be ordered with a regular 914/6 to be installed by designated Porsche dealers.

The racing cars were often individually tailored to a specific purpose, with nearly all 914/6 GTs having the ventilated 911 S brakes, front-mounted oil cooler, weight-saving components, and wide Fuchs alloy wheels with steel fender flares. Common competition upgrades included stiffened chassis, uprated suspension components, long-range fuel tanks, various gearing options, and race-prepared interiors. The various two-liter flat-six tuning options were offered, from a conservative 911 S spec to a full-blown Carrera 6 variant producing 210 hp at 8,000 RPM.

Among its accolades was a 6th place overall finish by Guy Chasseuil and Claude Ballot-Lena's Sonauto entry at the 1970 24 Hours of LeMans where it won the 2.0-liter Class, having started from 45th place on the grid and averaging 99.27 mph. In August 1970, the works 914/6 GTs captured a 1-2-3 finish in the 86-hour Marathon de la Route at the Nürburgring. In 1971, a factory-entered 914/6 GT scored a class win at the Monte Carlo Rally, while in America, Hurley Haywood and Peter Gregg dominated the inaugural IMSA GT championship with their 914/6 GT.
by Daniel Vaughan | Feb 2020
---
Related Reading : Porsche 914 History
The Porsche 914 was introduced in September of 1969 as a collaborative effort between Porsche and Volkswagen to produce a sporty car. The car they came up with was a mid-engined vehicle with seating for two and featured a Targa top. A 4-cylinder boxer engine provided the power. Volkswagen needed a vehicle to replace the aging Karmann-Ghia while Porsche was looking for another option to add to their....
Continue Reading >>
Related Reading : Porsche 914 History
Just happening to be the cheapest modern Porsche one could buy, the Porsche 914 debuted with a low price point to attract buyers. When first introduced at the Frankfurt Automobile Show in September of 1969, the Porsche 914 was a return to Porsches roots. The 914 was a much more affordable Volkswagen-based sports vehicle that was conceived to bring the pride and pleasure of owning a Porsche....
Continue Reading >>
Similarly Sized Vehicles
from 1970
Similarly Priced Vehicles
Porsche Monthly Sales Volume
Chassis Num: 914 043 0691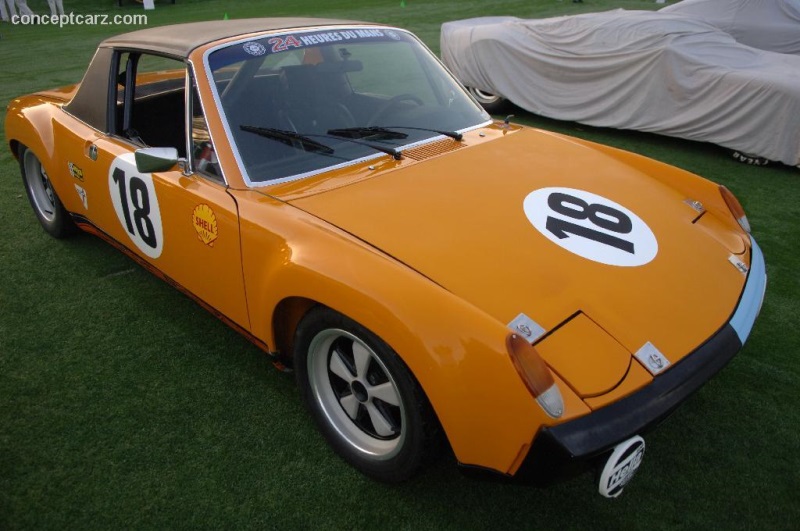 Chassis Num: 914-043-0653

Chassis Num: 9140431543

Chassis Num: 914 043 1017

Chassis Num: 9140431868

Chassis Num: 9140430032
Engine Num: 6400023

Chassis Num: 9140431910
Engine Num: 6405208

Related Automotive News
WATKINS GLEN, N.Y. (April 6, 2016) – Roger Penske, one of auto racings most notable team owners, will be honored in June by the International Motor Racing Research Center (IMRRC) with the 2016 Cameron R. Argetsinger Award for Outstanding Contributions...
40-plus Entries for Season Opener at Mazda Raceway Laguna Seca IRVINE, Calif. (February 16, 2016) – Mazda announced the 2016 Battery Tender Global Mazda MX-5 Cup Presented by BFGoodrich Tires schedule today, following the series tradit...