The test fifth generation of the much-loved BMW 3 Series again resets the benchmark in dynamic sports sedan driving with a significant step forward.
Feted for 30 years as the definitive driver's car, with the arrival of the E90, the BMW 3 Series adds an armoury of impressive, innovative improvements for engine, chassis, safety technology as well as driving comfort.
The new BMW 3 Series makes its debut powered by a pair of all-new powerful, refined and economical petrol-driven six-cylinder engines. A further optimised iteration of the famous 2.0-litre four-cylinder slots into the 320i entry model.
To minimise weight, BMW has employed magnesium for the first time in large-scale series production, achieving a substantial 30 percent weight saving compared with an all aluminium alloy engine.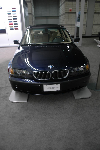 Magnesium is used for the crankcase, the crankshaft bearings, and on the cylinder head cover.
Maximising the weight saving and boosting performance across the rev range is the addition of a now well-known BMW innovation: VALVETRONIC infinitely variable intake valve control.
The result is an even more efficient use of fuel with an even faster engine response. This superior technology is teamed with the long-standing BMW double-VANOS variable camshaft adjustment on both inlet and exhaust valves.
The 320i and 325i models will come as standard with a six-speed manual gearbox and the option of a six-speed automatic transmission.
(posted on conceptcarz.com)
The 330i will be available as standard with the automatic transmission.
(posted on conceptcarz.com)
An extra gear, closer increments and wider overall spread of ratios allow the driver to extract the most from these engines, particularly at step-off.
Reflecting its mighty heritage, the new BMW 3 Series is replete with classic BMW characteristics; a longitudinally-mounted engine, rear-wheel drive, and perfect axle load distribution of 50:50, combining to deliver superior all-round dynamic agility.
With its design language, the new BMW 3 Series is a unique, self-confident contender clearly expressing its qualities as a dynamic and elegant sports sedan. (concept carz)
The interior of the new BMW 3 Series is modern and harmonious, the luxurious ambience reflecting a sense of controlled dynamism and lightness. The interior conveys the twin 3 Series strengths of luxury and sports driving.
Source - BMW