From its debut in 1911 at the inaugural running of the Indianapolis 500, the Stutz name has been synonymous with speed and performance. Harry C. Stutz's first car, the Bearcat prototype, placed 11th overall and earned the slogan, 'the car that made good in a day.' It had averaged 62.375 mph for 500 miles in that first running of the 500, requiring only minimal mechanical adjustment and 13 pit stops, with 11 of those being for tires. For its first independent production effort, the 11th-place finish was considered outstanding.

The production version of the Indy 500 racer was the Model A Bear Cat of 1912. That was the only year the Bear Cat was spelled with two words by the factory, with future years being 'Bearcat.' The Model A was equipped with a Wisconsin-built engine with mechanical fine-tuning by Harry Stutz, increasing the output to 60 horsepower, which was fed to the rear wheels through a transaxle, a feature that was well ahead of its time. With minimal bodywork, a 120-inch wheelbase chassis, and the Wisconsin T-head four-cylinder engine, the Model A Bear Cat was a lightweight performance-designed motorcar.

The Bear Cat helped put American performance on the map, and in 1912, Stutz won 25 out of 30 competitions entered. It was one of the first true sports cars, being stripped of all but the bare essentials and offering little in the way of weather protection or comfort. Racing success with drivers such as Barney Oldfield and Earl Cooper fueled the Stutz reputation for speed, while cross-country endurance runs by 'Cannonball' Baker underscored its reliability. The Bearcat remained a fixture of the Stutz lineup until the 1924 season when the installation of Hungarian immigrant Frederick E Moskovics as company president marked a slight change of emphasis, giving luxury higher priority. Mr. Moskowics had worked for Daimler in Europe and for Marmon and Franklin in the US. While at Marmon, he introduced the company's most charismatic and high-performance products to date. While at Stutz, he sold off inventory and introduced the Vertical Eight, Safety Chassis model. He surrounded himself with a talented team of engineers, most notably Charles 'Pop' Greuter.

The switch to the Stutz-designed engine and a plant expansion had been financed with a stock offering, and financiers eventually gained control of the company, prompting Stutz to sell and leave his own company. He left on July 1st, 1919, and together with Henry Campbell, established the H. C. S. Motor Car Company and Stutz Fire Apparatus Company. The engineering prowess and the legacy of the company continued to profoundly influence the products that left the Stutz factory, including the elemental Bearcat sports model and the Bearcat-derived Model H, which carried more elaborate bodywork and differed from its stablemate only in the placement of its gear lever.

The Model H still rested on a short and light 120-inch chassis, but its chassis was heavier and sturdier to cope with the power and modern coachwork. The center of gravity was improved by placing the fuel tank down low in the rear, with a rear deck fitted to carry a couple of spare tires in racing fashion. The overall stance and design were menacing and would bestow upon the Bearcat its second golden era.

In 1924 Indianapolis automaker Stutz introduced its first all-new engine since the company's origins in 1911. The Speedway Six was powered by an overhead-valve, 80-horsepower engine installed in a robust chassis and clothed with dramatic body designs. The 'Safety Stutz' of 1926 was the first American production car to be equipped with engineered-in safety features, including a lowered center of gravity, a wire-glass 'shatterproof' windshield, narrow windshield pillars for increased visibility, and reinforced running boards that would protect against side-impact collisions. It used a worm-gear differential which allowed the driveshaft to be placed below the rear axle, allowing the body to sit low on the chassis. Near the close of the 1920s, the Stutz brand would be involved in a number of lawsuits, one of which was the design of the low-slung worm gear and another was a breach of contract regarding engine building.

The Vertical Eight of 1926 used a five-liter straight-eight engine with a chain-driven overhead camshaft, and braking was handled by servo-assisted brakes. With 115 advertised horsepower, it was among the fastest American cars of its era. Engineer Charles Greuter was fascinated by the overhead cam valve trains, and his design for Excelsior of an overhead cam straight-eight became the inspiration for the new Stutz Eight. The new engine was given dual ignition, ten main bearings, cross-flow porting, dual-throat carburetion, and chain-driven overhead camshafts.

Three Stutzes won the 1927 Stevens Challenge Trophy at the Indianapolis Motor Speedway, averaging 68 mph over 24 hours around the track. The Stevens Challenge Trophy was awarded to any manufacturer capable of sustaining 60 mph over 24 hours at the legendary Indianapolis oval. Stutz won every stock car race it entered in 1927 and the AAA championship and set a stock car record of 106.53 mph at Daytona Beach, Florida. In 1928, the company made its return to international racing following an absence of over a decade. A stock Stutz was entered at le Mans by a French syndicate and would finish the race 2nd overall, recording an average speed of 106.53 mph.

The overhead-cam eight-cylinder engine powering the Stutz Model M was advanced and powerful for its time, but Bentley countered it in 1929 with a potent 6.5-liter model. Since building a larger engine was beyond Stutz's capability, especially with the Stock Market Crash and the onset of the Great Depression in the late 1920s and early 1930s, they decided to try supercharging. A centrifugal blower was developed, mounted at the front of the engine, between the front frame irons. The blower was controlled via a switch on the dashboard and, when activated, forced additional induction through the carburetor by a long pipe. With the supercharger engaged, a blown Stutz could produce an estimated 185 brake horsepower.

Three supercharged Stutz vehicles were sent to Le Mans via U.K. distributor Warwick Wright Ltd. of New Bond Street, London. Four Bentleys crossed the finish line first, followed by a Stutz in fifth place. Another Stutz had retired while in fourth place.

The Stutz Model M
By 1930, the single overhead cam straight-eight engine was delivering 113 horsepower and was capable of propelling the Stutz to speeds of 85 mph. The displacement had grown to 322.1 cubic inches by enlarging the bore by an eighth of an inch. The engine was initially backed by a three-speed Warner unit and then a new four-speed transmission from Detroit Gear and Machine with a stump-pulling ratio on first gear, meaning it was seldom used on the road. Stutz went back to the three-speed Warner in 1931. A 'Nobaack' device on the gearbox provided a mechanical hill-holding function. The chassis was equally refined advanced, employing worm drive and a dropped frame. Timken hydrostatic, then Lockheed hydraulics with oversized finned drums on all four wheels provided the stopping power. The suspension used a solid front and live rear axle with semi-elliptic leaf springs. Bijur central lubrication was standard equipment.

To appeal to a wide audience of buyers, the Series M was available in a vast range of body styles, from staid sedans and limousines to more sporting speedsters and cabriolets. For those seeking a flashy design and the pinnacle of craftsmanship, Stutz offered the LeBaron Boattail Speedster. It had a tapered boattail design with a pronounced rake of the windshield, cut-down doors, and small step plates in place of full running boards. All of the open-body styles were by LeBaron and delivered 'in the white' for finishing at Indianapolis. The attributes of the new Stutz attracted the attention of custom coachbuilders who were quick to recognize that its chassis' low profile and ample power gave them greater latitude in design, construction and execution than its contemporaries. The list includes Bohman & Schwartz, Millspaugh & Irish, the Indianapolis coachbuilders best known for work on Model A Duesenbergs, Phillips, Weymann, Lancefield, Derham, Rollston & Company, and others.

LeBaron Carrossiers, Inc.
Raymond Dietrich and Thomas Hibbard were former Brewster designers who founded LeBaron Carrossiers, Inc in New York City in 1920. They selected the name for its French connotations and rented an office at Columbus Circle - the same building where Fleetwood's sales offices were located. They designed bodies for clients and had no intentions (or facilities) of building the bodies, leaving that craft to independent coachbuilders. Their first customer was the New York branch manager for Packard, who commissioned them to draw up a seven-passenger limousine. Their designs were brought to life by Fleetwood, and the customer was thoroughly impressed that numerous referrals were forthcoming, including from the New York agency for Lincoln, who ordered a short run of three body styles, a roadster, a berline, and a dual-cowl phaeton. Other bodies were designed for Rolls-Royce Fiat, Minerva, Hispano-Suiza, Mercedes-Benz, Pierce-Arrow, Packard, Cadillac, and others. They created eight body styles for Crane-Simplex and seven for Locomobile during the early 1920s.

Dietrich and Hibbard were soon joined by Ralph Roberts, a recent Dartmouth graduate, as a partner. Hibbard left for Europe in 1923, where he associated with Howard 'Dutch' Darrin in Hibbard & Darrin. Near the close of 1923, the remaining partners of LeBaron accepted an invitation to join the Bridgeport Body Company in Bridgeport, Connecticut. The company, now called LeBaron, Inc., hired Roland Stickney and Werner Gubitz from Locomobile as delineators and illustrators. The total shop staff numbered approximately 50.

Dietrich med Edsel Ford at the New York Auto Show in 1923, and soon, one of Ford's latest acquisitions - the Lincoln Motor Company - became LeBaron's best customer. Dietrich later excepted a generous offer from Ford and sold his share of LeBaron, and moved to Michigan. At the time, LeBaron was building bodies for Pierce-Arrow, Stutz, Packard, and Lincoln, along with several European makes.
by Daniel Vaughan | Feb 2022
---
Related Reading : Stutz Model 8 History
Harry C. Stutz was born in 1876. He grew up on the family farm, where he often helped repair their farm equipment. This led to a fascination with engines, and in 1897, he built his first car soon after, he began designing and creating engines. The Stutz Company, based in Indianapolis, Indiana, introduced its first production vehicle in 1911. The vehicle, after only five months of design and build,....
Continue Reading >>
Related Reading : Stutz Model 8 History
The Stutz Series M coupe was introduced in 1929 and featured an auxiliary trunk, a rumble seat, and dual side-mount spare tires and wire wheels. Right above the front bumper is driving lights that turn in synchronization with the steering. Before the Series M was the introduction of the Stutz Vertical Eight in 1926, which is considered to be the most European of the US auto designs of the era.....
Continue Reading >>
Similarly Priced Vehicles
Chassis Num: M8-46-CD25E
Engine Num: 32550

Chassis Num: M8-28-SY-072
Engine Num: 32671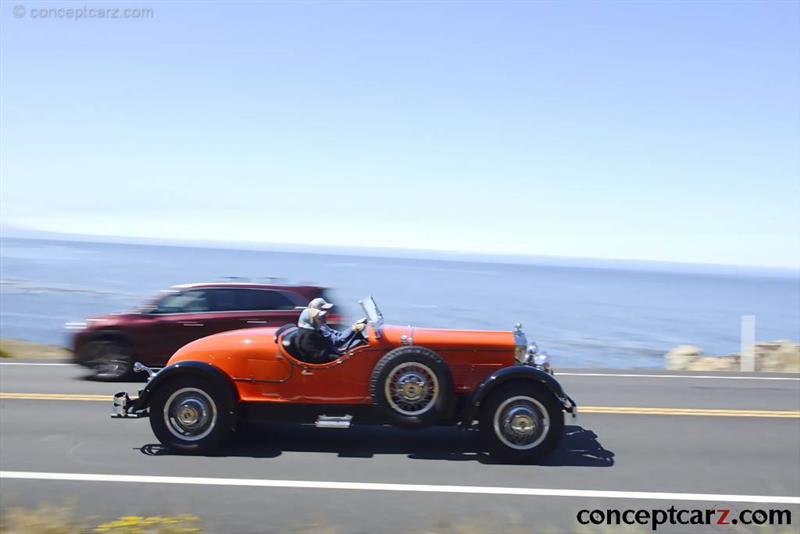 Chassis Num: M8-28-SY90H

Performance and Specification Comparison
Price Comparison
1930 Stutz Model M Price Range: $2,775 - $4,735
Other 1930 Stutz Models
Industry Production
| | | | | |
| --- | --- | --- | --- | --- |
| | #1 | #2 | #3 | Stutz |
| 1935 | Ford (820,253) | Chevrolet (548,215) | Plymouth (350,884) | 2 |
| 1934 | Ford (563,921) | Brewster (563,921) | Chevrolet (551,191) | 6 |
| 1933 | Chevrolet (486,261) | Ford (334,969) | Plymouth (298,557) | 80 |
| 1932 | Chevrolet (313,404) | Ford (210,824) | Miller (210,824) | 206 |
| 1931 | Chevrolet (619,554) | Ford (615,455) | Buick (138,965) | |
| 1930 | Ford (1,140,710) | Chevrolet (640,980) | Buick (181,743) | 1,038 |
| 1929 | Ford (1,507,132) | Chevrolet (1,328,605) | Buick (196,104) | 2,320 |
| 1928 | Chevrolet (1,193,212) | Ford (607,592) | Willys Knight (231,360) | 2,403 |
| 1927 | Chevrolet (1,001,820) | Ford (367,213) | Buick (255,160) | 2,906 |
| 1926 | Ford (1,669,847) | Chevrolet (547,724) | Buick (266,753) | 3,692 |
| 1925 | Ford (1,669,847) | Chevrolet (306,479) | Dodge (201,000) | 2,190 |
Related Automotive News
PEBBLE BEACH, Calif. (August 20, 2017) — Just a week ago, Bruce R. McCaws 1929 Mercedes-Benz S Barker Tourer emerged from the restoration shop of Steve Babinsky in Lebanon, New Jersey. Today, having crossed the country, the boattailed beauty captured...
When these two vehicles won Best of Show honors at major Concours dElegance events, they both were owned by Judge Joseph Cassini III. The green colored Chrysler 4 door Phaeton with tan convertible top wears coachwork by LeBaron. In 2012, it won the...