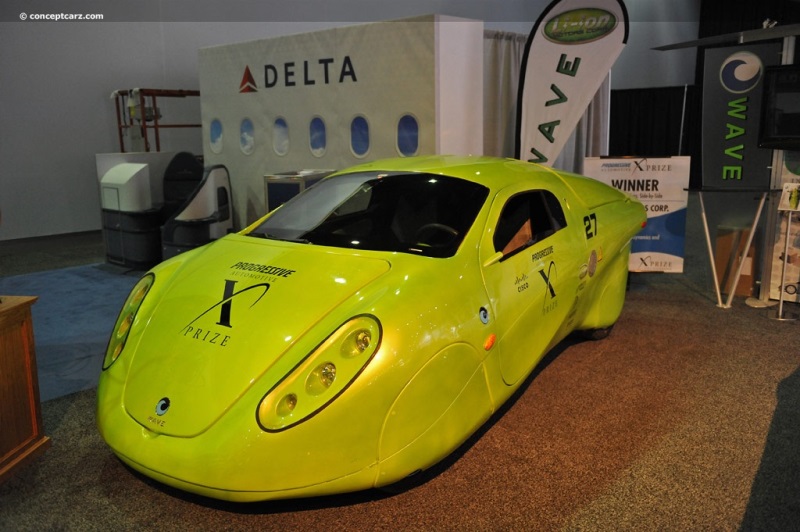 2011 Wave Model SE
The Wave Model SE weighs 2350 lbs and measures 152-inches. The batteries are maintenance free Lithium Ion with Li-ion Motors' proprietary Battery Management System (BMS), including heating and cooling. The 12 battery cells total 40.3 kWh. There is a single speed transmission. The SE can travel up to 90 mph and can race from zero-to-sixty in just 12 seconds. It has a 150 mile range on a single charge and can be recharged in about 6 hours.The WAVE II has an exoskeleton hybrid structure design surrounding a steel safety cage to provide extra strength and security. The revolutionary design allows crash forces to be distributed over and under the passenger compartment.
Low profile mounted video cameras replace the traditional side and rear view mirrors in order to provide a full view as well as enhancing aerodynamic design. A high resolution LCD screen mounted on the dash provides easy viewing.
Li-ion Motors' innovative and aerodynamic WAVE II out-performed competition from around the world to win the prestigious Progressive Automotive X Prize Competition*. (*Alternative Side-by-Side seat category)The WAVEII has a starting price of $39,000.
By Daniel Vaughan | Jan 2011
Recent Vehicle Additions
Related Automotive News
© 1998-2020. All rights reserved. The material may not be published, broadcast, rewritten, or redistributed.
© 1998-2020 Conceptcarz.com Reproduction or reuse prohibited without written consent.