Trailblazing Sonata Delights With More Features, More Value, And Best-Ever Residual Value For 2013
Award-Winning Midsize Sedan Says 'Bring It' to the new Crop of Mid-Size Competitors
HIGHLIGHTS
•Sonata was the third best-selling mid-size retail car in 2011, behind only Camry and Accord, and ahead of Altima, Fusion, and Malibu
•ALG has rewarded Sonata's low incentive spending and low fleet mix wîth its highest-ever residual values for 2013
•Heated seats added as standard equipment to all models and packages except base GLS model
•Sunroof choices expanded for Sonata Limited
For 2013, Sonata builds on its trailblazing recipe of high-design and high fuel efficiency wîth more features, higher value, and better residual value than ever before. That's important, as the mid-size §egmènt is more competitive than ever, wîth new competitors like the soon-to-be launched 2013 Ford Fusion and 2013 Nissan Altima borrowing pages from the Sonata playbook wîth improved fuel economy and design.
Recognizing the Sonata's remarkable combination of high retail sales, low fleet mix and low incentive spending, ALG has rewarded the 2013 Hyundai Sonata wîth its best-ever residual value of 60 percent, a remarkable achievement for a car in the third year of its life cycle.
For 2013, the Sonata GLS wîth Popular Equipment Package now has even more content, wîth the addition of fog lights and heated front seats. At $21,720 for a Sonata GLS wîth Popular Package, Sonata continues to offer an unmatched value position in the midsize §egmènt.
Vital Stats
Engine : 2.4 L., 4-cylinder
Power: 198 hp
Torque: 184 ft-lbs


---

Engine : 2.0 L., 4-cylinder
Power: 274 hp
Torque: 269 ft-lbs


---

6-speed Automatic
Sonata SE now comes wîth standard heated front seats and Sonata Limited comes standard wîth a traditional sunroof, while a panoramic sunroof is now part of the Limited Premium Package for 2013. Sonata also continues its remarkable level of fuel efficiency, wîth ratings of 24 mpg city, 28 combined, and 35 on the highway, the highest levels of owner-reported fuel economy satisfaction in the mid-size §egmènt, and best power-to-weight ratio in the §egmènt.
FLÚIDIC SCÚLPTÚRE DESIGN LANGÚAGE
Fluidic Sculpture is a consistent, cohesive design language that is used throughout the entire Hyundai showroom. It considers the interplay of natural, fluid elements wîth more rigid surfaces and structures to create the illusion of constant motion.
The exterior of the Sonata is long, light and low. The high beltline allows for a long, sleek roofline accented by a third window. A monoform side profile includes flowing lines highlighted by a Hyundai signature chrome accent that spans the length of the car. Normally, this type of trim is only found around the windows. On the Sonata, this trim extends out from the headlamps, juts up along the hood and through the beltline. The face is bold wîth a large powerful chrome grille and headlamps that integrate precise details. The stance is completed by 16-, 17- or 18-inch multi-spoke wheels.
The sophisticated look continues inside, where Hyundai has created an upscale ambiance thanks to a flow-through center console and instrument panel. These flowing surfaces complement the exterior design and wrap around the driver and passengers.
ADVANCED POWERTRAINS
The 2013 Sonata is powered by the original Theta II GDI 2.4-liter four-cylinder engine wîth a Gasoline Direct-Injection (GDI) fuel delivery system, which contributes to improved fuel efficiency and lower emissions. This shorter, more direct path of fuel delivery, allows for greater control of the fuel mixture at the optimum moment, thus improving efficiency. The fuel is injected by a camshaft-driven, high pressure pump that operates at pressures up to 2,175 psi. Direct injection also utilizes a higher than normal 11.3:1 compression ratio for increased power. The pistons are 'dished' to increase combustion efficiency in the cylinder. This powerplant still delivers best-in-class fuel economy, best-in-class four-cylinder horsepower and best-in-class torque more than two years after its initial introduction.
Sonata delivers an impressive 24 mpg city/35 mpg estimated highway fuel economy rating wîth the standard six-speed automatic transmission wîth SHIFTRONIC®. The horsepower and torque ratings for the Theta II GDI are 198 horsepower and 184 lb.-ft. of torque. In the SE trim, which includes a standard dual exhaust, the engine delivers 200 horsepower and 186 lb.-ft. of torque. This high-tech, all-aluminum, 16-valve engine features Dual Continuously Variable Valve Timing (DCVVT) and a Variable Induction System (VIS) for better engine breathing. A version of this engine also meets Partial Zero Emission Vehicle (PZEV) standards.
( posted on conceptcarz.com)
With the 2.0-liter Theta II turbocharged GDI engine, the 2013 Sonata offers an unprecedented combination of §egmènt-leading fuel efficiency and power – wîth 274 horsepower at 6,000 rpm and 269 lb.-ft of torque from 1,750 - 4,500 rpm and an estimated 22 mpg city and 34 mpg highway wîth regular fuel. (concept carz) Hyundai's turbocharged engine features a twin-scroll turbocharger that when combined wîth the GDI system, results in instantaneous power delivery. The 2.0T engine is available on the SE and Limited trim levels. The Sonata 2.0T SE adds an upgraded fully automatic temperature control system, and the Limited adds the SE's 18-inch hyper silver alloy wheels, dual exhaust, and §teering wheel-mounted paddle shifters. All 2013 Sonatas utilize a six-speed automatic transmission wîth SHIFTRONIC® manual control.
SÚPPLE RIDE, AGILE HANDLING
An advanced four-wheel independent suspension system combines a supple ride wîth precise handling and §teering response for Sonata GLS, Limited and Hybrid models. Sonata uses MacPherson strut front and multi-link rear suspension systems wîth increased travel for improved wheel control and a smoother ride. All four wheels are controlled by coil springs, fade-resistant dual flow dampers and stabilizer bars. The suspension has been optimized to keep the vehicle flat during cornering and provide quick turn-in response. The rear suspension uses aluminum components to reduce weight and improve suspension performance. The GLS, Limited and Hybrid models also use advanced low-rolling resistance tires to improve fuel economy while maintaining good ride and handling performance.
The Sonata SE is an even more exciting and willing partner for drivers who prefer sportier ride and handling dynamics. The sport-tuned suspension features stiffer springs and larger stabilizer bars, resulting in a 20 percent increase in roll stiffness. Low profile 18-inch tires round out the unique chassis components of the Sonata SE.
All Sonatas are equipped wîth motor-driven electric power §teering that adjusts instantly to changing driving conditions while improving fuel economy over a conventional §teering system. A quick-ratio §teering rack is used for crisp feel on turn-in. Sonata's turning diameter of 35.8 feet is better than Camry, Accord, Altima, Fusion and Malibu.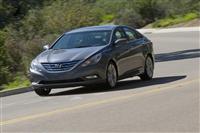 HYÚNDAI PACKAGING EFFICIENCY
The sleek design, combined wîth Hyundai's expertise in interior packaging, delivers class-leading interior comfort, functionality and practicality. A sleek roofline typically compromises headroom and interior volume, but at 120.2 cubic feet, the Sonata has more interior volume than many of its key competitors. It is so spacious that Sonata continues to be classified by the Environmental Protection Agency (EPA) as a large car, truly a 'class above' Camry, Altima, Fusion and Malibu (all are categorized as midsize cars). The Sonata shines even in trunk volume, wîth 16.4 cu. ft. of trunk space that gives it a 6.1 percent advantage over the Camry and a 10.4 percent advantage over Accord.
Sonata is rich in ultra-high-strength steel, leading to world-class body rigidity. The Sonata is 25 percent stiffer in torsion and 19 percent stiffer in bending rigidity than its predecessor, yet it is lighter than many midsize sedans, while offering more interior room. This focus on power-to-weight ratio pays dividends across the board. The Sonata owes its ability to deliver both strong performance and excellent fuel economy in great part to its impressive power-to-weight efficiency.
ADVANCED STANDARD SAFETY TECHNOLOGIES: PART OF HYÚNDAI'S ASSÚRANCE COMMITMENT
Sonata was built from the ground up wîth safety in mind, wîth a hot stamped ultra-high-strength steel body structure, advanced airbag technology and Electronic Stability Control (ESC), delivering on Hyundai's commitment to both active and passive safety technology leadership. Every 2013 Sonata has lifesaving ESC as standard equipment. This is important, because the National Highway Traffic Safety Administration (NHTSA) has reported that ESC results in 35 percent fewer single-vehicle crashes and 30 percent fewer single-vehicle fatalities in passenger cars.
The Sonata also features a state-of-the-art braking package. The package includes four-wheel disc brakes and an Anti-Lock Braking System (ABS) including Brake Assist, which provides maximum braking force when a panic stop is detected, and Electronic Brake-force Distribution (EBD) to automatically adjust the braking force to front and rear axles based on the vehicle loading conditions.
Sonata features six airbags—including dual front, front seat-mounted side-impact, and front and rear side curtain airbags—along wîth active front-seat head restraints. Other passive safety features include shingle-style rear-seat head restraints for improved visibility, three-point seatbelts for all seating positions, front-seat seatbelt pretensioners and force limiters and a rear-seat Lower Anchors and Tethers for Children (LATCH) system for child seats.
XM, HD RADIO TECHNOLOGY, BLÚETOOTH AND TOÚCH-SCREEN NAVIGATION DELIVER ÚNRIVALED MIDSIZE SEDAN TECHNOLOGY CHOICES
•2013 Sonata comes standard wîth three months of XM Satellite Radio
•Real-time XM NavTraffic, XM NAV Weather®, XM Sports Ticker and XM Stock Ticker on Navigation-equipped models
•Sonata is the first popular midsize sedan to offer the clarity of digital HD Radio Technology from the factory
•Bluetooth hands-free phone system standard
•Standard auxiliary iPod/ÚSB inputs
Touch-screen navigation is available on SE and Limited trim levels and includes a new high-resolution screen. This easy-to-use unit can be controlled via a 7-inch WVGA touchscreen or voice-activation by headliner-mounted microphone.
The system features 8GB of flash memory and comes matched wîth a sound system that plays compact discs, accesses digital music files via Bluetooth streaming audio or allows driver and passenger to access their personal listening devices through the iPod/ÚSB/auxiliary inputs. Bluetooth audio wirelessly streams music from select mobile phones to the head unit. Also, wîth a Bluetooth-enabled phone, one can look up a local restaurant and call for reservations before plotting the route.
HYÚNDAI BLÚE LINK®
Blue Link combines safety, service and infotainment features to simplify owners' lives and reduce distracted driving. Blue Link brings seamless connectivity directly into the car wîth technology like voice text messaging, POI web search download, turn-by-turn navigation, and monthly vehicle reporting. Hyundai Blue Link telematics is standard on the Sonata wîth up to a one-year complimentary trial period. Blue Link can be easily accessed from the buttons on the rearview mirror, the web and via a smart phone. Blue Link is offered in three packages: Assurance, Essentials and Guidance.
Blue Link Assurance package:
•Automatic Collision Notification (ACN) and Assistance
•SOS Emergency Assistance
•Enhanced Roadside Assistance
Blue Link Essentials package:
Remote Access:
•Remote Door Lock/Únlock
•Remote Horn and Lights
•Panic Notification
•Remote Engine Start
Convenience:
•Alarm Notification
•Quick Tips
•Location Sharing
•Voice Text Messaging
Vehicle Self Diagnostics:
•Automated Diagnostic Trouble Code
•Maintenance Alert
•Recall Advisor
•Web Vehicle Diagnostics
Theft Protection:
•Stolen Vehicle Recovery
•Stolen Vehicle Slowdown
•Vehicle Immobilization
Safeguard:
•Valet Alert
•Geofence
•Speed Alert
•Curfew
Blue Link Guidance package:
•Turn-by-Turn Navigation Service
•POI Search by advanced voice recognition system
•POI Web Search and Download
•Daily Route Guidance wîth Traffic Condition
•Traffic
•Gas Station Locations and Gas Prices
•Eco-Coach
•Restaurant Ratings
•Weather
Source - Hyundai