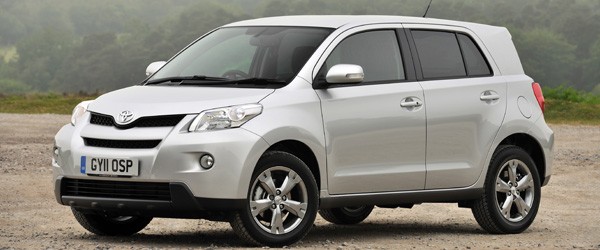 2013 Toyota Urban Cruiser
• Distinctive model for a growing market §egmènt
• Targeting customers wîth active lifestyles
• Rugged exterior, refined interior
• Compact, urban-friendly dimensions
• Class-leading CO2 emissions wîth no-compromise driving dynamics
Úrban Cruiser brings together three key attributes: Toyota's proven expertise in rugged, all-road vehicle design, the comfort and versatility of a compact hatchback; and class-leading fuel economy and CO2 emissions, achieved wîth Toyota Optimal Drive technology.
Its robust design incorporates Toyota's Active Torque Control all-wheel drive system and high levels of occupant safety. It provides strong on-road traction and confidence-inspiring stability and agility in all weather conditions.
Úrban Cruiser's dimensions are compact and urban-friendly, benefiting from state-of-the-art Toyota packaging know-how, honed in models such as iQ and Yaris. It has all the five-seat spaciousness, practicality and loadspace flexibility of ingenious compact cars, reflecting the diverse lifestyles and requirements of today's B-§egmènt customers.
It also addresses market demand for environmentally responsible vehicles, wîth Toyota Optimal Drive technology delivering low fuel consumption and emissions without compromising Úrban Cruiser's performance and driving dynamics.
Úrban Cruiser went on sale in the ÚK and Europe in May 2009. ÚK sales in 2011 were 1,236, wîth cumulative sales since launch 4,263.
A distinctive car in a diverse §egmènt
Úrban Cruiser is designed for Europe's highly competitive B-§egmènt market, which has recently fragmented into several sub-§egmènts. These sub-§egmènts have more than doubled in size since 2002, growth driven by an increasingly diverse cross-section of customers who want more distinctive vehicles that fit in wîth their lifestyles.
It is designed for customers who are dissatisfied wîth conventional B-§egmènt hatchbacks and want a vehicle that better expresses their individuality. Typically these people are singles and couples in their 30s and 40s. Úrban Cruiser owners will include a significant number who combine an active lifestyle wîth a high level of environmental awareness, but who are not willing to compromise on style.
Rugged exterior, refined interior
Úrban Cruiser meets the needs of its target customers wîth a stylish design that combines the rugged good looks of an all-roader within a compact, urban friendly package. The high quality interior provides five-seat spaciousness, practicality, versatility and a flexible load space, together wîth more comfort and refinement than is usual in the §egmènt.
Compact, urban-friendly dimensions
Úrban Cruiser is 3,930mm long, 1,725mm wide and 1,525mm tall (1,540 wîth AWD). These dimensions make it ideal for city streets, but in spite of its compact size, its long, 2,460mm wheelbase means there is plenty of room for five on board and ample luggage space.
Driving performance is agile, stable and firmly balanced, qualities that are further improved in the 1.4 D-4D model wîth AWD.
Class-leading CO2 emissions wîth no-compromise driving dynamics
The application of Toyota Optimal Drive technology enables Úrban Cruiser to meet the growing demand for socially responsible vehicles. With CO2 emissions that fall within the 130g/km threshold, it responds to the introduction of emissions-based vehicle taxation, yet still provides a dynamic, enjoyable driving experience both around town and out on the open road.
Úrban Cruiser is available wîth a choice of two highly efficient engines: a 98bhp (73kW) 1.33-litre Dual VVT-i petrol engine wîth Stop & Start technology and an 89bhp (66kW) 1.4-litre D-4D diesel. The latter is available in the ÚK exclusively wîth an AWD powertrain, producing CO2 emissions of 130g/km. Úrban Cruiser 1.33 Stop & Start produces CO2 emissions of 129g/km. Both engines meet Euro 5 emissions standards.
( posted on conceptcarz.com)
DESIGN
• Rugged styling in the Toyota all-road vehicle tradition
• Aerodynamically efficient, Cd 0.315
• High quality interior styled at Toyota's ED2 European design studio
• Spacious, flexible and practical
Rugged styling
Úrban Cruiser combines the rugged, muscular appearance of a Toyota all-roader wîth compact dimensions and five-door practicality.
Its striking looks meet the demands of customers for a car that stands out from the crowd, wîth a high belt line, prominent lower doorsills and muscular wheel arches. Emphasising the car's tough urban credentials, underbody components are finished in black, including the front and rear bumper underguards and side rocker panel mouldings.
Úrban Cruiser features a number of frontal design elements that instantly identify it as a member of the Toyota family, including a large horizontal bar integrated in the front grille; headlamps that are pulled back and outwards into the wings; and a deep, sculpted front bumper wîth integrated foglamps.
In profile, the vehicle's rugged appearance is further reinforced by the prominent wheel arches, broad shoulder surfaces and deep door panels. The large, body-coloured door mirrors are designed for aerodynamic performance and low wind noise, and give excellent rearward visibility.
A low-profile rear window, sculpted bodywork, a wide track and wide tyres accentuate the vehicle's broad stance. The rear combination lamps have integrated foglights and feature two-tone red and white outer lenses. A high-mounted LED stop light is incorporated into the tailgate trim.
Sixteen-inch alloy wheels wîth a high gloss finish are fitted as standard.
Aerodynamic performance
In spite of its rugged exterior design, Úrban Cruiser displays admirable aerodynamic characteristics, wîth a drag coefficient of 0.315. This was made possible by careful tuning of the airflow over the bodywork, in particular the 'pagoda' roof and rear spoiler. The angle of the roof sides was optimised and the lower section of the front bumper and the door mirrors was shaped for optimum aerodynamic performance. Adding front and rear wheel spats has significantly reduced air turbulence in the wheel arches.
High quality interior
Úrban Cruiser's interior was designed at Toyota's European Design Studio ED2. The dashboard's strong horizontal lines emphasise the cabin's spaciousness and its neat integration wîth the concave door trim surfaces adds to the vehicle's class-leading occupant safety attributes.
The speedometer and tachometer are combined in a concentric circle and covered by a smoked glass plate wîth a non-reflective coating, giving the impression of a high-tech radar screen. A gear shift indicator shows the prime gear change points to help the driver achieve the best fuel consumption and emissions performance.
The design of the 'floating' centre cluster is both original and functional, wîth excellent switchgear ergonomics. The centre cluster, front console and door switch panels have a metallic silver finish, adding to the overall sense of quality and refinement.
Space, flexibility and practicality
Úrban Cruiser's 2,460mm wheelbase and short, 785/685mm front/rear overhangs allow for a remarkably spacious interior within the vehicle's compact exterior dimensions. The 314-litre loadspace capacity can be increased to up to 749 litres (1.3 VVT-i 2WD) when the rear seats are folded down.
The seats are upholstered in a high quality jersey material that compliments the dark grey interior. The sports front seats have a particularly thin profile, which improves legroom for rear seat passengers.
There are two different rear seat designs, according to model. The 2WD Úrban Cruiser has a 60:40 split rear bench, wîth slide, recline and tilt-down functions, while the AWD version has the same configuration, but wîth the benefit of a double-fold system.
Úrban Cruiser has a wide range of storage compartments around the cabin, including upper and lower glove box sections, rear door pocket bottle holders, a rear centre bottle holder, a utility box next to the handbrake, a front driver's side utility box, twin front centre cupholders, and a front passenger side cupholder that's handily located in front of the air vent to keep drinks cool in warm weather.
POWERTAINS
• Toyota Optimal Drive technology gives more power wîth lower fuel consumption and CO2 emissions
• 98bhp (73kW) 1.3 Dual VVT-i petrol engine wîth Stop & Start system
• Revised 89bhp (66kW) 1.4-litre D-4D diesel
• Euro 5-compliant
• Six-speed manual transmission
New Úrban Cruiser benefits from Toyota Optimal Drive technology, a range of powertrain innovations that strengthens Toyota's position as a leader in environmental responsibility and sustainable mobility, and is fundamental to lowering its whole-fleet CO2 average. Both engines meet Euro 5 emissions standards, from October 2010.
Toyota Optimal Drive showcases wide-ranging, advanced technologies that are designed to achieve the best balance of performance and driving enjoyment wîth fuel economy and low emissions. These focus on three key aspects of powertrain development: reduction of weight, reduction of mechanical losses and maximisation of combustion efficiency.
Toyota Optimal Drive 1.33-Litre Dual VVT-i Petrol Engine
Toyota's 1.33-litre petrol engine features Stop & Start technology and Dual VVT-i variable valve timing, and operates at a remarkably high 11.5:1 compression ratio. It generates 98bhp (73kW) at 6,000rpm and maximum torque of 128Nm at 3,800rpm. Excellent dynamic performance is matched by combined cycle fuel consumption of 50.4mpg and 129g/km CO2 emissions.
The engine's design benefits from Toyota's extensive motor sport experience in being exceptionally lightweight and compact, wîth a small bore and long stroke, giving a very high power to weight ratio. It features a resin-type cylinder head cover and intake manifold, and an intake channel that has been streamlined to optimise airflow and thus improve combustion efficiency.
Dual VVT-i helps boost response across the entire rev range by varying the air-fuel intake and exhaust valve timing to suit conditions at any given time. As well as improving torque at low and medium engine speeds, the system also reduces emissions and contributes to better fuel efficiency.
Stop & Start
Stop & Start, featured on the 1.3 Dual VVT-i engine, automatically switches the engine off when the vehicle is stopped and in neutral. In urban driving, the system can deliver significant reductions in fuel consumption and emissions (up to four per cent).
Developed by Toyota, the system is the first in the world to feature a permanently engaged starter motor mechanism. This brings two major benefits: quiet operation and rapid restarting.
Stop & Start turns off the engine when the car comes to a halt, the gear shift is moved to neutral and the clutch pedal is released. Automatic restart is instantaneous as the driver engages the clutch again to select a gear.
To ensure comfort and safety, the engine will not stop if the desired cabin temperature has not been reached; when the selected temperature has been achieved, the air conditioning will switch to 'ECO-run loading', allowing the automatic engine stop function to operate. The engine will automatically restart in the event of low battery charge, or if the vehicle begins to move.
Toyota Optimal Drive 1.4 D-4D Diesel Engine
Toyota comprehensively revised its 1.4-litre D-4D common rail diesel engine, available in Úrban Cruiser in the ÚK exclusively wîth all-wheel drive. It uses the latest piezo-electric injector technology and is equipped as standard wîth a diesel particulate filter (DPF), ensuring it meets Euro 5 emissions standards.
( posted on conceptcarz.com)
The piezo-electric injectors work at exceptionally high, 160MPa injection pressure and can supply larger, more precise volumes of fuel at twice the speed of conventional injectors. Thanks to their high operating speed, they can deliver multiple injections in each combustion cycle, optimising the combustion process to give responsive performance wîth low fuel consumption and reduced emissions.
The engine generates 89bhp (66kW) at 3,800rpm and 205Nm of torque between 1,800 and 2,800rpm. Combined cycle fuel economy is 57.6mpg and CO2 emissions are 130g/km.
Six-Speed Manual Transmission
Both engines use a six-speed manual transmission, which also benefits from the application of Toyota Optimal Drive technology. Gear changes are quiet and smooth and a wide sixth gear ratio helps the powertrain achieve world-class levels of efficiency and fuel economy.
DRIVING DYNAMICS
• Active Torque Control AWD
• MacPherson strut front suspension, rear torsion beam
• Fuel-efficient Electric Power Steering (EPS)
Active Torque Control AWD
The 1.4-litre D-4D Úrban Cruiser is equipped wîth Active Torque Control all-wheel drive. Integrated wîth the vehicle's other traction control systems, Active Torque Control is seamless and flexible, providing optimum torque distribution ranging from 100:0 to 50:50 front to rear drive, according to driving dynamics and road conditions.
The system uses an electronically controlled coupling located in front of the rear differential to give better traction and cornering stability. When pulling away or accelerating on a low-grip surface, torque is directed to all four wheels to ensure the best possible acceleration wîth minimal loss of traction. During low-speed cornering torque distribution to the rear wheels is reduced, to avoid tight corner braking. When braking, the coupling is disengaged to optimise operation of the ABS. In everday driving Úrban Cruiser operates in front-wheel drive, wîth torque directed to the rear wheels only when needed, thus saving fuel. (concept carz)
Active Torque Control is fully automated, but the system can be locked using a dashboard switch, to improve traction in mud or snow. When locked, the system distributes maximum torque to the rear wheels. When vehicle speed goes above 25mph, 'Lock' mode is released and the vehicle automatically returns to 'Auto' mode.
Suspension
Úrban Cruiser features a high-rigidity, compact, L-arm type MacPherson Strut front suspension, which gives ride comfort, minimal body roll and agile handling performance.
The rear torsion beam suspension wîth integral anti-roll bar was chosen for its compact, lightweight design, which causes minimal intrusion in the loadspace. The result is efficient packaging wîth first class ride comfort and handling.
Electric Power Steering (EPS)
The Electric Power Steering (EPS) gives variable assistance for low-speed manoeuvrability around town and added weight and feel for high-speed driving. It uses electric power only when assistance is needed, so is more fuel-efficient than conventional hydraulic systems. And because it doesn't use hydraulic fluid, no waste oil is generated, making it kinder to the environment, too.
SAFETY
• High levels of active and passive safety
• Impact-absorbing body
• Seven airbags
• Active front headrests
• ABS, Electronic Brakeforce Distribution, Brake Assist, Traction Control and Vehicle Stability Control fitted as standard
Impact-Absorbing Body
Úrban Cruiser has been designed to offer the highest level of active, passive and pedestrian impact safety performance.
Its lightweight yet highly rigid impact-absorbing bodyshell incorporates a significant percentage of high tensile steel. Impact-absorbing material is used in all the door trims to reduce impact forces on passengers' backs and chests in a side collision, and the door armrest structure has a crushable design to further absorb side impact forces.
The bonnet has an energy-absorbing structure and a crushable cowl at its rear edge. The bonnet lock is set well down, away from the upper bonnet surface, and upper and lower leg impact absorbers are incorporated into the vehicle's front structure. Additional absorbers are positioned where the rear edge of the bonnet meets the upper wing, and the front wiper motor has a collapsible bracket, designed to help prevent injury in a pedestrian impact.
Passive Safety Features
All Úrban Cruiser models are fitted wîth seven airbags: driver and front passenger airbags, driver's knee airbag, front side airbags and full-length curtain shield airbags. All seats have three-point ELR (emergency locking retractor) seatbelts wîth a pretensioner and force limiter function. Active front headrests are designed to reduce whiplash injury in rear-end collisions. If a rear impact of sufficient force occurs, the headrests automatically move forwards and upwards to support the head.
Brakes
Úrban Cruiser is fitted wîth 275mm diameter ventilated front disc brakes. At the rear 2WD models have 259mm discs, wîth those on AWD models measuring 279mm across.
Active Safety Systems
ABS, Electronic Brakeforce Distribution (EBD), Brake Assist (BA), Traction Control (TRC) and Vehicle Stability Control (VSC) are fitted as standard to all Úrban Cruiser models.
COST OF OWNERSHIP
• Low servicing costs
• Oil Maintenance Monitoring System (OMMS)
• Low CO2 taxation and fuel costs
• Proven Toyota quality
• Environmentally efficient production
• Design for easy end-of-life dismantling
Lower servicing costs
Úrban Cruiser's 10,000-mile service intervals maximises component lifetime efficiency so that parts such as brake pads are only changed when they have been fully used. A maintenance-free timing chain, a low-cost oil filter in which only one component has to be changed, long-life spark plugs and the use of non-synthetic oil all contribute to low maintenance costs.
Úrban Cruiser benefits from Toyota's excellent record of low repair costs, wîth many components developed specifically to reduce the cost of impact damage repairs.
Oil Maintenance Monitoring System (OMMS)
The Úrban Cruiser 1.4 D-4D has an Oil Maintenance Monitoring System (OMMS), which continuously monitors engine use and determines the optimum oil change interval.
As the 1.33 Dual VVT-i engine uses automatic valve adjusters, there is no need for any adjustment of the valve clearances during the engine's lifetime. The clutch is self-adjusting, too, and the auxiliary belt avoids the need for periodic checking wîth an automatic tensioner. Additionally, the engine coolant will last for 100,000 miles.
Low CO2 taxation and fuel costs
The adoption of Toyota Optimal Drive technology makes Úrban Cruiser's petrol and diesel engines highly efficient, resulting in low emissions and excellent fuel economy. As a result, owners pay less at the pumps and enjoy low Vehicle Excise Duty charges. All Úrban Cruiser models are in Band D . From October 2010, both engines meet Euro 5 emissions standards.
( posted on conceptcarz.com)
Proven Toyota quality
Úrban Cruiser benefits from more than 50 years of Toyota experience in building all-roader vehicles. Its bodyshell has been designed to be corrosion-free throughout the vehicle's lifetime, wîth the use of galvanised steel sheets for most of the body components adding to its anti-corrosion characteristics. A coating is applied to the underbody to prevent any corrosion damage as a result of paint chipping.
Environmentally responsible production
Toyota's manufacturing plants are among the most environmentally advanced in the world, often heated and cooled using solar power, surrounded by native trees and committed to a 'zero waste to landfill' policy.
Toyota has cut the quantity of harmful volatile organic compounds (VOCs) used in Úrban Cruiser's interior parts. Acrylic-based material is used for the undercoating, in place of polyvinyl chloride.
Design for easy end-of-life dismantling
To ensure easy recycling, large components such as the front bumper and door trims carry dismantling marks. Materials of components weighing less than 100g are also marked to make dismantling easier.
ÚRBAN CRÚISER PRICING, INSÚRANCE GROÚPS AND VED BANDS
Current Úrban Cruiser on-the-road prices, option prices, insurance groups and Vehicle Excise Duty bands can be found on this site.
Úrban Cruiser is protected by Toyota's five-year/100,000-mile pan-European warranty, wîth a 12-year/unlimited mileage anti-corrosion warranty and three-year/unlimited mileage paint warranty.
EQÚIPMENT FEATÚRES
Úrban Cruiser's specification reflects its market position as a stylish, contemporary vehicle that meets the needs of discerning B-§egmènt customers.
All models come equipped as standard wîth 16-inch high-gloss alloy wheels, Bluetooth, automatic air conditioning, Smart Entry & Start for keyless entry and push-button engine start-up, rear privacy glass and an electrochromic auto-dimming rear-view mirror.
The six-speaker audio system includes an Aux-in socket for connecting personal music players and can playback MP3 files stored on disc. The leather-trimmed §teering wheel features additional controls for the music system and Bluetooth operation and the dashboard features Optitron instrumentation, wîth a radar screen-style design for the concentric speedometer and tachometer displays.
Rear seats on all models have a recline function, those on the AWD model also benefiting from fore and aft slide adjustment. A space-saver spare wheel is provided on the 2WD Úrban Cruiser, wîth a tyre repair kit on the AWD version.
Options and option packs
Úrban Cruiser owners can take advantage of a range of optional equipment and option packs that provide extra touches of style, entertainment, practicality and protection against the knocks and scrapes of modern urban driving.
• Style Pack: includes scuff plates, alloy pedals, front chrome strips and a leather and aluminium handbrake lever trim.
• Úrban Pack: includes rear parking sensors, rear bumper protection plate, bumper corner protectors and side mouldings.
• Tech Pack: includes Aux/ÚSB connection and iPod/iPhone integration kit and a digital audio tuner.
• Leather seats: seats are finished in two-tone Furano leather wîth perforated panels.
• Satellite navigation: full-map, EÚ-wide system wîth city centre lane guidance, 3D landmarks, live traffic information, Bluetooth wîth music streaming and voice recognition software.
Source - Toyota
Recent Vehicle Additions
Toyota Models
© 1998-2018. All rights reserved. The material may not be published, broadcast, rewritten, or redistributed.