1956 DeSoto Fireflite news, pictures, specifications, and information

Tweet
This limited edition Pace Car, which is one of 25 remaining, from a production thought to be as few as 100. It is equipped with a rare 15 jewel 'DeSotomatic' self-winding steering wheel clock and a 16 2/3 RPM Highway Hi-Fi Record Player.

The DeSoto Indianapolis Pace Car Convertible was distinguished by its DeSoto Adventurer Gold paint and forward look emblems.

The car standard equipment included DeSoto's first pushbutton transmission and a 350 cubic-inch HEMI V8 producing 255 horsepower. The base price was $4,356 and weighed 4,070 lbs.
In 1955 the DeSoto Fireflite was wider and longer than previous DeSoto models. It came equipped with a V8 engine and PowerFlite automatic transmission. Multiple colors were used to highlight design details such as the fang-shaped panels. The windshield was DeSotos first wrap-around design. The interior was new and slightly radical with a dual cockpit gull wing theme. The PowerFlite automatic was operated by a Flite-Control lever located on the dashboard. There was ample space to accommodate six adults comfortably. The bench seats were long and comfortable, available in leather upholstery. Under the hood lurked a powerful V8 engine producing 255 horsepower. It could propel the car from zero-to-sixty in less than eleven seconds with a top speed of 110 miles-per-hour. This was more standard horsepower than most other manufacturers were offering on their vehicles.

The DeSoto was more than an exercise in design it was a unique riding experience. For the driver and passengers the engine and road noise was practically not existent. The suspension was smooth and there was comfortable performance. It was a lot of car for the money. The 1955 DeSoto's sold extremely well with over 114,765 examples produced, the best for the company since 1946. For 1956 DeSoto continued to climb the automotive industry ladder reaching 11th place in total production with 110,418 examples. However, this trend was temporary for the company; in five years time it was out of business.

In 1956 a gold and white Fireflite convertible was the official pace car for the 1956 Indianapolis 500, a prestigious responsibility. The word 'DeSoto' adorned the doors, painted in large block letters. On the raceway was a fitting slogan, 'DeSoto Sets the Pace.'

For 1957 the DeSoto appearance was modified with the help of Chrysler Corporation's head stylist, Virgil Exner. The design was bold and radical with tail fins, dual oval exhaust, and triple lens taillights. At speed, the tail fins served a purpose by improve stability. The versatility of the Fireflite was expanded with the addition of a station wagon. The cars built during 1957 were spectacular in design but poor in quality. Some of the models leaked and were unable to keep the rain out of the vehicle during a storm. Other had defective transmissions, power steering units, radiators, and a slew of the other problems. Many were prone to early rusting. This was the down fall that DeSoto endured and ultimately, unable to recover.

The DeSoto Fireflite was an exquisite car with bold styling and proven performance.
By Daniel Vaughan | Dec 2007
Concours d'Elegance of America at St. John's : Class Previews
Here is a little preview of two of our special classes for St. John's upcoming show. Featured Designer: Virgil Exner The 2014 Concours d'Elegance of America will honor the work of famed chief designer Virgil Exner with an unprecedented display of Chrysler Corporation's 1955-1961 'Forward Look,' a daring two-pronged styling revolution that changed the look of the American car. First up were the 'jet-age'1955 Plymouths, Dodges, DeSotos, Chryslers and Imperials. Then came the 1957 m...[Read more...]
RARE REUNION: CHRYSLER CONCEPT CARS GATHER AT AMELIA, 2014
Nine rare and important Chrysler Concept Cars from the forties, fifties and sixties will be presented together for the first time at the 19th annual Amelia Island Concours d'Elegance on March 9, 2014. From the two-seat Chrysler Thunderbolt roadster and the dual-cowl Chrysler Newport of 1941 through the radical 1963 Chrysler Turbine car, Amelia's Chrysler Concept Car Class shows the genesis of the styling and engineering philosophy that summoned Chrysler's industry-changing 'Forward Look...[Read more...]
RARE CHRYSLER LA COMTESSE CONCEPT APPEARS AT AMELIA 2014
After decades in obscurity Chrysler's La Comtesse Concept Car will re-debut at the 19th annual Amelia Island Concours d'Elegance on March 9, 2014. The Fifties introduced new automotive chemical and paint technologies that helped summon a sea change in the way cars were purchased. It was a subtle component of Detroit's marketing equation, but color had risen near the top of the car buyer's priority list. The important fact was that women invariably chose the color of the new family car....[Read more...]
RON BURGUNDY ANCHORS NEW 2014 DODGE DURANGO ADVERTISING CAMPAIGN
◾Co-branded advertising campaign combines power of Detroit automaker, major Hollywood studio and Will Ferrell (as Ron Burgundy) in biggest ever original content promo ◾Campaign launches new 2014 Dodge Durango featuring 'Anchorman 2: The Legend Continues' character Ron Burgundy as its new pitchman ◾Multimedia campaign spans television, digital, social and print ◾Television spots debuted on television and online on Saturday, October 5 ◾Campaign champions holiday release of Paramount Pictures' ...[Read more...]
Crowd Shakers And History Makers At Mecum's Chicago Auction Oct. 10-12
• Hemi Under Glass Collection and Harley J. Earl Corvette Part of 1,000-Car Lineup
Walworth, WI - September 16, 2013 -- Mecum Auctions is taking the gavel to Chicagoland this Oct. 10-12 with 1,000 vehicles expected to cross the block at the breathtaking Schaumburg Convention Center. The lineup is already fraught with headline-worthy consignments including the most famous wheel-standers in drag racing history– the Hurst Hemi Under Glass Collection – as well as the one-of-a-kind,...[Read more...]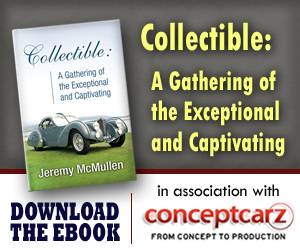 Similarly Priced Vehicles from 1956
Chevrolet Corvette C1 ($3,118-$3,118)
Ford Thunderbird ($3,150-$3,150)
Studebaker Golden Hawk ($3,060-$3,060)
Porsche 356A ($3,210-$5,900)
Austin-Healey 100-4 BN2 ($2,995-$3,280)
DeSoto Firedome ($2,680-$3,320)
Austin-Healey 100M BN2 ($3,280-$3,280)
Buick Century Series 60 ($2,961-$3,304)
Buick Series 70 Roadmaster Riviera ($3,500-$3,700)
Oldsmobile Eighty-Eight Series ($2,170-$3,385)
Oldsmobile Ninety-Eight ($2,970-$3,380)

Average Auction Sale: $105,667
© 1998-2014. All rights reserved. The material may not be published, broadcast, rewritten, or redistributed.