1969 Mercury Cyclone news, pictures, specifications, and information

Tweet
| | | | |
| --- | --- | --- | --- |
| | | | Spoiler II Dan Gurney Special Coupe |
The Mercury Cyclone Spoiler II was a special model produced to satisfy the booming performance car market of the 1960's. It was more aerodynamic than the fastback coupe and was designed to specifically meet NASCAR's certification requirement and compete against Ford's Torino Talladega.

The Cyclone Spoiler II design featured a stretched, tapered nose and flush-mounted grille. It also had re-rolled rocker panels that allowed the car to be lowered without violating NASCAR's ride-height requirements. Two trim packages were available: the Dan Gurney Special in Wimbledon White and Presidential Blue and the Cale Yarborough Specials (as seen on this car) in Candy Apple Red over Wimbledon White. Both were named after Mercury's best NASCAR drivers of the time.

While the exact number of Cyclone Spoiler II's built is not known, it is beloved to be between 300 and 500. Also built was a standard-nosed model, known as Cyclone Spoiler, which was offered with the same trim packages. Only the extended nosed models were Cyclone Spoiler II's. These were powered by the 290 horsepower, 351 cubic-inch Windsor engine.
In 1968 the Mercury Cyclone was offered in a fastback and a notchback hardtop, though only the fastback body style returned for its final year of 1969. The GT option was reduced to just an appearance group package. However, the new 'hot' Cyclone was a CJ which was aimed at the budget priced Plymouth Roadrunner. The CJ came with the 428 Cobra Jet engine rated at 335 bhp standard, along with a four-speed manual transmission, Competition Handling Package and a bench interior. The CJ sold for $3,224 compared to the standard Cycle 302 priced at $2,771.

'Car and Driver' reported 0 to 60 in 5.5 seconds and a quarter-mile in 13.9 seconds.
This 1969 Mercury Cyclone was built by Homan and Moody for Bobby Allison to race in the 1971 NASCAR Winston Cup season. The 1969 car was chosen because of the superior aerodynamics to the 1971 model. It features the 427 tunnel port Ford engine producing about 525 hp.

He first drove it at Talladega where he finished second to his brother, Donnie. With this car, he won the Charlotte World 600, the Dover Mason Dixon 500, the Brooklyn Michigan Motor City 400, with additional wins in Atlanta, Talladega, Darlington, and Charlotte. Bobby finished 4th in the Winston Cup National Championship that year.
David Pearson won the 1968 NASCAR Championship and for the following season, Ford Motor Company engineers paid extra attention to aerodynamics. Focusing on speed and stability, the Ford Motor Company made some of the most famous and memorable stock cars in NASCAR history. The Mercury Cyclone and Ford Torino fastback body styles worked well on shorter tracks, however their large, squared-off frontal areas and recessed grilles were major sources of drag which limited the cars potential on longer speedways. Rectifying the problems were the introduction of the Torino Talladega and the Cyclone Spoiler, with two Cyclone variants available : the Spoiler, with a standard nose, and the radical Spoiler II, with an elongated nose similar to that of the Taladega.

The Spoiler was available with two trim options, the red and white Cale Yarborough edition was sold east of the Mississippi, while the blue and white Dan Gurney edition was sold west of it. According to NASCAR rules, at least 500 street versions were required to homologate the Spoiler for competition, and estimates place the total number produced from as few as 503 to as many as 519. Of those, only about 40 percent were Dan Gurney-edition cars.

This example is powered by a 390 cubic-inch V-8 engine with a single four-barrel carburetor offering 320 horsepower. There is a SelectShift three-speed automatic transmission and four-wheel hydraulic brakes. Other desirable features include air conditioning, bucket seats with a center console, a Philco pushbutton radio, American Racing Torq-Thrust wheels and B.F. Goodrich Radial T/A tires.

In 2011, this vehicle was offered for sale at the Amelia Island auction presented by RM Auctions. The car was estimated to sell for $15,000 - $20,000. As bidding came to a close, the car had been sold for the sum of $33,000 including buyer's premium.
By Daniel Vaughan | Apr 2011
This 1969 Mercury Cyclone is powered by a 428 Cobra Jet Ram Air engine with the Drag Package. Only 14 Cyclone's were ordered with automatic transmissions and only 260 were powered by the 428 Cobra Jet. Only one was painted white.
| | | | |
| --- | --- | --- | --- |
| | | | Spoiler II Dan Gurney Special Coupe |
Stock car racing and the muscle car era was becoming very popular during the mid-1960's which left many marques abandoning the larger platforms in exchange for intermediate bodied cars. For Mercury, their answer was the Comet which had debuted in 1960 on a stretched Falcon frame. When the Mercury Cougar was introduced in 1967 it relieved the Comet of some of its functions and freed it to become a true muscle car.

Safety was important and this showed during the close of the 1960's, as government regulations and safety restrictions brought the muscle car era to an end. NASCAR had begun imposing strict restrictions on horsepower around the same time, in an effort to make the cars more competitive and safer. Racers were no longer being decided upon sheer power but on aerodynamics and low drag, to name a few. For 1969 a special model was introduced named the Cyclone Spoiler II which had an extended nose adding an addition 19.5 inches. It had a downward angle of thirty-five degrees and located at the back was a fixed spoiler. Re-rolled rocker panels gave the allusion of the vehicle sitting about an inch lower.

NASCAR homologation rules stated that at least 519 examples were needed. Mercury planned on producing at least this amount and possibly fitting them with a 428 Cobra-Jet option. When introduced, the vehicles were given a 351 cubic-inch Windsor engine that produced 290 horsepower. A FMX automatic transmission was also standard. To honor two of Mercury's greatest NASCAR drivers, the vehicles were offered in two commemorative editions, the Dan Gurney and the Cale Yarborough edition. The Dan Gurney edition was in Wimbledon White while the Cale Yarborough edition was in Candy Apple Red and Wimbledon White.
By Daniel Vaughan | Jul 2009
| | | | |
| --- | --- | --- | --- |
| | | | Spoiler II Cale Yarborough Special |
The NASCAR Aero Wars were in full force in 1969, and Mercury was right in the middle of all the action. Realizing that pure horsepower would not necessarily put them in the winner's circle, like Ford, they created a very special automobile, called the Mercury Cyclone Spoiler II.

With an extended, sloped nose that was a full 19.5-inches longer than a standard Cyclone and even longer than the Ford Talladega, and other modifications, the Spoiler II would prove to be even faster than the Talladega. To meet eligibility requirements, a minimum of 500 units were to be produced for public consumption. With the hours of additional work required in extending the fenders and creating the sloped nose, this was no small feat, but Mercury was determined to dominate the tracks on Sunday so that it would sell even more cars on Monday.

When production ended in 1969, it is said that they may have not actually built the required minimum. It is believed that some creative parking with about 150 'regular' nose Cyclones mixed in allowed the cars to be sanctioned. Whether this is indeed true, we may never know.

The Spoiler was offered in two variations; the Blue and White Dan Gurney Special and the Red and White Cale Yarborough Special, as seen here. This example is believed to be one of 285 produced and is powered by the 351 cubic-inch V8 mated to a C6 automatic transmission.
| | | | |
| --- | --- | --- | --- |
| | | | Spoiler II Dan Gurney Special Coupe |
The Mercury Cyclone Spoiler II is what legends are made of. With numerous unique features specifically designed to create a faster automobile for NASCAR racing, the boys from Mercury were certainly successful.

Starting with an extended nose that required extensive special handling, a full 19 inches was added making the fenders even longer than the also much-modified Ford Talladega. The nose would be treated to a 35 degree slope, compared to the 30 degree slope of the Talladega. These were just a few of the many aerodynamic tricks that were used so that they could beat up on the Dodge and Plymouth entries with their more powerful 426 Hemi engines. It takes more than just horsepower to win races!

Much like the Talladega, the Cyclone Spoiler II's were built specifically to win races. Just 15 days after the order was given to produce the Talladegas, Mercury received the green light to produce the Cyclone Spoiler II.

It is believed that even though NASCAR required a minimum production run of 500 units to be legal for competition, Mercury may have done some creative parking when the cars were counted, and fewer than 400 were produced.

Spoiler II's were offered either as the Red and White Cale Yarborough Special or the Blue and White Dan Gurney Special. The current owners grandfather purchased this car at Stu Evans Lincoln-Mercury in June of 1969.
Advertised as the vehicle that was 'Born for Action - Racy' the 1965 Comet Cyclone hit the market with a bang. 'Help stamp out dull driving' was the catchphrase used to promote this new model.

Beginning as an option for the '64 Comet, the Mercury Cyclone was originally introduced to the automobile market in 1964. For the next three years, it continued as a Mercury Comet Cyclone. Remaining in production until 1972, the Cyclone featured an available 289 V8 that was rated at 210 hp. From 1968 on, the Mercury Montego applied the name Cyclone.

During its first year of production, a total of 7,454 units of the Mercury Cyclone were produced. A total of 12,347 Comet Cyclones were produced in the 1965 model year. This amazing selling potential was most likely due to the range of available features that included custom options like Multi-Drive Merc-O-Matic, or four-on-the-floor.

The Comet Cyclone was made available standard with bucket seats, tachometer, 3 spoke steering wheels, console, 'chrome look' wheel covers and many more features. Rated at 210 hp, and featuring an optional hipo 281 hp version of the 289 V8, the 'Cyclone Super 289 V8' was the standard engine with a four barrel carburetor.

In 1965, all new styling was featured. Both the Cyclone emblems and the checkered flag were moved to rear fenders and vertical headlights were added. The very popular stainless steel 'chrome simulated' wheel covers remained same on the Cyclone for this year. A standard option for this year was a 195 hp version of the 289 V8 with a two-barrel carburetor. An available option was a four-barrel carburetor 225 hp 289 V8 engine. One other optional feature was an available hood with twin air scoops that were onstructed of fiberglass. These model began at a base price of $2625.00.

For the 1966 model year, a total of 6,889 Hardtop models and 1,305 Convertibles of the Comet Cyclone model were produced.

Made available for the 289 V8 engine, a line of 'Cobra' high performance equipment was featured. This line offered an innovative 271 hp version of the 289 V8 and included a Cobra heavy-duty clutch, special carburetors, air cleaners and valve covers. Featured by Mercury, in 1967 a Cyclone GT was made available and was powered by a 335 hp 390 V8. A 427 was made available with 425 hp the following year.
By Jessica Donaldson
For more information and related vehicles, click
here
GREG BIFFLE GIVES FORD MOTOR COMPANY 1,000TH NASCAR VICTORY AFTER WINNING AT MICHIGAN INTERNATIONAL SPEEDWAY
◾Ford Motor Company has won 1,000 NASCAR races in the Sprint Cup, Nationwide and Camping World Truck Series combined. ◾Jim Roper won the very first NASCAR-sanctioned stock car race in a Lincoln when he was deemed the winner at Charlotte on June 19, 1949. ◾Ford Motor Company has won 20 manufacturer titles and 13 driver championships in NASCAR's top three series. DEARBORN, MI, (June 16, 2013) – Henry Ford's win over Alexander Winton on Oct. 10, 1901 in what proved to be his only race a...[Read more...]
LOGANO AND EDWARDS HOPING FOR POCONO SUCCESS THIS WEEKEND
Joey Logano, driver of the No. 22 Shell/Pennzoil Ford Fusion, is the defending race winner of the Party in the Poconos 400 and currently sits 18th in the NASCAR Sprint Cup Series point standings. Logano, who will be traveling between Pocono and Iowa this weekend for the NASCAR Nationwide Series race Saturday night, answered questions from the media on Friday. JOEY LOGANO – No. 22 Shell/Pennzoil Ford Fusion – THOUGHTS ON POCONO THIS WEEKEND? 'I love coming up here. Besides the weather, ...[Read more...]
DAN GURNEY JOINS 'THE AMELIA'S' FORD GT40 SEMINAR
Le Mans winner Dan Gurney, the Amelia Island Concours d'Elegance's 2002 Honorary Chairman, returns to 'The Amelia' to join a panel of international racing celebrities and experts honoring the 50th anniversary of Ford's game-changing GT40 prototype. Gurney won just one race for the Carroll Shelby-led Ford GT40 team, but it was the race that mattered most: the 24 Hours of Le Mans. Gurney's victory in the 1967 edition of the fabled Le Mans 24 Hour endurance classic has become the stuff of legen...[Read more...]
Barrett-Jackson Flavors Its January Scottsdale Auction With NASCAR Treats
• RACING HERITAGE, HIGH PERFORMANCE ARE RECIPES FOR CAR-COLLECTING FEAST
• SPEED™ SET FOR 39 HOURS of LIVE COVERAGE STARTING JAN. 15
The great Henry Ford once said, 'Auto racing began five minutes after the second car was built.' And for more than 60 years, there are few entities that better represent auto racing in America than NASCAR. From the hallowed grounds of Daytona International Speedway, to Sonoma, California's intricate and picturesque road course, the sp...[Read more...]
TOPLINE COLLECTORS PLACE SPOTLIGHT on SPEED'S BARRETT-JACKSON BROADCAST FROM SCOTTSDALE
• TOPLINE COLLECTORS PLACE SPOTLIGHT on SPEED'S BARRETT-JACKSON BROADCAST FROM SCOTTSDALE
• 'LOST' SHELBY DUAL PROTOTYPE, HAGERTY GIVEAWAY & SALON COLLECTION HIGHLIGHT 39 HOURS OF LIVE COVERAGE
The 42nd annual Barrett-Jackson Scottsdale (Ariz.) Collector Car Event, the first of four set for live coverage in 2013, kicks off the auction season in grand style as some of the world's most sought-after machines cross the block starting Tuesday, Jan. 15 at 7 p.m. ET/4 p.m. PT. SP...[Read more...]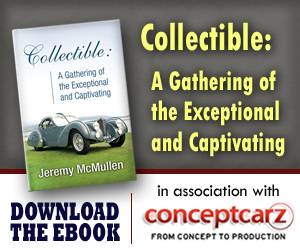 Similarly Priced Vehicles from 1969
Chevrolet Camaro ($2,635-$2,850)
Ford Mustang ($2,615-$3,120)
Plymouth Road Runner ($2,946-$3,310)
Dodge Dart ($2,399-$3,415)
AMC Rambler Hurst S/C ($2,995-$2,995)
Pontiac GTO ($2,831-$4,210)
Chevrolet Chevelle Series ($2,485-$3,270)

Average Auction Sale: $32,742
© 1998-2014. All rights reserved. The material may not be published, broadcast, rewritten, or redistributed.