1953 Siata 208 S news, pictures, specifications, and information

Tweet
Designed by Michelotti and built by Bertone in 1953, the Siata (Chassis #523) was equipped with the Fiat 8V 'kit' including 2-liter engine, 4-speed transmission, and independent suspension. Its stunning clean design provided many styling cues seen in later cars. Less than 35 of the Spiders were ever built, with most finding their way to the West Coast. This car, #523, was originally sold to Steve McQueen and spent most of its life in California. It is the only one to have been shown at Pebble Beach twice, as well as many of the other Northern concours events. It participated in the inaugural Mille Autunno and the California Classic rallies.

Always considered very pleasing to the eye, the Siata 208S Spyder could only really be appreciated when it was allowed to bear its soul. Its soul; however, had almost been stolen from it before it had even taken its first breath.

Everyone has their niche. The Ambrosini family had great talent and craftsmanship in high performance modifications. After World War II, the Societa Italiana Auto Trasformazioni Accessori (SIATA) company would become part of Fiat. Fiat would bring on a brilliant Porsche engineer by the name of Rudolf Hruska. Hruska had been involved with Piero Dusio and his grand prix project. This made him of very great interest to Fiat as it decided to begin to branch out into high performance automobiles.

Fiat conceived their path into the high performance market with a 2-liter V8 that was known as the 'Otto Vu'. The new V8 engine was something different. It had an unusual square design made so by its 70 degree arrangement and wedge-shaped combustion chambers. The high-revving engine with its dual-throat Weber carburetors turned out an estimated 132 bhp at a little over 6,000 rpm.

Fiat would direct Hruska to oversee the new engine design and Siata would serve to develop the engine. To fully develop the engine a car needed to be designed for the new powerplant. A tubular frame chassis would be built that would also utilize fully independent front and rear suspension with coil springs and telescopic shock absorbers. This would give the car very amiable handling qualities compared to many other cars at the time still utilizing stiff-sprung live axles.

Coachwork for the car was done in a number of different styles including Bertone, Vignale and Stabilimenti Farina. Simple and clean in its design, the car's bodywork is attractive for just about any angle. The more rare Spyder design begs its occupant to find a winding road and let it rip. The independent suspension and top speed of around 120 mph makes the small sports car a truly impressive performer.

For many people, the more than $5,000 price tag was enough for many to admire the car's lines, and yet, walk right on by. But there were others that could look into the soul of the car and see so much more than the price tag. One such 208S that would be allowed to bear its soul would cross the RM Auction block at Monterey on the 20th of August.

Sold by Ernie McAfee in 1956 to a young actor by the name of Steve McQueen, the car would become something of an obsession that would plague the actor's mind and even cause him to 'commandeer' it once again after he had sold it in 1958.

Changing hands a couple of times, the car would end up in North Carolina. While east, the car would go through extensive restoration by the prestigious Knute Kollman. Upon completion, the car would earn a third place in the Custom Italian Coachwork class at the 1994 Pebble Beach Concours d'Elegance and numerous other awards throughout the years.

In 2000 the car would be sold again and would move back west where it would take part in the inaugural Mille Autunno Rallye, as well as, the 2001 Concours on Rodeo, where it would be awarded 'Best Italian Car'. After a number of other gatherings and a revitalization, the car would become part of the 'Cars of Steve McQueen' exhibition at The Peterson Automotive Museum in Los Angeles.

The car was intended to run in the Colorado Grand in 2007, but it would be discovered by the Epifani Restoration firm the engine was sorely in need of some attention. And unlike when the car first went on sale during the 1950s, the car would get a lot of attention. A full rebuild was commissioned through Epifani. Almost everything had either come to be modified or replaced. Many parts, like the generator would be replaced with more modern and reliable components. Others, like the head gaskets would be fitted with brand new and state-of-the-art designs.

The interior of the car boasts of elegant Oyster-toned leather with red piping and a dashboard laden with Jaeger instruments. To top off the elegance of the interior, the wood steering wheel had been professionally restored.

Topped with a deep Ruby Red finish, the car looks as elegant as it drives. In the words of Winston Goodfellow, 'In many ways the Siata is a better car than its contemporaries such as an XK120, a Ferrari 342 and even a California Spider because of its superior balance, refinement and agility.' Because of such reviews, its history, documentation and the extensive restoration, chassis #BS523 was expected to garner anywhere between $875,000 and $1,175,000 at auction.

The soul of the Siata 208S was found in its engine. Upon first glance, the car appears something of a simple small sports car. But the car's soul screams, 'There is so much more to me than what you can see. Give me the opportunity to show you.' Road and Track would be touched by the car's soul and would be surprised by what they had found saying it 'was the silky smoothness of the relatively small V-8 engine.'

Looks can be deceiving. This would be one car in which the even the beautiful lines didn't complete the whole picture. But when combined with the incredible performance and handling, the driver is left with something that just will not easily leave the mind.

At auction, the lot was sold for the sum of $946,000 which included buyer's premium.

Sources:
'Feature Lots: Lot No. 255: 1953 Siata 208S Spyder', (http://www.rmauctions.com/FeatureCars.cfm?SaleCode=MO11&CarID=r109). RM Auctions. http://www.rmauctions.com/FeatureCars.cfm?SaleCode=MO11&CarID=r109. Retrieved 16 August 2011.

'Manufacturers: Siata: 1953 Siata 208S', (http://www.conceptcarz.com/vehicle/z10303/Siata-208-S.aspx). Conceptcarz.com: From Concept to Production. http://www.conceptcarz.com/vehicle/z10303/Siata-208-S.aspx. Retrieved 16 August 2011.

'Siata: 1953 Siata 208S', (http://www.supercars.net/cars/2634.html). Supercars.net. http://www.supercars.net/cars/2634.html. Retrieved 16 August 2011.
By Jeremy McMullen
Siata was a small Italian car manufacturer that created a series of sports cars, competing from 1926 to 1970. The 208S Spyder was the first car in a series of three prototypes built for the International Motor Show in New York in 1953. It was then sold and raced as part of the Ecurie Shoestring at many Sports Car Club of America events, reaching an impressive 2nd in class finish and 7th overall at Sebring 1954. The Siata continued to be competitive for a few more years and then was retired. Its beautiful custom coachwork created by Rocco Motto is a prominent example of balanced Italian styling.
Societa Italiana Trasformazioni was formed in 1926 by Giorgio Ambrosini to manufacture tuning accessories for Fiat automobiles. The first SIATA car, the Amica, was built in 1939. Then, during WWII, the company produced military equipment for the war effort. Postwar, it produced a very successful auxiliary bicycle motor and returned to producing performance accessores. In 1949, it released the new Amica, followed by the Diana and competition cars. 1951 brought the BC Barchetta Sport Spider, and in 1952, a two seat coupe, the Diana Sport, and the 1400 Grand Sport, a cabriolet, were introduced. This car is a Pinin Farina design, and 200 were produced. In 1961, SIATA became SIATA Auto SpA, producing Fiat-based cars until 1970, when financial problems stopped production. This example was restored and prepped to participate in vintage rallies.
This Siata 208S (chassis number BS514) was first imported into the United States in 1953 by Pebble Beach Road Race participant and European sports car dealer Ernie McAfee. His Los Angeles company bought 25 of the 35 Siatas built. Although they were expensive cars in their day, Siatas were renowned for their advanced suspension and crisp handling. They always performed well at races like the Carrera Panamericana and at circuits like Riverside and Laguna Seca. The 208S had a 2-liter Fiat V8 engine and fully independent suspension, and the bodywork was designee by Rocco Motto. This small Italian design house bodied a limited number of racing cars from a variety of manufacturers, combining elegance with light weight.
Siata was the acronym for an Italian company that originally provided auto equipment and engine conversions, especially for Fiats. Automobile production began in 1948. Among the early Siatas were roadsters and coupe versions of the Fiat 8V coupe, both of which were produced as a joint effort with Fiat.

The car is powered by an overhead-valve, 1977cc (2-liter) V8 engine developing 110 horsepower coupled to a manual transmission and capable of about 125 mph.

In collaboration with Briggs Cunningham, Siata produced specialty cars for celebrities during this period. The 1,875 pound car sold for $6,000.
The Siata 208 was powered by an engine that had a 70-degree design, wedge-shaped combustion chambers, and aluminum block and heads. With the Siata camshaft, the cars had a claimed top speed of 115 mph. With such an advanced engine, the engineers felt an equally modern chassis was required. They gave it a tubular frame chassis, with fully independent coil-spring suspension and telescopic shock absorbers.

Bill Doheny was a wealthy individual and heir to one of California's largest oil fortunes. One of his friends was Ernie McAfee, a skilled hot-rodder, racing driver, and tuner. Doheny provided financial backing to McAfee Engineering, which, among other ventures, imported a singular Italian sports car to the United States. Most of the Siata 208 models that were delivered through McAfee Engineering were the all-alloy spyders with bodywork designed by Michelotti. The cars were expensive and just 35 examples were built.

This particular example is chassis number BS509. It was purchased new from McAfee Engineering by Bill Doheny. In 1962, it was purchased by Kent Wakeford. Mr. Wakeford, who was friends with Carroll Shelby, sourced a Shelby 260 cubic-inch engine in competition specification and an aluminum Cobra T-10 competition transmission.

The Cobra V-8 engine and transmission were installed into the Siata by Alan Johnston. He installed the 70-pound-heavier Ford engine four inches further back into the engine back to help retain the cars near-perfect 50/50 weight distribution. The original differential was retained, but it was changed from a 4.11:1 ratio to 3.62:1 one. Weight saving measures were made through-out the vehicle, resulting in roughly a net weight-gain of 50 pounds.

Wakeford retained the Siata-Ford until 1974 when it passed through two short-term owners before being acquired by Steve Taub Porsche. A short time it was purchased by 23-year-old Dan Rowen. Mr. Rowen kept the car for the next 33 years. The current caretaker purchased the car in 2009 from Rowen's family.

The new owner has treated the car to a two-year professional restoration. The car has been driven just under 1,000 miles since the work was completed.

In 2014, the car was offered for sale at RM Auction's Arizona sale. Along with the car was the original, matching-numbers (BS073) Fiat 8V engine. The engine is not running but is undamaged.
By Daniel Vaughan | Feb 2014
Siata, meaning Societa Italiana Applicazioni Trasformazioni Automobilistiche, was created in 1926 by Georgio Ambrosini of Turin. They specialized in producing tuning accessories for Italian automobiles, mainly Fiat. Throughout the years they created a few prototype vehicles, many of which were entered in various racing events.

The Siata 208 was produced from 1952 through 1954. Many of the mechanical components were courtesy of Fiat, such as the V8 engine that was capable of producing 140 horsepower.

Originally, the vehicle was bodied by Stablimenti Farina but was later handled by Carrozzeria Balbo. Bertone was tasked with producing a GT saloon version powered by a Chrysler engine. In total, around 32 examples were produced.
By Daniel Vaughan | Mar 2007
For more information and related vehicles, click
here
Postwar Ferrari Named Best of Show at 2014 Pebble Beach Concours d'Elegance
1954 Ferrari 375 MM Scaglietti Coupe Named 'Best of Show' PEBBLE BEACH, Calif. (August 17, 2014) -- Excited cheers echoed across the 18th fairway of Pebble Beach Golf Links Sunday when a 1954 Ferrari 375 MM Scaglietti Coupe was named Best of Show at the 64th annual Pebble Beach Concours d'Elegance. The car, owned by Jon Shirley of Medina, Washington, was the first postwar car to take the top award at the prestigious event in nearly five decades. It was also the first Ferrari to win. ...[Read more...]
Automobiles with Exceptional Provenance Highlight Gooding & Company's Pebble Beach Auctions
SANTA MONICA, Calif. (July 10, 2014) – Gooding & Company, celebrated for its world-class automotive auctions and record-breaking results, will begin its second decade as the official auction house of the Pebble Beach Concours d'Elegance® on August 17 and 18. Gooding & Company is pleased to share a hand selected group of consignments from our Pebble Beach Auctions with exceptional provenance. Exciting entries include an extremely rare 1939 Alfa Romeo Tipo 256 Cabriolet with spectacular one...[Read more...]
REVERED FERRARI 250 LM LEADS SUPERLATIVE ROSTER OF ITALIAN SPORTS CARS AT RM'S FLAGSHIP MONTEREY SALE
· RM Auctions announces a legendary 1964 Ferrari 250 LM by Scaglietti as the latest multi-million-dollar highlight for its flagship Monterey sale, August 15–16 in California · 250 LM leads a superb roster of no less than 26 Ferraris at RM's two-day sale; additional new entries include a 1953 250 Europa and a 1963 400 SA LWB Coupe Aerodinamico Series II · RM joins in Maserati's 100th anniversary celebrations, presenting no less than four examples from the luxury Italian ma...[Read more...]
63rd Pebble Beach Concours d'Elegance Names 1934 Packard 'Best of Show'
The competition showcased 248 cars, including 48 from abroad PEBBLE BEACH, Calif. (August 18, 2013) -- A 1934 Packard 1108 Twelve Dietrich Convertible Victoria owned by Joseph and Margie Cassini III of West Orange, New Jersey, was named Best of Show at the 63rd Pebble Beach Concours d'Elegance, held Sunday on the 18th fairway of Pebble Beach Golf Links at Pebble Beach Resorts. The event showcased 248 cars from 36 states and 12 countries and raised $1,277,007 for charity. 'This Pack...[Read more...]
RM Auctions Announces Consignment of Ex-Works Ferrari 340/375 MM For Its Concorso D'Eleganza Villa D'Este Auction
• Wonderful and historically significant Ferrari 340/375 MM to be offered at RM's exclusive evening sale on the banks of Lake Como, Italy, 25th May • Chassis 0320AM boasts unsurpassed provenance with Le Mans history and drivers, including world champions Hawthorn, Farina, and Ascari • Winner of the Pescara 12 Hours, piloted by Hawthorn and Maglioli • The car established a never broken, record setting pace in the Carrera Panamericana in the hands of Maglioli • Chassis 0320AM on preview at ...[Read more...]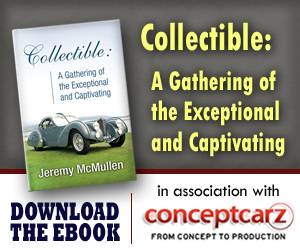 © 1998-2014. All rights reserved. The material may not be published, broadcast, rewritten, or redistributed.