1955 Chevrolet Series 150 news, pictures, specifications, and information

Tweet
In the mid-1950's, NASCAR-style stock car racing was growing in popularity and Chevrolet was well positioned to succeed in the rough and tumble sport. With the introduction of its all-new 1955 model, Chevrolet had a lot going for it: totally new styling to go with its first modern-era V-8, the 265 CID small block V-8. This engine, which won its first Super Speedway race at Darlington, South Carolina in 1955, has gone on to win more NASCAR races than any other; the current iteration of the small block V-8 just powered Chevrolet Monte Carlos to the 2005 NASCAR Manufacturers Championship.

This re-creation of Herb Thomas' Darlington-winning car is faithful to its predecessor, based on a 150 series utility sedan (no back seat) and equipped with the 'PowerPak' small block V-8 with dual exhausts, a four barrel carburetor and 'three on the tree' manual transmission.
The 1955 Chevrolets came in 14 solid tones and 21 combinations. Power was from a new overhead-valve V-8 motor that finally had 12-volt electronics.

For 1955, Chevrolet had three models - the 150, 210 and Bel Air, available in coupe, sedans, convertibles and wagons, including the Nomad.

This vehicle is a single-color 150 two-door sedan powered by a new 265 cubic-inch 'small block' V-8 with a three-speed transmission. It is painted in Skyline Blue and was purchased new by Carl Elkins in Rogersville, Tennessee. The second owner was Mary Ellen Merriman of Mooresville, Indiana, who retained the car from 1959 to 1986.

In 2005, it was purchased by Bill Jacobs. At the time, it had 39,026 miles on the odometer. A full, frame-off restoration soon began, replicating a similar car in GM's museum. It was given Jacobs dealership-related graphics and the number '55'.

In 2011, this vehicle was offered for sale at the RM Auction sale in Scottsdale, Arizona. It was estimated to sell for $20,000 - $30,000 and offered without reserve. As bidding came to a close, the car had been sold for the sum of $27,500, inclusive of buyer's premium.
By Daniel Vaughan | Feb 2011
The One-Fifty, aka 150, was produced from 1954 through 1957 as Chevrolet's entry-level vehicle. The previous model to serve this function was the Styleline Special. The name 1500 was to be used, representing the production series number, but one digit was dropped and the 150 was formed. They were available as sedans, wagons, and club coupes (available until 1955).

The vehicle was a popular fleet vehicle, such as with small businesses, police, and other government uses. It was never a high seller, always selling less than the other vehicles in the fleet such as the Bel Air or the Two-Ten. It was a basic car with solid colors and plain trim. Most items were optional such as mirrors, ash trays, engines, and transmissions, to name a few.
By Daniel Vaughan | Aug 2006
A no-frills vehicle, the One-Fifty was built ultimately for speed and performance. The economy/fleet model, the Chevrolet One-Fifty, or '150' was introduced in 1953 until 1957. While other drivers may have typically gone for the flashy more modern vehicles with all of the bells and the whistles, some buyers wanted just basic speed for as little money as possible and were willing to go without the basic creature comforts. By dropping the hottest engines into inexpensive, light bodies, the Chevy One-Fifty was born.

With a base price of $1,734, the One-Fifty had a 3,117-pound curb weight and the two-door utility sedan was the lightest and least expensive model that Chevy offered in 1956. The austere exterior trim featured a single chrome side spear and small hubcaps were the only embellishments for the vehicle. Inside the One-Fifty was a single sun visor, rubber floor mats, no radio, clock or heater. In the rear, the windows were fixed, and the utility sedan featured a 31-cubic-foot cargo area was lined by 'dur-able composition-board loadspace walls' placed directly behind the single split-bench seat. The inside of the One-Fifty was only featured in one color choice, a beige and gold-striped vinyl with golden-flecked black pattern cloth as the sole trim combination.

1953 was the first year for the One-Fifty and the Two-Ten, models that were basically the same except for the business coupe being renamed the Utility Sedan in 1954. To capitalize on the numerical auto name trend of the 1950's, the name of the Chevy was created by shortening the production series number (1500) by one digit. In company literature, the numerical nomenclature '150' was haphazardly speckled throughout. The One-Fifty replaced the Styleline Special model that had been produced earlier, and lasted until 1957 when replaced by the Delray.

The design and production of the One-Fifty was brought about originally as a fleet model with little or no effort to market it to the average consumer, though sales weren't limited to fleets. The Chevy One-Fifty was quite popular with state governments, police, economy-conscious drivers, hot rodders and small businesses. During every year of its production, One-Fifties were least sold vehicles by Chevy.

1953 and 1954 models used three different engines that were not all available at the same time. In 1953, all One-Fifties used a 3-speed Synchromesh manual transmission and beginning in 1954, Powerglide automatic transmission was available on this series. For 1953 sedan delivery only the engine was 216 in³ 'Thrift-master' I6 rated at 93 hp, '53 standard equipment was the 235 in³ 'Thrift-King' I6 rated at 108 hp and in 1954 standard equipment was 235 in³ 'Blue Flame' I6 rated at 115 hp.

Basic, no extra's transportation, the Chevy One-Fifty had very limited options, solid colors, stark trim, rubberized flooring and plain heavy duty upholstery. Extra cost additions on the vehicle included such little features as mirrors, cigarette lights and even ashtrays. Boring, stark and bland, the One-Fifty was basic when side by side with the mid-level Two-Ten or premium Bel-Air models.

For 1955, a new chassis was introduced in the Chevy One-Fifty along with the introduction of Chevy's legendary Small Block V8. Purchasers of the One-Fifty were free to choose any power-train option available. For 1955 the business sedan was renamed the utility sedan for the year.

The following year, engine choices continued to remain basically the same except for higher hp ratings. The 265³ V8 engine was available in three different versions. Regardless of transmission type, the new I6 had a new unified build. In 1957 the 283 in³ small-block V8 was introduced. Very similar to the side trim in the '55's Bel-Air trim, the 150 was looking much fancier. A total of 56,266 Chevy 150 four-door sport sedans in 1957 were sold along with a total of 75,000 2-door versions.

By the end years of its production, the One Fifty began becoming more stylish as more standard equipment began becoming included in all Chevrolets including Bel-Air stainless steel side trim and an improved interior. Sedans, wagons and the club coupe were the body style choices of the Chevy One-Fifty. The body styles that were designed specifically fleet oriented, the One-fifty was available in sedan deliver; 2 door wagon without rear windows and the rear seat removed, and the business sedan; 2 door sedan with immobile rear windows and back seat removed.

The One-Fifty powertrain choices were limited to low output engine and manual transmissions until 1954. The 'Black Widow' was a full race ready variation that was introduced in 1957 and featured black and white paint colors. This variant was also equipped with 4 wheel heavy duty brakes, dual shocks and 6-lug wheels.

Today, Two-Ten and Bel-Air models are much more valuable models on the automobile collectors market in comparison to the One-Fifties. Premium prices can be received though for the rare surviving sedan delivery or Utility Sedan. Hot rod enthusiasts are still seeking V8 One-Fifties because of their lower curb weight and lower prices.
By Jessica Donaldson
For more information and related vehicles, click
here
Simon Cowell, Gene Simmons & Others Partner With Craig Jackson For Scottsdale Auction
Barrett-Jackson Welcomes Celebrities and Vehicles Affiliated with Film '2 Fast 2 Furious' Featuring the Late Paul Walker, Steven Tyler, Gene Simmons, the Late Michael Jackson, Kobe Bryant, Michael Schumacher, the Late James Gandolfini, Chad Kroeger and Film 'Driving Miss Daisy' SCOTTSDALE, Ariz., Jan. 7, 2014 — Barrett-Jackson, The World's Greatest Collector Car Auctions™, announced today the lineup of celebrity affiliated vehicles that will cross its auction block in Scottsdale as wel...[Read more...]
POTEET, CIZEK EARN TOP AWARDS AT GOODGUYS 16TH PPG NATIONALS
Columbus, OH – Tennessee's George Poteet and Nebraska's Ron Cizek collected the top two awards at the Goodguys 16th PPG Nationals in Columbus, Ohio last weekend. Under brilliant sunshine and in front of record crowds, Poteet's vintage NASCAR-inspired '69 Torino won the Goodguys 2013 Optima Batteries Street Machine of the Year while Cizek's popular Ridler award-winning '40 Ford coupe collected the Goodguys 2013 Classic Instruments Street Rod of the Year title. For Cizek, it's the second ma...[Read more...]
Barrett-Jackson Flavors Its January Scottsdale Auction With NASCAR Treats
• RACING HERITAGE, HIGH PERFORMANCE ARE RECIPES FOR CAR-COLLECTING FEAST
• SPEED™ SET FOR 39 HOURS of LIVE COVERAGE STARTING JAN. 15
The great Henry Ford once said, 'Auto racing began five minutes after the second car was built.' And for more than 60 years, there are few entities that better represent auto racing in America than NASCAR. From the hallowed grounds of Daytona International Speedway, to Sonoma, California's intricate and picturesque road course, the sp...[Read more...]
TOPLINE COLLECTORS PLACE SPOTLIGHT on SPEED'S BARRETT-JACKSON BROADCAST FROM SCOTTSDALE
• TOPLINE COLLECTORS PLACE SPOTLIGHT on SPEED'S BARRETT-JACKSON BROADCAST FROM SCOTTSDALE
• 'LOST' SHELBY DUAL PROTOTYPE, HAGERTY GIVEAWAY & SALON COLLECTION HIGHLIGHT 39 HOURS OF LIVE COVERAGE
The 42nd annual Barrett-Jackson Scottsdale (Ariz.) Collector Car Event, the first of four set for live coverage in 2013, kicks off the auction season in grand style as some of the world's most sought-after machines cross the block starting Tuesday, Jan. 15 at 7 p.m. ET/4 p.m. PT. SP...[Read more...]
2012 Keeneland Concours d'Elegance Features Packard Automobiles
The 9th annual Keeneland Concours d'Elegance will once again bring more than 150 classic and collector automobiles and motorcycles to the grounds of the historic Keeneland Race Course on Saturday, July 21, 2012. This year's featured marque is Packard, and collectors from across the country will compete for trophies in 18 classes of classic, vintage and exotic autos and motorcycles. Packard autos will be divided into pre-war and post-war classes. Other featured classes include the Motorcycle P...[Read more...]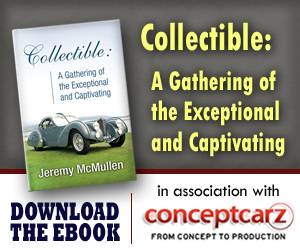 Similarly Priced Vehicles from 1955
Chevrolet Bel Air ($1,666-$2,600)
Ford Fairlane ($1,920-$2,270)
MG TF 1500 ($1,995-$1,995)
Plymouth Belvedere ($1,910-$2,405)
Ford Mainline ($1,604-$1,850)

Average Auction Sale: $36,260
Chevrolet
Monthly Sales Figures
Volume
September 2014
153,873
August 2014
185,930
July 2014
175,155
June 2014
188,567
May 2014
205,010
April 2014
181,648
March 2014
179,681
February 2014
153,913
January 2014
119,089
December 2013
153,493
November 2013
145,089
October 2013
155,214
(More Details)
© 1998-2014. All rights reserved. The material may not be published, broadcast, rewritten, or redistributed.