Image credits: © Ford.
1967 Ford GT40 news, pictures, specifications, and information

Tweet
In 1963, Ford was pushing hard to acquire Ferrari. However, when the deal failed to materialize a new kind of resolve overcame the Ford management and its racing department. The new attitude could be easily explained: 'If you can't buy them, then beat them.' Thankfully, for all car enthusiasts, the deal did fail to materialize, for out of that bitterness would be born the GT40.

Ford wanted domination and that would come during the 1966 24 Hours of Le Mans when it scored a fabulous and memorable one-two-three victory with the GT40. This success on the track meant even more than retribution. The old adage held true: 'Win on Sunday, sell cars on Monday.'

The GT40 was a hot commodity. To own one of the coveted prancing horse-slayers would be nothing short of an incredible honor. And while the actual Le Mans cars would be out of reach for the vast majority, Ford recognized it had the opportunity to give the publican opportunity to own such an iconic car. In the end, Ford would produce just 133 examples of its famous GT40 for road use and one of those 133 would be offered at the RM Auctions event held at Monterey in August of 2012.

While there would be a total of 133 examples of the GT40 built for road use, there would be just 31 examples of the GT40 P cars that would be equipped for the road and the one offered at auction, chassis 1059, happens to be one of those 31.

Ronnie Spain, a renowned GT40 authority, would call 1059, 'one of the most original GT40s I have ever seen.' Built in the later part of 1966, this particular chassis would be sent to the United States just prior to Christmas in 1966. This particular chassis was one of just twenty that was selected for a MK I Promotion and Dispersal Program. Chassis 1059 would then be just one of six that would be assigned to Shelby American for promotional use. 1059 would be a particularly good example to use in promotions as it would leave Slough, England with the High Performance Ford 289 cu. in. engine with the Weber carburetors, ZF transmission and the Borrani wheels. However, at the time the car arrived in the United States it would bear a different livery than it does today. Originally, the GT40 would come to the United States adorned in a Maroon finish.

The livery would change when the car would be delivered to Kar Kraft in Brighton, Michigan. Kar Kraft had been instrumental in the development of many other race cars and they would take delivery of the car for their promotional uses. To make best use of the car and their promotions, the car's livery would be changed. The Maroon would then give way to the more familiar overall white and blue stripes, the typical American racing colors.

Not long after changing its aesthetic appearance the car would be acquired by Edward Schoenherr of Stark Hickey Ford, a dealership in Detroit. The car would remain with the dealership up into the early 1970s where it would only suffer some minor damage and would remain one of the most desirable GT40s.

In September of 1973, the car would be purchased by Herb Wetanson of Long Island. Mr. Wetanson was well known within the GT40 world as he would own no less than six different examples. Mr. Wetanson would hold onto 1059 for just a year before selling it to Dr. Frost, a noted collected, of Dubuque, Iowa. By this point in time the car boasted of just 2,000 miles and maintained an unprecedented amount of files and other information about the car.

Dr. Frost would not let the car sit idle. He would set about making some changes to the car, mostly safety in scope. The original fuel bladders would be replaced by aluminum tanks and a fire extinguisher would also be mounted in the car. The tanks would be fabricated by no less than John Horsman, the former chief engineer at FAV and for the John Wyer Gulf Racing team. Dr. Frost would own the car well into the new millennium and would remain a prominent focal-piece in his already impressive collection of automobiles.

During the many decades of ownership, Dr. Frost would undertake refinishing the GT40 keeping to the livery applied by Kar Kraft. And besides taking part in the Thirtieth Anniversary GT40 Reunion at Elkhart Lake, Wisconsin in 1994, chassis 1059 would be campaigned in a number of events, but still, the mileage would be quite low.

When chassis 1059 was purchased from Dr. Frost the car would have just a total of 4,500 original miles on it making it one of the lowest mileage GT40s in the world. Today, boasting of just 4,749 miles, it remains one of the lowest mileage GT40s.

Despite being more than forty years old, the car still runs like new thanks to steps taken by the owner to maintain the mechanical and aesthetic condition of the car. This mechanical conditioning of the car then accounts for the approximate 250 miles the car had accumulated since coming to its recent owner.

Original from nose to tail, chassis 1059 would have to be one of the most coveted of the 133 GT40s produced. Given the fact it has less than 5,000 miles causes to car enter a very special category, even amongst the GT40 fraternity. With essentially just two private owners since it was produced, this rare Mk I is presented as an exceptional example deserving of much admiration, especially at concours and vintage touring and racing events.

With its 380 hp V-8 engine and looks that appear as if the car had been produced just yesterday, chassis 1059 rekindles that special time in Le Mans history when the rivalry between Ford and the rest of the European automakers was at its highest, most bitter point. But out of that anger would come one beautiful car recognized and beloved the world over. So named because it measured just 40 inches tall, the GT40 would be one of those few cars ever produced that it would not need its factory name to remind people of who built it. The reason for that is because the GT40 took on a life and a personality all its own and 1059 represents that very rare opportunity to enter that very small and intimate family.

Heading into auction, chassis 1059, with its original, matching drivetrain, was estimated to draw between $2,300,000 and $2,700,000.

Sources:
'Lot No. 226: 1967 Ford GT40 Mark I', (http://www.rmauctions.com/FeatureCars.cfm?SaleCode=MO12&CarID=r144). RM Auctions. http://www.rmauctions.com/FeatureCars.cfm?SaleCode=MO12&CarID=r144. Retrieved 6 August 2012.

Kurczewski, Nick. '1967 Ford GT40 Mark I—2012 Monterey Auctions', (http://blog.roadandtrack.com/1967-ford-gt40-mark-1-2012-monterey-auctions/). Road and Track. http://blog.roadandtrack.com/1967-ford-gt40-mark-1-2012-monterey-auctions/. Retrieved 6 August 2012.

By Jeremy McMullen
Rebuffed by Ferrari, ire burned with a great intensity and focus. The intention of the new GT40 program was clearly defined and had no time for distractions. However, Ford would quickly realize it could benefit from success on the track. They would be quick to capitalize on the momentous victory in 1966.

After a couple of years and millions of dollars of investment, Ford would finally reign supreme on the fast country roads just outside the French city of Le Mans. The intention had been to bring to an end Ferrari's reign in the 24 hour event. Ford would end up doing this emphatically by not just taking the overall victory, but finishing 1st, 2nd and 3rd.

The iconic 1-2-3 photo would be the perfect sales photo for Ford. The motor company realized the potential before them marketing the victory at Le Mans. Therefore, a small batch of GT40 Mk1 chassis would leave the FAV facility in Slough, England for the promotional purposes.

In 1967, FAV would build just seven examples of the GT40 Mk1 chassis that would be shown at events and made available for sale. This was all for the purposes of promotion and marketing Ford's success on the world stage. One of those seven examples would be P 1058.

This marketing and promotional program would be given to FAV in early 1967. Not long afterward, P 1058 would join his sister cars on a trip across the Atlantic to the United States where it would take part in a tour of Ford dealerships throughout the northeastern portion of the country.

In December of 1967 P 1058 would finish its tour and would find a home with Al Grillo Ford in Lynn, Massachusetts. Ed Casey, a representative from Shelby American Inc. would then use the car at events throughout the east coast. Completed in Carmen Red, P 1058 would be put through its paces providing people a glimpse of the car that dominated Le Mans, and that would dominate in '67 as well.

Following its demonstration runs and appearances throughout 1967 and most of 1968, P 1058 would finally find its way to its first private owner. Even though David Carroll would become the car's first owner in the autumn of 1968 it was still the perfect tool for promotional endeavors. One of those would include the engine serving as the soundtrack for a Gulf Oil commercial.

A year later, Carroll would pass the GT40 Mk1 on to its next owner—John 'Skip' Barber. The car would be retained by Barber for a short period of time. However, when it was purchased by Harvey Siegel of New York, P 1058 would find a home for the next 40 years.


After the four decades with Siegel, the GT40 would change hands becoming the property of George Getz. While with Getz, P 1058 would be freshened. The work would be conducted by Harley Cluxton's Grand Touring Cars Inc.

In 2011, the car would be sold again. The current owner would take delivery of the GT40 Mk1 and would immediately take to the track taking part in the National Shelby Convention held at Fontana Speedway in 2013. In addition to taking to the track, P 1058 would also make appearances on the concours and car show circuits as well. This would include a first place at the SAAC Car Show and then an appearance at the Concours d'Elegance of America held in Plymouth, Michigan.

Ideal for the concours circuit, P 1058 retains an original interior, all of its original bodywork, Borrani wheels, original ZF transaxle and even its original luggage boxes. Refinished in its original Carmen Red and having endured only about 15,000 miles since new, this GT40 Mk1 remains about as original as a car can get. Even now, P 1058 could be used for promotional purposes recalling the era when Ford's resolute determination turned an iconic 40 inches into Le Mans dominance.

Offered at Gooding & Company's 2014 Pebble Beach auction, the 1967 Ford GT40 Mk1, chassis P 1058, would sell for $3,520,000.
By Jeremy McMullen
Mirage Superlightweight Coupe
Chassis Num: M10001

This is the first of the lightweight Mirages built to compete in the World Sportscar Championship. It is the only one to survive in Mirage configuration. It is more aerodynamic than its predecessors featuring slimmer, smoother bodywork. Most notable is the narrow roofline. It is powered by a 7.0 liter Ford V8 generating 485 horsepower and 475 lb-ft torque.

This car, M10001, participated in the 24 Hours of Le Mans but did not finish. The following year new engine limits prevented it from getting a second chance. It continued to compete in other races from 1967 through 1969 establishing an impressive record of wins.

1967 Gulf Mirage Superlightweight Chassis #M10001 the first of three lightweight Mirages built for Gulf Oil. This car is the only one existing of the three that were built to contest the 1967 World Championships. The other two cars (#M10002 AND #M10003) were rebuilt into GT40 chassis numbers #1074 and #1075. These were taken back to GT40 MK 1 configuration and specifications.

Race History

Competed in several of the World Sports Car Championship in 1967
September 21, 1967 -Skapnack, Sweden 1st OA Jo Bonnier (#2)
November 4, 1967 - Kylami South Africa 9 hour. 1St OA Jack Ickx/Brian Redman (#4)
November 9, 1967 - Kylami South Africa 9 Hour. 1st OA Jacky Ickx/D. Hobbs
December 8, 1968 - Lourenco Marques, 1st Malcom Guthrie/Mike Hailwood (#1)

This car has the second best race history of the GT40 Gulf Team Cars wîth the exception of Double Le Mans Winning Car #1075.
Source - Blackhawk Collection
A total of twelve GT40 MK-IVs were originally built. Of these, ten cars remain to date of which nine are privately owned and the Le Mans winning car is in the Ford Museum. The MK-IV made its debut in international competition in the 1967 Sebring 12-Hour race, when Mario Andretti and Bruce McLaren drove the brand new car to an outright win. Four new MK-IVs were then entered in the 24-Hours of LeMans race. A few weeks later, Henry Ford was at the Sarth Circuit to celebrate an 'All American' victory, with the Ford GT MK-IV co-driven by A.J. Foyt and Dan Gurney.

The Ford GT MK-IV was the ultimate Le Mans contender with which Ford entered the 1967 24-Hour race - the culmination of its rumored $100 million race program which resulted in the Ford GT40s winning the famous event four years in a row.

This car, number J-11, began life in 1967 as a back-up chassis for Ford's racing program. Because the F.I.A. outlawed the 7-liter engine after 1967, the MK-IV was no longer qualified for international competition.

The number J-11 is the only GT40 to have run at the Bonneville Salt Flats - it ran at 220 mph and averaged 189 mph over the measured courses in 1996.

The current owner purchased the J-11 in August 1998 and continues vintage racing it in the United States and foreign countries.
Ford, not satisfied with the 1966 GT-40 MKII win at Lemans, set out to develop a new light weight chassis of honeycomb aluminum. Considered an experimental car, the new GT-40 was simply known as the 'J-car', referring to the Appendix J, or the regulations to which the car was constructed.

To leave nothing to chance, four completely new chassis were constructed for Lemans, 1967. Two (J-5 & J-6) were handed to Shelby American for drivers McLaren/Donohue (#2) and Gurney/Foyt (#1), and two (J-7 & J-8) were entered by Holman & Moody.

The qualification sessions were dominated by the McLaren/Donohue J-6 clinching the pole. Unfortunately, the J-6 lost time in the pit after the rear body panel blew off down the Mulsanne Straight. The Gurney/Foyt J-5 (#1) finished 1st with a trouble free race and this Ford MK IV J6 (#2), driven by Bruce McLaren and Mark Donohue, finished 4thoverall at this 1967 LeMans.

The J6 (#2) is the only MKIV that finished LeMans that is still running and remains totally original as last raced.

The current owner has put over 40,000 road miles on the MKIV J6 since 1990.
| | |
| --- | --- |
| | Coupe |
In 1967 Ford proved that an American-made race car could beat the best. Four of these streamlined, highly sophisticated prototypes were entered at Le Mans that year, and one went on to an easy victory. After winning Le Mans in 1966 and 1967, Ford was through with international racing.
This is chassis number P1096 of the original 1967 GT40 MKV production run. Titled as a 1967 Ford GT MKV, the GT40 MKII's were big block cars winning LeMans in 1966 &1967 a thoroughbred racer for track only. 1967 rules changed, reducing limit to 5.0 Liters. Ford licensed JW Automotive to continue the GT40 campaign, building the most successful GT40 ever, the famous small block P1075 in the Gulf Oil orange and blue, for LeMans wins in 1968 & 1969. Chassis number P1096 features a galvanized steel monocoque chassis, 289cid engine, claimed to be one of the best GT40's ever built. It has the same Koni shocks as the P1075 LeMans car. This GT40 has always been in private hands and has never been on a race track, accounting for its excellent condition. The tires are original, and this GT40 has less than 5,000 miles on it.
Source - Barrett-Jackson
Public debut of the Ford GT Mk IV program was announced by a news release that described the all-new Ford-Dearborn designed and built car (rather than Ford Advanced Vehicles in Slough, England, builder of all previous Ford GT cars) to campaign in world class racing under FIA Appendix J regulations.

The aluminum J chassis was both lighter and stronger than the previous steel and rivet tub MK II Ford GT that won Le Mans in 1966. Mk IV development was at the behest of Henry Ford II who wanted an all-American win at Le Mans.

First J testing was during March 1966. Twelve J chassis were built. J-5 was the first built as a Mk IV (yellow), winner of the Sebring 12-Hours. J-6 (red) won the Le Mans 24-Hours setting new speed and distance records. Following Le Mans, FIA outlawed engines over 3-liter displacement, and J chassis development shifted to Canadian-American Challenge Cup racing.

Two chassis, J-9 and J-10, were built into open Can-Am form as G7-A cars (Group 7, A=first version). J-9 was completed during August, 1967 with Ford's new Calliope over-under dual internal cam Hemi engine. It was a 3-vlave 7-liter V8 (Three such engines were built, each with slide throttle fuel injection that made response difficult to control) and had an adjustable-dihedral rear wing much like Jim Hall's Chaparrals. It was wind tunnel tested followed by a track shakedown by Mario Andretti, but never raced.

Mario Andretti test drove the first G7-A built, J-9, the development car. J-10 was raced to little success. J-9 and J-10 were sold. The Agapiou brothers then bought it from Ford for $1 in early 1969 with the agreement to return in a year for the same money! It never happened. J-9 was subsequently re-bodied as a Mk IV with 427 'wedge' power.
The history of the Ford GT40 began as an attempt to beat a certain Italian Automobile Manufacturer at the grueling 24 Hours of LeMans race. Each June, some of the world's best in the automotive industry descend onto a town West of Paris called LeMans, France to compete in a 24-Hour endurance competition. This tradition began in 1923 and since has become the pinnacle of automotive racing that challenges speed, performance and durability. A select group of European marques had since dominated the race such as Porsche, Ferrari, Jaguar, Bentley, and Alfa Romeo. Ford wanted to join this elite group.
During the early part of the 1960's, Ford attempted to buy Ferrari for $18 million to run its international racing program. The purpose was to use the Ferrari company and technology to help Ford achieve a LeMans victory. The negations unraveled and Ferrari walked away from bargaining table in May of 1963. Enzo Ferrari gave no indication as to why he had decided his company was no longer for sale. Ford decided to build their own super-car and beat Ferrari at International Racing.

Roy Lunn was an Englishman who had began his career at Ford of Britain and later came to the United States in 1958. He had played a role in helping to create the 1962 mid-engined Ford Mustang I Concept. The vehicle was an aluminum-bodied, two-seater that was powered by a 1.7-liter 4-cylinder engine.

After the Mustang I, Roy Lunn along with Ray Geddes and Donald Frey turned their attention to a racing program. The car that Ford had conceived was similar to a Lola GT, being low and mid-engined. The Lola was designed and built by Eric Broadley in Slough, England and first displayed in January of 1963 at the London Racing Car Show. Broadley was running low on funds and consequently more than eager to join with Ford.

Borrowed from the Lola GT was the monocoque center section and aerodynamic design. It was longer, wider, and stronger with a rigid steel section. In the mid-section lay an all-aluminum 4.2-liter V8 engine. The gearbox was a 4-speed Colotti unit; the suspension was double-wishbone. Excellent stopping power was provided by the 11.5 inch disc brakes on all four wheels. In April 1964 the GT40 was displayed to the public at the New York Auto Show. Two weeks later the car was at Le Mans being put through pre-race testing. The result of a very rushed program became evident. The car suffered from aerodynamic and stability issues and as a result ended in two crashes.

The GT represented 'Grand Turismo' while the designation 40 represented its height, only 40 inches. The number 40 was added to the designation when the Mark II was introduced.

The Mark II, still built in England, was put through extensive testing which solved many of the stability issues. Carroll Shelby was brought onboard to oversee the racing program. He began by installing a 7-liter NASCAR engine that was more powerful and more reliable. The result was a vehicle that was much more stable and quicker than the Mark I. For the 1965 LeMans, the Mark II proved to be a stronger contender but resulted in another unsuccessful campaign.

The third generation of the GT-40, the Mark III, was introduced in 1966 and only seven were produced. Ford continued to fine-tune and prepare the GT-40 for LeMans. The GT40 led the race from the beginning. This lead continued throughout the evening and into the morning hours. During the morning the GT40's were ordered to reduce their speed for purposes of reliability. By noon, ten out of the thirteen Fords entered had been eliminated. The remaining three Fords went on to capture first through third place. This victory marked the beginning of a four-year domination of the race.

In 1967 Ford introduced the Mark IV to LeMans. It was built all-American, where the previous versions had been criticized as being English-built and fueled by monetary resources from America. This had not been the first attempt for an all-American team using an American vehicle to attempt to capture victory at LeMans. Stutz had finished second in 1928. Chrysler had finished third and fourth during the same year, 1928. In 1950 the first major attempt to win at Lemans was undertaken by a wealthy American named Briggs Cunningham. Using modified Cadillac's he captured 10th and 11th. His following attempts to win at LeMans included vehicles that he had built where he managed a third place finish in 1953 and fifth place in 1954. This had been the American legacy at LeMans.

Of the seven vehicles Ford entered in 1967, three crashed during the night time hours. When the checkered flag dropped it was a GT40 driven by Gurney/Foyt to beat out the 2nd and 3rd place Ferrari by only four laps.

For 1968 the FIA put a ceiling on engine displacement at 5 liters. Ford had proven that Ferrari could be beaten and an American team and car could win at LeMans. Ford left international sports racing and sold the cars to John Wyer. Gulf Oil Co. provided sponsorship during the 1968 LeMans season. The Ford GT40 Mark I once again visited LeMans and again in 1969 where they emerged victorious both times. In 1969 the margin of victory for the GT40 was just two seconds after the 24 Hours of racing.

In 1969 new FIA rules and regulations ultimately retired the GT40's from racing and ended the winning streak.

Around 126 Ford GT-40's were producing during the production life span. During this time a wide variety of engines were used to power the vehicle. The MKI used a 255 cubic-inch Indy 4-cam, a 289 and 302 small block. The 289 was by far the most popular, producing between 380 and 400 horsepower. When the MKI returned during the 1968 and 1969 season it was outfitted with a 351 cubic-inch Windsor engine. The MKII came equipped with a 427 cubic-inch NASCAR engine. The third generation, the MK-III, had 289 cubic-inch engines. The final version, the MK-IV all were given 427 cubic-inch power-plants.

America, more specifically Ford, had proven that American automobiles and drivers were able to compete in all arenas.

After the production of the Ford GT40 ceased, there were several companies interested in creating replicas. One such company was Safir Engineering which purchased the rights to the name. In 1985 the Ford GT40 MKV was introduced and examples would continued to be produced until 1999. Chassis numbers continued in sequence where the original Ford cars stopped. The cars were powered by a Ford 289 cubic-inch OHV engine that produced just over 300 horsepower and was able to carry the car to a top speed of 164. Zero-to-sixty took just 5.3 seconds. Disc brakes could be found on all four corners. The cars were nearly identical to the original.
By Daniel Vaughan | Jan 2007
For more information and related vehicles, click
here
1969 24 Hours of Le Mans: A Traditional Statement Provides a Memorable Race
What if a statement ended up costing one of the biggest victories of one's career? Would it be worth it? Jacky Ickx would come close to finding out as he approached the checkered flag on the afternoon of the 15th of June in 1969. Ford had determined to defeat Ferrari on ground it had come to dominate throughout the early 1960s. By 1966, the mission would be complete. Ford would take the overall victory with their GT40 Mk II driven by Bruce McLaren and Chris Amon. However, the dominance would ...[Read more...]
RRDC VOTES IN 37 NEW MEMBERS FOR 2013
HILLIARD, Ohio (Nov. 7, 2013) - Thirty-seven race-car drivers and motorsports professionals have been voted into the Road Racing Drivers Club in 2013. The group includes 13 Regular Members from the open-wheel and sports-car racing ranks, 20 Associate Members and four Honorary Members. The current roster of RRDC members now numbers 440. Voting was held among all current RRDC members. 'This year's crop of new Regular Members truly represents the spirit of the RRDC, as each driver has de...[Read more...]
Firestone Returns As Presenting Sponsor of RRDC Evening With Brian Redman in Long Beach
The Firestone brand will return as presenting sponsor of the Road Racing Drivers Club's fifth annual West Coast banquet honoring auto racing's most influential leaders. This year, on Thursday, April 18, prior to the running of the Toyota Grand Prix of Long Beach, the 'RRDC Evening with Brian Redman presented by Firestone' will highlight the career of one of the sport's most popular, talented and successful race-car drivers. This is the Firestone brand's fourth straight year as a supporter of the...[Read more...]
Lee Holman, Holman & Moody to be Honored at 2013 Pinehurst Concours d'Elegance
- Legendary North Carolina-based motorsports organization featured in special display, lifetime achievement award to Lee Holman - Just saying the name of Charlotte, NC-based Holman & Moody conjures up some of the most exciting motorsports moments in history – in NASCAR, Le Mans, Drag Racing and Rallying. To put an exclamation point on their accomplishments, the inaugural Pinehurst Concours d'Elegance will honor Lee Holman with the first-ever 'Pinehurst Concours Lifetime Achievement A...[Read more...]
1967 Can-Am Road America: The Beginning of the 'Bruce and Denny Show'
While Formula One will be forever considered the pinnacle of motorsport, from a period between 1966 and 1986 there existed a series that would likely be the closest to 'anything goes' as any motor racing series could truly get. Based upon the FIA Group 7 cars but allowed to showcase unlimited engine sizes and unfettered aerodynamics, the Can-Am cars would have to be considered the pinnacle of motorsport technology and power of their era. And for more than a couple of years there would be one tea...[Read more...]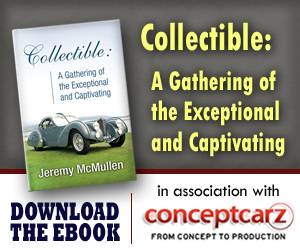 Ford
Monthly Sales Figures
Volume
December 2014
209,679
November 2014
178,221
October 2014
179,014
September 2014
172,261
August 2014
214,028
July 2014
204,373
June 2014
214,793
May 2014
244,501
April 2014
203,552
March 2014
235,198
February 2014
177,286
January 2014
148,671
(More Details)
© 1998-2014. All rights reserved. The material may not be published, broadcast, rewritten, or redistributed.