1957 Maserati 300 S news, pictures, specifications, and information

Tweet
Body by the Italian Fantuzzi. Side-by-side with the Formula One effort, the Maserati Factory competed in the international sports car championship with the 300S. This model, one of 27 known examples built from 1955-1958, shared the same engine, driveline and running gear as the 250F Grand Prix car. Considered to be a much better handling car than its Ferrari Competitors of the day the 300S was a coveted ride for the best drivers who won races all over Europe.
Chassis number 3072 was constructed in 1957 as a factory racer. In the 1957 Mille Miglia it was driven by Scarlatti to an impressive fourth-place finish. Kerry Manolis owned the car for a number of years and used it in competition such as the 1986 Mille Miglia. It is now owned by Wolf Zweifler of Germany.

This 1957 Maserati 300S with engine number 3055 is powered by a six-cylinder engine capable of producing 280 horsepower. It has a four-speed manual gearbox and Dunlop tires. It was the factory team car in 1957. It finished fourth overall in the 1957 Mille Miglia while being driven by Scarletti. It finished 15th overall in the 1000km of Nurburgring, driven by Scarletti, Bennier, and Hermann. It failed to finish at LeMans and the Venezuela Grand Prix.

The car was sold in 1958 and sent to Brazil. It was found there in 1972 and returned to the United Kingdom. Since that time, it has been vintage raced in both the UK and the United States.
By Daniel Vaughan | Jun 2007
The Maserati 300S was a further development of the 250s that was based directly on the Maserati 250F Grand Prix car that won the 1957 World Championship in the hands of Juan Manuel Fangio. The 300S shared the straight six-cylinder, double overhead camshaft, twin plug per cylinder engine with the Grand Prix car-increased to three liters for the 300S and running at lower compression for greater long distance reliability.

The engine had a claimed output of 250 horsepower and was fitted to a chassis which closely followed the 250F. It had a ladder frame with large diameter main tubes, coil springs and unequal wishbone front suspension and, at the rear, a de Dion axle with a transverse leaf spring. Like its sister car, the 300S had a wonderful reputation for road-holding, but it was often at a disadvantage because it was a 3 liter car racing at a time when there was no upper engine limit. Despite that, it took a great many wins, including victories in World Championship events.

Maserati 300S serial number 3070 was completed in Modena, Italy on February 23, 1957, finished in Maserati Corsa red. Maserati factory records list Italian Primo Pezzoli of Scuderia Guastalla as the ordering customer for 3070 in 1957. Scuderia Guastalla was at the time very competitive in Europe as well as South America. In May of 1958, Scuderia Guastalla ordered the brakes on 3070 to be updated to the new brakes fitted on the 450S. There are only two 300S chassis shown to have been updated in this way by the factory.
In 1953, the FIA started a World Sportscar Championship, similar to the Grand Prix and Formula 1 World Championship which began in 1950. The series featured many of the historic and prestigious races that were known through Grand Prix and Formula 1 racing like LeMans and the Mille Miglia.
Maserati decided to enter the series but had little experience with large displacement engines; their largest engine up to that point had powered the A6GCS which was 2-liters in size. The 250S was experimented with during the 1954 season ultimately resulting in the 300S. The 250F engine had proven to be powerful but due to its high compression ratio made it very unreliable in long races.

The 300S had about the same power as the 250F but with a lower compression ratio. It was a straight 6-cylinder engine with dual overhead cams and twin ignition. The chassis was similar to the A6 GCS but was fitted with a DeDion type rear axle and a four-speed manual gearbox mounted transversely. The body was comprised of aluminum in roadster configuration, courtesy of Fantuzzi. The total weight was around 780 kg's, and with the 260 horsepower engine was capable of carrying the 300S to a top speed of about 180 mph.

The 300S was ready in time for the 1955 season. It proved to be powerful and had superb handling but it was unreliable. The 1955 season was a growing season for the 300S, with many mechanical and aerodynamic enhancements being incorporated. A longer nose body was fitted to improve aerodynamics.

By 1956 the 300S was ready; behind the wheel could be found Stirling Moss, Carroll Shelby, Jean Behra, Schell and Taruffi. The first major victory for the 300S was at the Nurburgring 1000 KM race. Throughout the rest of the season, it continued to provide Maserati with commercial and sporting success. It captured a second place finish in the World Championship behind a very strong Ferrari team.

For the 1957 it continued to be raced, but foreshadowed by the newly developed 450S. An accident at the Mille Miglia created a campaign against sports car racing. European racers and manufacturers began racing heavily in the United States because there were less restrictions.

In 1958 new rules limited the displacement of engines to three-liters in sports car racing which made the 450S obsolete. Maserati withdrew from racing.

During the production run lasting from 1955 through 1958, twenty-eight examples were produced. Many still exist and are often raced at historic events.
By Daniel Vaughan | Jun 2006
For more information and related vehicles, click
here
Luigi Musso: Talented, Tempting and Troubled
Following Alberto Ascari's back-to-back titles in 1952 and 1953 there have been no Italian Formula One World Champions. While there has been a great amount of hope throughout the years, Italians have been left without a World Champion. Perhaps, it could be argued, all such hopes died with Luigi Musso on the 6th of July in 1958. Since Ascari there have certainly been some notable Italian drivers within Formula One history books. Such names as Michele Alboreto, Elio de Angelis, Alex Zanardi, Ri...[Read more...]
Historic Maserati Race Cars And Team Transporter Visit Lime Rock Park Historic Festival
Englewood Cliffs, NJ September 4, 2013... Lawrence Auriana, respected globally in the historic racing community, shared some of the treasures in his collection including some very special Maseratis at The Lime Rock Park Historic Festival this past weekend. The Maseratis included an ex-factory 1928 Tipo 26B/M 8C Grand Prix car which is potentially the oldest running Maserati in the world. Also on display was the very first Maserati A6 GCS (the only one designated with MM in its build sheet...[Read more...]
1954 24 Hours of Le Mans: A French Bull Runs to Victory at Le Mans
Everything needs to be right amongst drivers competing for victory in the 24 Hours of Le Mans. Not only do they need to share the car over the course of a whole day but their driving styles must compliment each other. In the case of the 1954 24 Hours of Le Mans there would be no better pairing than a calm, steady Frenchman and a wild Pampas bull from Argentina. Prior to the 22nd running of the 24 Hours of Le Mans, Maurice Trintignant had already achieved a career driving a vast number of diff...[Read more...]
1955 Tourist Trophy: One Last Victory
The tragedy at Le Mans on the 11th of June, 1955 would dramatically affect motor racing. For one of the manufacturers involved, Mercedes-Benz, it would be a confirmation of what it had already come to believe. Toward the end of the 1955 season it was known Mercedes-Benz would withdraw from all motor racing having achieved just about everything possible in Formula One and sportscars. However, on the 18th of September, there would be one last race in which the mighty Silver Arrows would be gunning...[Read more...]
1958 Moroccan Grand Prix: British All the Way
After years of frustration, and well past his life-expectancy, Mike Hawthorn would be on the verge of his first World Championship. This was more than likely Hawthorn's last and best hope at a World Championship title. Just one last race, and a fellow Brit, would separate Hawthorn from his World Championship. Emotionally, Hawthorn was done. The last few seasons had seen Hawthorn fail to experience anywhere near the level of success he had even in his rookie year of 1952. In 1952, with an unde...[Read more...]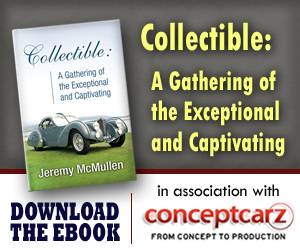 Maserati
Monthly Sales Figures
Volume
December 2014
1,412
November 2014
1,203
October 2014
1,203
September 2014
1,318
August 2014
1,233
July 2014
1,132
June 2014
966
May 2014
1,144
April 2014
964
March 2014
963
January 2014
567
(More Details)
© 1998-2014. All rights reserved. The material may not be published, broadcast, rewritten, or redistributed.