1963 Chevrolet Impala NASCAR news, pictures, specifications, and information

Tweet
This is a recreation of the Chevrolet Johnny Rutherford drove. Legendary engine and car builder Smokey Yunick, of Daytona Beach, built it with the 'mystery' 427 engine.

On February 22, 1963, Johnny started 9th and finished 1st in the Daytona Qualifier Race.

On February 24, 1963, Johnny started 4th in this car and finished 9th at the Daytona 500 race.
The Mark IV 'big block' engine was destined for greatness. First appearing in Junior Johnson's 1963 Chevrolet Impala on the NASCAR circuit as an engineering prototype, it may have had 409 cubic inches of displacement, but didn't look at all like the truck-based 409 that was a factory option in full-sized Chevy's that year. No, this 409 was a new breed of engine for Chevrolet. It was so far ahead of its time in 1963 that NASCAR outlawed it. The impala was banned from the track largely due to this then exotic mystery motor. Never mind that during the 1963 season, it won 7 Grand National victories and nine speed records - and it sure got NASCAR's attention.

Taking what Chevrolet had learned from the crucible of racing in that season; the motor was ready for regular production during the middle of the 1965 model year with 396 cubic inches of displacement. In full-sized cars, it replaced the beloved but truck-based 409. A limited run of 200 were installed as the Z16 package in the Chevelle SS-396, whetting that market before the stampede of SS-396's to come starting in 1966. As for the Corvette, it replaced the 375 horsepower fuel injected engine in mid-1965 and continued to be available in America's Only Sports Car until 1974.

This 1963 Chevrolet Impala Race Car is a Junior Johnson built replica of his world famous #3 1963 NASCAR. This '63 had been built by Junior Johnson for a hospital charity, raffled off in 1984 to help out a 15-year-old cancer patient named Gene. This is the only authorized replica known to exist, the original car residing in the International Motorsports Museum and Hall of Fame in Talladega, Fl. It is complete with racing decals and documentation. The inspection sticker shows registration over 38 years ago.
For more information and related vehicles, click
here
ICONIC GOODYEAR BLIMP RETIRES AFTER DAYTONA 500
DAYTONA BEACH, Florida, February 24, 2014 – After 14 years of filling the skies, the 'Spirit of Goodyear' airship retired after the Daytona 500. The Goodyear Tire & Rubber Company's longest continuous operated airship was overhead to provide aerial coverage for its final events this weekend at Daytona International Speedway. Goodyear's 'Spirit of Innovation' joined the 'Spirit of Goodyear' in a rare appearance by two Goodyear airships at the same event. The 'Spirit of Goodyear' will b...[Read more...]
EVERNHAM '64 PLYMOUTH BELVEDERE AND '67 CHEVY 'INNOVATOR' AMONG FEATURED VEHICLES AT RKM IN CHARLOTTE
Charlotte, N.C. – September 12, 2013 -- A ferocious 1964 Plymouth Belvedere redesigned by champion NASCAR Crew Chief Ray Evernham and an extensively customized, award-wining 1967 Chevrolet Nova will be among the hundreds of investment-grade muscle cars, iconic race cars and rare European collector cars crossing the auction block October 31 - November 3, as RKM Auctions (RKMCCA) presents the RKM Collector Car Auction at the Charlotte Convention Center. Evernham, who teamed with Jeff Gor...[Read more...]
MARK REUSS NAMED DAYTONA 500 HONORARY PACE CAR DRIVER
DAYTONA BEACH, Fla. – Mark Reuss, General Motors North America president, who was instrumental in bringing the new Chevrolet SS to NASCAR, will be the honorary pace car driver Sunday for the 55th running of the Daytona 500. He will be behind the wheel of a 2014 production Chevrolet SS. 'Leading the Daytona 500 starting field to green driving a 2014 Chevrolet SS pace car on one of the most famous race tracks in the world will be a special honor for me,' Reuss said. 'I can't wait to...[Read more...]
Historic Stock Cars to Rev up their Engines at Rolex Monterey Motorsports Reunion
America's most popular form of motorsports will nudge its way onto the vintage race scene this summer when 27 historic stock cars participate in the Rolex Monterey Motorsports Reunion. Scheduled for August 17-19 at Mazda Raceway Laguna Seca on the beautiful Monterey Peninsula, the event will feature the Shelby Cobra as its traditionally feted annual marque, but the addition of the stock cars promises to add a new dimension to the hundreds of sports and race cars entered in the historic race. ...[Read more...]
Gooding & Company's Annual Pebble Beach Auctions
Gooding & Company, the acclaimed auction house celebrated for selling the world's most significant and valuable collector cars, will host its annual Pebble Beach Auctions on August 18th & 19th in association with the prestigious Pebble Beach Concours d'Elegance. Once again, Gooding & Company is poised to present an outstanding array of blue chip and concours-quality collector cars on its record-setting stage, including the elegant 1955 Maserati A6G/54 Frua Berlinetta owned by Grammy Award-winni...[Read more...]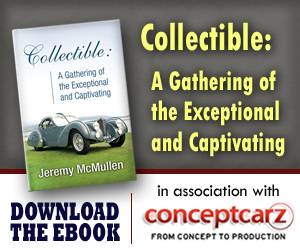 Chevrolet
Monthly Sales Figures
Volume
June 2014
188,567
May 2014
205,010
April 2014
181,648
March 2014
179,681
February 2014
153,913
January 2014
119,089
December 2013
153,493
November 2013
145,089
October 2013
155,214
September 2013
127,785
August 2013
187,740
July 2013
162,670
(More Details)
© 1998-2014. All rights reserved. The material may not be published, broadcast, rewritten, or redistributed.