1953 Hudson Hornet news, pictures, specifications, and information

Tweet
Hudson began production in 1909 by building assembled cars - buying components from various manufacturers and building a car in their factory. Within a few years, they had become a major American manufacturer.

The 'Step Down' Hudson was one of America's most roadworthy cars in the late 1940s and early 1950s. The company offered engine options that made the Hudson a favorite of stock car drivers - and a regular in the winner's circle.

The Hudson Hornet was introduced in 1951. A mechanically-advanced automobile, it offered a streamlined body with a low center of gravity. For 1953, three basic series were available - the Jet, Wasp and Hornet, with variations within each series. Hudson sales had begun to decline in late 1953, Hudson merged with Nash and moved its production from Detroit to Kenosha, Wisconsin about one year later.

The Hornet was equipped with a 308 cubic-inch, H-145 inline six-cylinder engine that developed 145 horsepower. Hudson offered special 'severe usage' parts for high performance, making it one of the hottest cars on the road during its time. Base factory price of the Hornet sedan was approximately $2,700.

Stock car racing was dominated by the Hornet in the early 1950's. This was an incredible feat for Hudson, since the cars contained many luxury features.
For 1953, Hudson produced 27,208 Hornets with approximately 910 being the two-door Hollywood hardtop. The Hudson Hornet was available in four different bodystyles for 1953, a sedan, club coupe, Hollywood Hardtop, and a Convertible Brougham. All were two-door vehicles with the sedan being the sole four-door body style. Power was from a six-cylinder engine that displaced 308 cubic-inches and produced 145 horsepower. It rode on a wheelbase that measured 124-inches and measured 208.5-inches in length.
By Daniel Vaughan | Jun 2009
This 1953 Hudson Hornet Twin H-Power Sedan is very special and has a very distinguished racing career. It was known affectionately as the 'Satan of Morimar'.

The Hudson marque had a proud racing heritage most notable in the post-war era when it finished first in 47 AAA and NASCAR events, amassing 36 victories in 42 starts. In a time when stock car racing was exactly that - stock cars racing on an oval track – the Hudson was king. The cars were purchased from the showroom and taken to the track and no manufacturer could boast a better record than the Hudson Company. Powered by their potent L-Head side-valve inline-six cylinder engines, they were virtually unbeatable. It must have been embarrassing for the other manufacturers who showed up with engines that had two-extra cylinders and were nearly 100 cubic-inches larger in size only to finish behind the Hudsons.

The stock Hudson six-cylinder engine produced 145 horsepower. After Marshall Teague and Hudson engineer Vince Piggins were done with it, the engine had been modified to include a bigger bore, valves, modified combustion chambers, split dual exhausts, high performance cam, high compression head, and 'Twin H-Power' carburetors and manifold. The result was an increase in horsepower by 75 and over 275 foot-pounds of torque. To accommodate this increase in power, the suspension, brakes and axle where beefed up and reinforced. The low center of gravity, superb handling, and potent engine left the competition in the dust.

As mentioned before, the story of the Satan of Morimar is classic. In 1955 there was an accident that left a 1952 Commodore beyond repair and its owner without a car. The owner surveyed what his money could buy and was disappointed with the selection. Most of the cars were too heavy, too big, and too flamboyant. He wanted another Hudson but that was too much for his pocket-book to spare. So he turned his focus across the pond to what Europe was offering. A suitable car was found with the Jaguar marque and an order was placed. Over a period of time the Jaguar was still not delivered and the owner was becoming anxious, annoyed, and frustrated. Until one day he found a Hudson Hornet sitting in a used car lot. A spur-of-the-moment decision left the used car dealer a little richer but short one car. The new owner then set out to purchase a commuter car, leaving the Hudson Hornet for competition.

The color was repainted with a dark metal-flake blue which took 27 coats before it finally matched the interior. Metallic gold was painted on the lower portion of the car. Next was the 7X engine which received some beauty-modifications in the form of chrome. To allow more air into the engine compartment, louvers were cut into the hood. A driver's side spotlight and new hubcaps completed the cosmetic modifications.

Jack Clifford of Hudson Performance Products was commissioned to modify the engine which consisted of many upgrades and performance products. A floor mounted Dragfast Shifter could now be found in the interior. The shifter was not suitable for this car so it was made to work. The problem was that it needed extra room so the solution was to cut out a portion of the front seat to accommodate its space requirements.

This machine was both beautiful and beastly. It was given the name 'Satan of Morimar' and the owner turned to competition. It was raced in many hill-climbs where its power and torque were complimented by its superb handling and responsive steering. The body was aerodynamic with its enclosed wheels and curvy and sloping body. Its Achilles' heal was its weight and its size. It looked out of place when matched up against other vehicles in its class which often included Triumph Spitfires, MGB's, Mustangs, and even Firebirds. It quickly amassed many victories, proving its superior engineering and the skill of its driver. Those who knew of the car respected it; those who did not often mocked the car and its owner. After the race when they had been thoroughly beaten and embarrassed they would angrily ask the owner what kind of engine was powering the Hudson. When it was revealed that its was just a six-cylinder engine their embarrassment and anger grew even greater but a new found respect was created.

On March of 2006 it was offered for sale without reserve by RM Auction. All proceeds were graciously donated to the Amelia Island Concours d'Elegance charities, a very noble and admirable offering. When the gavel struck the podium closing the sale, a new owner had been found and this car that was once sitting in a used car parking lot fetched a price of $110,000 - all going to a very worthy cause. It had been estimated to have been worth between $30,000-$40,000 but very generous bidding drove the price to more than double this amount.
By Daniel Vaughan | Jun 2007
The Hudson Hornet had tremendous success in NASCAR from 1951 to 1953. The 308 cubic-inch straight-six which was the 'largest displacement six-cylinder engine in the world' was the unit responsible for carrying the Hornet these victories. This particular car has the factory '7X' engine modifications with dual single-barrel carburetors atop a dual-intake manifold producing 210 horsepower. The hood featured a 'ram air' scoop that ducted cold air to the carburetors. The car has been restored by the owner and includes a Hydramatic transmission, leather interior, windshield and side window visors.
This 1953 Hudson Hornet Coupe is equipped with the inline six-cylinder engine with 'Twin H-Power' air cleaners, dual carburetors and intake manifold. There is a dual range Hydra-Matic automatic transmission, four-wheel hydraulic drum brakes, and an independent front suspension.

In 2009, this example was offered for sale at the Vintage Motor Cars of Hershey presented by RM Auctions. It was estimated to sell for $60,000 - $80,000.
By Daniel Vaughan | Oct 2009
This Hudson Hornet 7C Sedan was purchased by legendary actor, amateur motor racing driver, skilled motorcyclist, hands-on automotive enthusiast, sex symbol, and pop culture icon of intergalactic proportion, Steve McQueen in the mid-1970s. It was registered into his name in August of 1977. This Twin H-Power Hudson was in his ownership and possession at the time of his passing on November 7, 1980. Subsequent to McQueen's passing, an estate sale was held in November 1984, and the subject Hornet sedan was sold into private ownership at that time.

The current owners acquired the car in 1987. The engine was rebuilt during McQueen's ownership and the car has been treated to one high-quality repaint to the factory original color scheme.

The Hudson Hornet is one of the most famous of the historically significant 'step down' Hudson model designs. The car's chassis architecture, and the way the body was mounted on it, meant that entering passengers stepped down modestly into the interior of the car, and this also allowed for a lower center of gravity, which improved roadholding. They were successful in racing, especially in the relatively new venue of NASCAR 'stock car' racing. The proven flathead six originally was rated at 140 horsepower. With 'Twin H-Power', that figure rose to 170 horsepower, which employed a higher compression ratio, and the factory installation of dual Carter single barrel carburetors. In race trim, this yielded well over 200 horsepower.

In 2012, this car was offered for sale at RM Auction's sale in Monterey, California. The car was estimated to sell for $40,000-$60,000 and offered without reserve. As bidding came to an end, the car had been sold for the sum of $61,600 inclusive of buyer's premium.
By Daniel Vaughan | Nov 2012
The Hudson Motor Car Company came into existence in 1909 and produced vehicles until 1957. It was created by Howard Coffin, George W. Dunham, and Roy E. Chapin. Based in Detroit, Michigan, the company had it most successful year in 1929 when it produced and sold over 300,000 vehicles. From 1942 through 1945, the Hudson Corporation did its patriotic part by manufacturing war materials such as naval engines and aircraft parts, during the Second World War. After the war, the Company had its share of ups and downs before it merged with Nash Motors in January of 1954, when it became known as American Motors. The Hudson plant closed while the production of Nash vehicles bearing Hudson badges continued. The brand name ceased to exist after 1957.
In 1951 Hudson introduced the Hornet. The Hornet sat atop a modified version of the Super Six chassis and outfitted with a 262 and 308 cubic-inch inline six-cylinder power-plant. It dominated the NASCAR circuit in the early fifties. In 1952, it won 27 NASCAR Grand National races, 22 in 1953, and 17 in 1954.

The car sat low, giving it an excellent center of gravity. Its flowing, curvy lines and enclosed rear wheels gave it aerodynamic features. The car sold well for the company when first introduced but slowly faded into the history books. The Big Three auto manufacturers were able to change the faces of their model line-up every year, the Independent Auto Manufacturer, Hudson was not. So by the time the Hudson was discontinued, it was feeling and looking its age.

A wonderful car with seating for six and featuring an L-head straight six coupled with Twin-H Power carburetors was enough to breathe life into the Hudson Company for only a few years. The company had lasted through two World Wars and the Great Depression but it would ultimately find its demise at the hand of low-cost, mass-produced automotive giants.
By Daniel Vaughan | Mar 2006
For more information and related vehicles, click
here
DAVID PIPER JOINS AMELIA'S MERCHANTS OF SPEED SEMINAR
Famous English privateer David Piper will join the Amelia Island Concours d'Elegance Merchants of Speed Seminar on Saturday, March 8, 2014 at 10:30 a.m. in the Talbot Ballroom of the Ritz-Carlton Amelia Island. Piper graciously agreed to join the seminar panel after McLaren's Tyler Alexander fell ill in February, just after the Merchants of Speed Seminar's panel was announced. David Piper brings a unique perspective to the Merchants of Speed Seminar as the only privateer entrant on the p...[Read more...]
OFFENHAUSER HEROES AND MERCHANTS OF SPEED SEMINARS OFFER FANS A BACKSTAGE PASS TO AMERICAN MOTORSPORT
A pair ofthe Amelia Island Concours d'Elegance's popular seminars will offer 'backstage passes' to the history and the business of American motorsport. On Friday March 7, 2014 the celebration of Offenhauser-powered vehicles will begin in the Talbot Ballroom of the Ritz-Carlton, Amelia Island at 3:00 PM with the Great Offy Drivers and David Hobbs Seminar. Amelia's seminars are famous for their star power. On Friday Indy 500 winners Johnny Rutherford, Parnelli Jones and Al and Bo...[Read more...]
PACKARD'S RARE CONCEPT CARS FEATURED AT 'THE AMELIA'
'Ask the man who owns one' was Packard's slogan from the earliest days of the marque. On March 9, 2014, Packard fans visiting the 19th annual Amelia Island Concours can ask the man who owns 58 Packards. Ralph Marano, Sr., an orthodox Packard man of long standing, has been seized by one of the most dignified, delightful and elegant obsessions in the car collecting hobby. Ralph really likes Packard show cars. He likes them so much that he has collected all ten. Marano's Packard ...[Read more...]
FORD/AAA STUDENT AUTO SKILLS COMPETITION HELPS DEVELOP NEXT GENERATION OF AUTOMOTIVE TECHNICIANS
DEARBORN, Mich., June 5, 2013 – One hundred of the nation's best young automotive minds will converge on the Motor City to compete for the title of top high school technicians in the country at the 64th annual Ford/AAA Student Auto Skills Competition National Finals, June 9-11. With jobs in the auto industry on the rise – up more than 30 percent since last April according to the Bureau of Labor Statistics – the Ford/AAA Student Auto Skills challenge serves as a springboard for aspiring au...[Read more...]
RAGAN GIVES FRONT ROW MOTORSPORTS FIRST NASCAR WIN AS FORD SWEEPS TOP THREE SPOTS AT TALLADEGA
Ford Racing Results: 1st – David Ragan 2nd – David Gilliland 3rd – Carl Edwards 9th – Scott Speed 10th – Aric Almirola 13th – Ricky Stenhouse Jr. 14th – Marcos Ambrose 15th – Brad Keselowski 19th – Josh Wise 21st – Michael McDowell 24th – Casey Mears 35th – Joey Logano 36th – Greg Biffle 43rd – Trevor Bayne RAGAN WINS FIRST RACE FOR FRONT ROW MOTORSPORTS · David Ragan registered the second NASCAR Sprint Cup Series win of his career and first at Tallade...[Read more...]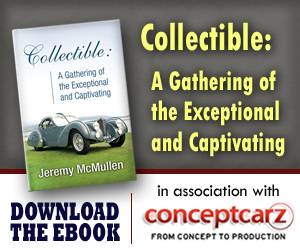 Similarly Priced Vehicles from 1953
Austin-Healey 100 ($3,000-$3,000)
Chrysler Windsor ($2,552-$3,285)
Kaiser Manhattan ($2,595-$2,750)
Oldsmobile Ninety-Eight ($2,550-$5,717)
Buick Series 70 Roadmaster ($3,350-$5,000)
Packard Clipper Deluxe ($2,691-$2,730)
Pontiac Chieftain ($1,960-$2,800)
DeSoto Firedome ($2,715-$3,542)
Lincoln Cosmopolitan ($3,225-$3,290)

Average Auction Sale: $62,110
© 1998-2014. All rights reserved. The material may not be published, broadcast, rewritten, or redistributed.