Image credits: © Saab. © Saab Automobile AB
1967 Saab Sonett II news, pictures, specifications, and information

Tweet
#178 of 258 Produced
The Sonett II was SAAB's first production sports car. It was manufactured in Trollhattan, Sweden beginning in 1966. It was powered by the two stroke, three cylinder, 841 cc engine used in the Monte Carlo, including three single barrel Solex carburetors. The Sonett II was designed as a race car and competed successfully against Austin Healy Sprites and Triumph Spitfires in SCCA races of the period. Unfortunately, since the 500 minimum production figure was not met, Sonett II's were ultimately disqualified.

The Sonett II represents the culmination of SAAB's two stroke engine technology in a production vehicle. However, with the introduction of US emission control standards in the late 1960's, the 'stroker' engine was replaced by a Ford V-4 four stroke engine in late 1967. The Sonett II V-4 and the later Sonett III with a similar engine were produced through 1974. A total of 10,219 Sonetts were produced.

Manufactred in Trollhattan, Sweden, beginning in 1966, the Sonett II was SAAB's first production sports car. Featuring a two-stroke, three cylinder, 841 cc, three single barrel Solex carburetors Monte Carlo engine, the Sonett II was designed as a race car and competed successfully against Austin Healey Sprites and Triumph Spitfires in Sports Car Club of America (SCCA) races of the period. Unfortunately, since the 500 minimum production figure was not met, Sonett II's were ultimately disqualified. The two stroke engine was discontinued in the late 1960's due to US emission control standards.
Saab's original Sonett is likely the most sough-after car ever to be produced by the zany Swedish firm. With only 6 made, the Sonett was a beautifully designed roadster designed to set speed records for its displacement class. The cars succeeded in grabbing several records, thanks to 2-stroke engines that made big power out of tiny displacement. While you're not likely to ever see a Sonett outside of a museum, Saab kept the great name alive for a couple of subsequent sports cars, the Sonetts II and III.

The Sonett II was made from 1967-1969, and was first offered with a 2-stroke engine very similar to that of its spiritual predecessor. The engine could put out about 70hp, an impressive number for such a light car, and an even more impressive number for an engine displacing just 841cc. Early Sonetts had a Solex carburetor for each of their three cylinders.

Not everyone recognized the benefits of 2-stroke power, and Saab owners didn't enjoy needing to add oil to their gas every time they filled up. This prompted Saab to make the switch to a more conventional 4-stroke engine for 1968. The new engine, sourced from Ford, was almost as offbeat as the old. As a V4, it had an odd design compared to the vast majority of other four cylinders, which were inline.

The engines weren't the only components of the Sonett II that made buyers scratch their heads. With a column-mounted shifter, changing gears in these Saabs was not a typically sporting experience. Though the shifter worked well, it seemed out of place in a low-slung sports coupe with exotic looks. Perhaps the strangest things about the gearbox, though, was that it directed power to the front wheels.

Front-wheel-drive is overlooked today as a common, mundane feature. Plenty of sports cars have had this drive layout, and some of the best handling cars of today are pulled along by their leading wheels. But in 1967, front-wheel-drive was still an oddball. It was considered a great feature for trekking through tough conditions in more robust cars like Saab's own 96, but its virtues had never been instilled in a proper sports car before.

While it may not seem to make any sense to call the Sonett II a proper sports car in the first place, the little Saab did manage to meet all the requirements of a sporting auto. It was tiny. It was quick. It was noisy. And, most importantly, it handled. Saab proved with its Sonett II that front-wheel-drive could be incorporated into a machine with engaging driving dynamics and an enthusiastic personality.

For as good of a car as the Sonett II was, it just didn't click with the car-buying public. In the U.S., Saab was a relatively unknown company at the time of their sports car's introduction, and most people were weary of buying such an odd car. The Sonett II's high price ensured that potential buyers could take their money elsewhere for a car of at least equivalent performance but with more pedigree and prestige. This meant slow sales for Saab. Only 229 Sonett IIs were built with the 2-stroke 3-cylinder for 1967. Over the next couple of years, sales improved dramatically with 1,868 V4-powered cars produced.

Even after the huge production spike, though, the Sonett II had unimpressive sales figures. The production run of barely 2,000 units prevented the Sonett-series from generating much profit for its parent company until the Sonett III was introduced. While that car did eventually catch on more than the II, it only did so by compromising with more conventional styling, a more practical interior, and a floor-mounted shifter. The Sonett II established its own following, though, and today they are worth substantially more than their more common replacements.

Information for this article was supplied in part by www.saabhistory.com, an excellent site and great resource for Saab enthusiasts.
By Evan Acuña
For more information and related vehicles, click
here
SZYMCZAK CLAIMS TOP SPOT IN MAZDA MX-5 CUP PRACTICE AT ROAD ATLANTA
BRASELTON, Ga. (Oct. 16, 2013) – Christian Szymczak, of Palos Verdes, Calif., is in a familiar place, at the top of the time sheets, after setting the fastest time in practice one, in preparation for Rounds 11 and 12 of the SCCA Pro Racing Playboy MX-5 Cup. Sebastian Landy, of Great Falls, Va., and Elliott Skeer of Carlsbad, Calif., were second and third, respectively. Szymczak recorded a fast time of 1:39.650 (91.761 mph) around the 12-turn, 2.54-mile road course in his No. 34 ALARA R...[Read more...]
ANTOINE L'ESTAGE AND NATHALIE RICHARD CAMPAIGN LEGENDARY CAR AT NEW ENGLAND FOREST RALLY
The Rockstar Energy Drink Rally Team of Antoine L'Estage and Nathalie Richard are bringing a piece of North American rally history to attempt to win their fourth New England Forest Rally victory on July 26-27th in Newry, Maine. At this year's running of the New England Forest Rally the team will campaign a turbocharged, all-wheel-drive 2003 Tiburon maintained and operated by Libra Racing. Rally fans will instantly recognize this Tiburon from having seen action in the SCCA ProRally Champion...[Read more...]
SCCA JUNE SPRINTS RETURN TO ROAD AMERICA
• LOCAL RACERS ARE NOT IN IT FOR THE MONEY AS THE WEATHERTECH® CHICAGO REGION SCCA JUNE SPRINTS® RETURN TO ROAD AMERICA
ELKHART LAKE, Wis., June 10, 2013 - The tradition for many local SCCA racers around this time of year is something like this, they leave their job early on a Friday, load up their race car, parts and tools into a trailer, grab a cooler of food and hit the road for one of the nation's premier amateur sports car racing events at Road America. Their ultima...[Read more...]
The Mecum Marathon In Kissimmee Sets New Record As World's Largest
Unprecedented 10-day Auction Goes Where No Other Auction Has Ever Gone Before Mecum Auctions' record-setting 10-day auction, held Jan. 18-27, exceeded all expectations transforming more than 100 acres of land at Osceola Heritage Park in Kissimmee, Fla., into the nation's collector car epicenter. A total of 3,337 lots filled every building and 15 acres of tents with a total of 2,610 cars crossing the auction block and a huge selection of Road Art and memorabilia. With 1,811 vehicles sol...[Read more...]
Vintage Racing Ushers In The 2012 Season At Road America
It has been 62 years since racers tore through the streets of this tiny village about 60 miles north of Milwaukee. Still, every spring you would swear that the town speed limit doesn't exist when the sounds of historic racecars from days gone by seem to echo throughout the hillside. May 18-20 the Spring Vintage Weekend returns to Road America and kicks-off the start of a summer full of racing, from vintage and historic cars to motorcycles and even NASCAR. Racing came to Elkhart Lake in 1950...[Read more...]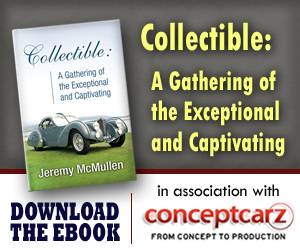 © 1998-2014. All rights reserved. The material may not be published, broadcast, rewritten, or redistributed.