Image credits: © Saab. © Saab Automobile AB
1967 Saab Sonett II news, pictures, specifications, and information

Tweet
#178 of 258 Produced
The Sonett II was SAAB's first production sports car. It was manufactured in Trollhattan, Sweden beginning in 1966. It was powered by the two stroke, three cylinder, 841 cc engine used in the Monte Carlo, including three single barrel Solex carburetors. The Sonett II was designed as a race car and competed successfully against Austin Healy Sprites and Triumph Spitfires in SCCA races of the period. Unfortunately, since the 500 minimum production figure was not met, Sonett II's were ultimately disqualified.

The Sonett II represents the culmination of SAAB's two stroke engine technology in a production vehicle. However, with the introduction of US emission control standards in the late 1960's, the 'stroker' engine was replaced by a Ford V-4 four stroke engine in late 1967. The Sonett II V-4 and the later Sonett III with a similar engine were produced through 1974. A total of 10,219 Sonetts were produced.

Manufactred in Trollhattan, Sweden, beginning in 1966, the Sonett II was SAAB's first production sports car. Featuring a two-stroke, three cylinder, 841 cc, three single barrel Solex carburetors Monte Carlo engine, the Sonett II was designed as a race car and competed successfully against Austin Healey Sprites and Triumph Spitfires in Sports Car Club of America (SCCA) races of the period. Unfortunately, since the 500 minimum production figure was not met, Sonett II's were ultimately disqualified. The two stroke engine was discontinued in the late 1960's due to US emission control standards.
Saab's original Sonett is likely the most sough-after car ever to be produced by the zany Swedish firm. With only 6 made, the Sonett was a beautifully designed roadster designed to set speed records for its displacement class. The cars succeeded in grabbing several records, thanks to 2-stroke engines that made big power out of tiny displacement. While you're not likely to ever see a Sonett outside of a museum, Saab kept the great name alive for a couple of subsequent sports cars, the Sonetts II and III.

The Sonett II was made from 1967-1969, and was first offered with a 2-stroke engine very similar to that of its spiritual predecessor. The engine could put out about 70hp, an impressive number for such a light car, and an even more impressive number for an engine displacing just 841cc. Early Sonetts had a Solex carburetor for each of their three cylinders.

Not everyone recognized the benefits of 2-stroke power, and Saab owners didn't enjoy needing to add oil to their gas every time they filled up. This prompted Saab to make the switch to a more conventional 4-stroke engine for 1968. The new engine, sourced from Ford, was almost as offbeat as the old. As a V4, it had an odd design compared to the vast majority of other four cylinders, which were inline.

The engines weren't the only components of the Sonett II that made buyers scratch their heads. With a column-mounted shifter, changing gears in these Saabs was not a typically sporting experience. Though the shifter worked well, it seemed out of place in a low-slung sports coupe with exotic looks. Perhaps the strangest things about the gearbox, though, was that it directed power to the front wheels.

Front-wheel-drive is overlooked today as a common, mundane feature. Plenty of sports cars have had this drive layout, and some of the best handling cars of today are pulled along by their leading wheels. But in 1967, front-wheel-drive was still an oddball. It was considered a great feature for trekking through tough conditions in more robust cars like Saab's own 96, but its virtues had never been instilled in a proper sports car before.

While it may not seem to make any sense to call the Sonett II a proper sports car in the first place, the little Saab did manage to meet all the requirements of a sporting auto. It was tiny. It was quick. It was noisy. And, most importantly, it handled. Saab proved with its Sonett II that front-wheel-drive could be incorporated into a machine with engaging driving dynamics and an enthusiastic personality.

For as good of a car as the Sonett II was, it just didn't click with the car-buying public. In the U.S., Saab was a relatively unknown company at the time of their sports car's introduction, and most people were weary of buying such an odd car. The Sonett II's high price ensured that potential buyers could take their money elsewhere for a car of at least equivalent performance but with more pedigree and prestige. This meant slow sales for Saab. Only 229 Sonett IIs were built with the 2-stroke 3-cylinder for 1967. Over the next couple of years, sales improved dramatically with 1,868 V4-powered cars produced.

Even after the huge production spike, though, the Sonett II had unimpressive sales figures. The production run of barely 2,000 units prevented the Sonett-series from generating much profit for its parent company until the Sonett III was introduced. While that car did eventually catch on more than the II, it only did so by compromising with more conventional styling, a more practical interior, and a floor-mounted shifter. The Sonett II established its own following, though, and today they are worth substantially more than their more common replacements.

Information for this article was supplied in part by www.saabhistory.com, an excellent site and great resource for Saab enthusiasts.
By Evan Acuña
For more information and related vehicles, click
here
Talk on racing legend Nuvolari set for Nov. 2 at IMRRC
WATKINS GLEN, N.Y. (Oct. 18, 2013) - Legendary Italian racer Tazio Nuvolari will be the subject of a Center Conversations talk on Saturday, Nov. 2, at the International Motor Racing Research Center in Watkins Glen, N.Y. Long fascinated with Nuvolari, Joe Tierno of Honeoye Falls, N.Y., will highlight his free talk, 'Tazio Nuvolari: His Life and Times,' with photographs and film to illustrate Nuvolari's career and the world in which he became a champion. The talk begins at 1 p.m. ...[Read more...]
1953 FERRARI 375 MM SPIDER LEADS LATEST HIGHLIGHTS FOR RM'S MULTI-MILLION-DOLLAR MONTEREY SALE
• RM Auctions secures a championship-winning 1953 Ferrari 375 MM Spider competition car for its flagship Monterey, California, sale, August 16–17, after single ownership for 45 years • Also announced are a 1939 Mercedes-Benz 540K Special Roadster, a 1958 Lister-Jaguar 'Knobbly' Prototype, and a 1960 Aston Martin DB4GT • Sale held during the Pebble Beach Concours d'Elegance motoring week features no less than 25 automobiles estimated to fetch in excess of $1,000,000 each • Complete list of en...[Read more...]
Historic Jaguar D-Type Leads Growing List of Significant Entries for RM's Monterey Sale
• RM Auctions building towards a spectacular roster of cars for its flagship Monterey sale held during the famous Pebble Beach Concours d'Elegance motoring week, August 16–17, in California • Historic 1955 Jaguar D-Type leads a superb roster of the world's finest sports and racing cars poised for the RM podium • Additional star lots include a 1955 Ferrari 750 Monza Scaglietti Spider, a 1950 Ferrari 166 Touring Barchetta, a 1961 Ferrari 400 Superamerica SWB Coupe Aerodinamico and a 1953 Masera...[Read more...]
PORSCHE MOTORSPORT NORTH AMERICA PURCHASES HISTORIC ANDIAL NAME
Santa Ana, Calif. - February 14 - With the last active owner Dieter Inzenhofer retiring later this month, the legendary ANDIAL name will stay in the Porsche family as Porsche Motorsports North America, Inc. (PMNA) announced it has purchased the brand for future use. ANDIAL is an anagram made from the names of the founding members - the late Arnold Wagner AN; Dieter Inzenhofer DI; and former PMNA president and current consultant Alwin Springer AL. From the company's formation in 1975, ...[Read more...]
Mazda Teams Up with Velocity For 2012 U.S. TV Broadcasts
February 21, 2012 (IRVINE, Calif.) The best race in the world is hearsay unless people see it. Some of the best racing in the world is not the headline race, but the support races featuring the stars of tomorrow. Mazda has supported more road racers over the past decade than any other automaker, and for 2012 is stepping up that support to include extended TV coverage on the new Velocity network. 'Hardcore fans know that some of the most intense action can be found in the Playboy MX...[Read more...]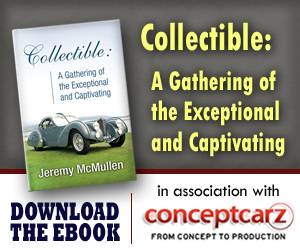 © 1998-2014. All rights reserved. The material may not be published, broadcast, rewritten, or redistributed.