1955 Chevrolet 210 news, pictures, specifications, and information

Tweet
The Chevrolet 210 came standard with rubber floor mats, vinyl upholstery for station wagons, wrap-around stainless steel windshields, chrome-plated bumpers, door handles, lamp rims, wheel bum center caps, hood ornament, and grille. On the interior was a glove compartment light, cigarette lighter, armrests, and ash receptacles.

The 210 was Chevrolets mid-priced vehicle and offered in a variety of body-styles including two and four-door sedan and station wagons. The most popular of the Two-Ten Series was the four-door sedan with seating for six which cost $1819. The most expensive was the four-door station wagon which had seating for six. This would set the buyer back $2130.

The Chevrolet 210 was powered by a six-cylinder 235.5 cubic-inch six-cylinder engine which produced just over 120 horsepower. An eight-cylinder unit would raise the horsepower to over 160. The three-speed manual gearbox was standard with a Powerglide two-speed automatic unit being offered as optional equipment.
The 1955 Chevrolet represented a watershed in the history of General Motors. It was the first of the now legendary 'Tri-Five' Chevys, and was brand new in styling, engineering and sales image. With their first successful V-8 engine, these Chevrolets were intended to directly compete in a market dominated by Ford for the past twenty years.
The Chevrolet 210, also written as the Two-Ten, was produced from 1953 through 1957. The car served as a replacement for the Styeline DeLuxe model Series and did so in fine fashion, becoming Chevrolet's best selling model in 1953 and 1954. The base Chevrolet model was the 150 and the 210 followed its example yet offered its customers a little more in styling, options and mechanical capabilities. They were available in a variety of bodystyles, capable of satisfying most customers needs, demands, and desires.

The 210's sales were beaten by the popular BelAir in later years, even though the 210 had some similarities and offered at a lower cost. The luxury amenities found on the BelAir could be added to the 210, a feature not available on the 150.

The Two-Tens were powered by 235 cubic-inch engine from 1953 through 1955. Horsepower ranged depending on the gearbox selected. As the years progressed, the horsepower increased, reaching 136 in 1955. For 1955, a second engine came available, a 265 cubic-inch Turbo-Fire V8 engine rated at 162 horsepower. A three-speed synchromesh manual gearbox was standard on all Two-Tens, with a Powerglide offered as optional equipment.

For 1956 the 235 cubic-inch engine was rated at 140 horsepower, with a 265 cubic-inch unit rated at 170-225 horsepower available for an additional cost. For 1957, the 235, 265, and 283 engine was available. Power ranged fro 140 through over 280.
By Daniel Vaughan | Jul 2007
Techno Classica 2014: more than 30 racing cars to celebrate 120 years of Mercedes-Benz motor racing history
•Cars that were the heroes of magical moments put their stamp on this high-powered, most comprehensive show presentation •With more than 30 vehicles, Mercedes-Benz Classic presents motor racing history in all its unique breadth and depth •120 years of Mercedes-Benz motor sport in the focus of the leading international classic motor show 120 years of Mercedes-Benz motor racing history have produced a timeline of extraordinary victories which since 1894 also stand for outstanding innovations ...[Read more...]
Magic moments: 120 years of Mercedes-Benz motor sport: history at the Retro Classics show from 13 to 16 March 2014
•Mercedes-Benz Classic presents highlights in the history of the DTM in hall 7 at the show in Stuttgart •Strong presence by the company and the brand clubs at southern Germany's leading show for automotive classics •Fascinating dialogue between competition models and the top-of-the-line C-Class models from Mercedes-AMG 120 years of motor sport history at Mercedes-Benz also stand for twelve decades in a culture of ongoing innovation for series production cars which is fuelled by strong impul...[Read more...]
The Mercedes Benz S Class: automobile comfort of the highest standard
• S Class: the epitome of automobile comfort • Every generation of vehicles provides ground-breaking solutions to the expectations of customers with regard to comfort The history of the Mercedes Benz S Class shows that automobile comfort is far more than just a luxurious ambiance, size and performance. In fact it is far more the intelligent support of the driver and passengers through innovative technical solutions providing answers to current questions and requirements which contribute to t...[Read more...]
Auctions America Announces Exciting List of Attractions for its Auburn Spring Collector Car Weekend
• Final countdown underway to Auctions America's Auburn Spring collector car weekend, May 9 – 11 at the historic Auburn Auction Park in Auburn, Indiana • Sale lifts the gavel on approximately 500 quality collector cars and features full day of memorabilia • Latest auction highlights include a 1930 Packard Dual Cowl Sport Phaeton, a 1938 Cadillac V-16 Convertible Coupe, and a very rare 1967 Ford Fairlane 500XL R-Code in addition to the previously announced John Soneff estate collection • Week...[Read more...]
Auctions America's 2013 Auburn Spring Event Offers Ultimate Collector Car Weekend
• Auctions America presents the first of two annual Auburn sales, May 9 – 11 at historic Auburn Auction Park in Auburn, Indiana • Multi-day sale lifts gavel on 600 quality collector cars and an assortment of memorabilia • Notable early highlights include selection of Hudsons from the respected John Soneff Collection • Weekend also features inaugural Antique Automobile Club of America Central Division National Spring Meet, and an extensive car corral and swap meet presented by Carlisle Events...[Read more...]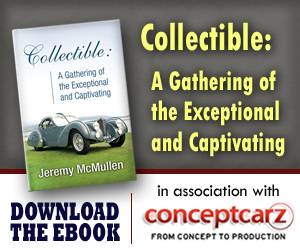 Chevrolet
Monthly Sales Figures
Volume
November 2014
149,673
October 2014
155,965
September 2014
153,873
August 2014
185,930
July 2014
175,155
June 2014
188,567
May 2014
205,010
April 2014
181,648
March 2014
179,681
February 2014
153,913
January 2014
119,089
December 2013
153,493
(More Details)
© 1998-2014. All rights reserved. The material may not be published, broadcast, rewritten, or redistributed.