1955 Chevrolet 210 news, pictures, specifications, and information

Tweet
The Chevrolet 210 came standard with rubber floor mats, vinyl upholstery for station wagons, wrap-around stainless steel windshields, chrome-plated bumpers, door handles, lamp rims, wheel bum center caps, hood ornament, and grille. On the interior was a glove compartment light, cigarette lighter, armrests, and ash receptacles.

The 210 was Chevrolets mid-priced vehicle and offered in a variety of body-styles including two and four-door sedan and station wagons. The most popular of the Two-Ten Series was the four-door sedan with seating for six which cost $1819. The most expensive was the four-door station wagon which had seating for six. This would set the buyer back $2130.

The Chevrolet 210 was powered by a six-cylinder 235.5 cubic-inch six-cylinder engine which produced just over 120 horsepower. An eight-cylinder unit would raise the horsepower to over 160. The three-speed manual gearbox was standard with a Powerglide two-speed automatic unit being offered as optional equipment.
The 1955 Chevrolet represented a watershed in the history of General Motors. It was the first of the now legendary 'Tri-Five' Chevys, and was brand new in styling, engineering and sales image. With their first successful V-8 engine, these Chevrolets were intended to directly compete in a market dominated by Ford for the past twenty years.
The Chevrolet 210, also written as the Two-Ten, was produced from 1953 through 1957. The car served as a replacement for the Styeline DeLuxe model Series and did so in fine fashion, becoming Chevrolet's best selling model in 1953 and 1954. The base Chevrolet model was the 150 and the 210 followed its example yet offered its customers a little more in styling, options and mechanical capabilities. They were available in a variety of bodystyles, capable of satisfying most customers needs, demands, and desires.

The 210's sales were beaten by the popular BelAir in later years, even though the 210 had some similarities and offered at a lower cost. The luxury amenities found on the BelAir could be added to the 210, a feature not available on the 150.

The Two-Tens were powered by 235 cubic-inch engine from 1953 through 1955. Horsepower ranged depending on the gearbox selected. As the years progressed, the horsepower increased, reaching 136 in 1955. For 1955, a second engine came available, a 265 cubic-inch Turbo-Fire V8 engine rated at 162 horsepower. A three-speed synchromesh manual gearbox was standard on all Two-Tens, with a Powerglide offered as optional equipment.

For 1956 the 235 cubic-inch engine was rated at 140 horsepower, with a 265 cubic-inch unit rated at 170-225 horsepower available for an additional cost. For 1957, the 235, 265, and 283 engine was available. Power ranged fro 140 through over 280.
By Daniel Vaughan | Jul 2007
BARRETT-JACKSON SALON COLLECTION TO HIGHLIGHT SCOTTSDALE AUCTION
•(Lot #5087), a 1949 Talbot-Lago T-26 Grand Sport Franay headlines Barrett-Jackson's Salon vehicle lineup •An exquisite 1929 Alfa Romeo 6C 1750 SS (Lot #5083) will be among the auctions most notable consignments •One of 300, a stunning silver 1955 Mercedes-Benz 3000 SL Gullwing (Lot #5075) will cross the Scottsdale auction block SCOTTSDALE – Jan. 5, 2015 – Barrett-Jackson, The World's Greatest Collector Car AuctionsTM, will feature a rare docket of exquisite Salon vehicles during its...[Read more...]
MERCEDES-BENZ 2014 G63 AMG: THE ULTIMATE G-CLASS
The latest technology for the AMG off-road icon: the new 2014 G63 AMG impresses with a state-of-the-art powertrain, expressive new design and improved efficiency. All this is largely attributable to the AMG 5.5-liter V8 biturbo engine delivering 536 hp and the AMG SPEEDSHIFT PLUS 7-speed automatic transmission. Every new AMG high-performance vehicle offers an outstanding mix of 'more power from less fuel' – and the G63 AMG is no exception. The 'strong man' in the AMG model range has been furt...[Read more...]
History Rolls into Hershey for RM's Annual Pennsylvania Sale
• Final countdown underway to RM's annual Hershey, Pennsylvania auction, held October 10 – 11 during the historic AACA Eastern Regional Fall Meet • Two-day sale features 116 vehicles, with an emphasis on Brass and Classic Era motor cars • Sale entries led by a rare, award-winning 1933 Chrysler CL Imperial Convertible Roadster • Auction also features number of vehicles steeped with local Pennsylvania history • Digital catalogue now available online at rmauctions.com BLENHEIM, Ontario (S...[Read more...]
The Champion in Touring Car Racing : The BMW M3
In August 1985, a rumour surfaced in motor magazine Auto-Deutschland which emanated from a new sports car. An A Group Car from BMW that was a thoroughbred racing car according to the rules but was also to be produced in a version licensed to drive on open roads for everyday use. Speculation about this dream car that could take to normal roads and was intended for the 'Most dynamic among BMW 3 Series drivers' was right on target. But the pundits missed the mark about the motor-sport car by a mile...[Read more...]
Auctions America By RM's 2012 Auburn Spring Auction
'Variety' is the buzzword for this year's Auctions America by RM June 1-3 Auburn Spring auction, which will offer a huge range of collector vehicles and an enormous private collection of automotive memorabilia. More than 600 American muscle cars, Classics, foreign sports cars and hot rods will cross the block at the historic Auburn Auction Park, the company's national headquarters in Auburn, Indiana. 'Last year was our first spring event at the park,' said Auctions America by RM's President ...[Read more...]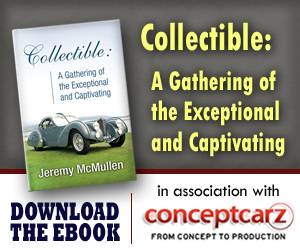 Chevrolet
Monthly Sales Figures
Volume
December 2014
184,938
November 2014
149,673
October 2014
155,965
September 2014
153,873
August 2014
185,930
July 2014
175,155
June 2014
188,567
May 2014
205,010
April 2014
181,648
March 2014
179,681
February 2014
153,913
January 2014
119,089
(More Details)
© 1998-2014. All rights reserved. The material may not be published, broadcast, rewritten, or redistributed.