1950 Allard J2 news, pictures, specifications, and information

Tweet
English Chassis, American Power
Sydney Allard an avid automobile racer and Ford dealer in London, produced 1,900 cars from 1946 to 1959. Most of these were family cars for the domestic market, but he also produced fewer than 200 J-series Allards, intended for competition. A majority of the J-series cars were exported, without engines, mostly to the United States where modern American V-8s were installed.

The J2 was an evolution from a long line of sports racers produced by racing enthusiasts Sydney Allard. He won the 1952 Monte Carlo rally and his lightweight race cars became popular in the United States.

Several engines were available, including a Ford 239 cubic-inch V-8, a Cadillac 331 cubic-inch V-8 and a Chrysler 331 cubic-inch Hemi V-8, which is installed in this car.

J2 Allards were built during 1950 and 1951. The combination of a light car and powerful engine resulted in a potent performance, and they dominated the racing scene for this brief period. Mostly Cadillac engines were installed, but Ford and Chrysler engines were sometimes fitted. (The factory would install the requested engine mounts before shipping the engineless car.) Only 89 J2 Allards were built and perhaps a couple dozen have survived.

The J2 Allard displayed was shipped to the US in the summer of 1950 less engine, transmission, wheels, instruments and electrics. The car was shipped in a crate to Los Angeles in August of 1950. The buyer, Col. Charles Steinmetz, installed a Mercury Ardun engine and raced it at Pebble Beach in 1951. No further history of the car is known, other than that it was sold later in 1951. The present owner purchased it in 1963, with the present 1951 Chrysler engine installed. He raced it for several years in vintage car racing, and had the car professionally restored in 2003.
Roadster
Chassis Num: J1513

This car left the London docks on March 2, 1950, bound for the Bell Auto Parts speed shop in Bell, California. the car was imported and owned by Mr. Roy Richter, who owned the Bell Auto Parts Company. It came with a Ford Mercury Flathead engine in it, which was soon replaced with a Cadillac OHV 331 cubic inches. The car was painted silver with red leather upholstery, as you see it now.

This car was extensively raced in Southern California by Roy, most notably at Torrey Pines, Palm Springs, Santa Barbara, Willow Springs and Santa Ana. Its most significant race was at Tustin, California where it won the first Santa Ana Road Race, just beating out the future World Champion, Phil Hill, in a Jaguar XK 120 Lightweight.

Upon Roy's death, Mrs. Richter sold the J2 to Kenny McLaughlin, who stored the car for ten years. The car was then sold to Duncan Emmons, who restored it.

The car is currently owned and raced by Bernard Dervieux of Palm Desert, California.
Sydney Allard was an ingenious and competitive specials builder in the U.K. after World War II. Driving his own cars he won the British Hillclimb Championship, led at LeMans, and in 1952 won the Monte Carlo Rally outright, narrowly beating Stirling Moss.

The cars of Sydney Allard, Britain's premier competitor and builder just before and after World War II, had established such a reputation that orders came from throughout the free world for cars built by his works of about 250 employees.

About 1900 Allards of all types were built between 1946 and the mid-fifties with the J2 and J2X perhaps being the most well-known models. With the Cadillac engine fitted as an option, these two models became formidable competitors on the post-war U.S. sports car circuits.

During 1949, the J2 was announced, a handsome two-seat sports roadster that was both a road and competition car. Differing from the earlier Leslie Ballamy-designed split-axle, swing-arm front suspension, the J2 came with coil springs up front and a DeDion-type rear assembly replacing the previous live axle, giving the new line remarkable handling for the time.

Engines of J2s for the British market ranged from 85 horsepower Ford 'flathead' V8s to a Mercury 'flathead' V8 of 152 horsepower. J2s were often shipped to United States buyers without engines and gearboxes, and were usually fitted with overhead valve American V8s made by Cadillac, Oldsmobile or, during late 1951, Chrysler's new 180 horsepower Hemi.

Any American V8 made an Allard a formidable performer - the 427 Cobra of its time. Sydney's works built cars to order, and this car is a one-off example of custom body work.

This Allard, J2 1733, was purchased by its current owner in 1986, having spent its previous 22 years in an open-sided shed. Removing it from this shed required jacking up the center of the car because the frame rails were rusted in half. Upon disassembly, finding an identification tag from the Battelle Memorial Institute, Columbus, Ohio, led to the discovery that it had been used as a test bed vehicle for a top secret sports car development project underwritten by the Murray Body Company.

Additionally, it was learned that this was the only J2 Allard produced with full front wings, as opposed to the standard cycle fenders.

With 89 J2 Allards built, almost all with cycle fenders, the order specified all-enclosing front bodywork that was judged to be too expensive to replicate as a regular model. During restoration, this Allard was discovered to have been the development test-bed of a sports car for the Murray Body Company.
Roadster
Chassis Num: J1578

This 1950 J-2 Allard was raced by the company founder, Sydney Allard and his co-driver Tommy Cole, in the 1950 LeMans endurance race. It finished an impressive third overall and first in class, averaging nearly 88 MPH, for the full 24 hours. This accomplishment is compound by the fact that the car had only top gear for the last 11 hours. This was the first attempt by Allard at LeMans and was the highest finish ever of any factory Allard.

The Allard arrived stateside after Le Mans and was raced from 1950-53 at Watkins Glen, Bridgehampton, Sebring, Torrey Pines, Santa Barbara and other tracks. Its career ended with a cockpit fire in 1954 while at Santa Barbara. Joe Landaker (a noted mechanic for Parravano, Edgar, and Von Neumann) purchased the car in 1955. He placed it into storage. It was purchased by the present owners in 1988, completing their multi-year search for the 'lost Le Mans Allard.'

The car was restored to its 1950 Le Mans livery in Australia in 2001. It has been actively campaigned in historic races in both Australia and the western United States.
In 1936, Sydney Allard founded the Allard Motor Company in England. He was a racer who got into commercial auto production as a way to provide support for his sports pursuits. In total, the company produced 1,900 cars before closing in 1959.

After the close of World War II, Allard saw the potential of the United States market and proceeded to build 12 J2s in 1946 followed by 90 starting in 1950. Many of the cars were shipped to the United States without engines and then fitted with powerplants to the customer's specifications. Most were given a Ford flat-head V8, but some were also built with Cadillac and Chrysler engines. The car rode on a 100 inch wheelbase and weighed in at 1700 pounds. J2X production finished the series in 1954. Allard J2 and J2Xs dominated American sports car racing in the early 1950s.

A major feature of the Allard was the deDion rear end fabricated from light steel tubing and a Ford 'banjo' center section. This gave the Allards a form of independent rear suspension years ahead of the competition.

This example was raced in the United States and Argentina as the 'Bar Leak Special.' The current owner purchased the car over five decades ago.
The Allard was once described on the pages of Road & track magazine as 'the most consistently successful hot rod of all time.' The car was the creation of Sydney Allard.

The J-2 was the most famous of all Allards built. Only 90 are believed to have been built, but sorting out the question of which cars had which engine poses an ongoing challenge for Allard enthusiasts to this day. The car were extensively raced, wrecked, repaired and rebuilt.

The motors that made the Allard J-2's reputation were Chrysler and Cadillac motors, both displacing 331 cubic-inches. They were rated from the factory at 180 and 160 horsepower, respectively - but were easily pushed beyond that.

The cars were raced throughout the United States as well as in Europe and South America.

The car was brought to the United States in the mid-1970s, having a previous race history in the United Kingdom. This car features several modifications which make it especially roadworthy, including a Borg-Warner T10 gearbox.

The restoration of this car was completed in March of 2011.
This Allard Model J2 was driven to victory at the 1950 Watkins Glen Grand Prix by Erwin Goldschmidt. This was the type of car that could be driven during the week by its owner - and raced on the weekend.
In 1929 Sydney Herbert Allard began working in the Adlards Motors garage, an official Ford dealer, preparing racers for international motor racing. His Allard Specials quickly proved their potential and Allards reputation began to build. After racing motorcycles and three-wheeled Morgan's, he began racing four-wheeled vehicles. During World War II, the Allard Motor Company repaired military vehicles. Though their duties kept them very busy, Allard still found time to design and build sports cars.

In 1936 the first Allard Special, commonly referred to as the CLK5 because of its registration number, had been created using Ford products. It sat atop a Ford 40 chassis, outfitted with a Ford flat-head V8 engine, and given a Bugatti Type 51 body. The cockpit was pushed back as far as possible with much of the weight resting on the rear wheels. The lightweight construction and ample ground clearance made the Allard Special a formidable opponent on the racing circuit. This success translated to increased interest in a production version of the Special. Prior to World War II, a few Specials were created that were powered by the Ford V8 or a Lincoln V12. The flat-head engine and its manifold design was its Achilles heal, which often overheated at high speeds. Nevertheless, the Specials continued to be highly competitive, though produced in limited numbers.

After World War II, Allard introduced the J1. Under the hood was a 3.6 liter Ford V8 engine matted to a three-speed manual gearbox. The engine continued to suffer from overheating problems and was criticized as being underpowered. The front suspension was a split axle with a live axle in the rear. Transverse leaf springs were also used in the front and rear. The J1 carried a full body with removable wings which could be replaced with cycle fenders, leaving the J1 prepared for road and track. In total there were twelve examples of the J1 produced.

The J1 was quickly followed by the K1, a two-seater sports car. Produced in larger quantities, the K1 was profitable and provided means in which to continue their race car creations.

The next iteration of the Allard race cars was the J2, introduced in 1950 and designed similar to its J1 sibling. The transverse leaf springs of the J1 were replaced with coils and the live axle was changed in favor of a De Dion setup. The engine was moved even further back putting extra weight on the rear tires, a design Allard continued to favor. The Ford side-valve V8 was the engine of choice however a variety of engines were used including Cadillac's pushrod V8 and Chrysler's HEMI.

A year later the J2X was introduced which was nearly identical to the J2 but had its engine moved forward providing more cockpit room. The J2X Le Mans and JR were enclosed bodies and the final iteration of the J2 racer.

Sydney Allards greatest appearance at a sporting event came in 1950 when he and Tom Cole drove a J2, powered by a Cadillac engine, to a first in class victory and third overall finish at the prestigious 24 hours of Le Mans race. This was truly an impressive accomplishment and a testament to the abilities of the automobile. The Allard J1, J2, and J2X racers have dominated racing on many continents and continue to provide stiff competition in modern Historic sporting events.

In 1959 Allard was forced to cease production due to financial difficult and rising competition from other marques. A total of 1908 Allards had been constructed.
By Daniel Vaughan | Jul 2006
For more information and related vehicles, click
here
Automobiles with Exceptional Provenance Highlight Gooding & Company's Pebble Beach Auctions
SANTA MONICA, Calif. (July 10, 2014) – Gooding & Company, celebrated for its world-class automotive auctions and record-breaking results, will begin its second decade as the official auction house of the Pebble Beach Concours d'Elegance® on August 17 and 18. Gooding & Company is pleased to share a hand selected group of consignments from our Pebble Beach Auctions with exceptional provenance. Exciting entries include an extremely rare 1939 Alfa Romeo Tipo 256 Cabriolet with spectacular one...[Read more...]
Techno Classica 2014: more than 30 racing cars to celebrate 120 years of Mercedes-Benz motor racing history
•Cars that were the heroes of magical moments put their stamp on this high-powered, most comprehensive show presentation •With more than 30 vehicles, Mercedes-Benz Classic presents motor racing history in all its unique breadth and depth •120 years of Mercedes-Benz motor sport in the focus of the leading international classic motor show 120 years of Mercedes-Benz motor racing history have produced a timeline of extraordinary victories which since 1894 also stand for outstanding innovations ...[Read more...]
1959 German Grand Prix: Briton-Italian Dominance Amidst the Darkness
In the pages of Formula One history, the weekend of the 1959 German Grand Prix is usually remembered for a couple of incidents. One of those would see a providential escape. The other, unfortunately, would end in tragedy. Most unfortunate is the fact these two events, though very considerable in the annals of motor racing history, would largely overshadow what would end up being one of the most dominant performances by a Briton in an Italian car. Tony Brooks had proven himself, his talent, wi...[Read more...]
1958 12 Hours of Sebring: Collins and Hill Escort a Red-Head Home to Victory
In a matter of months Peter Collins would lay dying of wounds received in a violent crash at the Nurburgring during the German Grand Prix. While many would be holding their breaths and facing the cold-hard truth of another motor racing death, there would be others remembering Collins' talent harkening back to an evening in late March when he and Phil Hill would march triumphantly to victory, sharing the moment with a red-headed beauty. New regulations were on everyone's minds heading into 195...[Read more...]
1962 Monaco Grand Prix: McLaren Carries the Cooper Flag back to the Top
By the beginning of the 1962 Formula One season Jack Brabham had left Cooper to form his own racing team. It seemed the glories days of the double World Championship were well and truly behind them. However, left in Brabham's stead would be a man very akin to the Australian in so many ways. And in Bruce McLaren, Cooper had a driver and competitor more than apt to help carry the team forward into the future. The first race of the 1962 season, the Grand Prix of the Netherlands, certainly didn't...[Read more...]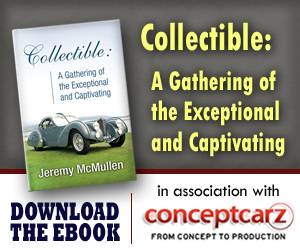 © 1998-2014. All rights reserved. The material may not be published, broadcast, rewritten, or redistributed.