1970 Ferrari Dino 246 GT news, pictures, specifications, and information

Tweet
| | | |
| --- | --- | --- |
| | | Coupe |
Unfortunately too often dismissed by purists, the Ferrari Dino is nevertheless one of the prettiest Ferraris. In addition, with its good combination of gear ratios and a center placed V6 engine, the car offered a wonderful driving experience that makes it one of the nicest touring cars to own and collect. This particular car has received several awards in a number of respectable Ferrari gatherings and national events.
| | | |
| --- | --- | --- |
| | | Coupe |
In the late 1960's through the 1970's Ferrari produced the Dino series - the 206, 246 and 308. Enzo Ferrari used the name to honor his only son, Alfredo Dino Ferrari, who died in 1956 from muscular dystrophy.

Apart from some prototypes, the Dinos had their own chassis series, with even numbers only, ranging from S/N 00102 through S/N 15604.

The Dino evolved through three different series; the early ones had no license plates holders and lights, and bumpers reached into the grill. Dinos never left the factory with Plexiglas headlight covers, these were marketed by Maranello Concessionaires, and their popularity spread.

The 206 featured a longitudinal mid-mounted aluminum 2.0-liter V-6 engine. For more power, the engine was enlarged to 2.4-liters in the second version, the Dino 246, and had 195 horsepower at 7500 RPM. It was available as a coupe (GT) from 1970 and as an open spyder (GTS) a year later.

The Dino was created as a stand-alone marque, and consequently, there were no Ferrari nameplates or prancing horse emblems to be found on the car until 1976 when Mr. Ferrari consented to add them to the 2+2 Dino, the 308 GT4.
The first Dino production car was the Ferrari Dino 206GT, available from 1967 through 1969. The engine was later revised with a cast-iron cylinder block and an increase in capacity to 2.4-liters, bringing about the Dino 246GT. The new 246GT, introduced in 1969, had some subtle styling revisions, notably steel bodywork, and an increase to the wheelbase size. The larger engine was more than capable of handling the increase in weight, while the cast-iron block offered better reliability. Top speed was in the neighborhood of 150 mph, with zero-to-sixty taking just 7.5 seconds. The Pininfarina body is elegant, class, and exotic while offering road-hugging capabilities and excellent performance.

This example is an early Euro spec version that has been in the US for several years. The odometer reads 70,000 kms, and is believed to be original. There are rare power windows, correct Dino Campagnola alloy wheels, and new Michelin XWX tires. The double-overhead cam V-6 engine is rated at 195 horsepower and there is a five-speed manual gearbox and four-wheel disc brakes.

In 2008, this Ferrari Dino 246GT Berlinetta was offered for sale at the Hilton Head Sports & Classic Car Auction presented by Worldwide Auctioneers. It had an estimated value of $140,000 - $160,000. As the gavel fell for the third and final time, bidding had reached $126,500 including buyer's premium. This was enough to satisfy the vehicles reserve and the lot was sold.
By Daniel Vaughan | Jan 2011
| | |
| --- | --- |
| | Coupe |
This Dino 246 GT is a European L version with knock-off wheels, round side marker lights, radio delete, European gauge package and alloy door skins, engine and truck lids. An 18-month restoration was completed by Bob Smith Coachworks in 2004 after a restoration by a former owner was aborted, leaving the car disassembled and existing only as dozens of boxes of parts.

The name 'Dino' honors Enzo Ferrari's son, Alfredo, who died of muscular dystrophy at the age of 24 in 1956. He is credited with the design of the car's V-6 engine.

The production of the 246 GT began in 1969 and ended in 1974 with 2,487 coupes and 1,274 Spyders produced. The price of this car was $14,000 new.
This Verde Germoglio 246 GT is perhaps the only example in the US. There is another example in Europe. This example has been given a nut-and-bolt restoration, with the interior receiving as much attention as the exterior. There is a three-spoke steering wheel, steel-gated, five-speed shifter, and an iron-block V6 engine made by Fiat.
By Daniel Vaughan | Aug 2010
This Ferrari Dino 246 is one of just 357 examples of the Tipo L model. The Tipo L version was a transitional variant that ran between the original Dino 206 and the 246 variations. The older models had handmade craftsmanship featuring lightweight alloy body panels on the hood, deck lid and doors, whereas the later Dinos were machine-pressed.

This vehicle, a European specification model, is a matching-numbers example that hsa its original glass, a 206-style dashboard and bumperettes, knock-off wheels and a Daytona steering wheel. It is finished in Classic Rosso Corsa paint.

In 2011, the car was offered for sale at the Gooding & Company auction held in Scottsdale, Arizona. It was estimated to sell for $150,000 - $180,000. As bidding came to a close, the car had been sold for the sum of $170,500, which included buyer's premium.
By Daniel Vaughan | Feb 2011
The 206 Dino was built by Enzo Ferrari as a tribute to his son who passed away in 1956 at the age of 24 due to kidney disease. Alfredo Ferrari, more commonly known as Dino, was Enzo Ferrari's only son (Alfredo was also Enzo's brother and fathers' name). Afredo had been trained in Switzerland as an engineer, after which he returned to the family business and received tutoring from his father. It was Enzo's dream to one-day hand over the keys to the company to his son. Sadly, that never transpired.
The 206S first debuted in 1965 at the Paris Salon. The Dino Berlinetta GT Prototype was debuted later in 1966 at the Turin Show and again in 1967 at the same show but this time as a production model. The Dino Berlinetta was Ferrari's first transverse-mounted mid-engine vehicle.

The design was done by Pininfarina and built by Scaglietti at the Maranello assembly facility. The body was alloy and the frame was steel.

The Dino 206 did not receive any Ferrari marque. It was void of the signature 'horse' logo, making it never officially a Ferrari. Rather, it was marketed as a separate marque.

The Dino was also built to compete against the Porsche 911. In order to meet the Formula Two racing regulations, over 500 production units had to be made. Ferrari was not capable of producing such numbers. So Ferrari relied on other resources. The engine was supplied by Fiat with half the number of cylinders that Ferrari was accustomed to working with. It was an all-alloy 2-liter, quad-cam, V-6 engine capable of producing between 140 and 180 horsepower. Side vents were located on the car which helped with cooling the engine.

Production continued until the end of 1969.
By Daniel Vaughan | Jun 2006
For more information and related vehicles, click
here
2015 ILX OFFERS TWO POWERTRAIN OPTIONS PLUS PREMIUM FEATURES ON ACURA'S GATEWAY LUXURY SPORTS SEDAN
The feature-packed ILX offerings, including an exhilarating 2.4-liter, 6-speed manual pairing and a fuel-efficient 2.0-liter automatic, provide the Acura experience to entry luxury customers 06/17/2014 - TORRANCE, Calif. -- Going on sale June 18, 2014 the 2015 Acura ILX lineup provides new luxury buyers with numerous ways to join the Acura family with a manufacturer's suggested retail price (MSRP1) starting at $27,050. The ILX is available in four grade levels offering different...[Read more...]
NEW YORK AUTO SHOW CONCEPT CARS: THE FUTURE STARTS HERE
NEW YORK, April 7, 2014 - With an awe-inspiring combination of new design ideas and technological innovation, this year's concept cars at the New York International Automobile Show reveal what's to come in the automotive world. The Auto Show opens to the public on Friday, April 18th through April 27th at the Jacob K. Javits Convention Center in Manhattan. The future starts here… Kia GT-4 Stinger Hearkening back to the glory days of purebred, affordable sports cars, Kia's...[Read more...]
SUBARU ANNOUNCES PRICING FOR 2014 WRX AND WRX STI
Cherry Hill, N.J. - Subaru of America, Inc. today announced pricing for the 2014 WRX® and WRX STI®. Subaru's iconic line of sport models have seen their sales increase by nearly 40-percent year-to-date and have a starting MSRP of $25,995. The 2014 Subaru WRX delivers the biggest performance value in its competitive set. The WRX offers more power than rivals like the Ford Focus ST and Volkswagen GTI, neither of which offers all-wheel drive. In the WRX, a 2.5-liter turbocharged/intercooled fo...[Read more...]
2014 MITSUBISHI LANCER SPORTBACK: NUMEROUS NEW FEATURES/UPGRADES FOR THIS UNIQUE AND SPORTY 5-DOOR
Mitsubishi Motors' utterly unique Lancer Sportback rings in the new model year with a plethora of new features and upgrades for this roomy (up to 52.7 cubic feet of available cargo space) and fun-to-drive diamond star-badged 5-door. New features and upgrades for the 2014 Mitsubishi Lancer Sportback include: ◾New audio system (Sportback ES) ◾New 6.1-in. touchscreen display audio system (Sportback GT) ◾New HD Radio® (Sportback GT) ◾New SIRIUSXM® satellite radio with 3-month pre-paid subscrip...[Read more...]
Montezemolo: 'Ferrari Must Remain Exclusive'
Maranello, 8th May - Luca di Montezemolo addressed more than 250 members of the media today at the Maranello factory to explain key areas of the business to the media, as well as announcing impressive results for the first quarter of 2013. 'I base my plans for Ferrari on four key areas,' said Montezemolo. 'Our team spirit, our passion, our extreme technology and our exclusivity' this is how he summed up his feelings to the assembled journalists from over 30 countries. Montezemolo a...[Read more...]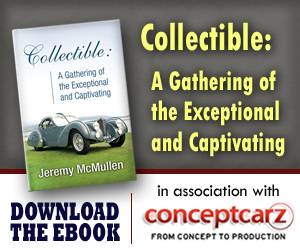 © 1998-2014. All rights reserved. The material may not be published, broadcast, rewritten, or redistributed.