1962 Sabra Sport news, pictures, specifications, and information

Tweet
GT Coupe
Chassis Num: S200100
Engine Num: S216251

The Sabra was born when Autocars, an Israeli firm, commissioned Reliant, a British car company to build them a sports car. The Sabra Sport was to be sold as a new entry in the growing US sports car market in the early 1960's. Total production is estimated at 208, with 55 sold in the UK under the name of Sabra, and 153 were exported to the US under the name of Sabra. The Sabra Sport was introduced at the 1961 New York Auto Show. The car came with either a re-moveable hardtop as seen here or a convertible top - not both.

The car was not accepted well in the US for several reasons. First it did not come equipped with several amenities such as sun visors, back-up lights and an interior dome light. The Sabra Sport was offered at $3,500 comparable to the Austin-Healey 3000, but its performance was more in line with MG Midget selling for only $2,000.

This car was brought in the country by a Florida dealer in 1962. It remained un-sold and was stored for more than 40 years. The current owners purchased the car in September 2000 with only 40 miles on the odometer. Because of the Florida heat and humidity the car had a complete restoration completed in 2001.

This Sabra was awarded its AACA Senior at Hershey, PA, its AACA Grand National Award in North Carolina in 2002 and its Senior Grand National in 2004. It was also chosen for an AACA National Award (The Emmert Swigert Memorial Cup) in 2002.
Autocars in Israel built 208 Sabras. 153 came to the United States, 55, re-named Sabre, to the United Kingdom. Each fiberglass-bodied car came with either a removable hardtop or a convertible fabric top. It was, frankly, not quite the value, with its 1,701cc Ford Consul 4-cylinder, or an Austin-Healey 3000, both priced at $3,500 but much less common. The UK's Reliant Motor Company of Tamworth built it. Reliant were known for fiberglass economy '3-wheelers' and later the (Ford V6) Scimitar, a mainstream GT car.
CHEVROLET TO SHOW CHAPARRAL VISION GRAN TURISMO CONCEPT
• Boundary-pushing, Chevy-powered race cars changed motorsports design
DETROIT – When racers Jim Hall and Hap Sharp founded Chaparral Cars in 1962, few could have guessed how they would shake up the conformities of the racing world – and fundamentally change it. Through pioneering applications of aerodynamics and aerospace technology, and a partnership with Chevrolet Research and Development, Chaparral Cars advanced the science of racing cars. It also triumphed on the track o...[Read more...]
All-new Alfa Romeo 4C Debuts at the 2014 New York Auto Show, Marks the Iconic Italian Brand's Return to North America
•2014 New York Auto Show debut of all-new 2015 Alfa Romeo 4C coupe and limited-edition 4C Launch Edition marks the Italian sports car brand's return to the North American market •Mid-engine proportions and inspiration from the brand's racing traditions highlight Alfa Romeo 4C's purposeful design for maximum performance •Alfa Romeo engineers leveraged advanced materials and technological solutions from Formula 1, including a carbon fiber monocoque, aluminum chassis structures and a composite bo...[Read more...]
1964 Nurburgring 1000 Kilometers: Survive for One Last Victory
During the late 1950s, Richie Ginther would begin a relationship with John von Neumann and this partnership would result in one of the most dominant periods of American sportscar racing in which Ginther and Porsche would be virtually unbeatable. Nearly a decade later, that same combination would again join forces to provide one more moment of glory. By the mid-1950s Porsche had developed its 550. This was a small car more than capable of dominating its class and consistently able to challenge...[Read more...]
ASTON MARTIN AND THE BLACKHAWK AUTOMOTIVE MUSEUM SHARE ANNIVERSARY CELEBRATIONS
MUSEUM SILVER ANNIVERSARY GALA TO BE SPONSORED BY ASTON MARTIN DANVILLE, California. (June 10, 2013) - One of the most respected brand names in the world of luxury high performance sports cars, Aston Martin, celebrates its first 100 years this year. The Blackhawk Automotive Museum, which is celebrating its 25thanniversary this year, is the perfect place for automotive enthusiasts to see exactly why Aston Martin, a niche British company, has become such a renowned global brand. T...[Read more...]
Carroll Shelby, Ford Family for More Than Half a Century
Carroll Shelby was a member of the Ford family for the better part of 60 years, producing stunning performance vehicles from concepts to production models. He once said his energy and passion for performance products were always strongest when he was working with Ford. Shelby most recently collaborated with the company on the 2013 Ford Shelby GT500 Mustang, the most powerful production V8 in the world. Working with SVT engineers at Sebring and the Arizona Proving Grounds, at times he drov...[Read more...]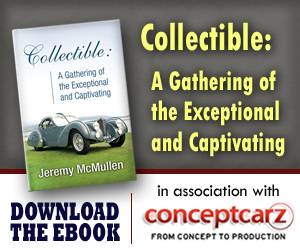 Similarly Priced Vehicles from 1962
Mercury Monterey ($2,670-$3,290)
Studebaker GT Hawk ($3,100-$3,100)
Studebaker Lark ($1,932-$3,100)
Dodge Dart ($2,240-$3,090)
Chevrolet Impala Series ($2,700-$3,100)
Austin-Healey 3000 MKII ($3,120-$3,535)

Average Auction Sale: $2,650
© 1998-2014. All rights reserved. The material may not be published, broadcast, rewritten, or redistributed.