1935 Duesenberg Model SJN news, pictures, specifications, and information

Tweet
In the mid-1930s, a contemporary series of Duesenbergs was offered featuring a wider body dropped over the frame rails for a lower profile. Designated the 'JN' series, they were designed by Herb Newport of Rollston and Company of New York. Only four cabriolet convertibles were built, with the first one going to Hollywood legend Clark Gable. This remarkable automobile is the only factory-equipped supercharged Duesenberg Model JN ever produced. The car has been driven only 16,500 miles. The supercharged straight-eight engine displaced 420 cubic-inches, with twin overhead camshafts and four valves per cylinder. Brakes were vacuum-assisted hydraulic oversized units. Aluminum alloy was used extensively in the engine, dash, steering column, differential and flywheel housing, crankcase, timing chain cover, intake manifold, brake shoes and even the gas tank. The use of aluminum kept the weight of this massive car just under 5,200 pounds. The JN model was capable of a staggering 89 mph in second gear and 112-116 mph in high gear. This is an original, unrestored example.

One of 38 factory supercharged (320 bhp) Duesenbergs, this car with chassis number 2589 and engine J-564, is believed to have just 16,000 miles since new. The JN series was first ordered in 1935 and consisted of a total of 10 cars that incorporated 17-inch wheels, skirted fenders, and a built-in trunk.

This car is one of four JN Convertible Coupes built by Rollston and is the only factory supercharged JN. Showing only 19,000 miles on the odometer, it is original except for paint and upholstery.
Background
The Duesenberg Company produced high-end, luxury automobiles and racing cars from 1913 through 1937. It was created by the Duesenberg brothers, Fred and August, who formed the Duesenberg Automobile & Motors Company, Inc. in Des Moines, Iowa with the intent on building sports cars. Just like many of their time, they were mostly self-taught engineers and had only constructed experimental cars up to this point.

Duesenberg's place in history was officially solidified in 1914 when Eddie Richenbacker drove a Duesenberg to an astonishing 10th place finish at the Indianapolis 500. Duesenberg later went on to win the race, capturing overall victories in 1924, 1925, and 1927. A Duesenberg was used as a pace car for the Indianapolis 500 in 1923.

Starting with the companies first appearance at the Indianapolis 500 in 1913 and continuing for a consecutive 15 years, there were a total of 70 Duesenberg racing cars entered in the race. Thirty-two of the cars finished in the top ten. In 1922, eight of the top ten cars were Duesenberg-powered. Many great racing names, such as Eddie Rickenbacker, Rex Mays, Tommy Milton, Peter DePaolo, Albert Guyot, Ralph DePalma, Fred Frame, Stubby Stubblefield, Ab Jenkins, Ralph Mulford, Jimmy Murphy, Joe Russo, and Deacon Litz raced in a Duesenberg.

Duesenberg's racing pedigree was not just reserved for the United States; in 1921, Jimmy Murphy drove a Duesenberg to victory at the French Grand Prix at the LeMans racetrack. This made him the first American to win the French Grand Prix. It also made the Duesenberg the first vehicle to start a grand prix with hydraulic brakes.

The Duesenberg headquarters and factory was relocated in July of 1921 from New Jersey to Indianapolis. Part of the purpose for the move was to focus more on the production of passenger vehicles. The Company had a hard time selling their Model A car. This was a very advanced car with many features not available on other vehicles being offered at the time. The engine had dual overhead cams, four-valve cylinder heads and was the first passenger car to be equipped with hydraulic brakes.

The Duesenberg Company produced 667 examples of the Model A, making it their first mass-produced vehicle. The Model A was powered by a 183-cubic-inch single overhead camshaft inline eight-cylinder engine. The strain of racing, moving, and lack of selling automobiles sent the company into receivership in 1922. After a few years, it's debts had been resolved, thank in-part to an investor group. The company re-opened in 1925 as the Duesenberg Motors Company.

In 1926, Errett Lobban Cord purchased the Duesenberg Company. The company appealed to E.L. Cord, owner of the Cord and Auburn Automobile Company, because of its history, the engineering ingenuity of the products, brand name, and the skill of the Duesenberg Brothers. The purpose was to transform the company into a producer of luxury automobiles.

Duesenberg Model J and Model SJ

Fred Duesenberg was a master of creating engines and was a creative designer. He had a talent for conceiving new ideas and ways of doing things. The engines he constructed were beautiful, mechanically sound, and advanced. E.L. Cord gave him one task: 'Create the best car in the world.' This was a very tall order and came at a very difficult time in history. The onset of the Great Depression and the Stock Market crash was just around the corner. Competition in the luxury car segment was fierce and involved all facets of the automobile. The cylinder wars that began in the 1920s and continued into the 1930s had marque's trying to outdo each other on the bases of their engines output, number of cylinders, and the speed of their ultra-luxury automobiles. Styling continued to be very important and often outsourced to the greatest designers and coachbuilders of the time. Maruqee's such as Cadillac, Packard, Rolls-Royce, Hispano-Suiza, Isotta Fraschini, Bugatti, and others were all trying to out-do each other and continue in business during this difficult point in history.

The Duesenberg Model J was first unveiled to the public at the New York Car Show on December 1st of 1928. Only the chassis and engine were shown and it still impressed enough to make front page news. The wheelbase was 142-inches making it nearly 12 feet. The chassis had a six cross-members made it very sturdy and able to accommodate the heaviest of bodies. The engine had dual overhead camshafts and eight-cylinders with four valves per cylinder. It displaced 420 cubic-inches and produced an impressive 265 horsepower in un-supercharged form. The engine had been designed by Fred Duesenberg and constructed by the Lycoming Company, which had been recently acquired by E.L. Cord. There was a brilliant lubrication system which automatically lubricated various mechanical components after sixty to eighty miles. Two lights mounted on the dashboard indicated when the lubrication process was transpiring. After 750 miles, lights mounted on the dashboard would light-up indicating the oil required changing. After 1500 miles, the lights would illuminate indicating the battery should be inspected. Top speed was 119 mph and 94 mph in second gear. With the use of a supercharger, the top speed increased even further, to nearly 140 mph. Zero-to-sixty took around eight seconds with 100 mph being achieved in seventeen seconds.

Each chassis was driven at speed for 100 miles at Indianapolis before being delivered to the customer or coachbuilder.

The coachwork was left to the discretion of the buyer and the talents of the coachbuilders. Prominent coachbuilders from North American and Europe were selected to cloth the Model J and Model SJ in some of the grandest and elegant coachwork ever created.

The cost of a rolling chassis prior to 1932 was $8,00. The rolling chassis usually included all mechanical components, front fenders, radiator grille, bumpers, running boards, dashboard, and sometimes a swiveling spot-light. After 1932, the price was raised to $9,500. After the coachwork was completed, the base price was $13,500 with a top-of-the line model fetching as much as $25,000 or more. To put this in perspective, the entry level Ford Model T in the early 1930s cost around $435 with the most expensive version selling for about $650. Many individuals in very prominent careers, such as doctors, made around $3,000 annually. The Great Depression meant the number of individuals capable of affording an automobile of this caliber soon dwindled. Those who could afford one often bought modest vehicles to avoid public uprising and ridicule. The pool of marques who catered to the upper-class of society did all they could to attract buyers; prices were lowered and incentives were made just to attract another sale. Needless to say, competition was fierce.

After the New York Show, Duesenberg ordered enough components to build 500 Model Js. Specifications and drawings of the chassis had been sent to prominent coachbuilders six months prior to its unveiling at the New York Show. This had been done to guarantee that a wide variety of bodies were available after its launch. Duesenberg ordered bodies in small quantities and offered the completed cars to have on-hand incase the customer wanted to take delivery immediately. The first customer took delivery of their Model J in May of 1929. This was just five weeks before Black Tuesday.

The Model SJ, a supercharged version of the Model J, produced 320 horsepower. The supercharger was located beside the engine with the exhaust pipes beneath through the side panel of the hood through creased tubes. The name 'SJ' was never used by the Duesenberg Company to reference these models.

Even though the Model J had received much attention from the press and promotional material was well circulated, sales were disappointing. The Duesenberg Company had hoped to construct 500 examples per year; this figure was never matched with a total of 481 examples constructed throughout its lifespan. Duesenberg did find customers such as Gary Cooper, Clark Gable, Greta Garbo and James Cagney. Monarch, kings, queens, and the very wealthy accounted for the rest of the sales.

Production continued until the company ceased production in 1937. Little changed on the Model J over the years. The four-speed gearbox was replaced by a unsynchronized three-speed unit which was better suited to cope with the engines power. The last Model SJ's produced had ram-horn intakes and installed on two short-wheelbase chassis. Horsepower was reported to be as high as 400. These examples are commonly known as 'SSJ' in modern times.

In 1932, Fred Duesenberg was involved in a car accident which claimed his life. Development on the Model J had come to a halt which was not a problem at the time, but within a few years had become antiquated in comparison to the competition. An entirely new design and updated mechanical components were required for the Duesenberg name in 1937 in order to stay competitive. The cost and development time was too much for E.L. Cord to consider, and so he withdrew his financial support and the company dwindled.

August Duesenberg tried, unsuccessfully, to revive the Duesenberg name. Fritz Duesenberg tried again in the mid-1960s but again without success.
By Daniel Vaughan | Feb 2007
For more information and related vehicles, click
here
2014 Jeep® Wrangler And 2014 Dodge Challenger Win Kelley Blue Book'S Kbb.Com Best Resale Value Awards
• Jeep® Wrangler receives two 2014 Kelley Blue Book Best Resale Value Awards: Top 10 and Compact SUV/Crossover
• Fourth year Wrangler wins Best Resale Value Award, fourth consecutive year for Top 10
• With record setting sales numbers month-over-month this year, Dodge Challenger wins the hearts of enthusiasts and earns a spot on KBB's Top 10 list of vehicles with the best resale value
November 18, 2013 , Auburn Hills, Mich. - Kelley Blue Book has named the 2014...[Read more...]
2014 HONDA PILOT – THE MOST FUEL EFFICIENT EIGHT-PASSENGER SUV, AND STILL THE ULTIMATE FAMILY ADVENTURE VEHICLE
09/05/2013 - TORRANCE, Calif. Designed as the 'Ultimate Family Adventure Vehicle' and boasting the highest EPA-rated fuel economy any eight-passenger family SUV, the award-winning Honda Pilot is back for 2014 and goes on sale today with a manufacturer's suggested retail price (MSRP) starting at $29,6701. The Pilot combines an EPA-rated highway fuel economy2 of 25 mpg (2WD models), a high degree of practicality with its versatile and functional cabin, a choice of 2- or 4-wheel drive, and u...[Read more...]
2013 Kia Optima And Sportage Earn Autopacific Vehicle Satisfaction Awards
◾17th annual AutoPacific Vehicle Satisfaction Awards identifies most satisfying cars in the market and helps consumers make informed purchase decisions ◾Survey measured responses from more than 52,000 new-vehicle owners IRVINE, Calif., June 10, 2013 – Two of Kia Motors America's (KMA) most popular models were recently named to AutoPacific's annual Vehicle Satisfaction Awards (VSA). The 2013 Optima sedan was named most satisfying Mid-Size Car and the sporty 2013 Sportage was heralded ...[Read more...]
Sold! Barrett-Jackson's 5000 Series Generates More Than $29.2 Million In Scottsdale
Original 1966 TV Batmobile Sells for $4.62 Million at The World's Greatest Collector Car Auctions™ and New World Records are Set January 19, 2013 •LOT #5037 The Original Batmobile is the highest selling car at the company's annual Scottsdale Auction •LOT #5019 1947 Talbot-Lago T-26 Grand Sport sets a new world record for the model •LOT #5034 1956 Chrysler Diablo Concept Convertible sets a new world record for Chrysler concept cars Scottsdale, Ariz. (Jan. 20, 2013) – Barr...[Read more...]
Bentley Ready For Classic Thousand Mile Challenge
•Iconic Bentley Blowers ready for great Mille Miglia adventure •Bentley Continental W12 and V8 models join historic cars in Italy (Crewe, England & Brescia, Italy. 16 May, 2012) W.O. Bentley's gift for creating cars that combined the speed of a thoroughbred racing machine with an enviable reputation for strength and comfort, allowing them to effortlessly cover hundreds of miles, is set to be underlined once again at the 2012 Mille Miglia when two 4½ litre Bentley Blowers take on the ...[Read more...]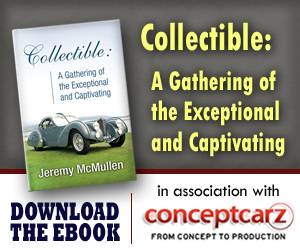 © 1998-2014. All rights reserved. The material may not be published, broadcast, rewritten, or redistributed.