Image credits: © Chevrolet. GM Corp
1986 Chevrolet Corvette Indy Concept news, pictures, specifications, and information

Tweet
Chevrolet constructed the Indy Concept in 1985 and showed it at the 1986 Detroit Auto Show. The inoperative show car was powered by a mid-engined twin-turbo 2.6 liter V8 engine designed by Lotus Engineering. Two additional fully road worthy prototypes followed. The Corvette Indy concept was created to showcase Chevrolet's advanced automotive technology and featured 4-wheel drive, 4-wheel steering, rear view camera with in-dash view screen and drive by wire system. The concept was expected to reach a top speed of 180 mph.
$4.8 MILLION RAISED FOR CHILDREN'S CHARITIES, UP AN ASTOUNDING 30 PERCENT FROM 2013
Detroit, Mich., Jan. 17, 2014 - If there was ever a doubt that the automobile industry is healthy, and that the indomitable spirit of Detroit is alive and well, that notion was put to rest tonight. Tonight, industry and community joined together for the largest single night fundraiser in North America, and for the 13,791 people who attended the 2014 North American International Auto Show Charity Preview, it was both a night to show the world that Detroit takes care of its children, and...[Read more...]
1958 Monaco Grand Prix: An Unlikely Frenchman Steals the Show…Again
In 1955, perhaps the most unlikely of drivers would survive the attrition and the beckoning Monaco harbor to claim his only victory in Formula One. Some three years later, and more unlikely than ever to even win a second race at any circuit, the same Frenchman would steal the crown jewel to become just the second man in Formula One history to earn two or more victories on the streets of the principality. Maurice Trintignant's victory in the chaotic and drama-filled 1955 Monaco Grand Prix was...[Read more...]
Ford Expands Availability Of Rear Inflatable Safety Belt To 2014 Fusion
◾The 2014 Ford Fusion becomes the only vehicle in its class to offer rear inflatable safety belts, which combine the attributes of safety belts and airbags ◾Rear inflatable safety belts provide additional protection for rear-seat passengers, who often are children or older adults more vulnerable to head, neck and chest injuries ◾Ford introduced the industry's first inflatable safety belts on the 2011 Ford Explorer; it is now available on six Ford and Lincoln models: Ford Explorer, Fusion, Flex...[Read more...]
HYUNDAI'S HCD-14 GENESIS CONCEPT TO BE SHOWCASED ON PRESTIGIOUS CONCEPT LAWN AT 2013 PEBBLE BEACH CONCOURS D' ELEGANCE
◾Futuristic HCD-14 Concept Vehicle Reveals Hyundai's Advanced Design and Technological Leadership for Performance Sedans ◾Eye-tracking Technology and Interactive 3-D Gesture Recognition Hint at Innovative Future Technologies for Premium Vehicles PEBBLE BEACH, Calif., August 12, 2013 – Hyundai's innovative and tech-laden HCD-14 Genesis Concept, which received international acclaim at the 2013 Detroit Auto Show, will again be center stage on the prestigious Concept Lawn at the 2013 Pebb...[Read more...]
Final Countdown Underway To South Florida's Premier Collector Car Auction
• Auctions America kicks off its 2013 auction season, March 22-24 with its highly anticipated Fort Lauderdale Collector Car Auction • Celebrating its 11th year, the multi-day auction features more than 550 quality collector cars • Latest feature attractions include an outstanding 1963 Shelby Cobra and a 1974 Ferrari Dino 246 GTS • Digital catalog now available for download at auctionsamerica.com AUBURN, Indiana (February 27, 2013) – With the final countdown underway to its highly an...[Read more...]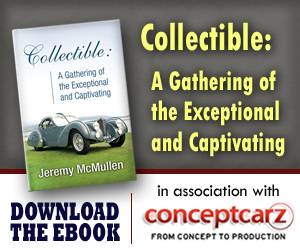 Chevrolet
Monthly Sales Figures
Volume
September 2014
153,873
August 2014
185,930
July 2014
175,155
June 2014
188,567
May 2014
205,010
April 2014
181,648
March 2014
179,681
February 2014
153,913
January 2014
119,089
December 2013
153,493
November 2013
145,089
October 2013
155,214
(More Details)
© 1998-2014. All rights reserved. The material may not be published, broadcast, rewritten, or redistributed.