1930 Morgan Aero Super Sport news, pictures, specifications, and information

Tweet
More than a motorcycle and not quite a car, the Morgan is the best known and the finest of the British 3-wheelers. Morgan's were popular during the 1930's in Britain due to a tax advantage that allowed three-wheeled car to be registered as a motorcycle. Low and purposeful, the Morgan Super Sports J.A.P. engine is slung aggressively in front of a beautifully rounded radiator wîth its single rear wheel almost concealed.

H.F.S. Morgan, founder of the Morgan Motor Company LTD, completed his first 3-wheeler in 1909. The factory continues to produce cars and the waiting period for a new Morgan can be as long as 6 years. The new cars are not three-wheelers, however, as the tax advantage has been significantly reduced, and production of the Super Sports ended in 1952. The hand built cars retain features found on the original 1909 model, such as their famous 'sliding pillar' front suspension and ash wood sub-frames as in this model.

Still favored by vintage racers today, the Morgan Super Sports was much raced in its day. The John Alfred Prestwich (JAP) engine was a favorite of motorcyclists and was used in many fine bikes including the Brough Superiors. In 1930 Mrs. Gwenda Stewert of France drove a similar Morgan Super Sports at a record speed of 115.66 mph, an astonishing and probably terrifying feat.
Source - SDAM
H.F.S. Morgan created a three-wheeled runabout with seating for one in 1909. Morgan created the vehicle for his own personal use and to meet his needs. Interest in the little vehicle soon spread and requests were made to produce more examples. After patenting his designs, production commenced. The early examples were mostly powered by a single-cylinder engine; a twin-cylinder version soon followed.

Morgan's first three-wheeler was powered by a 7 horsepower Peugeot engine which was more than adequate to carry the lightweight vehicle. It was built atop a rigid frame and given an independent front suspension.

Two examples were shown at the 1911 Olympia Motor Show. One example was powered by a single-cylinder engine which created about 4 horsepower. The second example had a twin-cylinder J.A.P. engine which doubled the horsepower of the single-cylinder unit. The cars were alluring and attracted much attention, but it soon became obvious that a two-seater would be more marketable.

The following year, the two-seater examples were on display and generated more work than Morgan could handle. To meet the demand, Morgan purchased the necessary machining tools and built larger facilities.

The cars endured much success in races and hill-climbs. After witnessing the success the nimble vehicles achieved, racing enthusiasts were eager to get one for their own. Around 1913, Morgan produced special derivations of his Morgan cycle cars for racing, which were longer and had the seat set lower into the chassis. After McMinnies was victorious at the Cyclecar Grand Prix at Amiens with the specially prepared cyclecar, the vehicle was given the designation 'Grand Prix'.

The next iteration of the Morgan cyclecar was a four-seater version, which Morgan had created for his family use. Once again, the idea seemed appropriate and soon versions were being made for sale, and would continue until 1937.

For many years, the Morgans featured two speeds and a two-chain drive. The engines were from motorcycles, placed in the front, and were either air-cooled or liquid cooled. Little improvements were needed or made to the vehicle for most of its lifespan. Modern amenities such as starters and electric lamps found their ways onto the vehicles, but in terms of the chassis, little changed. During the turn of the 1930s, a three-speed version with one chain drive was introduced.

The F-Series was introduced in 1932 and would stay in production until 1952. These versions had four-cylinder engines courtesy of Ford and a press-steel chassis. Other variations of this design were created during this time, including the F-2 and F-Super.
By Daniel Vaughan | Sep 2007
For more information and related vehicles, click
here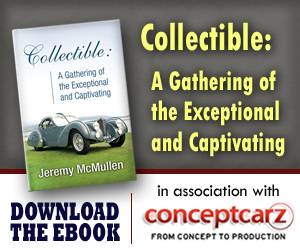 © 1998-2014. All rights reserved. The material may not be published, broadcast, rewritten, or redistributed.