1950 Siata Amica 50 news, pictures, specifications, and information

Tweet
The Italian Company, Siata (Societa Italian Auto Trasformazioni Accessori) was founded in 1926 by Giorgio Ambrosini that worked with modifying and tuning cars from Fiat. In 1949 Siata launched their first own car, the Siata Amica. Coachwork on this automobile was by Bertone of Turin, Italy.

The Siata is powered by a tuned 500cc Fiat engine and fitted with a special Siata cylinder head and dual Weber carburetors. The chassis is a welded box section platform.

This Siata was restored in Bordighera, Italy and purchased by the current owner in February 2007.
The Siata Amica was the company's first production model and was powered by a Fiat 500cc engine capable of producing 22 horsepower. A 750cc unit was also available, raising horsepower slightly, to 25. Production of the Amica began in 1948 and continued through 1952. There were two bodystyles available, a two-seater convertible/spider and a coupe.

In 1948, a specially prepared Amica won the Italian Championship. The car was outfitted with an engine that produced a little over 40 horsepower and was mated to a five-speed manual gearbox.
By Daniel Vaughan | Jun 2007
RESTORED 1970 BMW ALPINA 2002TI RETURNS TO THE TRACK AT 2014 ROLEX MONTEREY MOTORSPORT REUNION
On the heels of the launch of the BMW ALPINA 2015 B6 xDrive Gran Coupe to the US market, one of ALPINA's early cars will compete in the Rolex Monterey Motorsport Reunion. Woodcliff Lake, N.J. – August 5, 2014 …Today BMW announced that it will run its newly restored 1970 BMW ALPINA 2002ti in the annual Rolex Monterey Motorsport Reunion at Mazda Raceway Laguna Seca next week. The car will be raced by Road & Track Executive Editor and vintage racer Sam Smith. This racing 2002ti ...[Read more...]
Automobiles with Exceptional Provenance Highlight Gooding & Company's Pebble Beach Auctions
SANTA MONICA, Calif. (July 10, 2014) – Gooding & Company, celebrated for its world-class automotive auctions and record-breaking results, will begin its second decade as the official auction house of the Pebble Beach Concours d'Elegance® on August 17 and 18. Gooding & Company is pleased to share a hand selected group of consignments from our Pebble Beach Auctions with exceptional provenance. Exciting entries include an extremely rare 1939 Alfa Romeo Tipo 256 Cabriolet with spectacular one...[Read more...]
Looks, Rarity, Performance: The Ultimate Connoisseur's Ferrari at RM Monterey...
LOOKS, RARITY, PERFORMANCE: THE ULTIMATE CONNOISSEUR'S FERRARI, 275 GTB/C SPECIALE HEADLINES RM AUCTIONS' FLAGSHIP MONTEREY SALE • RM Auctions offers the first of only three 1964 Ferrari 275 GTB/C Speciales, chassis 06701, at its flagship Monterey, California sale, August 15-16 • With its two sibling cars unlikely to ever become available, 06701's offering is a historic and unrepeatable opportunity to acquire one of the world's most important automobiles • Exceptional 275 GTB/C Speci...[Read more...]
1963 Andre Simon/Lloyd Casner Maserati Tipo 151/2
At a time when Maserati's financial picture couldn't have looked more bleak, it would be enticed to build what many would end up considering to be one of their finest sportscars ever. It would even be suggested it could have been one of the greatest of all time if Maserati had had the money to develop it. Unfortunately, the Maserati Tipo 151 forever lives in relative obscurity when it truly deserves to be remembered as much more. It is often remarked that for a race team to win a championship...[Read more...]
EXCEPTIONAL ROSTER OF PORSCHE RACE CARS JOIN THE STARTING GRID FOR RM'S EAGERLY AWAITED MONTEREY SALE
RM Auctions, the world's largest collector car auction house for investment-quality automobiles, has announced more star consignments for its highly anticipated Monterey sale, August 17–18, in California, this time a remarkable group of Porsches. Comprising twelve examples in total and spanning 48 years of production, the offering is headlined by an exceptional group of racing greats from the sixties, seventies, and eighties. Continuing RM's commitment to present the world's finest automobiles, ...[Read more...]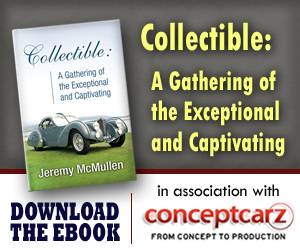 © 1998-2014. All rights reserved. The material may not be published, broadcast, rewritten, or redistributed.