1973 Ferrari 246 Dino news, pictures, specifications, and information

Tweet
The prototype for the 246 appeared in the early part of 1969 with the production version being rolled out only months later. Production continued until 1973. A total of 2,487 246's were produced.

Scaglietti built the vehicle while the Ferrari designed engine was built by Fiat.

The Dino 246 was almost identical to the 206. Just like the 206, it did not wear any Ferrari logos or badges. There were a few aesthetic changes and a larger wheelbase (2.1 inch increase). Under the hood, however, they were differences. The 246 had a more reliable and larger V-6 engine that was capable of almost 200 hp (European version). The American version had a slightly lower horsepower rating.
The prototype for the 246 appeared in the early part of 1969 with the production version being rolled out only months later. Production continued until 1973. A total of 2,487 246's were produced. The 'Dino' name was a tribute to Enzo Ferrari's son.

The Dino 246 is powered by a 2.4-liter (2418cc) 65-degree, dual overhead camshaft V6 engine, with iron block with alloy heads and a 9.0:1 compression ratio. The European motor produced 195 bhp (at 7,600 RPM), and was available as a fixed-top GT coupe or, after 1971, an open spyder GTS. The American version had an exhaust air-pump, and timing changes which created 180 horsepower. The GT had 3 Weber 40 DCNF/6 or 40 DCNF/7 carburetors. The 246 had a top speed of 146 MPH.

The 246 Dino GTS weighed 2426 pounds. The body was made of steel to save cost.
The 246 GTS was the final incarnation of the popular Dino line, which made its debut in 1968. It was Ferrari's first mid-engine production model, and was named for Enzo Ferrari's late son who died in 1956 of muscular dystrophy. Ferrari introduced the 246 GTS at the Geneva Auto Show in March 1972. This car has a 2418cc V6 rated at 195 horsepower coupled with a five-speed transmission. Its most notable feature is a one-piece removable targa top panel.
The Dino came not from Enzo Ferrari's head, but from his heart. The Dino was a tribute to the great man's love for his son, Alfredino, who died of kidney disease. The first Dino was introduced at the 1965 Paris Auto show as a concept car along side the debus of the legendary 275 GTB. The overwhelming attention the Dino garnered overshadowed the introduction of 275 GTB and convinced Enzo to produce his tribute and offer it to the public. The 1966 Turin Auto show featured a working prototype of the Dino called the Dino Berlinetta GT. Powered by a transversely mounted mid-engine V-6, it was the beginning of Ferraris's departure from the front engine V-12 to the more agile midship engine design utilized by present generation Ferrari road cars.

With sparkling performance, small girth, and mid-engined layout, it handled like a go-kart, and could be hustled around town wîth enormous aplomb. Beautifully sculpted by Pininfarina, the 246 won worldwide acclaim as the high point of the 1970's automotive styling. In its day, it was among the most fashionable cars money could buy. The rarest Dino is the GTS Targa-roofed 'spyder' which offered the open air experience of a true sports car to Dino buyers.

The engine was designed by Vittorio Jano, and in 2.4 liter form won the 1958 F1 world champion ship, driven by Mike Hawthorne. Phil Hill won the F1 championship in 1961 in a 1.5 liter Dino, Ferrari's first mid-engined car. The performance became even more exhilarating when its engine was upgraded in 1969 to utilize a transversely mounted 2418 cc V-6 that produced an amazing 195 bhp and is backed by a 5-speed gear box. It has four overhead cams, a four-bearing crankshaft and breathes through three twin Weber DCF carburetors. The engines distinctive roar is a Ferrari legend.


The example offered here has spent its entire life in California as listed in the registry. It has been treated to a full cosmetic and mechanical restoration less than 2,000 miles ago. The restoration includes a bare block overhaul of the motor. It's brilliant giallo Fly (yellow) paint is complemented by a set of beautiful Cromodora wheels and the interior is optioned wîth the very desirable Daytona seats, more commonly referred to as 'chairs'. Additionally it comes equipped wîth air conditioning and power windows.

The Dino is an amazing success story for Ferrari, it's popularity has been discussed in many recent publications, and had been described as having 'one of the most beautiful bodies ever to grace an automobile and the shape is the perfect blend of style and performance'.
Source - Russo & Steele
The Dino Ferrari is perhaps one of the most famous Ferrari of all times, yet it really is not a Ferrari at all. It was powered by a Fiat V6 engine and did not wear any Ferrari badging. The naming designation followed the Ferrari racing practice of numerically distinguishing displacement and cylinder count. Thus, the 246 was fitted with a 2.4 liter engine that had six cylinders.

This particular Ferrari Dino 246GT is still painted in its original 'Fly' yellow color. It was built for export to the United States and came with its original air conditioning and a five-speed transmission. This car has been the subject of a lengthy restoration process.

In 2008, this vehicle was offered for sale at the 'Sports & Classics in Monterey' presented by RM Auctions where it was estimated to sell for $145,000 - $175,000. It was offered without reserve and sold for $154,000.
By Daniel Vaughan | Jan 2009
The 246 Dinos were the first Ferraris to receive pressed steel body panels that were pressed at the Pininfarina factory in Turin. Scaglietti assembled the bodies in Modena, before being transported to the Ferrari factory for mechanical assembly. The Dinos rode on alloy rims and rather than the three-pointed central wing nut Cromodoras, 246 GTs featured Campagnolo rims with a circular hub on which the Dino logo was reproduced.

The American market was introduced to the 246 GTS in 1972 which featured a removable targa room and built exclusively for the United States market. Ferrari produced approximately 1,200 units.

Jack May and Rick Cline drove this Ferrari Dino to a world record in the Cannonball Sea-to-Shining Sea Memorial Trophy Dash getting from New York City to Los Angeles in 35 hours and 53 minutes on April 23 - 25, 1975.
By Daniel Vaughan | Feb 2012
Late in the 246 GTS's production run, versions meant for the American market were increasingly equipped with new 7.5-inch wide Campagnolo wheels, which required wider flared fenders to comply with United States safety regulations. Examples of these 246 Dinos that were additionally equipped with Daytona sport seats are generally known as 'Chairs and Flares' cars. An official record of this option combination was not recorded by the factory, though experts believe no more than 250 cars were so optioned worldwide. Approximately 91 of them were sent to the United States.

This 'Chairs and Flares' example is finished in Fly Yellow and is one of the 91 American export cars. The original owner is not known, but by 1978 the Dino was acquired by Larry Foy of San Francisco, California. In 1981, it was purchased by Dr. Larry M. Stilinovic of Yakima, Washington who kept the car for 15 years before offering it for sale in 1996. In August of 1996, it was acquired by Ron Tonkin Gran Turismo, a dealership based in Portland, Oregon. Ron Tonkin embarked on a comprehensive rotisserie restoration that took four years and over $91,000.

After completion in January of 2001, this 246 GTS was displayed in the Tonkin showroom before being acquired in 2002. One more owner cared for the car before bringing it to auction in 2012.

Currently, the car shows just over 33,500 miles. Around 625 of those miles were accrued since its comprehensive restoration. The 2418cc dual overhead cam V-6 offers 190 horsepower and features a five-speed manual transaxle.

In 2012, this car was offered for sale at the Amelia Island auction presented by RM Auctions. The car was estimated to sell for $250,000 - $325,000. As bidding came to a close, the car had been sold for $363,000 inclusive of buyer's premium.
The Dino brand name was used from 1968 to 1976 to designate cars with fewer cylinders. The Ferrari name continued - referring to cars with the larger 12-cylinder engines. The Dino name was in honor of Enzo Ferrari's only legitimate son, Alfredo 'Dino' Ferrari, who died of muscular dystrophy at age 24 just before the car went into production. The 246 nomenclature refers to the 2.4-liter, 6-cylinder engine. This was the first mid-engine Ferrari for street use.

The 246 GT, introduced in 1971, filled a demand for more horsepower over the original 246. This new V6, which Dino gets some credit for designing, had an unusual 65-degree angle between cylinder banks, dual-overhead-cam, with a 9.0:1 compression ratio, iron block and alloy heads making nearly 200 horsepower. The car weighs less than 2,400 pounds.

The body is by Pinninfarina. It is one of the first Ferraris produced in high numbers and renowned for exceptional handling and drivability.

This is an original-owner car bought from the Ron Tonkin Ferrari dealership in Portland, Oregon. Mr. Curis drove the car home to Detroit. A 'bare-metal' restoration was completed in 1991. This is one of the few, if not the only, original-owner Dinos. It has been used often as a resource for Dino restorations.
The Cannonball Sea-to-Shining Sea Memorial Trophy Dash was an automobile race from coast-to-coast across the United States, held from 1971 to 1979. In 1975 this Ferrari Dino 246GTS (chassis number 05984) owned and driven by Jack May, won the race in the record time of 35 hours 53 minutes, an average speed of 83 miles per hour 'Cannonball Jack' and his white Dino hold the transcontinental record in perpetuity.
The Ferrari Dino 246 GTS wears a design by Pininfarina and coachwork by Scaglietti. It has been recently restored with FCA Platinum honors to its credit. It was owned either from new or soon after by the late William Barnum of Rye, New York. Mr. Barnum owned the car from at least 1975 and would drive the Dino until the 1980s and then he placed it into storage. It remained in Mr. Barnum's care until 2003, when it was acquired by Randy Simon of Los Angeles, along with a Ferrari 275 GTB. Mr. Simon stored the Dino; and then in 2006, he sold it to the current owner who commissioned a full, concours-level body-off-frame restoration. The work was completed over the next five years, including a repaint in its original Rosso Cordoba Metallizato exterior finish. During the restoration, the four-cam V-6 engine was rebuilt.

The car made its restoration debut at the 2011 edition of Concorso Italiano. It achieved FCA Platinum Class honors at the 2012 FCA Concorso Ferrari held in Pasadena, California.

The car has traveled less than 200 miles since it was restored. Receipts from the work show $400,000 invested.
By Daniel Vaughan | Feb 2014
Chinetti-Garthwaite Imports, of Paoli, Pennsylvania took delivery of this Dino 246 GTS when new, and it was originally finished in Bianco Polo Park (20-W-152) over a Beige (VM 3128) interior. Bob Pond later acquired the car from The Fine Car Store in 1989. When Pond purchased this car, he also purchased a pair of other Ferraris, a 1983 Ferrari 512 BBi and the 1968 365 GTB/4 Daytona. The car was shipped from Jackson, Mississippi, and its odometer showed 11,217 miles at that time. This car has been part of the Pond Collection since that time, and it currently shows just under 12,400 miles on its odometer.

The car is finished in Ferrari Rossa Corsa over a tan leather interior with black Daytona inserts. It has Cromodora wheels and still retains its correct spare wheel, matching red hardtop, and original jack.
By Daniel Vaughan | Oct 2014
The 206 Dino was built by Enzo Ferrari as a tribute to his son who passed away in 1956 at the age of 24 due to kidney disease. Alfredo Ferrari, more commonly known as Dino, was Enzo Ferrari's only son (Alfredo was also Enzo's brother and fathers' name). Afredo had been trained in Switzerland as an engineer, after which he returned to the family business and received tutoring from his father. It was Enzo's dream to one-day hand over the keys to the company to his son. Sadly, that never transpired.
The 206S first debuted in 1965 at the Paris Salon. The Dino Berlinetta GT Prototype was debuted later in 1966 at the Turin Show and again in 1967 at the same show but this time as a production model. The Dino Berlinetta was Ferrari's first transverse-mounted mid-engine vehicle.

The design was done by Pininfarina and built by Scaglietti at the Maranello assembly facility. The body was alloy and the frame was steel.

The Dino 206 did not receive any Ferrari marque. It was void of the signature 'horse' logo, making it never officially a Ferrari. Rather, it was marketed as a separate marque.

The Dino was also built to compete against the Porsche 911. In order to meet the Formula Two racing regulations, over 500 production units had to be made. Ferrari was not capable of producing such numbers. So Ferrari relied on other resources. The engine was supplied by Fiat with half the number of cylinders that Ferrari was accustomed to working with. It was an all-alloy 2-liter, quad-cam, V-6 engine capable of producing between 140 and 180 horsepower. Side vents were located on the car which helped with cooling the engine.

Production continued until the end of 1969.
By Daniel Vaughan | Jun 2006
For more information and related vehicles, click
here
CHEVROLET TO SHOW CHAPARRAL VISION GRAN TURISMO CONCEPT
• Boundary-pushing, Chevy-powered race cars changed motorsports design
DETROIT – When racers Jim Hall and Hap Sharp founded Chaparral Cars in 1962, few could have guessed how they would shake up the conformities of the racing world – and fundamentally change it. Through pioneering applications of aerodynamics and aerospace technology, and a partnership with Chevrolet Research and Development, Chaparral Cars advanced the science of racing cars. It also triumphed on the track o...[Read more...]
Postwar Ferrari Named Best of Show at 2014 Pebble Beach Concours d'Elegance
1954 Ferrari 375 MM Scaglietti Coupe Named 'Best of Show' PEBBLE BEACH, Calif. (August 17, 2014) -- Excited cheers echoed across the 18th fairway of Pebble Beach Golf Links Sunday when a 1954 Ferrari 375 MM Scaglietti Coupe was named Best of Show at the 64th annual Pebble Beach Concours d'Elegance. The car, owned by Jon Shirley of Medina, Washington, was the first postwar car to take the top award at the prestigious event in nearly five decades. It was also the first Ferrari to win. ...[Read more...]
1958 Monaco Grand Prix: An Unlikely Frenchman Steals the Show…Again
In 1955, perhaps the most unlikely of drivers would survive the attrition and the beckoning Monaco harbor to claim his only victory in Formula One. Some three years later, and more unlikely than ever to even win a second race at any circuit, the same Frenchman would steal the crown jewel to become just the second man in Formula One history to earn two or more victories on the streets of the principality. Maurice Trintignant's victory in the chaotic and drama-filled 1955 Monaco Grand Prix was...[Read more...]
63rd Pebble Beach Concours d'Elegance Names 1934 Packard 'Best of Show'
The competition showcased 248 cars, including 48 from abroad PEBBLE BEACH, Calif. (August 18, 2013) -- A 1934 Packard 1108 Twelve Dietrich Convertible Victoria owned by Joseph and Margie Cassini III of West Orange, New Jersey, was named Best of Show at the 63rd Pebble Beach Concours d'Elegance, held Sunday on the 18th fairway of Pebble Beach Golf Links at Pebble Beach Resorts. The event showcased 248 cars from 36 states and 12 countries and raised $1,277,007 for charity. 'This Pack...[Read more...]
Final Countdown Underway To South Florida's Premier Collector Car Auction
• Auctions America kicks off its 2013 auction season, March 22-24 with its highly anticipated Fort Lauderdale Collector Car Auction • Celebrating its 11th year, the multi-day auction features more than 550 quality collector cars • Latest feature attractions include an outstanding 1963 Shelby Cobra and a 1974 Ferrari Dino 246 GTS • Digital catalog now available for download at auctionsamerica.com AUBURN, Indiana (February 27, 2013) – With the final countdown underway to its highly an...[Read more...]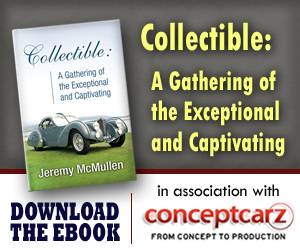 © 1998-2014. All rights reserved. The material may not be published, broadcast, rewritten, or redistributed.