Image credits: © Chevrolet. GM Corp
1957 Chevrolet Bel Air news, pictures, specifications, and information

Tweet
| | |
| --- | --- |
| | Nomad |
Chevrolet designers conceived the Nomad station wagon as an upscale, suburban utility vehicle. Introduced in 1955, the Nomad was admired for its looks, but was expensive compared to other Chevrolets. While the name lived on for several years in lower-priced Chevrolet station wagons, the last Nomad built in original configuration was constructed in 1957. Considered too rare and valuable to use for utilitarian purposes toady, Nomads during the mid-1950s were regularly put into service towing trailers and hauling heavy loads.

The name 'Nomad' was the special and sporty Chevy 2-door sports station wagon. 1957 was the final build year in a three year run, though the name Nomad continued but as a 4-door model from 1958 on and sold far better than in 2-door style. There were just 6,103 Nomad models built for 1957, wîth a total three year model build of 22,375.
Source - Petersen Museum
Though the Chevrolet Nomad was aesthetically different from the other vehicles in the lineup, it was mechanically identical and had the same optional power plants. One of those engines was the same found in the Corvette, the 283 cubic-inch V8 that had a single Rochester four-barrel carburetor and available 220 horsepower.

The Nomad was added mid-year in 1955. Its front-end design was shared with its siblings, but from the cowl back it was different. It was also the most expensive model Chevrolet offered. It carried a sticker price of $2,571 and cost $265 more than a similarly equipped Bel Air Convertible.

The Nomad had two-door styling, two-tone paint scheme, slanted B-pillar, wraparound rear window, rear fender wheel cut-outs, and straight side trim.

This vehicle has been treated to a frame-off restoration with the exterior completely repainted, the interior was reupholstered, and the engine was rebuilt. It is finished in two-toned light yellow and white exterior with a matching two-tone interior. This has many options including an automatic gearbox, power windows, power steering, the original AM Wonderbar radio, and whitewall Goodyear Custom Super Cushion tires. This vehicle has traveled a mere 7,657 miles since its restoration, before it was brought to the 2007 Monterey Sports & Classic Car Auction presented by RM Auctions, where it had an estimated value of $50,000 - $70,000. It was offered without reserve. As the gavel fell the lot was sold for $52,800 including buyer's premium.
By Daniel Vaughan | Dec 2007
| | | |
| --- | --- | --- |
| | | Nomad |
In the 1950's General Motors color palate seemed unlimited, and this car is certainly proof of that. It wears rare original Chevrolet color number 253-90645 'Canyon Coral.' Original specification Nomads are hard to find today because they made an excellent platform for hot rodders over the years. This wonderful owner-restored car is featured in the chapter about color, in The Art and Color of General Motors.
| | | |
| --- | --- | --- |
| | | Hardtop Sport Sedan |
The 1957 Chevy is the car everybody knows. Maybe its the fins, maybe its because during the sixties every high school kid wanted one. Ford actually outsold Chevrolet in 1957, but the 1957 Chevy has been called 'the most popular used car in history.' That's staying power.

This Inca Silver Bel Air Convertible is a documented 16,900-mile car. Options include Powerglide, power steering, power brakes, deluxe radio and the 250-horsepower V8 with Ramjet Fuel Injection. This FI system was brand-new for 1957 and shared with Corvette. Out of more than 1.5 million 1957 Chevy's built, only 1,530 were ordered with the exotic fuel-injection option.

With its 'baby Cadillac' style and powerful V8 engine options, the 1957 really was, to quote a Chevy ad of the day, 'sweet, smooth and sassy.'
There were 47,562 Bel Air's created. They were originally available with a six-cylinder engine that produced 115 horsepower. They came in a two-tone paint scheme and two-tone interior. As the years progressed the Bel Air was available with a variety of engine sizes, including the V8 which was normally reserved for the Corvette.

The Chevrolet Bel Air was a very dramatic and bold vehicle with many recognizable features such as the rocket-inspired twin spear ornaments inset on the hood, and the chrome outlined rear tailfins.

This vehicle has been treated to a full frame-off restoration that occurred during the mid-2000s. It is finished in Tropical Turquoise with a matching white interior and white canvas convertible top. The engine is original, restored, and the desirable Power Pack four-barrel carburetor setup, offering 220 horsepower when needed. There is power steering, power top, a Powerglide automatic gearbox and four-wheel drum brakes. It was brought to the 2007 Monterey Sports & Classic Car Auction presented by RM Auctions, where it had an estimated value of $75,000 - $100,000. It was offered without reserve. As the gavel fell the lot had been sold for a high bid of $71,500 including buyer's premium.
By Daniel Vaughan | Dec 2007
The 1957 Chevy is the car everybody knows. Maybe it's the fins. Maybe it's because - in the Sixties - every high school kid wanted one. Ford actually outsold Chevrolet in 1957, but the '57 Chevy has been called 'the most popular used car in history.' That's staying power.

With its 'baby Cadillac' style and powerful V-8 engine options, the 1957 really was - to quote a Chevy ad of the day - 'sweet, smooth and sassy.'

This Bel Air convertible is equipped with the desirable 283 'Power Pack' engine and three-speed transmission with overdrive. It is refinished in its original (and rare) colors of Surf Green, matching interior and green convertible top. Options include power seat and power windows.

This car spent 20 years in a Wyoming wrecking yard before the current owner acquired it in 1988. An extensive restoration was completed in 1997.
| | |
| --- | --- |
| | Sedan |
'See the USA in Your Chevrolet' was the theme song for Dinah Shore's popular television variety show, which debuted on NBC in 1956. Ms. Shore remained a spokesperson for Chevy throughout the 1950s and early 1960s, during which time GM regularly gave her new cars for her personal use. This 1957 Bel Air convertible is one of those cars. It still wears its original one-off color and is a true survivor with only a little over 6,500 miles on it.
The 1957 Chevy, the last year of the so-called Tri-Chevys, may be the classic American classic. This series of cars go down in history as the launch vehicle for the now evergreen small-block Chevy V8. Though based on the 1955 and 1956 cars, the 1957 had sharp but tasteful tail-fins that a year later would dissolve into the low and curved rear fenders of the totally restyled 1958 Chevy.

This 1957 Bel Air Sport, a two-door hardtop, has been restored to new condition and recently has had power steering and front disc brakes installed.
This 1957 Chevrolet Bel Air Convertible Coup is equipped with 40 factory options. It has the optional 283 V-8 power pack with Rochester four-barrel carburetor, dual exhaust, Powerglide automatic transmission, power steering, power brakes, parking brake signal, two-speed wipers, windshield washers, and autoronic-eye headlamp control. There are optional dual antennas, continental kit, bumper cushions, bumper guards, backup lamps, outside rear view mirrors, license plate frame, locking gas cap, rocker moldings, gold kit, tinted glass, door handle shields, radiator insect screen, trunk lid edge molding, spinner hubcaps, and white wall tires. The list continues with factory air conditioning, signal-seeking radio, tissue dispenser, heater and defroster, electric clock, courtesy lamps, non-glare rearview mirror, vanity visor mirror, inside visor, and cigarette lighter.

It is painted in Tropical Turquois with a white convertible top.

In 2008, the car was brought to the Hilton Head Sports & Classic Car Auction presented by the Worldwide Auctioneers. It was estimated to sell for $135,000 - $150,000. Bidding failed to reach those estimates, its reserve was not satisfied, and the lot was left unsold.
By Daniel Vaughan | Nov 2008
| | | |
| --- | --- | --- |
| | | HardTop Sport Coupe |
Ford outsold Chevrolet in 1957, but the 1957 Bel Air has been called 'the most popular used car in history.' This Bel Air Sport Coupe has the iconic 1957 Chevy color combination of Sierra Gold and Adobe Beige. It is equipped with the popular 'Power Pack' option, which added a four-barrel carburetor and dual exhausts to the 283 cubic-inch V8. This car is not equipped with the optional heater, which is rather unusual for a Bel Air.
The 'station-wagon-as-a-style-statement' boom can be traced to the mid-fifties Chevrolet Nomad. The sporty, low-slung Nomad was 'the longed-for styling wedding between the production sports car and the family workhorse,' enthused Motor Trend. While a price tag higher than any Chevy except Corvette kept sales low, the Nomad's lofty status captured the imagination of the public and the attention of other automakers. The two-door Nomad was built for only three years (1955, 1956 and 1957) but especially in Southern California, it was almost instantly a 'hot' used car.

The iconic 1957 Chevrolet was anything but rare, with over 1.5 million built. But just 6,108 were Nomads, making this top-of-the-line wagon a scarce sight even when new. This Nomad is a heavily optioned car, with factory air conditioning, power steering, power brakes and 283 cubic-inch V8 engine. It is finished in the popular and attractive combination of Sierra Gold and Adobe Beige.
1957 was the second restyling of the trendsetting 1955 model bringing the styling to new heights. Chevrolet lowered the car and used smaller wheels plus several other body modifications. The nose and tail were updated with Cadillac-inspired cues, resulting in a baby Eldorado (of sorts) that has remained popular ever since its introduction.

The bored out, 283 cubic-inch V-8 engine was a popular option and was available in no fewer than six stages of tune. The top option featured a 10.5:1 compression and Rochester fuel-injection, as also seen in that year's Corvettes, offering the magical 'one horsepower per cubic inch.'

This Chevrolet Bel air Convertible is fitted with the '283/283' engine and a Powerglide automatic transmission. There are power brakes, power steering, a one-piece 'California' bumper, a tissue dispenser, tinted glass, polished 'spinner' wheel covers, wide whitewall tires, and 'Bow Tie' floor mats, among other accessories. It is finished in two-tone red and white. The finish is new but the interior remains original, as is the rest of the car. The mileage shows 9,581 with the odometer believed to have been reset at the time of the car's repaint.
By Daniel Vaughan | Oct 2013
From 1950 through 1952 Chevrolet hardtops in the Deluxe model line were dubbed the 'Bel Air'. It took a few more years before it would become its own distinct series. In 1953, the Bel Air became its own model and was applied to Chevrolet's top-of-the-line model range. By 1955, the cars were offered with an optional V8 engine which greatly improved the cars performance.

In 1953 Chevrolet had three new models and 17 body styles to select from. This was the company's widest range of offerings in its history. The introduction of the Chevrolet was stirring press for the company, but so was the Bel Air, considered the company's Crown Jewel.

The Bel Air Series consisted of a two and four-door sedan, sport coupe, and a convertible coupe. Everything that was standard on the lower priced series was standard on the Bel Air, plus so much more including comfort, convenience and styling options. There was a one-piece curved windshield which added superb visibility. The luggage compartment was massive and the 115-inch wheelbase provided plenty of interior room for its occupants. The 115-horsepower Blue-Flame six-cylinder engine was new and the most powerful engine in Chevrolet's history.

In 1954, the Bel Air was launched as a 1955 model and brought with it a fresh new, elegant look for Chevrolet. With bold features that included hooded headlights, tailfins, wrap-around windshield, and rear fender skirts, the Bel Air was able to out-style the competition. The base engine was a six-cylinder, 115 horsepower power-plant. At a base price of $1095, it was a bargain. It is considered America's first low-priced 'hardtop coupe'. The most famous of the Bel Air engine options was the 283 cubic-inch V-8 small-block, with Ramjet Fuel injection. It delivered one horsepower per cubic inch, a first for production cars. Along with style, the Bel Air was a fast machine. Chevrolet quickly ascertained a reputation for building performance vehicles.

A full-width grill, redesigned front and rear fenders, gas cap behind the left taillight, larger rectangular parking lights, and sweeping side trim were just a few of the changes that set the 1956 Chevrolet apart from the 1955, which had taken the country by storm with its all new body re-design.

For the performance-minded public, the 1956 Chevrolet offered three 265 cubic-inch Turbo-Fire V-8 engine options: base 170 hp, 205 hp 4 bbl and the 225 hp dual 4 bbl.

Chevrolet produced 1,574,740 cars in the 1956 model year, of which 41,268 were Belair Convertibles. The 3,320 pound car cost $2,443 with the base V-8. You could literally load your new Chevy with factory options and accessories and stay under $3,000.

In 1957, the Bel Air grew in length by 2-1/2 inches and received a wider and taller grille. Additional options became available including two-tone interior, power convertible top, shoulder harnesses, tinted glass, seat belts, tissue dispenser, and ventilated seat pads.

In total, there were seven body styles to select from. In 1957, a two-page Chevrolet magazine ad proclaimed that 'Chevy puts the purr in performance'. This Bel Air Convertible, with the optional 245 HP 283 CID small block V-8 equipped with two four barrel carburetors, would certainly deliver on the promise made by the ad copy noted above, delivering a hearty purr from its dual exhausts.

Over the years these popular cars became an icon for the entire generation and they have gone on to become one of the most desirable and collectable post war cars of all. 47,000 Bel Air convertibles were produced in the 1957 model year.

The Chevrolet models grew in length in 1958 and increased in size. The Chevrolet Impala became their top-of-the-line model, followed by the middle-range Bel Air. The front end featured a broad grill with quad headlights.

By the later part of the 1960s, the Chevrolet Bel Air moved into the territory of a fleet vehicle. It was a basic machine built on Chevrolet's large platform and outfitted with few thrills or options. It was a good car though it lacked the prestige of times gone by.

The 1964 Chevrolet Be Air (Series 1600) was Chevrolet's mid-priced line between the basic Biscayne and the Impala.

The Biscayne was discontinued after 1972 and the Bel Air was moved into its place, becoming Chevrolet's low-level model. Production in the United States continued until 1975 though production continued in Canada until 1981.
By Daniel Vaughan | Dec 2007
For more information and related vehicles, click
here
AUTOTRADER.COM ANNOUNCES MOST POPULAR NEW VEHICLES OF 2013
ATLANTA, Dec. 27, 2013 -- 2013 was the year of the full-size truck, according to new car shoppers on AutoTrader.com®. Trucks made up nearly half of the top 20 most popular new vehicles on the site this year, including three of the top five. Aligning with its longstanding status as the best-selling vehicle in the U.S., the Ford F-150 retained its place as the most popular new vehicle on AutoTrader.com in 2013, followed by the Jeep Wrangler, Ram 1500, Ford Mustang and Chevrolet Silverad...[Read more...]
GM DELIVERS 187,195 VEHICLES IN SEPTEMBER
DETROIT – General Motors Co. (NYSE: GM) dealers delivered 187,195 vehicles in the United States in September, down 11 percent compared year over year. Retail sales were down 6 percent versus a year ago and fleet sales were down 27 percent. Retail sales were up 2 percent on a selling day-adjusted basis. 'We held our own when it comes to retail market share this month thanks to strong new products, including the Chevrolet Impala, Buick Encore, GMC Sierra and the Cadillac ATS and XTS,' sa...[Read more...]
MODEL YEAR 2014: MORE EFFICENT, DOWNSIZED ENGINES AND AN EXTENDED R-LINE RANGE HEAD THE CHANGES
New 1.8-liter turbocharged and direct-injection TSI® engine to feature in Jetta, Beetle, and Passat, replacing the 2.5-liter five cylinder. R-Line® range expands to five models. • Jetta SE and SEL models are fitted with new 170-horsepower 1.8-liter engine, offering a manufacturer predicted highway fuel economy improvement of 16 percent • All Jetta models now have independent rear suspension • VW Car-Net™ connected services introduced across a broad range of models • New 1.8-liter engine in...[Read more...]
2013 General Tire Norra Mexican 1000 Goes Down In The History Books
After four days of competition through 1,200-plus miles of the most demanding terrain on earth, the 2013 General Tire NORRA Mexican 1000 is now in the history books. An event record of 148 entries (up from 95 just one year ago) took the green flag at the historic Mexicali bullring for the fourth annual running of this vintage-flavored on and off-road rally through the legendary Baja peninsula, with overnight stops in Bahia de Los Angeles, Loreto and La Paz. The rally ended in San Jose del Cabo...[Read more...]
GMC TERRAIN SALES BEST EVER FOR MONTH OF NOVEMBER
Small SUV also on track for record sales year DETROIT - The GMC Terrain's November sales were the best ever, with retail sales up 28 percent and total sales up 44 percent. The small SUV is also on track for its best year ever in retail and total sales. GMC ended November with year-over-year retail sales down 3 percent for the month. Total sales in November were up 1 percent. 'Terrain has had a big impact on GMC showrooms since it launched two years ago,' said Brian Swee...[Read more...]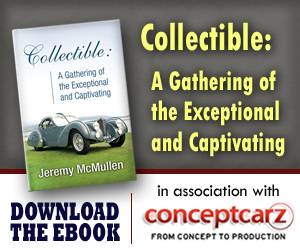 Chevrolet
Monthly Sales Figures
Volume
August 2014
185,930
July 2014
175,155
June 2014
188,567
May 2014
205,010
April 2014
181,648
March 2014
179,681
February 2014
153,913
January 2014
119,089
December 2013
153,493
November 2013
145,089
October 2013
155,214
September 2013
127,785
(More Details)
© 1998-2014. All rights reserved. The material may not be published, broadcast, rewritten, or redistributed.