1896 Ford Quadricycle news, pictures, specifications, and information

Tweet
When Henry Ford built his first gasoline powered automobile, he made it as simple as he could, and utilized commonly available materials. It was given the name 'Quadricycle' and had a frame made from angle iron, and a seat from a buggy. The transmission was a combination of leather belt and chain drive. The two-cylinder engine was based on a design Ford found in the January 9, 1896 issue of American Machinist magazine. The unit was originally air-cooled, but it ran too hot and Ford had to add water jackets to the cylinders.

The Quadricycle was an evolution, going through three stages of development and modifications. As first built, most of the car's frame was wood. The name 'Quadricycle' was appropriate, as all four wheels were bicycle wheels. The Quadricycle was sold in 1896 for the sum of $200. In 1904 he bought the vehicle back for $65. Shortly thereafter, he replaced the wooden water tanks with a copper one mounted under the seat. Currently, this is the form the Quadricycle is in today.

The Quadricycle was built by Henry Ford, with assistance from friends Jim Bishop, George Cato, Edward (Spider) Huff, and David Bell.

This example is a replica made by George DeAngelis, a Ford employee, in 1963.
2015 SORENTO NAMED BEST FAMILY VEHICLE BY THE NORTHWEST AUTOMOTIVE PRESS ASSOCIATION
Sorento SX Tops Its Segment at Annual 'Mudfest' Challenge Event ◾Automotive journalists from the Pacific Northwest rank the Sorento ahead of six competitors in the Best Family Vehicle category ◾Strong performances on both the autocross course and public roads help Kia's popular CUV capture title IRVINE, Calif., May 9, 2014 – Kia Motors' highly acclaimed 2015 Kia Sorento was named Best Family Vehicle by the Northwest Automotive Press Association (NWAPA) during the annual 'Mudfest' com...[Read more...]
FORD MUSTANG HERO CAR FROM UPCOMING 'NEED FOR SPEED' MOVIE HEADED TO BARRETT-JACKSON AUCTION BLOCK
◾Ford-designed and built custom wide body Mustang used in the new movie 'Need for Speed' will be auctioned for charity ◾All-new 2015 Ford Mustang and 2015 Ford F-150 will be on display at the auction in West Palm Beach, Fla. ◾Ford will offer ride-and-drives at the auction in vehicles from its 2014 lineup; Shelby GT500, Focus ST and Fiesta ST are primed for hot-lap experiences A custom 2014 Ford Mustang GT starring in the new movie, 'Need for Speed,' will be auctioned off for charity by Ford...[Read more...]
Commemorative Poster For 2013 Pebble Beach Concours d'Elegance Features Ford Family Lincolns
Event Posters Also Celebrate Aston Martin and Porsche 911 PEBBLE BEACH, Calif. (April 16, 2013) -- When Edsel B. Ford II came upon the 1956 Lincoln Continental MK II last year, he admired the long lines and elegant custom styling of the automobile, but he didn't immediately recognize it. Imagine his surprise when he learned the car had, in fact, belonged to his mother, Anne, as evidenced by the original owner's manual inscribed with her name. In all fairness, Edsel was just...[Read more...]
Auctions America By RM's Spring Carlisle Auction Kicks off 2012 Northeastern U.S. Collector Car Season
Auctions America by RM will return to the Carlisle Expo Center in Carlisle, Pennsylvania, on April 26-27, 2012, to kick off the collector car season for the Northeastern U.S. with its Spring Carlisle auction. Featuring nearly 300 American hot rods, muscle cars, classics and memorabilia during its two-day sale, the Spring Carlisle auction is held in conjunction with the Spring Carlisle Collector Car Swap Meet & Corral (April 25-29), hosted each year by Carlisle Events. The auction is one of se...[Read more...]
Concours d'Elegance of America Announces Official Charities
The Board of Directors of the Concours d'Elegance of America has announced that the College for Creative Studies (CCS), Leader Dogs for the Blind and Hospice of Michigan will be its charitable beneficiaries at the 2012 Concours d'Elegance of America at St. John's. Concours' Director and Chief Judge, Bill Parfet explained, 'To further celebrate the heritage of Detroit, a portion of the proceeds of the Concours d'Elegance of America at St. John's is designated for local educational and charita...[Read more...]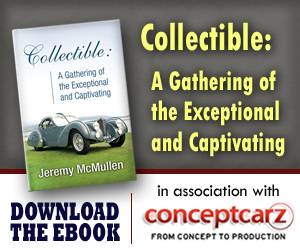 Ford
Monthly Sales Figures
Volume
December 2014
209,679
November 2014
178,221
October 2014
179,014
September 2014
172,261
August 2014
214,028
July 2014
204,373
June 2014
214,793
May 2014
244,501
April 2014
203,552
March 2014
235,198
February 2014
177,286
January 2014
148,671
(More Details)
© 1998-2014. All rights reserved. The material may not be published, broadcast, rewritten, or redistributed.