1896 Ford Quadricycle news, pictures, specifications, and information

Tweet
When Henry Ford built his first gasoline powered automobile, he made it as simple as he could, and utilized commonly available materials. It was given the name 'Quadricycle' and had a frame made from angle iron, and a seat from a buggy. The transmission was a combination of leather belt and chain drive. The two-cylinder engine was based on a design Ford found in the January 9, 1896 issue of American Machinist magazine. The unit was originally air-cooled, but it ran too hot and Ford had to add water jackets to the cylinders.

The Quadricycle was an evolution, going through three stages of development and modifications. As first built, most of the car's frame was wood. The name 'Quadricycle' was appropriate, as all four wheels were bicycle wheels. The Quadricycle was sold in 1896 for the sum of $200. In 1904 he bought the vehicle back for $65. Shortly thereafter, he replaced the wooden water tanks with a copper one mounted under the seat. Currently, this is the form the Quadricycle is in today.

The Quadricycle was built by Henry Ford, with assistance from friends Jim Bishop, George Cato, Edward (Spider) Huff, and David Bell.

This example is a replica made by George DeAngelis, a Ford employee, in 1963.
Holden Trax Gets Turbo Boost
◾Top of the range Trax introduced with a sporty 1.4 litre turbocharged engine ◾Trax LTZ with 1.4 litre iTi engine includes sunroof, new 18 inch alloys, rain sensing wipers and driver's arm rest as standard Holden Trax will cement its position as one of the best small SUVs on the road with the introduction of the new top of the range 1.4 litre Turbo LTZ model. The refined 1.4 litre turbocharged engine option is coupled with a 6-speed automatic transmission with Active Select and a variety ...[Read more...]
CORENET GLOBAL MICHIGAN CHAPTER NAMES CHRYSLER GROUP 2014 REAL ESTATE CONTRIBUTOR OF THE YEAR
◾Award given annually to companies that are 'contributing to Detroit's future success through development of their real estate portfolio' ◾In 2012, Chrysler Group leased nearly 33,000 square feet of space within the former Dime Building, the first time the Company has established an office presence in downtown Detroit ◾Chrysler Group employs about 5,700 people in the City of Detroit at various facilities and has added approximately 2,225 jobs in Detroit since November 2011 May 9, 2014 , ...[Read more...]
FORD CELEBRATES AUSSIE UTE'S 80TH ANNIVERSARY AS THE PIONEER OF THE COMPANY'S GLOBAL TRUCK LEADERSHIP
◾Ford celebrates the 80th anniversary of its ute – the forerunner of modern pickup trucks – based on the first sale to a Melbourne-area farmer in February 1934 ◾A 23-year-old Ford Australia designer created the ute by listening to the farming family's request for a vehicle with more utility ◾Ford's truck teams translate customer needs into innovations more than ever, including the all-new 2015 F-150 with high-strength, military-grade, aluminum alloys throughout the body ◾Ford sold more than o...[Read more...]
Ford Motor Company Fund Donates $1 Million To College For Creative Studies
The College for Creative Studies (CCS) announced today that Ford Motor Company Fund will donate $1 million over five years, strengthening its commitment to one of the world's leading art and design colleges and providing educational opportunities to Detroit youth. The funds are being used to establish the Henry Ford Academy: School for Creative Studies (HFA: SCS) College and Career Transitions Office at CCS, as well as start a Ford Blue Oval Scholarship fund at CCS for graduates of HFA: SCS t...[Read more...]
Edsel Ford's Restored 1934 Model 40 Special Speedster Returns to Amelia Island Concours d'Elegance
It has been 13 years since Edsel Ford's 1934 Model 40 Special Speedster first made headlines when it rolled onto the field at the Amelia Island Concours d'Elegance. The elegant roadster, which was rediscovered in 1999 by the show's founder and Chairman Bill Warner, will return again on Sunday, March 11 to the 17 the annual Concours; this time as part of the collection of the historic Edsel Eleanor Ford House (Ford House) and completely restored to its timeless elegance. The Speedster's ...[Read more...]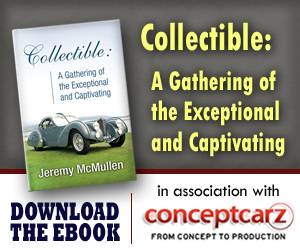 Ford
Monthly Sales Figures
Volume
September 2014
172,261
August 2014
214,028
July 2014
204,373
June 2014
214,793
May 2014
244,501
April 2014
203,552
March 2014
235,198
February 2014
177,286
January 2014
148,671
December 2013
210,074
November 2013
183,722
October 2013
184,854
(More Details)
© 1998-2014. All rights reserved. The material may not be published, broadcast, rewritten, or redistributed.