1896 Ford Quadricycle news, pictures, specifications, and information

Tweet
When Henry Ford built his first gasoline powered automobile, he made it as simple as he could, and utilized commonly available materials. It was given the name 'Quadricycle' and had a frame made from angle iron, and a seat from a buggy. The transmission was a combination of leather belt and chain drive. The two-cylinder engine was based on a design Ford found in the January 9, 1896 issue of American Machinist magazine. The unit was originally air-cooled, but it ran too hot and Ford had to add water jackets to the cylinders.

The Quadricycle was an evolution, going through three stages of development and modifications. As first built, most of the car's frame was wood. The name 'Quadricycle' was appropriate, as all four wheels were bicycle wheels. The Quadricycle was sold in 1896 for the sum of $200. In 1904 he bought the vehicle back for $65. Shortly thereafter, he replaced the wooden water tanks with a copper one mounted under the seat. Currently, this is the form the Quadricycle is in today.

The Quadricycle was built by Henry Ford, with assistance from friends Jim Bishop, George Cato, Edward (Spider) Huff, and David Bell.

This example is a replica made by George DeAngelis, a Ford employee, in 1963.
FORD AND SAMSUNG RESEARCH NEXT-GENERATION BATTERY TECHNOLOGY
◾Dual-battery system research combines lithium-ion with lead-acid batteries enabling regenerative braking and greater fuel savings ◾Ford and Samsung SDI research new ultra-lightweight lithium-ion battery concept that could one day render traditional lead-acid batteries obsolete ◾Leveraging innovation in consumer electronics batteries may lead to reductions in size and weight of automotive batteries, as well as increased efficiencies and capability Ford Motor Company and Samsung SDI, an affi...[Read more...]
FORD, GE WATTSTATION CHARGERS SUPPORT EMPLOYEE ELECTRIC VEHICLE CHARGING NETWORK
◾Ford to install its first employee electric vehicle charging station network in Dearborn, Mich.; facilities across the United States and Canada to follow ◾Ford will work with GE as its network provider and supplier of electric vehicle charging stations; networked stations will help Ford understand charging usage and plan for future installations ◾Ford electrified vehicles have logged an estimated 65 million electric miles over the last 18 months. Ford now offers six electrified vehicles, incl...[Read more...]
New Ford Focus Electric Boosts Power Of Choice
◾Following the successful start of European production, Ford Focus Electric now available in the UK ◾Ford Focus Electric joins 1.0-litre EcoBoost petrol and 1.6-litre Duratorq diesel offering largest-ever range of ultra-low-CO2 powertrains ◾Ford now offers 10 vehicles in the UK with CO2 emissions under 100g/km ◾Further media assets at www.powerofchoice.fordmedia.eu BRENTWOOD, Essex, UK, Sept. 5, 2013 – The Ford Focus Electric is now on sale in the UK, complementing the company's awa...[Read more...]
FORD FUND CELEBRATES INNOVATION AS PART OF HENRY FORD'S LEGACY; ELENA FORD AWARDS INVENTORS WITH SPECIAL PRIZES
◾Two days before the 150th birthday of Henry Ford, Ford Motor Company Fund is sponsoring Henry Ford Maker Challenge, named after one of the most influential innovators of the 20th century ◾Elena Ford presented awards to three inventors out of the 400 participating in the fourth annual Maker Faire at The Henry Ford ◾Ford Fund supports innovation in education through long-term partnerships with nonprofits DEARBORN, Mich., July 28, 2013 – Two days before the 150th birthday of Henry Ford...[Read more...]
Barrett-Jackson Flavors Its January Scottsdale Auction With NASCAR Treats
• RACING HERITAGE, HIGH PERFORMANCE ARE RECIPES FOR CAR-COLLECTING FEAST
• SPEED™ SET FOR 39 HOURS of LIVE COVERAGE STARTING JAN. 15
The great Henry Ford once said, 'Auto racing began five minutes after the second car was built.' And for more than 60 years, there are few entities that better represent auto racing in America than NASCAR. From the hallowed grounds of Daytona International Speedway, to Sonoma, California's intricate and picturesque road course, the sp...[Read more...]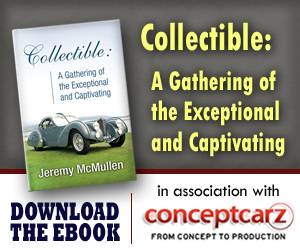 Ford
Monthly Sales Figures
Volume
July 2014
204,373
June 2014
214,793
May 2014
244,501
April 2014
203,552
March 2014
235,198
February 2014
177,286
January 2014
148,671
December 2013
210,074
November 2013
183,722
October 2013
184,854
September 2013
178,693
August 2013
213,078
(More Details)
© 1998-2014. All rights reserved. The material may not be published, broadcast, rewritten, or redistributed.