1933 Ford Model 40 news, pictures, specifications, and information

Tweet
The Ford model lineup was dramatically redesigned for 1933, using scaled-up drawings from the British Model Y. The three-window coupe was given a more gracefully angled greenhouse - it was the most streamlined of all Ford's 1933 cars.

This car was acquired by Nick Alexander from Milton Robson. Mr. Robson had the car restored by Ernest Allen. Mr. Allen accidently passed away midway through the completion of the project, and Robson kept the unfinished project, setting it up as a display piece, before its acquisition by Mr. Alexander.

After the purchase, the restoration work was completed by Mr. Alexander's own shops. The car has aluminum heads and manifold, rumble seat, and optional factory glove box radio. The car is finished in Aurora Red wheels and pinstripe. the upholstery is correct, rose beige mohair with taupe carpet, and the rumble seat is done in brown leather.

The rear window cranks down for ventilation or conversation with the rumble seat passengers. A lever next to the window crank opens the rumble seat. There is a wood grain dashboard, nicely set off by the engine-turned instrument panel in front of the driver.

In 2012, this car was offered for sale by RM Auctions at their Monterey, CA sale. The car was estimated to sell for $90,000 - $125,000 and offered without reserve. As bidding came to a close, the car had been sold for the sum of $99,000 inclusive of buyer's premium.
By Daniel Vaughan | Nov 2012
The Ford Model 40 V8 rode on a 112-inch wheelbase and rode on 17-inch wire spoke wheels. Power was from a 90-degree L-head V-8 engine that displaced 221 cubic-inches and produced 75 horsepower. The engine was mated to a three-speed sliding gear transmission with floor shift controls. They had an X-member double-drop frame and mechanical internal expanding brakes at all four corners.

The design was curveacous with a one-piece bumper and streamlined appearance. All bodies, regardless of the bodystyle or the color, were delivered with black fenders.

The V-8 engine was well received. When first introduced in 1932, there were over 200,000 examples sold during that year. It outsold the four-cylinder Model B cars, which reached 185,000 units. Evolutionary upgrades were made to the engine throughout its production run. Earlier improvements included an improved ignition and cooling system, with a new aluminum head that had a compression ratio of 6.3:1, giving horsepower a boost to 75.

The new design was influenced by British styles. The Ford Motor Company, Ltd, had been operating in Britain since 1911 and the Model T proved popular there.

Ford enlisted the help of Eugene Turenne Gregorie , called 'Bob' by his friends, to help in the design. 'Bob' had designed yachts for the Elco Corporation and at Cox and Stevens, a New York naval architecture firm. He had also worked at coachbuilders Brewster & Company. His work at Brewster brought him to the automobile industry and soon became well-regarded for his talents.

Gregorie used his nautical background to create a slanted flat windshield back, and employed a similarly sloped grille whose silhouette suggested a heart shape. The doors were hinged at the rear and opened in 'suicide fashion. The headlamps were mounted directly to the fenders.

This new design was introduced as the Model Y in February 1932. The Model Y was well received and quickly put into production. For the 1933 American Ford, Edsel wanted a more graceful design than the 1932 style.

For the 1933 model year, and with the longer wheelbase, the design of the Model Y was simply scaled up. The Model Y's proportions were mechanically scaled.

The public responded, with sales for 1933 models increasing some 40 percent over dismal 1932 sales.
By Daniel Vaughan | Dec 2009
For more information and related vehicles, click
here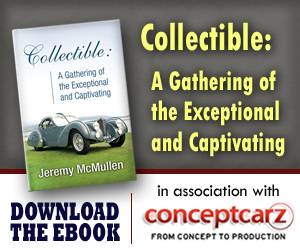 Ford
Monthly Sales Figures
Volume
September 2014
172,261
August 2014
214,028
July 2014
204,373
June 2014
214,793
May 2014
244,501
April 2014
203,552
March 2014
235,198
February 2014
177,286
January 2014
148,671
December 2013
210,074
November 2013
183,722
October 2013
184,854
(More Details)
© 1998-2014. All rights reserved. The material may not be published, broadcast, rewritten, or redistributed.