1966 Citroen DS21 news, pictures, specifications, and information

Tweet
Designer Flaminio Bertoni planned a convertible when the DS19 was launched in 1955, but the idea never materialized.

The DS19 had a complex, integrated hydraulic system to control the suspension, steering, gearshaft, and brakes.

Coachbuilder Chapron created the 'La Croisette' cabriolet, named for the promenade in Cannes, in 1958. Citroen, however, refused to sell Chapron separate chassis, so he was reduced to buying complete cars and dismantling them and converting them to convertibles. The firm later relented and had Chapron build 'Usine,' or factory cabriolets, in 1961. Chapron, however, continued making his own customs.

In all, there were 1,365 factory cabriolets built: 770 DS19s, 483 DS21s, and 112 ID19s. Citroen was still receiving orders long after official production ceased in 1971, with the last car completed in 1978. There were a total of 15 paint choices, 13 shades of leather upholstery, and three carpet colors. Engines ranged from 66 horsepower to 141 horsepower.

The cabriolet has similarities with the sedans, but there are critical differences between real DS convertibles and the homemade variety. The true cabriolets had doors four inches longer than the sedans and use double latches. Two strips of brightwork run along the side of the car, one at the crease of the door and one at the rocker panel. The tail is one long, sweeping piece, and the trunk lid is fiberglass. The cabriolets also received two jacking points along the side, since the rear fender does not remove like on the sedan.

This DS21 Cabriolet is from the second year of production. The car was sold new in South of France to Ralf Emmerling. It remained in Port d'Antibes until 1990, when it was sold to Paolo Carlini in Sorengo, Switzerland, who kept the car until 2008, when it was sold to a collector in Holland.

The odometer currently shows 23,909 kilometers. It has been repainted in its correct Vert Foret green, and the black leather interior is mostly original. There is a new Hartz cloth top and carpets, and it has a Continental Edison radio.

In 2013, the car was offered for sale at RM Auction's sale in Scottsdale, Arizona. The lot was sold for the sum of $170,000 including buyer's commission.
By Daniel Vaughan | Feb 2013
An executive vehicle, the Citroen DS was also called the 'Goddess' or 'Déesse' and was introduced by the French Manufacturer Citroen. Unveiled in 1955, the Citroen DS was produced until 1975. More than 1.5 million D-series were produced during its 20 year long production run. The D-series was incredibly futuristic and cutting-edge with an aerodynamic body design that was designed by Flaminio Bertoni. The DS featured intense roadholding, braking and handling, and hydropneumatic self-leving suspension system.

The DS 19 was introduced on October 5, 1955 at the Paris Motor Show following more than 18 years of covert development as the replacement to the Traction Avant. The DS 19 stunned the public with its appearance and avant-garde engineering and 743 orders were placed in the first 15 minutes, with the total amount of orders totaling 12,000 for the first day. The DS-19 'defied virtually every automotive design convention of that era', and was a symbol of French ingenuity.

Unfortunately the price was too high and this affected sales in a country that was still struggling following WWII 10 years earlier. A cheaper submodel, the ID, was unveiled in 1957, and shared the same body with the DS but came with more traditional features under the hood.

The Citroen DS managed to remain on top of its game and ahead of its time throughout its lifetime. Featuring such features as power disc brakes, variable ground clearance, hydropneumatic suspension that included an automatic leveling system, power steering and a semi-automatic transmission and a fiberglass roof that reduced weight transfer. Many other features were also included. Unfortunately the DS design was affected by the tax horsepower system which effectively mandated small engines. The Citroen DS had a very illustrious past on the motorsport circuit and won the Monte Carlo Rally in both 1959 and 1966. in 2005 the DS placed fifth on Automobile Magazine's '100 Coolest Cars' listing. The DS was also famous for being the first production vehicle to ever have front disc brakes.

In 1965 the DS 21 was launched with a 2175 cc, 5 main bearing engine. In 1970, Bosch electronic fuel injection was introduced and was a substantial increase of power to the engine. The DS was one of the first mass-market vehicles to use electronic fuel injection.

The DS 21 was a true luxury car that featured large, broad leather seats up front, along with plush seats in the back. The 21 was a front wheel drive, with no tunnel to accommodate the drive shaft, but the engine was mounted longitudinally and aft of the transmission. The weight distribution was excellent due to half-shafts extended out to the front wheels. With a European dashboard, the driver doesn't turn over the engine with a regular key, but by pushing the gear shift lever into a particular position towards the left. The exterior of the DS 21 was a work of art that featured flowing lines and aerodynamic body with smooth angles.

The 21 engine only had 4 cylinders, but it gave decent displacement and featured hemispherical combustion chambers that achieved more than adequate power. The entire vehicle operates off a master hydraulic system with a hydraulic pump located up front with the alternator. The high-pressure hydraulic power was available whenever the engine was running. There are no springs or torsion bars used to suspend the vehicle and each wheel featured an independently controlled hydraulic 'shock' powered off the high-pressure system, which was basically self-leveling suspension.

Both the clutch and the gear change in the DS 21 were controlled by the master hydraulic system, and no clutch pedal was found on the floor. The clutch was engaged by accelerating the engine.

Staying quite popular in the public's eye, the DS peaked in 1970 before being surpassed by the more modern, wider SM. In 1976 the Citroen DM was finally phased out after a production run of 1,455,746 units being produced and was replaced in the model range by the CX.

DS models were constructed in Paris, France, the UK, former Yugoslavia, Australia and South Africa. Today DS sedans are still used mainstream as taxicabs in various parts of the former Yugoslavia. DS's were sold in the U.S. from 1956 through 1972 with a total of 38,000 units being sold.
By Jessica Donaldson
For more information and related vehicles, click
here
Russo and Steele Collector Car Auctions Kicks off 2014 in a Big Way with Outstanding Results and New World Records at Scottsdale
Phoenix, Arizona (January 22, 2014) – At Russo and Steele Collector Car Auctions, we are thrilled to announce the achievement of outstanding results and world-record sales at our January 15-19 Scottsdale, Arizona Sports and Muscle auction event. Throughout the event's five action-packed days, beautiful weather helped draw record attendance numbers, estimated at 35% higher than 2013 levels. At the time of writing, preliminary sale results exceeding $21 million were generated with a very st...[Read more...]
BARRETT-JACKSON & FOX ANNOUNCE MAJOR CROSS-NETWORK EXPANSION OF SIGNATURE SCOTTSDALE AUCTION
• Renowned Collector Car Auction Televised By Major Broadcast Television Network
• 'World's Greatest Collector Car Auctions™' To Reach Millions of New Viewers, Jan. 14-19, 2014
Scottsdale, Ariz. – Barrett-Jackson, The World's Greatest Collector Car Auctions™, today announced that FOX Sports has expanded its viewership reach for the Scottsdale, Arizona auction to include five channels within its family of networks – In total, there are 36 hours and six-consecutive days of...[Read more...]
Last Lap Pass Drives Maccachren To Victory In Sst Round No.4
San Diego, Calif. (May 4, 2013) – SPEED Energy Stadium SUPER Trucks invaded Qualcomm Stadium in San Diego, Calif., for a full night of racing action with four distinct divisions testing their skills on the uniquely prepared high flying dirt and asphalt course. Rob MacCachren, Dan Runte, Apdaly Lopez, and Myles Cheek were able to conquer the multiple challenges of the most difficult course this year to record wins in Round No. 4 of SST competition. Rob MacCachren, of Las Vegas, Nev., dr...[Read more...]
A Series One 'Batmobile' Offered at Russo and Steele Scottsdale
BMW designed the 3.0 CSL as a special build to make the car racing eligible in the ETCC. With an overall weight of 1,092kg the 'L' in the designation meant 'leicht' (light), unlike in other BMW designations, where it meant 'lang' (long). The lightness was achieved by using thinner steel to build the unit body, deleting the trim and soundproofing, using aluminium alloy doors, bonnets, and boot lids, and using Perspex side windows. Powered initially with a six-cylinder engine that produced 340hp...[Read more...]
Lost Mercedes - Surfaces At Bonhams
One owner, unrestored, supercharged 'S' Type Mercedes to be sold by Bonhams at Goodwood Revival this autumn One of the greatest and most important motor car finds of the last decade, the 'Lost Mercedes' is to be offered at Bonhams Goodwood Revival sale on Saturday 15th September 2012. Bonhams announced today that it has been commissioned to sell a recently discovered 1928 Mercedes-Benz 26/120/180 'S' Type Sports Tourer which almost without precedent for motor cars of this type and d...[Read more...]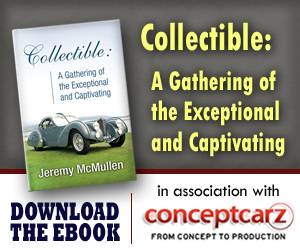 Similarly Priced Vehicles from 1966
Chevrolet Corvette C2 ($4,080-$4,290)
Cadillac DeVille ($5,337-$5,580)
Ford Thunderbird ($4,393-$4,843)
Alfa Romeo Giulia ($2,930-$4,890)
Pontiac Catalina ($2,760-$3,600)
Lotus Elan ($4,200-$4,200)
Chrysler 300 ($3,583-$4,355)

Average Auction Sale: $154,336
© 1998-2014. All rights reserved. The material may not be published, broadcast, rewritten, or redistributed.