Image credits: © Alfa Romeo.
1968 Alfa Romeo Carabo news, pictures, specifications, and information

Tweet
At the end of the 1960's Bertone focussed his creative energies on prototypes. The Turin designer's creativity and daring reached its peak in 1968 wîth the Carabo, which was presented at the Paris Motor Show in October. Built on the Alfa Romeo 33 chassis wîth a centrally-mounted engine, it became a style classic, known for its creativity and original features, some of which contribute to its legendary standing. Design features like its tight lines, tapering front blending in seamlessly wîth the windscreen, and the air inlets and outlets. And the original door mechanism, wîth doors opening upwards and forwards (a concept which reappears on the production Countach), and even the novel colour: iridescent green like a beetle (hence the name Carabo, in Italian, a type of beetle). The result hit the headlines all round the world, and not just in the trade press, and the positive feedback was unanimous. The Carabo was Bertone's bold but aesthetically and functionally valid vision of the sporty car of the future. And the use of new materials and novel construction techniques means that this concept car was something more than just an exercise in styling.
Source - Bertone
Kia to showcase diesel-electric Kia Optima T-Hybrid at Paris
•More power and lower emissions for Kia Optima mild hybrid show car •Innovative new powertrain pairs 1.7-litre CRDi turbo-diesel engine with 48V lead-carbon battery, small electric motor and an electric supercharger •Kia Optima T-Hybrid concept previews new powertrain technology ahead of future mass production Frankfurt, 29 September 2014 – Kia will reveal the new Kia Optima mild hybrid show car at the 2014 Paris Motor Show on 2 October, the first application and demonstration of the...[Read more...]
Enhanced Kia Rio set for Paris Show world premiere
•Enhanced Kia Rio to be unveiled at 2014 Paris Motor Show •B-segment Kia's makeover gives exterior and cabin a fresh appearance •Enhanced Rio range on sale in Europe from early 2015 Frankfurt, 29 September 2014 – Kia will celebrate the world premiere of an enhanced Kia Rio at the 2014 Paris Motor Show on 2 October, featuring a number of improvements to maintain the competitiveness of its global best-selling car. 'The Kia Rio was our best-selling vehicle nameplate worldwide in 2013...[Read more...]
Enhanced Kia Venga to be revealed at Paris Show
Refreshed look for upgraded 2015 Kia Venga on car's fifth anniversary •Compact MPV has a new face and more sophisticated cabin •New options include integrated 7.0-inch navigation display screen •Enhanced Venga on sale in Europe from early 2015 Frankfurt, 29 September 2014 – Five years after launching the Kia Venga, Kia will reveal an enhanced version of its popular compact MPV at the 2014 Paris Motor Show on 2 October. The refreshed model features a new-look front and rear, a more s...[Read more...]
Jaguar F-TYPE Wins 'Golden Steering Wheel' Title - Germany's Most Prestigious Automotive Award
The Jaguar F-TYPE has been voted the winner of a prestigious Golden Steering Wheel award by readers of the respected German newspapers Bild am Sonntag and Auto Bild. The F-TYPE competed in the 'coupé and cabriolet' category, finishing ahead of the Porsche Cayman and BMW 4 Series Coupé. Dr Ralf Speth, CEO Jaguar Land Rover, received the award and said: 'The enthusiasm of the readers for Jaguar is fantastic, and this award is confirmation of the good work of our team. I want to thank the knowle...[Read more...]
Volkswagen Celebrates 60 Years Of The Karmann Ghia
◾Volkswagen Karmann Ghia prototype shown internally in 1953 ◾Osnabrück-made sportster started the Volkswagen brand's move upmarket Wolfsburg, August 20, 2013 – Thanks to the Karmann Ghia, Volkswagen had a car in the mid-1950s in its line-up that was positioned above the Beetle, allowing the company to appeal to a broader customer base. It is now 60 years since that prototype was shown internally, on the occasion of the Paris Motor Show. The car went into full production in 1955. Today...[Read more...]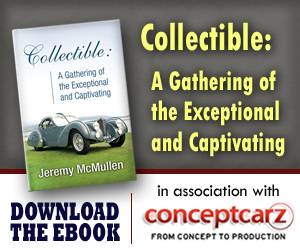 © 1998-2014. All rights reserved. The material may not be published, broadcast, rewritten, or redistributed.