1939 Bentley Mark V news, pictures, specifications, and information

Tweet
The Mark V is the last Derby-built Bentley and the rarest production model, with only 11 produced. Seven exist today, this car being the only convertible. These were the first Bentleys with independent front suspension. The chassis was originally sent to Binder of Paris to be built for the 1939 Paris Auto Show. World War II broke out 10 days later, and Binder closed shop. The chassis instead was then sent to Saoutchik in Paris for coachbuilding. It stayed in France until 1951, when it was shipped to England, arriving in the USA in 1965. Charles Howard of Coys purchased the car in 1997 and restored it, entering it in the Monte Carlo Rally in 2000. Mr Rich Purchased the car in 2003.
The Mark V was the last Derby built Bentley and is the rarest of all production Bentleys. It is thought that no more than eleven Mark V's were actually bodied. Only seven examples exist today. The new Mark V used independent front suspension, making it the first Bentley convertible with that feature.

MXT 3
This car is the only convertible Mark V, and in August 1939, it was originally intended for the sister of King Farouk of Egypt, but at the outbreak of World War II, the chassis was hidden in France. In 1940, the chassis was fitted with a body by the French firm Carrossier Saoutchik and completed within two months of the German invasion. It was acquired by a British owner at the end of the war. In 1965, it was sold to one of a series of American owners. The current owner, Mr. John Rich, acquired the car in 2003.
The Bentley Mark V was produced from 1939 through 1941 with only 12 examples being produced. It was outfitted with Bentley's 4.3 liter straight six.
By Daniel Vaughan | Mar 2006
For more information and related vehicles, click
here
Barrett-Jackson Generates Nearly $109 Million In Sales
• Sets Record Attendance At The 42nd Annual Scottsdale Auction
• Batmobile sells for $4.62 million dollars to a lifelong fan to worldwide audience; marks second-highest single-car sale at Barrett-Jackson
•1,343 cars sold •$108,766,069 gross sales – A 17% increase over 2012 •300,000 in attendance •Charity cars – 21 total for $5,005,000 Scottsdale, Ariz. – Jan. 22, 2013 – Barrett-Jackson Auction Company, The World's Greatest Collector Car Auctions™, generated nearly $1...[Read more...]
Sold! Barrett-Jackson's 5000 Series Generates More Than $29.2 Million In Scottsdale
Original 1966 TV Batmobile Sells for $4.62 Million at The World's Greatest Collector Car Auctions™ and New World Records are Set January 19, 2013 •LOT #5037 The Original Batmobile is the highest selling car at the company's annual Scottsdale Auction •LOT #5019 1947 Talbot-Lago T-26 Grand Sport sets a new world record for the model •LOT #5034 1956 Chrysler Diablo Concept Convertible sets a new world record for Chrysler concept cars Scottsdale, Ariz. (Jan. 20, 2013) – Barr...[Read more...]
Mercedes-Benz wins Best of Show title at the 2012 Pebble Beach Concours d'Elegance
• A Mercedes-Benz Saoutchik S Type receives the coveted award • Originally delivered in 1928 • Seventh Best of Show title for Mercedes-Benz Stuttgart – A Mercedes-Benz Saoutchik S Type has won this year's Best of Show title at the Pebble Beach Concours d'Elegance. The car, whose 'torpedo' bodywork with low windscreen was designed by French coachbuilder Jacques Saoutchik, captured the hearts of the judges, who named it the finest vehicle on display at the prestigious event. The...[Read more...]
Pebble Beach Concours d'Elegance Introduces Its First Sport Customs Class
One-off Sport Customs designed to turn heads while tooling down Main Street USA will roll onto the 18th fairway of Pebble Beach Golf Links for the 2012 Pebble Beach Concours d'Elegance on August 19. This year, for the very first time, the Pebble Beach Concours d'Elegance is hosting an entire class dedicated to Sport Customs. 'These are one-of-a-kind cars built in the US, on modified American production chassis with American engines by individuals, designers and craftsmen,' explains auto...[Read more...]
Last Mercer Will Compete At Pebble Beach Concours d'Elegance
When the Pebble Beach Motoring Classic commences on August 7, Johnny Crowell will don his leather cap and goggles and settle in behind the wheel of his 1925 Mercer Series 6 Raceabout -- the last Mercer ever to exit the factory. The Roebling family along with designer Finley Robertson Porter debuted the Mercer Raceabout Type 35R in 1911. The result was one of the most admired sports cars of the early era: a stripped-down, two-seat speedster designed to be driven fast. By 1925, they had perfec...[Read more...]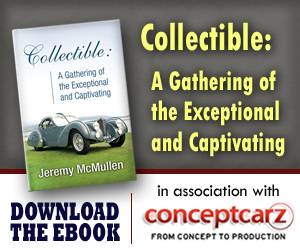 Bentley
Monthly Sales Figures
Volume
December 2014
412
November 2014
323
October 2014
282
September 2014
236
August 2014
241
July 2014
201
June 2014
216
May 2014
233
April 2014
209
March 2014
280
January 2014
192
(More Details)
© 1998-2014. All rights reserved. The material may not be published, broadcast, rewritten, or redistributed.