1910 Ford Model T news, pictures, specifications, and information

Tweet
The Model T Ford was built from 1908 until 1927 with only minor changes over those years. Over 15 million were built. It put America on wheels. The touring car cost $950 in 1910, but by 1926/1927, the price was only $290, made possible by Ford's introduction of the moving assembly line to achieve mass production.

This car was assembled on November 11th of 1910. Normally, 1909/1910 style bodies were wooden, but this 1910 style body is partially steel, the only one known; presumably a transition to the use of all steel bodies in 1911. It was originally delivered to R.E. Lawrence in Astoria, IL. Vernon Jarvis of Decatur, IL, purchased the car in 1951 and later displayed it in his Early American Museum at Silver Springs, FL, until in 1967, when the current owner bought it. After 30 years in storage, restoration was completed in March, 2007.
After successfully building and selling nearly 10,000 Model T Fords during the first model years, Ford continued its success in 1910. The Model T's for 1910 were largely similar to the 1909 models but had a number of mechanical improvements made to the rear axle.

Ford built the Model T using components supplied by many outside manufacturers. A large portion of the engines and chassis were built by the Dodge Brothers and the bodies were built by a variety of manufacturers including the Pontiac, Beaudette and Hayes.

Six different body styles were available in 1910, including a touring car, a tourabout, a runabout, a town car, a landaulet and a coupe. In addition to these offerings, Ford also sold a bare chassis to customers that wanted to build their own special-purpose bodies. Of the six styles offered, the touring car was the most popular and contributed to nearly seventy-five percent of all vehicles sold that year. At the end of the 1910 model year, Henry Ford had built and sold nearly 20,000 vehicles, which was double his 1909 production.

This 1910 Model T Touring car sold new for $950 fob Detroit.
This car was manufactured by the Ford Motor Company in Dearborn, Michigan. The Model 'T' was introduced to the public in December of 1908, selling over 15 million units thru May of 1927. During this production period there were very few design changes, there was a saying 'you can get any color you want as long as it is black.'

The car has a foot brake which stops the drive shaft, the transmission had 2 forward and 1 reverse gears which were speed controlled by three pedals and a lever. The engine is a 4 L-Head cylinder unit with 176.7 cubic-inches, generating 22 horsepower. The wheelbase is 100 inches and the weight is 1200 lbs. Total production of the model was 16,890 units, with a selling price of $950.
The Ford Motor Company and Henry Ford were involved in racing from the earliest days. It was Ford's way of promoting the company - and it worked.

Between 1901 and 1912 his race cars, including the famous '999,' broke records across the U.S. and made legends of drivers such as Barney Oldfield.

This Model T is an exact re-creation of the modified Ford Model T that was driven to several record-breaking victories by Frank Kulick. When Ford tried to enter Kulick and his Ford in the Indianapolis 500 race in 1913 he was told by race officials that in order for the entry to be accepted the weight of the car would have to be increased by 1,000 pounds. Ford's reply was 'We're building race cars, not trucks' and withdrew from factory-sponsored auto racing.

The Ford Motor Company did not revive its 'factory' racing program until years after Henry Ford's death in 1947, other than the unsuccessful Miller-Ford entries in the 1935 Indianapolis 500.
| | | |
| --- | --- | --- |
| | | Touring |
This year marks the beginning of mass production. Note the lack of front doors and extensive use of brass - features found only on early Model T's. Contrary to popular belief, all Model T's were not black. From 1909-1913, Ford offered six different colors.
Source - Luray Cavern Museum
The Ford Model T has an extensive history in the automotive market lasting for nearly 20 years. It is often called the 'Tin Lizzie' and the 'Flivver' and is credited with 'putting America on wheels.' During the early 1900's, the automobile was very new and the market place was adjusting to having these horseless carriages carry its passengers rather than bicycles or horses. Steam, electricity, and gasoline were the three means of powering the vehicles. Up until about 1915, no one really knew which would be the favorable power-source. Steam provided many benefits such as being quiet, clean, and cheap. Gasoline or kerosene fuel was used to heat water in a boiler; the steam produced was channeled to the cylinders, where the pressure drives the pistons up and down. The shortcomings were that it took a while to start, having to wait for the steam to prepare. It was dangerous, often exploding and causing injury. It had a limited range, lasting about 20-40 miles before requiring a refueling. Electricity was popular but it too had a limited range. It was easy to start and was very popular with the ladies for driving around town. Then there was gasoline, which was dirty and hard to start. It required fueling stations which were sometimes difficult to find in this new and evolving marketplace. The main benefit of the gasoline engine was that it had the most potential and an ever increasing amount of power. It was said that how a vehicle finished on the race track often determined the success of sales. With gasoline engines winning most of the races, the other sources of power were eventually doomed.

There were over 200 automobile manufacturers during the early 1900's. The average production figures for a factory were a couple hundred vehicles a year. This of course varied greatly due to the complexity and prestige of the vehicle being produced. Henry Ford, founder of the Ford Motor Company, produced a vehicle that was affordable, but more importantly, mass produced. By using an assembly line to construct parts, rather than the traditional hand assembly, the process was streamlined. Using an assembly line process was not new, it had been done before in the meat packing industry. William C. Klan had visited a slaughterhouse in Chicago. Upon returning from his visit, he proposed the idea to Peter Martin. A team was assembled and perfected through trial and error. The assembly line did not begin operation on the Model T until 1914. The assembly line process streamlined the production greatly, now averaging just over 90 minutes to assemble a car. During 1914, there were more Ford's produced than all other manufacturers combined. At that point 'you get it in any color you wanted so long as it was black'. Henry Ford favored the black color because it dried the fastest. During the years 1917 through 1923, Ford did not do any advertising, with 9 out of 10 cars being Fords, none was necessary.

He paid his workers a wage proportionate to the cost of the automobile, so they would be able to buy what they produced. By introducing these innovations, his factories were able to out produce and outsell the rest of the industry and mobilize the country. When production of the Model T began, the cost was around $850, around $1200 less than most cars. By the early 1920's, the price of the Model T cost about $300. Ford had found many ways to cut costs and offer the least-expensive product. He instructed his suppliers how to assemble the wood crates that were used to ship him parts. The crates were then dismantled and used within the bodies of the car. The scrapes were made into charcoal and sold under the name 'Kingsford'.

The first Model T was produced on September 27th, 1908 at the Piquette Plant in Detoit, Michigan. There are two classes of the Model T, those that were produced before 1919 and after 1919. The pre-1919 Model T's are known as veteran cars while the later models are called vintage cars. Even though the name Model T was used for almost twenty years, it was much improved both visually and mechanically over the years. At all times, the vehicle could be had in a wide variety of bodystyles. The open touring cars and roadsters were cheaper to produced and thus, produced in greater numbers. The Volkswagen 'Beetle' is the only car model to outsell the Model T Ford.

The Model T was designed by Henry Ford, Childe Harold Wills, Joseph A. Galamb and Eugene Farkas. A 177 cubic-inch four-cylinder motor was placed in the front and powered the rear wheels. The 20 horsepower engine was capable of carrying the vehicle to a top speed of around 45 mph. There were three main bearings and side valves. A ten gallon fuel tank could be found beneath the front seat, mounted to the frame. The engine started by a hand crank located at the front of the vehicle. The crank was very difficult to operate and has been the cause of many broken arms.

The smaller engines were favored by Henry Ford. His Model K had used a six-cylinder engine, but when production ceased around 1908, a six-cylinder engine would not be used again by Ford until 1941. The Model K had not been a sales success. While Ford had wanted to produce small and inexpensive vehicles, his board of directors had persuaded him to produce a larger, luxurious, and expensive model. In 1906, Henry Ford purchased the majority of stock leaving him in control and in charge of the direction of the company. After World War I he purchased the remaining Ford stock so he could dispense with the board of directors entirely. From 1906 through 1908, Ford created the Model N, R and S which eventually evolving into the Model T.

A 'three speed' planetary gear type transmission was used. This had been used in the Model K but was not suited to such a large vehicle. As a result it suffered from frequent breakdowns, but worked fine in the Model T. The 3-speed unit was actually two-speeds forward plus one reverse. With no clutch pedal, shifting was handled by floor pedals that did not require a clutch. Also located on the floor was a third pedal which operated the reverse gear. The throttle was controlled by a lever on the steering column. Neutral was located by the parking brake lever. The other foot pedal applied a band around a drum in the transmission. The parking brake lever operated the band brakes on the outside of the rear brake drums. When the hand lever was pulled back, the brake was engaged and the drive gears were disengaged.

Wooden 'artillery wheels' were standard until 1926 when they were replaced with steel wire wheels. The suspension was a transversely mounted semi-elliptical spring for both the front and rear axle. Brass was used throughout the earlier vehicles for items such as horns, radiators, and headlights. Headlights were acetylene lamps but later switched to electric lights.

Sales peaked in 1924 with over 2 million automobiles leaving the assembly line. By this time, many of Ford's competitors had switched to the same principles that had made the Model T success: a cheap and reliable vehicle built on an assembly line produced in mass quantities. Other manufactures started attracting new buyers by offering amenities, extras, or larger engines. Popular options included windshield wipers, anti-theft locks, and light dimmers. Chevrolet vehicles had three forward gears while the Model T still used only two. Also, since the Model T's were so durable, they were still in functioning order. Meaning that many owners did not need a car or when they did, they usually bought a more luxurious vehicle. The used Model T's were then sold for next-to-nothing. Sales began to dip in 1925 and dramatically in 1926. Production ceased in 1927 for nearly six months while preparations were made for the production of the Model A.

The Model T mobilized a nation, not only the United States, but many other countries. With dealerships and factories setup throughout the world, the Model T was mass produced and easily available to many buyers. Often, the factories were established in other countries to get around an import tax, thus keeping the cost low. The innovative Model T served its purpose. It was inexpensive and reliable, many lasting even to this day.
By Daniel Vaughan | Mar 2006
For more information and related vehicles, click
here
1938 BUGATTI TYPE 57C WINS 'BEST OF SHOW' AT 2014 HILTON HEAD ISLAND MOTORING FESTIVAL & CONCOURS D'ELEGANCE
• Hilton Head Island Concours d'Elegance attendees select 1929 Chrysler Model 75 Dual Cowl Phaeton for People's Choice Award
HILTON HEAD ISLAND, S.C. – The coveted 'Best of Show' and 'People's Choice' honors were awarded today at the 13th annual Hilton Head Island Motoring Festival & Concours d'Elegance, held at the Port Royal Golf Club on Hilton Head Island, S.C. The top honor at Sunday's Hilton Head Island Concours d'Elegance, 'Best of Show,' was awarded to a 1938 Bugatti T...[Read more...]
HILTON HEAD ISLAND MOTORING FESTIVAL TO FEATURE CARS OF THE RICH & FAMOUS
This year's 'Life' exhibit puts the spotlight on cars with headline heritage HILTON HEAD ISLAND, S.C. – The Hilton Head Island Motoring Festival & Concours d'Elegance, one of the nation's largest and fastest-growing automotive and motorsports enthusiast event weeks, takes a more glamorous approach with its annual 'Life' exhibit and presents Life of the Rich & Famous sponsored by Marriott Vacation Club. Life of the Rich & Famous is the sixth annual 'Life'-themed exhibit on the Fe...[Read more...]
Ford To Auction Prototype Of The 2014 Mustang Cobra Jet For National Multiple Sclerosis Society At Barrett-Jackson
◾Ford is selling a one-of-a-kind prototype of the NHRA competition-ready 2014 Mustang Cobra Jet at Barrett-Jackson Las Vegas to benefit the National Multiple Sclerosis Society ◾The sale includes an once-in-a-lifetime Mustang experience. The winning bidder will become an honorary member of Team Mustang with full backstage passes to the Ford Product Development Center, Ford Design Studios and Ford Racing ◾Ford to also offer Ride-and-Drives and hot laps at Mandalay Bay Event Center featuring t...[Read more...]
ALL-AMERICAN CAR TO BE CONSERVED BY ALL-AMERICAN RACERS
One of the race cars American racing legend Dan Gurney is most closely associated with is the Ford Mark IV that he and A.J. Foyt took to a historic victory at the 1967 24 Hours of Le Mans. Gurney will get a chance to become even more familiar with the car he helped make famous when his All-American Racers shop in California takes possession of the car's conservation on behalf of Henry Ford Museum, it was announced today. 'I don't think we could have found a better person or better organiza...[Read more...]
Limited-Edition Ford Racing History Artwork Unveiled at SEMA; Limited-Edition Print Sales to Benefit JDRF
•Special limited-edition Ford Racing history artwork is unveiled at the annual SEMA show as part of the Ford press conference •Famed automotive artist Sam Bass created the artwork at the request of Edsel B. Ford II, with proceeds from sales of limited-edition autographed prints benefiting JDRF •Drivers and Ford race vehicles featured on the special artwork include Henry Ford (Sweepstakes), Trevor Bayne (No. 21 Fusion), Dan Gurney/A.J. Foyt (Ford Mark IV), Bob Glidden (NHRA Thunderbird), Jack...[Read more...]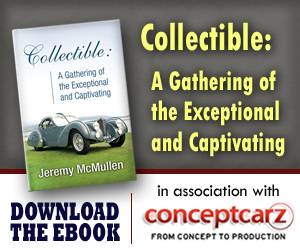 Similarly Priced Vehicles from 1910
Buick Model 10 ($1,000-$1,150)
Maxwell Model Q ($900-$1,000)
Stanley Model 60 ($875-$1,150)
Duryea Electa Phaeton ($625-$900)
Buick Model F ($1,000-$1,000)
Hudson Model 20 ($900-$1,200)
Oakland Model 24 ($1,000-$1,000)

Average Auction Sale: $37,958
Ford
Monthly Sales Figures
Volume
December 2014
209,679
November 2014
178,221
October 2014
179,014
September 2014
172,261
August 2014
214,028
July 2014
204,373
June 2014
214,793
May 2014
244,501
April 2014
203,552
March 2014
235,198
February 2014
177,286
January 2014
148,671
(More Details)
© 1998-2014. All rights reserved. The material may not be published, broadcast, rewritten, or redistributed.