1929 Ford Model A news, pictures, specifications, and information

Tweet
| | |
| --- | --- |
| | Phaeton |
The much-heralded Ford Model A was the successor to Henry Ford's venerable Model T. It was often referred to as a 'Baby Lincoln,' and there was definitely a styling similarity.

The 1929 Model A's were characterized by brighter trim and body paint as well as new exterior door handles on open models, such as this phaeton.

Attesting to the instant popularity of the new Ford, the two-millionth Model A Ford was built in July 1929. The car had been introduced only 19 months earlier - December of 1927.
| | | |
| --- | --- | --- |
| | | Phaeton |
This Ford Model A station wagon was restored by students enrolled in the automotive restoration program at McPherson College, the only U.S. college to offer a four-year degree in automotive restoration. The students started with little more than a rolling chassis.

None of the original upholstery or wood body remained and only a few pieces of sheet metal existed. Using original factory drawings, the students fabricated the entire wooden body. They also recreated the original upholstery and wiring.

More than 50 McPherson College students participated in the restoration project. McPherson College is a liberal arts college located in McPherson, Kansas.
The Model 'A' was introduced to the public on December 2, 1927. Standard equipment included: 4 wheel mechanical brakes, speedometer, hydraulic shock absorbers, starter, windshield wipers, dash lights, mirror, gas gauge and tools. Bumpers were a $15.00 option on the earliest cars.
Source - Luray Cavern Museum
As 1929 opened, all Ford assembly plants were running full steam. In January alone, Ford sold 159,786 units. The 1929 models were not that different from the previous year, but there were two new additions, which were a cabriolet and a delivery car. Two more body styles also arrived in the middle of 1929, one the 'Town Sedan' and America's first assembly-line station wagon.

Ford cars of this era are still some of the most popular 'canvases' for custom hotrod builders to work on. All custom fabrications on this car including the grill, suspension, frame, body modifications, paint, and upholstery were all done by the owner 'from the ground up!' This car is one of a kind.

Collection of Ed Johnson
Source - SDAM
This Model A Pickup is painted in dark green with black accents. It is equipped with a side-mounted spare, Ford Two-Lite headlamps, running boards, a radiator temperature gauge, a wooden pickup bend and a marbled shift knob. There is a 201 cubic-inch L-Head four-cylinder engine with a Zenith single-barrel carburetor. The 40 horsepower it produces is sent to the rear wheels via a three-speed sliding gear transmission. At all four corners are mechanical drum brakes.

In 2009, this 1929 Ford Model A Pickup was offered for sale at the Gooding & Company auction in Scottsdale, Arizona. It was estimated to sell for $25,000 - $35,000 and offered without reserve. As the gavel came down for the third and final time, the lot had been sold for the sum of $16,500 including buyer's premium.
By Daniel Vaughan | Apr 2009
This 1929 Ford Model A is a United States Post Office Truck with serial number A4174677 and Post Office number 10205. Much of the truck box is original wood, it has its original glass and hardware, and even the padlocks are original. The restoration is old but the patina remains in nice condition.
The name Model A was first used by Ford in 1903 and also known as the Fordmobile. This was the first vehicle produced by the Ford Motor Company and its first owner was Dr. Ernst Pfenning of Chicago, Illinois who purchased the Model A on July 23, 1903. Production of the first generation Model A lasted from 1903 through 1905 with 1750 examples being produced.

Automobile production was new and experiments with design, techniques, and technology were still being experimented with. Many early producers of the automobile had been in either the coachbuilding business or the bicycle business. Upon the invention of the automobile, they switched to the production of horseless carriages.

Henry Ford had $28,000 in investment capital to begin his new business. Upon completion of his first motorcar, he had spent all but $223.65. The Model A's were available as either a two-seater runabout or a four-seater tonneau. A flat-2 engine was horizontally-mounted midship and capable of producing 8 horsepower. A three-speed planetary transmission was matted to the engine. Dimensions and weight varied but the advertised top speed of the vehicle was about 45 miles per hour. The base price was $750 and was available with options such as a rear seat for $100. A rubber roof would set the buyer back an additional $30 while the leather roof was $50.

The Model A was replaced by a sequence of 'letter cars' until Ford produced the perfect combination of accordability and reliability with the Model T. It was mass produced and by 1914 the adaptation of the assembly line streamlined the process even further. By the 1920s, Ford had mobilized the United States with their customers wanting more and willing to pay more for it. Chevrolet's were becoming popular because they were similar to the Ford but offered a few extra amenities at a slightly higher but still reasonable price. Near the close of the 1920's and after sales began to slip, Ford realized that a replacement was needed.

So as production came to a close for the Model T, Henry Ford halted all production for six months to retool the equipment and prepare for the production of the Model A. The second generation of the Ford Model A began on October 20th, 1927. Sale of the Model A began on December 2nd, 1927 and was offered in four colors. The Model had been available in the United States only in black because it dried the fastest.

The public eagerly awaited the sale of the Model T's replacement and were not disappointed. It was a stylish and elegant vehicle, which had been designed by Henry Ford's son, Edsel. In comparison to its predecessor, it was more sophisticated and complex.

The cost of the second generation Model A, produced 24 years after the original Model A was sold for $365 less, with price ranging from $385 through $570. The car was powered by an L-head 4-cylinder engine with just over 200 cubic-inches in displacement. A three-speed sliding gear transmission with 1 reverse speed was used. Top speed was achieved a little over sixty-miles per hour with the average fuel mileage being rather exceptional at over 40 MPG.

Just like the Model T, the Model A was available in multiple configurations such as the top of the line Fordor in either 2 or 3 window, Victoria, Station Wagon, Truck, Town Car, Convertible Cabriolet, Phaeton, Business Coupe, Sport Coupe, Roadster Coupe, and Coupe to name a few.

During the production lifespan of the Model A, lasting until August 31, 1931, Ford produced 4,320,446 Model A's. It was replaced by the Model B.
By Daniel Vaughan | Mar 2006
For more information and related vehicles, click
here
POTEET, CIZEK EARN TOP AWARDS AT GOODGUYS 16TH PPG NATIONALS
Columbus, OH – Tennessee's George Poteet and Nebraska's Ron Cizek collected the top two awards at the Goodguys 16th PPG Nationals in Columbus, Ohio last weekend. Under brilliant sunshine and in front of record crowds, Poteet's vintage NASCAR-inspired '69 Torino won the Goodguys 2013 Optima Batteries Street Machine of the Year while Cizek's popular Ridler award-winning '40 Ford coupe collected the Goodguys 2013 Classic Instruments Street Rod of the Year title. For Cizek, it's the second ma...[Read more...]
Ford Fund Sends World War Ii Veterans To Visit World War Ii Memorial In D.C. On D-Day; Announces $278,000 Grant To Dav
◾Ford Motor Company Fund is sponsoring an Honor Flight for World War II veterans to visit the National World War II Memorial in Washington, D.C., on the anniversary of D-Day – one of three Ford-sponsored Honor Flights in 2013 ◾Ford Fund announces $278,000 in grants to DAV (Disabled American Veterans), bringing its total support for veterans to more than $6.5 million since 1996 ◾Ford Motor Company's support of veterans dates back to 1922 DEARBORN, Mich., June 6, 2013 – On the 69th ann...[Read more...]
Edsel Ford's Speedster Stars at 'The Amelia'
Edsel Ford's 'continental car', a custom boattail speedster, will take its rightful place in the Sports Car Class of the 18th annual Amelia Island Concours d'Elegance. In the shape of Edsel's seminal speedster is the genesis of Ford's legendary design department. Edsel Ford was hardly 'a chip off the old block'. The acorn fell well away from the mighty oak that was Henry Ford, founder of the Ford Motor Company. Edsel was not just the President of Ford, he was a car guy to his core. His ta...[Read more...]
CHRYSLER GROUP LLC AND FIAT S.P.A. ANNOUNCE MOST ACCESSORIZED VEHICLES AND TOP-SELLING ACCESSORIES
Mopar Offers More Than 25,000 Accessories Worldwide •Ram 1500, Jeep Wrangler and Dodge Challenger are most accessorized vehicles in North America •Side steps, Jeep Wrangler tops and floor mats are best-selling accessories in North America •Fiat 500, Fiat 500L and Jeep Grand Cherokee among most accessorized vehicles in other global regions •Top-selling accessories announced for Europe, Middle East, Africa, Asia Pacific and Latin America February 11, 2013 , Auburn Hills, Mich....[Read more...]
Barrett-Jackson Flavors Its January Scottsdale Auction With NASCAR Treats
• RACING HERITAGE, HIGH PERFORMANCE ARE RECIPES FOR CAR-COLLECTING FEAST
• SPEED™ SET FOR 39 HOURS of LIVE COVERAGE STARTING JAN. 15
The great Henry Ford once said, 'Auto racing began five minutes after the second car was built.' And for more than 60 years, there are few entities that better represent auto racing in America than NASCAR. From the hallowed grounds of Daytona International Speedway, to Sonoma, California's intricate and picturesque road course, the sp...[Read more...]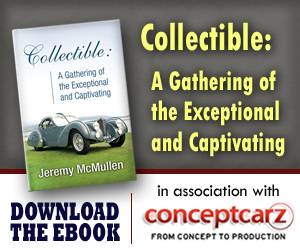 Ford
Monthly Sales Figures
Volume
December 2014
209,679
November 2014
178,221
October 2014
179,014
September 2014
172,261
August 2014
214,028
July 2014
204,373
June 2014
214,793
May 2014
244,501
April 2014
203,552
March 2014
235,198
February 2014
177,286
January 2014
148,671
(More Details)
© 1998-2014. All rights reserved. The material may not be published, broadcast, rewritten, or redistributed.