1953 Ford Crestline news, pictures, specifications, and information

Tweet
For 1953, Ford produced 2,001 Sunliner Indianapolis Pace Cars of which 25 are known to the Pace Society Register. Pace cars had been a tradition at the Indy 500 since the first 500-mile race in 1911. William Clay Ford was invited to drive the 1953 Ford Indy 500 Pace Car, accompanied by multiple Indy 500 winner Wilbur Shaw. At the post-race banquet, winner Bill Vukovich was awarded a Pace Car replica. The original example is housed in the Henry Ford Museum.

The special edition 1953 Ford Pace Cars were given special trim and can be identified by their data plates, which list 'SS' for both color and trim. All were built between February 18th and May 5th of 1953.

This example was built in Long Beach, California on April 25th of 1953. It is painted White Sungate Ivory, with a gold and white leatherette interior and a white Orlon convertible top. It has the anniversary gold dash and top bows, the crossed checkered flag emblems on the front fenders, black lettering and the 'Coronado' Continental trunk kit. Other accessories include chrome wire-spoke hubcaps, dual mirrors, a radio, clock, heater, power steering, fender skirts and back-up lights.

The odometer shows 64,762 original miles and the car has been treated to a professional restoration. Power is from an L-head V8 engine displacing 239 cubic-inches and offering 110 horsepower. There is a Ford-O-Matic three-speed automatic transmission and four-wheel hydraulic drum brakes.

In 2012, the car was offered for sale at the RM Auction in Scottsdale, Arizona. It was estimated to sell for $50,000-$60,000 and offered without reserve. As bidding came to a close, the car had been sold for the sum of $44,000 inclusive of buyer's premium.
By Daniel Vaughan | Feb 2012
Leaping forward with new improvements in both styling and handling, the Envelope Fords of 1949 were more than just an update in design technique; it was a completely different vehicle. The '49 Ford showed the world what a modern mass-produced vehicle could be. The design stayed much the same for 1950, and the new 'Crestliner' two-door sedan was introduced. Considered to be the most collectible of all Fords built during the early 1950's, the Skyliner is still a highly collectible vehicle today.

In 1952 the Crestline convertible earned the name 'Sunliner'. The Ford Crestline Sunliner was selected as the Official Pace Car of the Indianapolis 500 race in 1953. In 1954, the major update to the Crestline Skyliner was the two-door hardtop which featured a glass roof. In 1955, a new body arrived on the scene, while the wheelbase grew to 115.5 inches. The 1955 Ford line continued to remain suitably large. The plexiglass roof was still offered for the Skyliner, but only on the Crown Victoria model. In 1957, the Crown Victoria Skyliner was replaced by the retracting-roof hardtop Skyliner.

Characterized as having 'Thunderbird elegance', the Fords of 1959 were introduced with a whole new ideal of style. An incredible amount of stainless steel and chrome body trim, these vehicles also had exquisite three tone cloth pattern interior trim.

True customizing began in the 1950's, and it was an art in which individual touch shone through the design. The aviation influence of the previous decade was utilized by Ford, and the appealing trend moved towards the new obsession, the Space Race. Throughout the years of Galaxie evolution, the 1959 Galaxie was a well-received vehicle from the start. Though it wasn't chosen as often as the early post-war Fords, the 1952 Ford Crestline Sunliner had a body shape very similar to the new-for-'49 model.
The Sunliner, at over 79 inches wide, topped the 1960's Galaxie range, which was now larger and all-encompassing. New development ideas were being inspired during NASCAR racing that would transform from the handling and suspension of the vehicle. A concave grille and a single side crease were updated on the Sunliner, which eventually morphed into horizontal fins at the rear of the vehicle. The option of a detachable hardtop roof was also available, though most buyers opted for the electric folding top.

Another available option was the Police Interceptor tune, which had 401 bhp, while the base form model had a 300 bhp V8. The ever-changing world of motor design was moving quickly during the early 1960's, and the Ford Sunliner only debuted a year before getting a total redesign and update.

Able to achieve a top speed of 122 mph, the Ford Galaxie Sunliner could reach 0-60 mph in 9.5 seconds. Weighing a total of 3,792 lbs, the Sunliner utilized a 3-speed auto transmission with a displacement rate of 390 ci (6,930 cc). The Galaxie range consisted of 6 models during its introductory year, the Galaxie Club Sedan, Galaxie Town Victoria, Sunliner Convertible, Skyliner Retractable, Town Sedan and Club Sedan. All six models showcased their own range of ornamentation, trim and tractable tops that folded into the trunk.

Various available options on the 1950 Galaxie range included power windows, brakes, steering, front seat, Flying Eclipse Hood Ornament, Sunray multi-colored wheel covers, deluxe rear deck antenna, visored spotlight mirror, and air conditioning. Engine sizes were offered in a variety for the Galaxie range that included the 292 V-8 with 200 horsepower, 332 Thunderbird, the 352 Thunderbird Special (at an astounding 300 horsepower), and the 223 Mileage Maker Six Cylinder at 145 horsepower. The available transmission options were also all-encompassing, including a three speed convention drive (with an overdrive option), three speed Cruise-O-Matic Drive automatic, Formomatic Drive two speed automatic and overdrive.

Updated in 1960, the Galaxie now featured completely new body lines, the same body design as the 1960 Fairlane. The exterior ornamentation and interior trim offerings were the main differences between these models. These new design enhancements were marketed by Ford as having increased stability, due to the added five feet apart between the wheels for better cornering. In this year, the Galaxie was available in 5 various engine options that ranged from the 223 cubic inch Mileage Maker Six Cylinder to the 352 Super V-8 with four barrel carburetor (rated at 360 horsepower). Three speed manual transmissions, optional Fordomatic Drive two speed automatic, and the three speed automatic were available as transmission options for 1960 Galaxies. The Galaxie was available in 13 Diamond Lustre Finish paint colors.

The following year showcased a brand new sculptured award-winning design on the 1961 Galaxie lineup. Centro per L'Alta Moda Italiana, for 'functional _expression of classic beauty' was awarded by the International Fashion Authority for the 1961's stunning bulleted grill and rear panel design. Besides having several station wagon models, the range included the Sunliner Convertible, Starliner Hardtop, Club Sedan, Town Sedan, Town Victoria and the Club Victoria. 1961 Galaxie models were available with a plethora of available options and features.
In 1961, the scalloped hood was removed, and the sheet metal was updated for a cleaner look. Two giant circular taillights were placed at each rear corner replacing the tailfins. With an amazing 400 hp (298 kW) gross output in triple-two-barrel carburetor form, a new 390 in³ (6.4 L) FE V8 was added to the 1961 Sunliner model. Bucket seats were added to both the Sunliner convertible and hardtop coupe in the 1962 model year.
With familiar body lines, yet new trim, ornamentation, and a distinctive new grill, the 1962 Ford Galaxie was stunning to look at. For this year only, stunning gold and chrome plated fender top ornaments were produced exclusively. Even more luxurious than before, the new Galaxies were offered in a range of 14 models that included wagons, convertibles, sedans and hardtops. The first floor console was ever offered in a Galaxie in 1962. The Starlift removable roof on the Sunliner replaced the slow-selling Starliner semi-hardtop coupe.
A classic from the moment it was rolled off the showroom floor, the 1963 Galaxie carried distinctive lines and styling that made it the legend it is today. A large and varying range was available almost immediately. The 1963 model showcased a smooth cloth and vinyl interior trim package and an attractive full length upper and lower body side molding.

In 1964 the Galaxie was described by Ford as 'a car bred in open competition and built for total performance'. A range of 16 models were available to choose from that featured new trim moldings, grill, interior trim styling, and rear panel design. A variety of six engine options were available for the 1964 model, all with amazing performance. The Thunderbird 390 V-8 with 300 horsepower was the most impressive, following close behind were two versions of the all powerful 427 power plant. In the 1964 model year, Ford replaced the 407 engine and discontinued the 406. Numerous 427 Fiberglass race equipped Galaxies were also constructed by Ford for this year. This model year has been considered the most attractive of models by enthusiasts, and the racing history of their factory lightweight vehicles legendary.

A whole new design update was inundated for the 1965 Ford Galaxie that included a wider design, and the new dual vertical stacked headlight design. Enhanced and designed for total performance, these new models featured a large array of performance options. The Galaxie was offered in 19 available models, spanning seven different series of body designations in 1966. This year the range was known for clean lines and various performance options. The look continued virtually the same in 1967, with the main update being new molding, ornamentation, and the turn signal lamps relocating from the grill to the bumper. The 1968 range is best identifiable by the hideaway concealed dual headlamps found on the XL, LTD and Country Squire models. The Galaxie is best known for becoming 'bigger, wider, longer, and quieter' in 1969 as it grew in size, and if possible, became even more luxurious. One year later, the Ford Galaxie now offered 21 new models, various body style choices in a varying range of engine choices. In 1971, Ford engineered a body style that would be considered the strongest and most durable ever built. Vehicles in the market were growing larger and luxury was an important feature, and Ford's Galaxie line was no exception. The 1972 models utilized more steel than previous models, and continued to offer quiet, effective, strong safety.
By Jessica Donaldson
BMW OF NORTH AMERICA CONGRATULATES THE BMW CCA FOUNDATION ON ITS SUCCESSFUL AUCTION
BMW of North America congratulates the BMW CCA Foundation on its successful auction and thanks Rick Hendrick, Craig Jackson, and Bobby Rahal for their generosity and support at the Barrett-Jackson auction in Scottsdale AZ Woodcliff Lake, NJ – January 20, 2015… Anyone watching the Barrett-Jackson classic car auction from Scottsdale, Arizona this past weekend would have seen the charity auction of the BMW M5 30th Anniversary Special Edition that sold for $700,000 to support the Ti...[Read more...]
FORD FUND ANNOUNCES $1 MILLION WILLIAM CLAY FORD AUTOMOTIVE DESIGN SCHOLARSHIP
◾Scholarship commemorates the design legacy of William Clay Ford, former chairman of Ford Motor Company's design committee ◾Ford Fund commits $50,000 per year during the next 20 years, giving five automotive design students each $10,000 per year ◾Mr. Ford oversaw design of the iconic Lincoln Continental Mark II, considered by many one of the greatest cars ever built Ford Motor Company Fund will award $1 million in automotive design scholarships during the next 20 years to commemorate the la...[Read more...]
FORD MOTOR COMPANY DIRECTOR EMERITUS WILLIAM CLAY FORD DIES AT AGE 88
William Clay Ford, who helped steer Ford Motor Company into the modern era as an employee, director and influential member of the Ford family, died this morning at his home from pneumonia. Mr. Ford, 88, served as Director Emeritus, Ford Motor Company and was the last surviving grandchild of the company's founder, Henry Ford. Mr. Ford served Ford Motor Company for 57 years as an employee and board member, playing a pivotal role in shaping the company for more than half of its 110-year histo...[Read more...]
Commemorative Poster For 2013 Pebble Beach Concours d'Elegance Features Ford Family Lincolns
Event Posters Also Celebrate Aston Martin and Porsche 911 PEBBLE BEACH, Calif. (April 16, 2013) -- When Edsel B. Ford II came upon the 1956 Lincoln Continental MK II last year, he admired the long lines and elegant custom styling of the automobile, but he didn't immediately recognize it. Imagine his surprise when he learned the car had, in fact, belonged to his mother, Anne, as evidenced by the original owner's manual inscribed with her name. In all fairness, Edsel was just...[Read more...]
Barrett-Jackson Flavors Its January Scottsdale Auction With NASCAR Treats
• RACING HERITAGE, HIGH PERFORMANCE ARE RECIPES FOR CAR-COLLECTING FEAST
• SPEED™ SET FOR 39 HOURS of LIVE COVERAGE STARTING JAN. 15
The great Henry Ford once said, 'Auto racing began five minutes after the second car was built.' And for more than 60 years, there are few entities that better represent auto racing in America than NASCAR. From the hallowed grounds of Daytona International Speedway, to Sonoma, California's intricate and picturesque road course, the sp...[Read more...]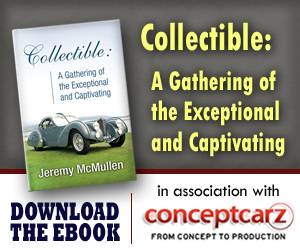 Similarly Priced Vehicles from 1953
Studebaker Commander Starliner ($2,400-$2,400)
Volvo PV 444 D ($2,240-$2,240)
Mercury Monterey Custom ($2,000-$2,115)
Pontiac Chieftain ($1,960-$2,800)
Mercury Monterey ($2,130-$2,590)
Chevrolet DeLuxe 210 Series ($1,705-$2,271)
Nash Rambler ($2,000-$2,145)
Chevrolet Bel Air Series 2400C ($1,600-$2,200)
Volkswagen 1100 Beetle ($1,600-$2,400)

Average Auction Sale: $30,110
Ford
Monthly Sales Figures
Volume
December 2014
209,679
November 2014
178,221
October 2014
179,014
September 2014
172,261
August 2014
214,028
July 2014
204,373
June 2014
214,793
May 2014
244,501
April 2014
203,552
March 2014
235,198
February 2014
177,286
January 2014
148,671
(More Details)
© 1998-2014. All rights reserved. The material may not be published, broadcast, rewritten, or redistributed.