1961 Lotus 23 news, pictures, specifications, and information

Tweet
Colin Chapman is the heart and soul of Lotus, and racing is at the heart of Colin Chapman. In 1947, 19-year-old Chapman took a derelict Austin Seven and turned it into an immaculate special entry in time for the 1948 trials in England. This was the Lotus Mark I, which soon led to a Mark II and so on, until well-known drivers from around the world were lined up outside Colin's production facility. His first major success was the Mark 6 of which more than a hundred were sold, and they won hundreds of races.

In 1961, because of the tremendous success of the Lotus 22 cars the Formula Junior short mileage races, Lotus introduced the 23, a two-seater sports car. The car was designed to be able to accept a wide variety of engines ranging from a 997 cc Ford up to a 1.9-liter Climax. The car was the first to use the new Lotus-Ford twin-cam engine and left larger cars in the dust. It led the 1962 Nurburgring 1000K race for many laps when an exhaust problem put the car out of the race. The car's ability to leave the competition behind, however, helped it solidify its reputation. In the States, the 23 dominated the smaller displacement classes of sports car racing alongside the Lotus 19S. The 23B, and later 23C were introduced wîth stronger chassis to cope wîth the extra power extracted from the twin cam engine, and the 23's continued to be highly competitive in the Ú.S. and Europe through the mid 1960's.

This car is a street legal race car that has only seen the streets and highways of San Diego. It is part of the Collection of Xanthos Cars - North America, Inc.
Source - SDAM
In 1962 Lotus introduced their next iteration of the compact, rear-engined sports cars, the Type 23. It was a derivative of the Lotus 19 which had been produced from 1960 through 1961, as well as the Lotus 20, 21, and 22 cars.

The Type 23 was raced extensively in national and international races winning many class victories and often times beating large-engined competition. It quickly became a popular favorite with many racers and one of Lotus's best selling race cars of all time.

During its production lifespan Louts offered the lightweight car with a variety of options that included the Coventry Climax 750 cc four-cylinder engine and even a 12-cylinder Rotorvic motor for competition at LeMans. In standard form the Type 23 came equipped with an 1100 cc engine. A popular option was to upgrade to the Type 23B specification which included the 1600cc Lotus/Ford twin-cam engine.

In 1962 a Type 23B driven by Jim Clark easily proved its potential by leading the Ferrari and Jaguar cars at Nurburgring 1000KM before mechanical difficulty led to a crash. The cars dominated many of the races they were entered; even in modern times they still provide podium time for their drivers in vintage and historic racing events.

The Type 23 was constructed of fiberglass and outfitted with a Hewland MK gearbox. The suspension was comprised of double wishbones and dual trailing arms. The steering was rack-and-pinion.
By Daniel Vaughan | Feb 2008
A British manufacturer of sports and racing vehicles, Lotus Cars is based at Hethel, Norfolk, England. Lotus is best known for their race and production vehicles that are lightweight and have high handling characteristics. Lotus Cars is currently owned by Proton, a Malaysian carmaker, who took over Lotus in 1994 during the bankruptcy of its former owner Bugatti.

In 1952, engineer Colin Chapman a recent graduate of University College, London formed the company as Lotus Engineering Ltd. The original factory was in old stables behind the Railway Hotel in Hornsey, North London Team Lotus, which was separate from Lotus Engineering in 1954. From 1958 until 1994 Team Lotus was active and competitive in Formula One racing. In 1959 the Lotus Group of Companies was formed and this was made up of Lotus Cars Limited and Lotus Components Limited that focused on road vehicles and customer competition car production respectively. In 1971 Lotus Components Limited became Lotus Racing Limited, but unfortunately this newly renamed company ceased operation the same year.

In 1959 the company relocated to a purpose built factory at Cheshunt and since 1966 the company has occupied a modern factory and road test facility at Hethel, near Wymondham. This location is the former RAF Hethel base and the testing track utilitzes sections of the old runway.

In a rags-to-riches story, Colin Chapman died of a heart attack in 1982 at the young age of 54, starting out as an innkeeper's son and ending as a multi-millionaire industrialist in post-war Britain. Chapman is best known for building tens of thousands of successful racing and road cars. He also won the Formula One World Championship seven times. Chapman was linked with the DeLorean scandal at the time of his death over the use of government subsidies for the production of the De Lorean DMC-12 for which Lotus had designed the chassis.

The Lotus Company was purchased by General Motors in 1986. GM sold the company for £30 million on August 27, 1993 to A.C.B.N. Holdings S.A. of Luxembourg, a company that was controlled by Romano Artioli, Italian businessman, who also owned Bugatti Automobili SpA. A majority share in Lotus was sold to Perusahaan Otomobil Nasional Bhd, a Malaysian car company in 1996 which was listed on the Kuala Lumpur Stock Exchange. The Lotus Company also acts as an engineering consultancy which provides engineering development, especially of suspension, for other car manufacturers. The Powertrain department is not as well known, was responsible for the design and development of the 4-cylinder Eco-Tec engine found in a variety of GM's Opel, Saab, Vauxhall, Chevrolet and Saturn cars.

The Lotus Type 23 was specially designed by Colin Chapman as a small-displacement sports racing vehicle. To comply with formula rule the Type 23 was nominally a two-seater, it was a purpose-built for racing with a driver alone. The Type 23 utilized a wider version of the Lotus 20 space frame, with identical suspension, wrapped neatly in a fiberglass body. The 23 was initially intended for engines of 750 cc to 1300 cc and the revised 23B featured a stronger chassis tubes to take the torque of Ford-based 1.5/1.6 liter Lotus Twincam power plants.

In May of 1962 the Lotus Type 23 was debuted at the Nordschleife, Nürburgring. The Type 23 is one of the most popular sports racers in Lotus history. Its debut was one of the most astonishing drives ever seen in motor racing and at the end of the first lap, the diminutive 100bhp Lotus was nearly 30 seconds ahead of the field. Produced from 1962 until 1964 the 23 was powered by Ford based engines, 1100cc and eventually by the Lotus Twin Cam. The Type 23 used Type 19 suspension, but with larger tanks. The Type 23 was commemorated by being used as the styling inspiration for the Lotus Elise Type 23.

The 70 k/w Type 23 sped away from the field with Jim Clark at the wheel. Clark was unfortunately overcome by exhaust fumes from a damaged exhaust manifold on lap 12 and was forced to retire. Two Lotus 23s were entered at Le Mans in June 1962, a 750 cc and a one liter 45ci and 61ci. The 23s were disallowed on technical grounds due to political pressure brought to bear by French teams. Colin Chapman was enraged and vowed that they would never again race at Le Mans, and Team Lotus has not entered the race since.

Despite these initial issues, the Lotus 23 proved to be a popular, competitive and durable little race car. More than 130 Type 23's were produced in three versions; the standard 23, 23B and 23C. These vehicles continue today to be a mainstay of vintage racing in both Europe and the United States.

Early on in the 1980's a small group of enthusiasts began to remanufacture parts which made it possible to restore an original Lotus 23. These parts are now easily available and it was about this time that a Register was established for the Lotus 23. Today that Register is pat of the Historic Lotus Register of the UK.

Today there are several sources of replicas of Lotus 23 cars with the Xanthos 23 being the most accurate reproduction of the original car and using the same design and materials as the 1960s original. The Xanthos is powered by Lotus twincam and is still constructed by Xanthos Sports Cars in the traditional way near Bristol, UK. The Noble 23 was a Lotus 23 replica created by Lee Noble with a wider track than the original which allowed for true two seater use. This replica was very successful in racing and more than 60 cars were produced using either Lotus twincam or Renault V6 engines. This version continues to be produced, first by Auriga Design and now by Mamba Motorsport.
By Jessica Donaldson
For more information and related vehicles, click
here
NEW VOLKSWAGEN GOLF R MAKES ITS U.S. DEBUT AT THE 2014 NORTH AMERICAN INTERNATIONAL AUTO SHOW
Most powerful production Golf ever for the North American market • New car has an estimated 290 horsepower, but is more fuel efficient than previous Golf R • EA888 TSI® 2.0-liter engine propels DSG® equipped Golf R from 0 to 62 mph in 4.9 seconds • Car features new 4MOTION® all-wheel-drive system • Golf R will go on sale in the U.S. in the first quarter of 2015 Herndon, January 8th, 2014 — The North American International Auto Show will see the U.S. debut of the latest Golf R, th...[Read more...]
VOLKSWAGEN'S NEW TURBO ENGINES AND 2015 GOLF ON DISPLAY AT THE SEMA SHOW
Tuned Jetta sedans featuring new EA888 turbocharged TSI® engines on display in Las Vegas; First North American tuned seventh-generation Golf debuts before market launch in 2014 Las Vegas, NV - With U.S. sales having more than doubled since 2009, Volkswagen continues its march to sustainable growth with the brand's most compelling lineup in its history and plans to add several exciting new products and innovations in the near future. Two significant enhancements to the VW lineup...[Read more...]
1954 24 Hours of Le Mans: A French Bull Runs to Victory at Le Mans
Everything needs to be right amongst drivers competing for victory in the 24 Hours of Le Mans. Not only do they need to share the car over the course of a whole day but their driving styles must compliment each other. In the case of the 1954 24 Hours of Le Mans there would be no better pairing than a calm, steady Frenchman and a wild Pampas bull from Argentina. Prior to the 22nd running of the 24 Hours of Le Mans, Maurice Trintignant had already achieved a career driving a vast number of diff...[Read more...]
Beechdean Motorsport Secures First Race Win For Aston Martin V12 Vantage GT3
Nurburg, 21 May 2012 – The new-for-2012 Aston Martin V12 Vantage GT3 celebrated its first competitive win this weekend (18-20 May), when Beechdean Motorsport snatched the landmark victory at the Nurburgring in the second round of the Avon Tyres British GT Championship. The ADAC Zurich Nurburgring 24 Hour support event comprised two one-hour-long races – one on Friday and one on Saturday – each taking in the 5.1km Grand Prix circuit. Beechdean's drivers Andrew Howard and Jonny Adam was...[Read more...]
1956 24 Hours of Le Mans: The Rise of Two Counts
The 1955 24 Hours of Le Mans would end up being the darkest day in all of motorsport when Pierre Levegh launched off the back of Lance Macklin's Austin-Healey and crashed into a barrier sending large portions of the car flying through the air acting like guillotines to the record crowd crammed along the main straight. It would be estimated that more than eighty would lose their life as a result, scores more would be severely injured. Yet, despite the graphic horror of the event the race would co...[Read more...]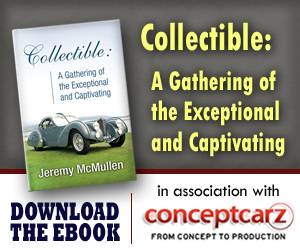 © 1998-2014. All rights reserved. The material may not be published, broadcast, rewritten, or redistributed.