1960 Jaguar MKIX news, pictures, specifications, and information

Tweet
| | |
| --- | --- |
| | Sedan |
The Jaguar Mark IX was unveiled at the Earls Court London Motor Show in autumn of 1958. This model was manufactured from 1959 to 1961 with just over 10,000 built. The big Marks were imported cars for Jaguar, epitomizing Jaguar's motto of 'Grace, Space and Pace' with luxury appointments rivaling Rolls and Bentley, but with more spirited performance at a lower price.

Visually it was nearly identical to its predecessor, the Mark VIII, however, mechanically much was updated. Engine capacity was increased to 3.8 liters with the adoption of the latest XK engine rated at 220 horsepower. Stopping power was updated to a servo-assisted Dunlop four-wheel disc brake system. A Burman power assisted steering system came standard as well as a three-speed Borg Warner automatic transmission that included an intermediate speed hold switch on the dash for hills and corners.

Mark IX suspension include double wishbones front end with torsion bars and a rear live axle with semi-elliptic springs providing a smooth, comfortable ride. The interior is finished in Connolly leather and walnut burl. The front doors include hidden compartments with tool kits for routine servicing.

Although they were large and heavy, the big Marks proved surprisingly successful in racing and rallying. Stirling Moss won the Monte Carlo Rally in 1956 driving a Mark VII Saloon.
Work on Jaguar's new saloon began in the pre-War II era, but it was not until 1950 that the design saw the light of day as the Mark VII. It featured a cruciform-braced chassis that had a torsion-bar independent front suspension and hydraulic brakes at all four corners. Power was from a 3.4-liter six-cylinder engine that had been powering the XK120 for years. Improvements and modifications followed with the Mark VIIM and VIII, followed by the MkIX in 1958. By this point in history, the 220 horsepower, 3.8-liter XK six was standard along with power-assisted steering and disc brakes. A choice of manual or automatic was available, with the automatic being the most popular. Production of the MkIX continued until 1961.

This example is finished in silver over black paint scheme. Power is from the 3.8-ltier straight six mated to a four-speed manual with overdrive. It was given a restoration several years ago followed by a mechanical refurbishment in 2006. It came into the care of the Oldenburg Family Collection in late March of 2006.

In 2013, the car was offered for sale at Bonhams Auction in Scottsdale, Arizona. As bidding came to a close, the car had been sold for the sum of $50,600 including buyer's premium.
By Daniel Vaughan | Mar 2013
Sedan
Chassis Num: 791772BW
Engine Num: NC5261-9
Gearbox Num: JB86518

Sold for $45,000 at 2014 Mecum.

This Jaguar Mark IX Saloon is a matching numbers, restored, black plate California car that was originally purchased in Los Angeles, California. It has a wood interior and fold down tables in the back seat and badge bar on the front grille. Power is from a 3.8-liter six-cylinder engine with 2 SU carburetors. There is a 4-speed manual transmission, 4-wheel servo assisted Dunlop disc brakes, and steel wheels with Firestone 6.5x18 wide whitewalls. The exterior is finished in Black and White with a Biscuit interior.
By Daniel Vaughan | Dec 2014
Life changed after World War II. After five years of war, Britain emerged worn-torn and weary, but ready to enjoy life. The technology of the war years was finding its way into the post-war racing scene and into car production. This turned a number of would-be passengers into drivers. And Jaguar was in a prime position to take advantage of this shift in thinking. The Jaguar MK IX represents one of the first and finest examples of the owner-driver luxury car.

Back in 1956, Jaguar introduced its big Mark VIII at the London Motor Show. Similar to the Mark VII, the new car's interior featured more luxurious appointments and fittings. The large, rectangular grille was accented by chrome and large headlights. This was a change from its predecessor. Chrome trim applied to the car's waist allowed Jaguar to create two-toned paint schemes, which further caused the car to be reminiscent of the more luxurious chauffer-driven cars like Rolls-Royce and others.

During the period of the big cats, Jaguar was also having success in sports car racing. Routinely, the company's sports cars were favorites at such races as the 24 Hours of Le Mans and other endurance events. This allowed the technology used in their sports cars to make it into their luxurious production cars. One of the first of the company's production cars to benefit from the company's racing pedigree was its Mark IX.

Introduced in 1959, the Mark IX replaced the Mark VIII, but, bore a striking resemblance to the car it replaced. The large, rectangular-shaped chrome grille remained for the Mark IX. It too offered chrome trim and two-toned paint schemes. Though bearing great similarity with its predecessor on the outside, the 'new' parts of the car were more noticeable inside the passenger compartment, and in areas less visible.

The interior was offered with a number of luxuriant appointments, including copious amounts of fine inlaid burl walnut, vat-dyed Connolly leather seats and doors, Wilton carpeting and a standard sunshine roof. Drawing from the company's racing success, the Mark IX was one of the first production cars to offer four-wheel disc brakes, developed by Dunlop.

Power for the 4,000 pound cat came from an enlarged 3.8-liter, 220 bhp dual overhead cam straight 6-cylinder engine. The power was delivered to the wheels by a Borg Warner three speed automatic gearbox. However, a four speed manual transmission and overdrive were offered as optional.

Ride comfort and handling was controlled through torsion bar independent front suspension and a leaf sprung live rear axle. Each of these suspension features were retained from its Mark VIII predecessor.

Besides the more important luxurious features, the large, 120 inch wheelbase also enabled the interior to be roomy and comfortable. It also allowed for a large, deep trunk. The deep trunk allowed for the car's spare tire to be fitted vertically inside of it, although taking away from the overall available trunk space.

Some of the car's more interesting features were found by exploring the number of recessed compartments around the car and by taking it for a spin, especially at night. A number of the recessed compartments would feature basic tools necessary to work on the car. The steering wheel had the ability to telescope. Interestingly, the Mark IX was fitted with black-light bulbs for the illumination of the dash. The rear seat passengers were able to enjoy twin picnic tables, a clock and a locking center cabinet.

Surprisingly, the big cat was also a solid performer. It could go zero to 60 mph in 11.3 seconds. The car had a top speed of 114 mph. The power and the disc brakes have also caused the Mark IX to become a common choice for Goodwood's 'Revival' meetings.

Nose to tail, Jaguar's Mark IX was and is a truly aesthetically pleasing car. But its true luxuriousness comes from seeing and feeling this big cat. The car's performance, ride, comfort and looks make it absolutely understandable why the Mark IX was able to compete with Rolls Royce and other luxurious automobiles. Comfortable at speed and on a slow drive in the summer sunshine, the Mark IX provided a truly wonderful way to experience and enjoy the world and life.

Sources:
'1960 Jaguar MK IX', (http://californiaclassix.com/archive/Jaguar_Mk9.html). CaliforniaClassix.com. http://californiaclassix.com/archive/Jaguar_Mk9.html. Retrieved 7 February 2011.

Wikipedia contributors, 'Jaguar Mark VIII', Wikipedia, The Free Encyclopedia, 30 December 2010, 13:38 UTC, http://en.wikipedia.org/w/index.php?title=Jaguar_Mark_VIII&oldid=404990868 accessed 7 February 2011

Wikipedia contributors, 'Jaguar Mark IX', Wikipedia, The Free Encyclopedia, 30 December 2010, 13:39 UTC, http://en.wikipedia.org/w/index.php?title=Jaguar_Mark_IX&oldid=404990913 accessed 7 February 2011
By Jeremy McMullen
The Jaguar Mark IX was produced for a short three years from 1959 through 1961 with just over 10,000 examples created. It was used as a replacement for the Mark VIII and was later replaced with the larger Mark X. The MK IX was very similar to the vehicle it replaced with the most visual changing occuring on the interior where it had been given a slightly modern facelift.

The Mark IX was powered by a 3.8 liter DOHC straight-six cylinder engine that produced adequate power to carry the vehicle along at respectable speeds. Four wheel disc brakes were standard along with the power steering.
By Daniel Vaughan | Feb 2011
For more information and related vehicles, click
here
Gooding & Company Adds Two Legendary Ferraris to Scottsdale Offerings Including a 1959 250 GT LWB California Spider
The two-day event will also drop the hammer on a 1962 Ferrari 400 Superamerica SWB Coupe Aerodinamico along with over a dozen other models from the Italian marque SANTA MONICA, Calif. (December 12, 2014) – Gooding & Company, the record-setting auction house acclaimed for selling the world's most significant and valuable collector cars, announced today the addition of two superlative Ferraris to its Scottsdale roster. New consignments include a 1959 Ferrari 250 GT LWB California...[Read more...]
Gooding & Company's Two-Day Pebble Beach Auctions Realizes More Than $106 Million
• 30 cars sell above $1 million
• 16 new auction records set for Ferrari, Aston Martin and Porsche marques
Pebble Beach, Calif. (August 18, 2014) – Gooding & Company, the auction house acclaimed for its world-class automotive auctions and record-breaking results, realized more than $106 million at its Pebble Beach Auctions over the weekend. During the two-day sale, the auction house sold 107 of 121 lots, which resulted in an 88% sale rate, with an average price of $990,...[Read more...]
Techno Classica 2014: more than 30 racing cars to celebrate 120 years of Mercedes-Benz motor racing history
•Cars that were the heroes of magical moments put their stamp on this high-powered, most comprehensive show presentation •With more than 30 vehicles, Mercedes-Benz Classic presents motor racing history in all its unique breadth and depth •120 years of Mercedes-Benz motor sport in the focus of the leading international classic motor show 120 years of Mercedes-Benz motor racing history have produced a timeline of extraordinary victories which since 1894 also stand for outstanding innovations ...[Read more...]
BARRETT-JACKSON'S 43RD ANNUAL SCOTTSDALE AUCTION PROVES TO BE THE MOST SUCCESSFUL IN COMPANY HISTORY, EXCEEDING $113 MILLION
Barrett-Jackson Hosted Top-Tier Celebrities, Auto Legends, Auctioned the World's Most Sought-After Blue Chip Vehicles, Awarded Two Guinness World Records and Set World Records for Rare Corvettes and Thunderbird HIGHLIGHTS: • 1399 cars sold • Over $113 million gross sales • An estimated 300,000 attendees • 14 vehicles sold to benefit various national and local charities SCOTTSDALE, ARIZ. (Jan. 21, 2013) – Barrett-Jackson, The World's Greatest Collector Car Aucti...[Read more...]
Goodwood Festival of Speed 2013: auction of Mercedes-Benz W 196 R one of highlights at world's 'largest motorised garden party'
• Mercedes-Benz Classic presents great moments in motor-racing history at Goodwood • Motorsport festival celebrating its 20th anniversary • Auction of only privately owned post-war Silver Arrow by Bonhams sure to cause a stir Stuttgart – This year's Goodwood Festival of Speed in West Sussex, England, includes the auction of a Mercedes-Benz Type W 196 R Grand Prix racing car on 12 July 2013. The auction will be one of the highlights of a weekend dedicated to motor sport. Mercedes-Benz...[Read more...]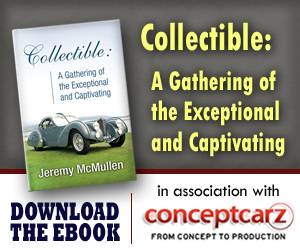 Jaguar
Monthly Sales Figures
Volume
December 2014
1,683
November 2014
1,253
October 2014
1,007
September 2014
1,142
August 2014
1,184
July 2014
1,187
June 2014
1,263
May 2014
1,304
April 2014
1,035
March 2014
1,816
February 2014
1,552
January 2014
1,347
(More Details)
© 1998-2014. All rights reserved. The material may not be published, broadcast, rewritten, or redistributed.