1966 Austin-Healey 3000 news, pictures, specifications, and information

Tweet
The Austin-Healey 3000 Mark III introduced in 1936 is one of the 1950's most endearing British Sports Cars. This model is probably the most popular big Healey.

The car has roll-up windows and a true convertible top, which is really weather proof. This model also introduced the walnut burl wood dash. This model also offered power-assisted brakes, bigger carburetors for more power, and a soft ride.
This 1966 Austin-Healey 3000 BJ8 MKIII Sports Convertible was offered for sale at the 2007 RM Auctions in Amelia Island, Florida. It was estimated to sell for $65,000-$85,000 and offered without reserve. The car is powered by a 2912-cc overhead valve inline six-cylinder engine that produces 150 horsepower. There is a four-speed manual gearbox and Girling front disc brakes.

In July of 1959, the first production Austin-Healeys appeared with the 2912-cc engine with a body built by Jensen. Top speed was 114 mph from the 124 horsepower engine. The Mark III BJ8 had a modified engine which included twin SU two-inch HD8 carburetors that raised the horsepower to 150 and top speed to 120.

In 1962, 2+2 seating was implemented improving upon the cars practicality; two years later, the cars interior was completely redesigned. Girling disc were also added which continued the vehicles sporty characteristics and performance.

This Austin-Healey finished in black with a red interior has been treated to a complete restoration which was completed in 2006. The car has been carefully maintained and driven 1500 miles since that restoration.

At auction, the car did find a new owner, selling within the estimated value, and netting $66,000.
By Daniel Vaughan | Mar 2007
This 1966 Austin-Healey 3000 MKIII Phase 2 was offered for sale at the 2007 Christie's Auction of 'Exceptional Motor Cars at the Monterey Jet Center.' It is finished in Cobra 'guardsman' blue with blue leather interior and blue soft top. Power is from the six-cylinder engine with overhead valves and twin SU carburetors. The nearly 150 horsepower is sent to the rear wheels with the help of a four-speed manual gearbox with overdrive. Disc brakes are in the front and power-assisted hydraulically operated drums are in the rear.

This car has two-plus-two seating, roll-up windows, varnished timber dashboard and bucket seats. It used to be owned by singer Alan Jackson and was well cared for while in his possession.

At auction this car was offered without reserve and estimated to sell for $60,000 - $80,000. The estimate proved to be accurate, as a buyer was found and the lot was sold for $68,200 including buyer's premium.
The Austin Healey 100 was introduced in October of 1952 at the Earls Court Motor Show. The first Austin Healey 100's were known as 100-4 or BN1. The name 100 came-about by being able to break the 100 mph barrier. The BN also had meaning. The B represented the engine class which meant it had between 2000 and 3000 cc. The N represented the body-style configuration, two-seat and open-top. The 100 was powered by a A90, 2660 cc, four-cylinder engine capable of producing 94 horsepower. The manual three-speed transmission was also borrowed from the A90. However, the first gear was blocked off and was fitted with overdrive on the second and third gears to provide extra power.
The name 'Austin Healey' was formed by a partnership comprising of the designer, Donald Mitchell Healey, and the manufacturer, Austin.

During its total production cycle, 10,688 examples of the BN1 were produced.

In October of 1955, the BN2 was introduced. The BN2 was similar to the BN1 in design but now featured larger drum brakes and a new four-speed transmission with overdrive.

During its production run, 3,924 examples of the BN2 were produced.

The Austin Healey 100S was produced in limited numbers, only 55. Their primary purpose was for competing in racing and rally events as well as for development and marketing purposes. They were entered into races such as Sebring, Mille Miglia, and Le Mans. They were copies of special factory test car that Stirling Moss raced in the 1954 12-hour Sebring race where he placed third. The 100S's were produced at the Healey Warwick factory and most were decorated with the American racing colors, white and blue. Of the 55 that were built, only 10 remain unaccounted for. The 100S, when compared with the 100, featured Dunlop disc brakes on all four wheels, different cylinder head and internal engine modifications, four-speed gearbox without overdrive, and a light-alloy body shell.

The 100S was followed by the 100M. The 100M was a Le Mans variation of the BN2 with an increased horsepower rating of 100-110. It featured bigger carburetors and modified distributor. Valve springs and anti-roll bars were added to the suspension. During its production run, 1100 of the Le Mans BN2's were produced.

Over time, about 100 BN2 were later modified but in order to qualify for the Le Mans configuration the vehicles needed to meet specific standards. These standards included a 1.75 inch H6, SU carburetors, cold air box and air tube, Le Mans regulation strap and a factory style louvered hood.

The four cylinder engine was used from 1952 through 1956, after which a BMC six-cylinder engine was used. The car was dubbed the '100 Six'. Three years and a few engine modifications later, the car was named the '3000' and today is known as the 'Big Healey'. Over the production lifespan of the 3000, it could be assembled with multiple options such as a two-seater or 2+2, hard-tops, single or duo-tone paint schemes, overdrive, and more.

In 1962 the body was redesigned with a curved screen and wind up windows. The interior of the vehicle was revamped in 1964 and also received more ground clearance.

The 3000 was produced from 1959 through 1968. The original engine produced 124 horsepower and was capable of about 114 mph. Modifications to the engine throughout the years increased the horsepower to around 148 and the top speed to 121 mph. The size of the car, the power of the engine, and weighing in at around 2400 lbs made this car responsive, competitive and fun to drive.

In all, there were around 73,000 100's and 3000's produced with 58,000 featuring the six-cylinder engine.
By Daniel Vaughan | Mar 2006
Russo and Steele Exceeds $12M Monterey!
Scottsdale, Arizona (August 21, 2014) – After a thrilling week of camaraderie and cars down by the waterfront at Fisherman's Wharf in beautiful downtown Monterey, we are now busy closing the books on our fourteenth annual Monterey auction event. Russo and Steele Collector Automobile Auctions wish to thank all of our buyers, consignors, friends, family, sponsors and vendors for making the event so very special for us all. To briefly recap, Russo and Steele's 2014 Monterey auction event...[Read more...]
KIA MOTORS' GT4 STINGER CONCEPT AND 2014 SOUL EARN INTERNATIONAL DESIGN EXCELLENCE AWARDS
◾The Industrial Designers Society of America presents Kia with two IDEAs, honoring design excellence in Transportation category ◾Kia receives IDEA Silver for the sleekly sculpted GT4 Stinger concept car and IDEA Bronze for the distinctively hip 2014 Soul IRVINE, Calif., July 17, 2014 – Kia Motors has built a reputation for world-class design over the last several years, and recently, the Industrial Designers Society of America (IDSA) has added to the Korean brand's renown with a pair...[Read more...]
Auctions America Continues Successful 2013 Season with its Annual Fall Carlisle Sale
• Auctions America rounds out its 2013 auction season in Carlisle, Pennsylvania, October 3-4 • Two-day Fall Carlisle sale, held in conjunction with the Carlisle Events Collector Car Swap Meet & Corral, features a diverse roster of 300 classics, exotics, muscle cars, hot rods, and customs • Auction highlights include a desirable 1967 Chevrolet Corvette 427/435 Roadster, a 1969 Chevrolet Camaro Z-28 RS Sport Coupe, and a 1960 Mercedes-Benz 190SL Roadster • Full event details and a frequentl...[Read more...]
SUBARU ANNOUNCES 2014 BRZ PRICING
• BRZ sales up 200 percent YTD over 2013 Cherry Hill, N.J. - Subaru of America, Inc. today announced pricing for the 2014 BRZ. Starting at $25,595, the BRZ lineup focuses on the fundamentals of great sports car design: low vehicle weight, an ultra-low center of gravity and precision steering. Sales of the Subaru BRZ remain strong and were up 41 percent in June and up 200 percent year-to-date, bolstering record-setting corporate sales for the first half of the year. With sales up 2...[Read more...]
Buyers in abundance for another strong sale at Brooklands
Amidst some speculative recent market results, the heat was on Historics, but with Brooklands bathed in sunshine, the classic and sports car auctioneer again delivered another strong sale. In total 60 of 103 vehicles were seen away for a sale ratio of 58% and a final sale figure of £1,159,070. As pre-sale publicity predicted, Bentley's blazed a trail, with the star of the show an R-Type Coupé by Abbott of Farnham, which sold for £100,000. A 1937 4¼ litre Sports Special sold for £47,500, wh...[Read more...]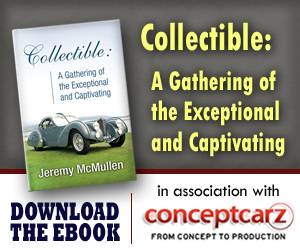 © 1998-2014. All rights reserved. The material may not be published, broadcast, rewritten, or redistributed.