1965 Sunbeam Tiger MK1 news, pictures, specifications, and information

Tweet
The Tiger was produced from June 1964 to June 1967. This is the 33rd car produced out of production run of 7,067 units. The owner purchased this car in February 2000. The restoration took three years to complete.

The car has a Ford 260 cubic-inch V-8 engine, transmission is a Borg Warner T10 4-speed. Period correct options include: Induction Kit, Engine Dress-up Kit, Aluminum Oil Pan, Traction Bars and a 2 inch exhaust system.
The Sunbeam Tiger is a British classic sports car made by Rootes Group, England. In 1964 Carroll Shelby was hired to remove the 1.7-liter four-cylinder engine and replace it with a small block Ford V8, similar to the transformation of the AC Cobra. Unfortunately in 1967, Chrysler purchased the Rootes Group and they were not pleased that their most popular sports car, the 'Sunbeam Tiger' was powered by Ford engines. Production ended in 1967 with a total production of less than 7,000. The MKI Sunbeam Tiger, which this is one of, was first built in 1964 and delivery began in 1965.

This Tiger was originally delivered to Cincinnati. The first owner successfully rallied this car in the local sports car activities. This car was purchased from the original owners in 2004.
This Sunbeam Tiger has been restored to European Specification production race car standards with full F.I.A. Certification. This Sunbeam Tiger is unusual because of its racing evolution. It started life in California as an autocross car. Purchased by current owner in mid-1970s in Colorado and driven in local club events. Moved to vintage racing in1983. Class winner at inaugural Steamboat Springs Vintage Races (1983) and Dallas Grand Prix Vintage Races (1984). It was vintage raced in Europe in the mid-1990s, including 'Old Timers' Grand Prix' in Germany. 2007 was the cars second appearance at the Monterey Historics.
Sunbeam is of British manufacture and became part of Rootes Group in 1935. The Alpine name was introduced in 1953. The coachwork was re-designed in 1959 with the introduction of the all new Series I and the Alpine would see five Series before production ceased in early 1968.

The concept of the Tiger is attributed to Carroll Shelby when asked to build a prototype. The chassis and body platform is that of a Series III Alpine and drivetrain is a small block Ford developing about 275 horsepower. The Alpine was discontinued with Chryslers' purchase of Rootes Group in 1967 and inability to fit a bigger Chrysler engine in the car.
The Sunbeam Tiger was not a new idea; it was a concept that had been well practiced for many years. The Tiger was powered by a high-horsepower American powerplant in a British body. Jack Brabham, who had campaigned Sunbeam Alpine cars with much success in the fall of 1962, suggested a Ford V8 engine should be installed in the Alpine. The work was handled by Carroll Shelby, who selected a 260 cubic-inch Ford Fairlane small-block V8, and installed it in the small engine bay of the Alpine. A prototype car was put on display in April 29, 1963. The car featured a stout anti-sway bar and a transmission that had been modified by hot rodder Doane Spencer. After 40,000 miles of testing, the project was pitched to company head Lord Rootes.

This Tiger Mark I was one of the first 250 examples to roll of the assembly line of contractor Jensen Motors. The car has a removable hardtop and the original engine has been bored and stroked to increase its displacement to 289 cubic-inches. The car now has a top speed of 122 mph and a zero-to-sixty time in just over eight seconds.

The car has been given an extensive restoration that included a complete rebuild of the car's engine and transmission. The car has period-correct black carpets and upholstery, and a dark-blue paint scheme. The car has accumulated only 38,000 miles.

In 2010, this Sunbeam was offered for sale at the Gooding & Company auction held in Scottsdale, Arizona. It was estimated to sell for $50,000 - $75,000 and offered without reserve. As bidding came to a close, the lot had been sold for the sum of $44,000, including buyer's premium.
By Daniel Vaughan | Feb 2010
The Sunbeam Alpine was an attractive but anemic British roadster produced by the Rootes Group. Needing a quick performance boost, they looked for an American V8 to stuff in the engine bay. Being already affiliated with Chrysler, the first choice was the Mopar 273. Unfortunately it did not fit so the Tiger was always powered by a Ford V8, first the 260 and then the legendary 289.

Other modifications were necessitated to deal with the additional power and weight. Rack-and-pinion steering was fitted, the chassis was braced and a Ford-supplied four speed transmission was standard.
| | | |
| --- | --- | --- |
| | | Sport Roadster |
The Rootes Group, which owned the Hillman, Humber, Singer and Sunbeam, and Commer (truck) brands, built 7,085 Tigers between 1964 and 1967 in the Jensen Motors' West Bromwich, UK assembly plant. Simply put, the Tiger is a Series IV, then Series V, Sunbeam Alpine with a Ford 260, then 289 cubic-inch, Windsor V8 motor replacing the Rootes 1.6-liter, inline 4-cylinder. All the idea of West Coast Sales Manager, Ian Garrad and Western Service Manager, Walter McKenzi, inspired by one Carroll Shelby and his Cobra, the Tiger is now highly sought after although it was a hard sell when current. When Chrysler bought Rootes they quite the program.
Rootes Motors produced just over 7000 Tigers in nearly five years, and when sold to Chrysler, the model was quickly axed as much for poor sales as the fact it sourced its motor from Ford and had no suitable replacement. Chrysler's own small-block V8 had the distributor at the wrong end.....so it would not fit. But today these now rare cars are treasured with some intensity. In 1965 one Tiger advertisement bragged 'Art Arfons...world's fastest sports car for $3,499.' An interesting and ambitious claim, of course. Sunbeam's Alpine MkIV sold over 12,000 units at $2,399 in the USA in 1964 through 1966.
Thomas Harrington Ltd was a British coachbuilder that built a small number of fastback Le Mans Coupe bodies for Sunbeam Alpine chassis during the early 1960s. One of those bodies was built for the Sunbeam Tiger. The Tiger was fitted with a Ford V-8 engine and was famously developed with the assistance of Carroll Shelby and Ken Miles.

This car was reportedly a factory development prototype that had been built based on future safety concerns about open-top models. It was also built with competition in mind. Tiger Production, however, came to an end and the Tiger Le Mans Coupe remained a one-off.

This car was found in England in 1982. The car was brought to California where it remained in its original condition for seven years, before being treated to a restoration which took two years to complete. The restoration won Second in Class at the Pebble Beach Concours d'Elegance in 1990, narrowly finishing behind Gary Wales's famous Figoni et Falaschi-bodied Bentley!

The car is original but with a few modern modifications. The upgrades include the high volume/high-pressure oil pump, modifying the heads for unleaded fuel, converting the original distributor to electronic switching, and adding a larger radiator with a five-blade fan and a 350-CFM Holley carburetor. The engine is a 260 cubic-inch overhead valve V-8 fitted with a four-barrel carburetor and offering 165 horsepower. There is a four-speed manual transmission with disc brakes in the front and drum hydraulic brakes in the rear.
By Daniel Vaughan | Jan 2015
Lord William Rootes of Ramsbury created the British based Sunbeam/Rootes Coventry Company after extensive experience gained from the Singer Company. He had been actively involved in automobile racing and development for a number of years. In 1926 a Sunbeam powered by a 12-cylinder engine and driven by Sir Henry Seagrave had set the land speed record at 152.3 mph.

The Sunbeam Tiger is probably most famous for its staring roll in the TV series 'Get Smart', created by Mel Brooks and Buck Henry. The main character, Maxwell Smart, drove the vehicle to Control each week where he was given his assignment. Agent 86, er Maxwell Smart, received attention where ever he went, thanks in part to the stylish vehicle that accompanied him.

The Sunbeam Tiger continued the long tradition of putting a large American engine in a small European car. Others, such as the Nash-Healey and Facel Vega had done this before. The most celebrated success of this unique combination would have to be the Shelby Cobra where, under the direction of Carroll Shelby, a Ford V8 was planted in a AC Ace.

In 1959 the two-seater Sunbeam Alpine was introduced by the Rootes Group. Under the hood was a 1494 cc four-cylinder engine mated to a transmission featuring overdrive. The small engine was barely enough to compliment the stylish and sporty body. Ian Garrad, an individual involved in the US Sunbeam/Rootes Group, realized that the power of the AC Ace could be transplanted into the Sunbeam Alpine. Most of the engines he tried to install were too larger for the Alpines engine bay. He struggled to find an appropriate engine that was also backed by manufacturer support. He found it in the Ford Falcon 260 cubic-inch 8-cylinder engine.

Garrad approached the road racing legend Ken Miles and infamous Caroll Shelby for help with this project. Both agreed and began work separately in their own shops. Shortly there-after in May of 1963, the two prototypes were ready.

The prototype developed by Ken Miles retained the recirculation-ball steering and many of the Alpine's mechanical components. Shelby's approach was different, moving the engine father back in the engine back to capitalize on better weight distribution. The firewall and transmission tunnel were modified to accommodate the large engine. A rack-and-pinion steering unit replace the recirculation-ball unit and the prior transmission was removed in favor of a four-speed manual gearbox.

After vigorous testing and multiple road-trips the vehicle was sent to Lord Rootes for his approval. After further testing the project was code-named 'Thunderbolt' and further testing and development was performed on the vehicle. The chassis and suspension was straightened to compensate for the large V8 engine. This strengthening added to the overall weight of the vehicle, but with a total curb weight of just 2560 pounds, the horsepower-to-weight ratio was still phenomenal. With 164 horsepower under the hood, the vehicle was able to go from zero-to-sixty in just 7.8 seconds. If that was not enough, Shelby and Rootes offered aftermarket products that improved the engines performance resulting in 245 horsepower. The four-speed manual was standard but an optional automatic was available for an extra $500.

In honor of the land speed record accomplishment by Seagrave, the vehicle was named Sunbeam Tiger. It was debuted at the New York Auto Show where it was offered for less than $2300.

The vehicle was a success but troubles in Europe led Rootes to the Chrysler group for financial support. The Rootes Companies employees were striking, production was slow, and so was the cash flow. Chrysler stepped-in, acquiring over 83% of the company. The production of the Tiger continued through 1967 but Chrysler was not enthusiastic about offering a Ford-powered vehicle. The Mark II version appeared which offered a larger engine, the result of enlarging the bore and stroke resulting in a 289 cubic-inch capacity. Shortly after the Mark II introduction, the production of the Tiger ceased.

During its production lifespan 7067 examples of the Sunbeam Tiger were created.
By Daniel Vaughan | Oct 2006
For more information and related vehicles, click
here
RM SECURES ONE OF THE MOST SIGNIFICANT FORD GT40S IN EXISTENCE FOR ITS FLAGSHIP MONTEREY SALE
• RM Auctions lifts gavel on a multi-million-dollar 1965 Ford GT40 Roadster Prototype, chassis GT/108, at its highly anticipated Monterey sale, August 15–16 in California • Fresh to the market following more than two decades in single-ownership, GT/108 served as a Ford/Shelby American development/demonstrator vehicle in the 1960s and was driven by the likes of John Whitmore, Dickie Atwood, Ken Miles, and Carroll Shelby • The GT40 Prototype leads an exceptional series of more than 100 blue-chip...[Read more...]
SHELBY AMERICAN COMMEMORATES 50TH ANNIVERSARY FIA COBRA WITH SPECIAL EDITION CAR
• Iconic Shelby FIA Cobra to be Celebrated
Scottsdale, Ariz. – Jan. 17, 2014 – In 1964, Shelby American, today a wholly owned subsidiary of Carroll Shelby International Inc. (CSBI:PK) introduced the FIA version of the small block Cobra, which competed in the 1964 World Manufacturers Championship series against marques like Aston Martin, Jaguar and Corvette. To celebrate the birth of the 289 Ford powered roadsters, Shelby American will offer 50 limited edition continuation (CSX70...[Read more...]
Extremely Significant, Early Shelby Cobra Roadster an Exceptional and Early Headline Consignment to Russo and Steele's Upcoming Monterey Auction
Scottsdale, Arizona – With his AC Ace-derived, Ford-powered Cobra, Carroll Shelby and his racing team spearheaded Ford's 'Total Performance' campaign of the 1960s on the world stage and ended Ferrari's dominance of the World Sportscar Championship for GT cars by 1965. This stellar example, CSX2012, is particularly significant as the first Cobra sold to the public from Shelby American's West Coast operations in Venice, California. With highly documented and fascinating history including its...[Read more...]
Barrett-Jackson Flavors Its January Scottsdale Auction With NASCAR Treats
• RACING HERITAGE, HIGH PERFORMANCE ARE RECIPES FOR CAR-COLLECTING FEAST
• SPEED™ SET FOR 39 HOURS of LIVE COVERAGE STARTING JAN. 15
The great Henry Ford once said, 'Auto racing began five minutes after the second car was built.' And for more than 60 years, there are few entities that better represent auto racing in America than NASCAR. From the hallowed grounds of Daytona International Speedway, to Sonoma, California's intricate and picturesque road course, the sp...[Read more...]
Four Magnificent Motorsport Legends Return to the Public Eye at Gooding & Company's Pebble Beach Auctions
Gooding & Company, the acclaimed auction house celebrated for selling the world's most significant and valuable collector cars, is proud to announce that it will present four magnificent motorsport legends – a 1928 Bentley 4 1/2 Litre Le Mans Sports 'Bobtail' team car, the 1964 Ford GT40 Prototype 104, a 1955 Ferrari 857 Sport and a 1960 Porsche RS60 Spyder – at its Pebble Beach Auctions on August 18 and 19, in association with the prestigious Pebble Beach Concours d'Elegance. Originating in fou...[Read more...]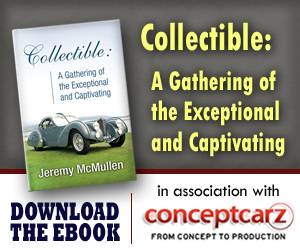 © 1998-2014. All rights reserved. The material may not be published, broadcast, rewritten, or redistributed.