1959 Austin-Healey Sprite Mark I news, pictures, specifications, and information

Tweet
The Sprite was designed to be a low cost sports car. To keep costs down the car has no exterior trunk lid, no door handles and was based on an Austin sedan. The raised headlights were responsible for the 'Bugeye' name. The original selling price was approximately $1,820. Austin-Healey produced 21,566 Sprites in 1959, followed by 18,665 the following year.

The four-cylinder engine produced 43 HP and a downwind top speed of 70 MPH.
This 1959 Austin-Healey Bugeye Sprite Mark I was offered for sale at the 2007 Sports and Classic Car Auction presented by The Worldwide Group, in Hilton Head Island, SC where it was estimated to sell for $25,000 - $35,000. It is powered by a four-cylinder engine that displaces 948 cubic-centimeters and capable of producing around 43 horsepower. There is a four-speed manual gearbox and a suspension comprised of coil springs and wishbones.

This example was imported into Canada in early 1959. Its first owner retained the car until 1974, upon which time it was sold to a second Canadian owner. This owner cared for the car until 1993. The third owner began a restoration that concluded in 1998. Since that time it has been kept in a climate controlled storage. It is finished in the original factory color of Iris Blue with matching and correct interior of black. It is equipped with a complete factory tool kit, correct factory soft top with side curtains, and the optional factory tonneau cover.

The interior is one of the only few modifications this car has been given. It is a Mark II interior which offered more comfort and support for the occupants.

The Austin-Healey Sprite was designed by Donald Healey and was produced beginning in 1958. It was an alluring car with a low cost price tag and ample performance features. Power was from a tuned version of the Austin A-Series engine and borrowed many of its mechanical components from existing cars which aided in keeping the costs to a minimum.

The Mark I Sprites were known as the Frogeye in the U.K. and the Bugeye in the United States due to its unique front end with headlights mounted on top of the center hood. This was not part of the original design; in-fact, they were originally to be mounted into the front of the car so they could 'flip-up' while in use. They would face skyward when not in use.

The frontal area was all one-piece and hinged from the back. It swung up allowing ample access to the engine compartment. There were no exterior door handles. To open the door, one had to reach inside and use the internal lever to operate the door. there was also no trunk lid. To gain access to the trunk and to the spare wheel, the seats backs had to be tilted forward.

At auction this vehicle found new ownership, selling for the low end of the estimated value, and fetching $25,300.
By Daniel Vaughan | Nov 2007
The Austin-Healey Sprite was produced from 1958 through 1971 with 129,347 examples of the two-door, low-cost, open roadster being produced. The car was designed by the Healey Motor Company, more specifically Donald Healey, and produced in partnership with the British Motor Corporation.

There were four series of the Sprite. The first series was produced from 1958 through 1961 with around 49000 examples being produced. In the United States, these were given the nickname Bugeye while in the UK they were called Frogeye. The name evolved from the headlights mounted on the top of hood resembling a frog and/or bug. Concealed flip-up headlamps were in the original drawings but high production costs canceled those plans. The body was very smooth and flowing. There were no door handles; to open the door, the inside handle would need to be operated. This meant that the doors could not be locked. The trunk did not open - to gain access to the trunk the back seats would need to be folded down. Housed inside the trunk was the spare tire. The entire front hood hinged upwards, allowing easy and convenient access to the engine.

The mechanics were borrowed, in an effort to save production costs, from a number of vehicles already in production. The suspension was from the Austin A-35 while the engine was courtesy of the Morris Minor. The 948 cc engine was based on the Morris Motor Company A-series but fitted with dual SU carburetors increasing the horsepower from 37 to 43. Coil springs and wishbones were in the front while the rear was a semi-elliptical leaf spring configuration. A rack-and-pinion steering unit controlled the car, drum brakes provided the stopping power, and a four-speed manual gearbox sent power to the rear wheels.

The second series, the Mark II, was produced from 1961 through 1965. The 948 cc engine continued to power the car until 1964, with an optional 1098 cc A-series engine coming available in 1962 and lasting until 1964. The 1098 cc engine produced nearly 60 horsepower and had the same bore and stroke as the Morris Minor 1000. Front disc brakes were fitted on vehicles with the larger engine. Wire wheels were optional equipment.

The lights were the largest change with the rear headlights sharing the same design as the soon to be produced MGB. The front headlights were repositioned causing controversy with their faithful supporters. Also controversial was the newly introduced rear bumper bar.

The Sprite Mark III was produced from 1964 through 1966 with nearly 26,000 units produced. The Mark III is also known as the Mark II MG Midget. There were little changes to this version in comparison to the prior versions. Wind-up windows and exterior door handles were much-welcomed luxury items. The rear suspension was changed to a fully elliptical leaf spring configuration. A new grille adorned the front while the body detailing changed slightly.

The tried-and-true 1098cc engine remained, though it now had a stronger block casting and the size of the crankshaft main bearings was increased. The 1098 cc engine continued to be produced until 1966. It was replaced by a 1275 cc four-cylinder engine that produced 65 horsepower. This version was dubbed the Mark IV which remained in production from 1966 through 1971.

There were a total of 22,790 examples of the Mark IV produced. The MKIV's cousin was the Mark III MG Midget; both saw cosmetic changes over the versions they replaced. Some were minor aesthetic updates and others were more substantial. Probably the most significant was the change to a permanently-affixed roof, in place of the removable convertible top.

The Sprite was a popular vehicle because it was small, sporty, and very economical, with the original versions costing about $2000. They were easy to maintain and had superb handling. Though zero-to-sixty took about 21 seconds and top speed was just under 80 mph, this was respectable for a 1960's vehicle.

Most of the Sprites were exported to the United States. They often differed from their European counterparts as the US versions were forced to comply with safety restrictions and federal emission control requirements.
By Daniel Vaughan | Jul 2008
For more information and related vehicles, click
here
Low Mileage Collectables offered at Fort Lauderdale Auction
• Auctions America kicks off its 2014 collector car calendar March 14-16 in Fort Lauderdale • Leading recent entries are fantastic low mileage examples including a 2005 Ford GT, a 2006 Ford GT Heritage Edition, a 1954 Chevrolet Corvette and a 1967 Chevrolet Corvette 427/435 Coupe • Additional vehicle highlights include a 1973 Ferrari 365 GTB/4 Daytona, a 1971 Ford Mustang Mach 1 and a 1935 Hudson Terraplane driven by Johnny Depp in the movie 'Public Enemies' • Regarded as South Florida's pre...[Read more...]
Holden Celebrates 35 Years of Commodore
Holden is celebrating the 35th anniversary of its most iconic nameplate, Commodore. For over three decades, the Holden Commodore has delivered significant advances in vehicle performance, safety and comfort on the way to becoming Holden's longest-standing and most successful nameplate. Holden Executive Director, Vehicle Sales, Service and Marketing, Phil Brook, said Holden was extremely proud of Commodore's success. 'There are not many nameplates in Australia that can lay claim to a ric...[Read more...]
Auctions America Continues Successful 2013 Season with its Annual Fall Carlisle Sale
• Auctions America rounds out its 2013 auction season in Carlisle, Pennsylvania, October 3-4 • Two-day Fall Carlisle sale, held in conjunction with the Carlisle Events Collector Car Swap Meet & Corral, features a diverse roster of 300 classics, exotics, muscle cars, hot rods, and customs • Auction highlights include a desirable 1967 Chevrolet Corvette 427/435 Roadster, a 1969 Chevrolet Camaro Z-28 RS Sport Coupe, and a 1960 Mercedes-Benz 190SL Roadster • Full event details and a frequentl...[Read more...]
Auctions America Readies for Highly Anticipated Spring Carlisle Collector Car Weekend
• Auctions America returns to Carlisle, Pennsylvania for its annual Spring Carlisle sale, April 25-26 • Two-day sale lifts the gavel on a diverse roster of approximately 300 quality collector cars • Notable highlights include a rare 1959 Chevrolet Corvette 'Big-Brake' Fuel-Injected Roadster, a 1970 Chevrolet Chevelle SS LS5 Convertible and a 1999 Bentley Azure Convertible • Sale held during Carlisle Events' highly anticipated Spring Carlisle Collector Car Swap Meet & Corral weekend, April 24...[Read more...]
VICARI AUCTION COMPANY OFFERS RARE '62 & '63 Z06 CORVETTES AT 2013 CRUISIN' NOCONA
In a recent rare find, two classic Chevrolet Corvettes (one '62 and one '63) - stored for decades-are being made available by the Vicari Auction Company. Both vehicles will cross the block during 2013 Cruisin' Nocona, a north Texas collector car auction and classic car poker cruise set for April 19th and 20th in historic Nocona, Texas. The Corvettes are virtually all-original, and have been stored in Texas by a classic-vehicle aficionado and collector since the 1980s. 'These...[Read more...]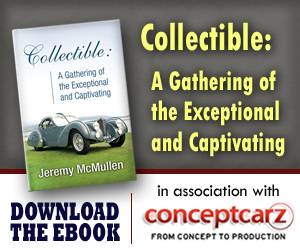 © 1998-2014. All rights reserved. The material may not be published, broadcast, rewritten, or redistributed.