1971 Plymouth Road Runner news, pictures, specifications, and information

Tweet
This is the car Richard Petty drove to the 1971 Winston Championship. He also drove this car to victory at the 1971 Daytona 500, as well as 20 other victories. This car put Richard over the $1,000,000 earnings for the first time in his career and also made him the very first NASCAR driver to ever win over $1,000,000 in NASCAR history. This car also accompanied King Richard to the White House after an invitation from then President Richard Nixon. It carried the STP sponsorship and STP red colors for the 1971 and 1972 seasons. It had an astounding 21 wins. This is the last Plymouth 426 Hemi sponsored car, as the next Petty race car was the 1973 Dodge Charger.
The Plymouth RoadRunner was developed as a mid-priced car and was placed between the Satellie and Belvedere model line up. It was built on the B-body platform. The RoadRunner was light and featured few amenities. This not only drove the price of the vehicle into territory that most could afford, but it gave an advantage over heavier vehicles. The front and back seats were both bench. There was no radio, no air conditioning, no cruise control, no trim, and very few color options. Most of the options available favored speed and acceleration.

It was a solid car and a favorite among moonshiners. It was faster than most police vehicles and due to its sturdy construction, was very reliable.

The RoadRunner came equipped with a 383 cubic-inch V8 engine capable of producing 335 horsepower. A four-speed manual transmission was standard equipment. For about $715 dollars, a 426 Hemi could be added making it the fastest vehicle on the road.

Plymouth paid Warner Brothers $50,000 to use the Road Runner cartoon image. Due to short production time, the decals were grey. Along with the image, the horn went 'beep-beep'.

In 1968, Plymouth sold 45,000 examples.

In 1969, bucket seats became available. The decals were now in color. A convertible option joined the line-up. An inexpensive engine, when compared to the Hemi, became available. This was a three-two barrel carbureted, 440 cubic-inch V8, dubbed the 440 Six Pack. Nearly 90,000 RoadRunners were sold during 1969.

In 1970, an Air Grabber hood was added. Operated by remote control from the passenger compartment, this would open and close a vent in the hood, creating a hood scope. The three-speed manual gearbox became standard while the 4-speed was now offered as optional equipment.

Due to increasing government safety regulations and emission controls, the engines began to decrease in size during the 1971 model year. Fuel prices and insurance costs also contributed to the demise of the horsepower. The four-barrel 440 cubic-inch engine was no longer offered. The horsepower ratings for all engines decreased. The wheelbase of the vehicle decreased from 116 inches to 115. The convertible was no longer offered. A little over 14,000 examples were sold in 1971.

In 1972, 340 cubic-inch V8 engine was now available. This engine was powerful and light. Less than 7,630 Road Runners were sold during the 1972 model year.

In 1973, a 318 cubic-inch engine was standard, producing 170 horsepower. The 440 and 400 cubic-inch engines were still offered as optional equipment. The vehicle received styling updates.

In 1974, the 360 cubic-inch engine replaced the 340 V8. The 318, two-barrel engine now produced a miserable 150 horsepower.

In 1975, the RoadRunner was changed to the Fury body.

In 1976, the RoadRunner was changed to the Volare body. The standard engine was the 318 cubic-inch engine offering 150 horsepower. The 360 cubic-inch engine produced 170 horsepower. The RoadRunner package included a three-speed floor shifter, interior trim, and an improved suspension.

In 1977, an on-board engine computer, called the Lean Burn system, adorned the interior of the RoadRunner. Spoilers, stripes, and Ralley wheels, and window louvers became part of the RoadRunner package.

In 1979, production was just over 1000 units.

The 1980 model year was the last one for the Volare and Road Runner.
By Daniel Vaughan | Mar 2010
This Plymouth Road Runner has a matching number big block engine, rides on factory wheels, and is fitted with 4-wheel Wilwood disc brakes. The car is painted factory blue on blue.

The car was brought to Barrett-Jackson's Scottsdale, AZ. auction where it sold for $24,200 inclusive of buyer's premium.
By Daniel Vaughan | Feb 2012
POTEET, CIZEK EARN TOP AWARDS AT GOODGUYS 16TH PPG NATIONALS
Columbus, OH – Tennessee's George Poteet and Nebraska's Ron Cizek collected the top two awards at the Goodguys 16th PPG Nationals in Columbus, Ohio last weekend. Under brilliant sunshine and in front of record crowds, Poteet's vintage NASCAR-inspired '69 Torino won the Goodguys 2013 Optima Batteries Street Machine of the Year while Cizek's popular Ridler award-winning '40 Ford coupe collected the Goodguys 2013 Classic Instruments Street Rod of the Year title. For Cizek, it's the second ma...[Read more...]
RICHARD PETTY DEDICATES MUSCLE CARS FOREVER STAMPS
Raw power gets a stamp of its own today as seven-time NASCAR National Champion Richard Petty helps dedicate the America on the Move: Muscle Cars Forever stamps. Petty, his son Kyle and Postmaster General Patrick Donahoe will dedicate the limited-edition stamps at the Daytona International Speedway where 'The King' won a record seven Daytona 500 Championships. Typically equipped with big, powerful engines, these high-performance vehicles began roaring across America in the 1960s. The limite...[Read more...]
Barrett-Jackson Flavors Its January Scottsdale Auction With NASCAR Treats
• RACING HERITAGE, HIGH PERFORMANCE ARE RECIPES FOR CAR-COLLECTING FEAST
• SPEED™ SET FOR 39 HOURS of LIVE COVERAGE STARTING JAN. 15
The great Henry Ford once said, 'Auto racing began five minutes after the second car was built.' And for more than 60 years, there are few entities that better represent auto racing in America than NASCAR. From the hallowed grounds of Daytona International Speedway, to Sonoma, California's intricate and picturesque road course, the sp...[Read more...]
Barrett-Jackson Breaks Sales And Attendance Records At Its Spectacular 5th Annual Las Vegas Auction
The World's Greatest Collector Car Auctions™ Brings Together Auto Enthusiasts from Near and Far Barrett-Jackson, The World's Greatest Collector Car Auctions™, announced today that it generated more than $23 million in sales of rare, high-end collectible vehicles, exotics, customs, classics and Shelbys during its 5th annual Las Vegas auction. The auction company increased its overall hammer average from 2011, proving that the car market is stronger than ever. Automobilia sales reached m...[Read more...]
NASCAR STAR TREVOR BAYNE USES NEW FUSION ECOBOOST TECHNOLOGY TO TOP TEAMMATES BY NEARLY POSTING 50 MPG
•New 2013 Fusion with 1.6-liter EcoBoost® engine and Auto Start-Stop fuel-saving technology is designed to achieve 37 mpg on the highway •NASCAR star Trevor Bayne reaches nearly 50 mpg - the type of efficiency generally reserved for hybrids and small cars - to win Ford's Fusion EcoBoost NASCAR Miles Per Gallon Challenge •Bayne outdueled NASCAR superstars and teammates Greg Biffle, Carl Edwards and Matt Kenseth by achieving 46.9 mpg at Ford's Dearborn, Mich. test track, thanks in part to clev...[Read more...]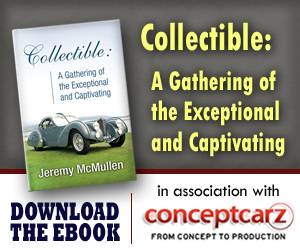 © 1998-2014. All rights reserved. The material may not be published, broadcast, rewritten, or redistributed.