1960 Abarth 356 Carrera GTL news, pictures, specifications, and information

Tweet
The Carrera Abarth was an aluminum-bodied car built on a Porsche 356B chassis. These cars were built and assembled in the early 1960 to early 1961 period. As Bill Ousler points out in his book 'Porsche Racing Cars,' the Abarth came into being as a result of an FIA rule loophole. These rules defined a car on the basis of its chassis and the running gear, rather than basing the definition on the body. Thus, Porsche could use the 356B chassis and running gear, with a four-cam Carrera engine, and could and did use a specially designed lightweight aluminum body instead of the production steel body. The Carrera Abarths are one of the rarest Porsche models, with a production run of cars from serial number 1001 to 1021.

Abarth 1003 was delivered through Nordrheim in Dusseldorf, Germany, in May 1960. The original owner is listed on the Kardex as being Gerhard Koch. Kock is known to have raced the Abarth a number of times in 1960 and 1961. Kock was second in the 1600 GT class held at the Grand Prix de Rouen-les Essarts at Frankreich; and third in the Gran Prix of Germany at Nurburgring in the GT 2000 cc class. Koch and co-driver Hans-August Stausberg finished third in the Grand Touring Group, 2000 cc class and 13th overall at the 1960 Nurburgring 1000 kms race.
In 1959 Porsche decided they needed a new 'Carrera' race car - lighter and more compact - based, of course, on the 356B platform and using the 4-cam motor. Via an FIA loophole, they realized they could build only a few with custom bodywork. And so they put the project out to tender with Wendler and Zagato. Ferry Porsche's friend, Carlo Abarth, was the project manager. Zagato's Franco Scaglione-design won but who actually built the 21 aluminum cars remains a mystery. What is certain is that the Carrera GTL is a masterstroke of beauty and (aerodynmica 0.365 Cd and lightweight 1762 lb) efficiency.

This 1960 Porsche/Abarth 356B Carrera ran at Sebring in 1962. It is fitted with a Porsche four-speed gearbox, and a four-cylinder engine that produces around 140 horsepower. This was privateer Ernst Paul Strahle's second GTL which he bought in 1962 to replace chassis number 1002.
Continually lòòking for a competitive advantage and exercising any freedom within the regulations, by 1959 Porsche envisaged a new Carrera that was both lighter and more compact than the regular 356B Carrera Coupe. Providing the chassis and running gear remained the same, the FIA regulations allowed for a different body - providing the overall weight exceeded the homologated minimum. The contract for these bodies was put to tender wîth the competing firms being Wendler (maker of the Spyder body) and famed Italian coachbuilder Zagato. Últimately it was Zagato's body that was most attractive to Porsche. Ferry Porsche and 'Carlo' Abarth had previously combined forces on the Cisitalia project of 1946 thus a familiarity inspired confidence; the development of these new, lighter 356Bs was contracted to Abarth who in turn subcontracted body design influence to Zagato.

Significantly reducing the front-end drag coefficient, the design was reputedly a mix of influence from both Abarth and Zagato yet speculation still arises as to who actually built the bodies. Nonetheless, the streamlined, lightweight form was an extremely attractive yet practical one that was low and abrupt at the front, wîth a side profile that featured a neatly sculpted flare to the rear arch but the rear deck was a work of art both technically and aesthetically. Clearly wîth an exaggerated emphasis on cooling, it had an adjustable rear scoop and just under fifty louvers! It is without a doubt one of the most beautiful and aggressive rear views of any car, ever.

Power on the early cars was supplied by the Type 692/3 engine that produced a healthy 115bhp from its 1.6 liter capacity yet later in production the Type 692/3A unit was introduced wîth a useful 20bhp power hike. Due to the roofline reduction of a staggering five inches from the standard 356B, the interior of the Carrera-Abarth was somewhat cramped and understandably spartan being a racecar. Tested in period by American journalist Jesse Alexander of Sports Car Illustrated, he commented on the accommodation of the Carrera-Abarth 'A superb driving position is one of the finest attributes of the Abarth car. Getting behind the wheel is another story. The distance between the top of the driver's head and the roof is minimal yet adequate, but anybody over six feet would have a real problem.' The seats were based on those used in the Speedster but had additional side support. They also featured a very basic aluminum dashboard that bore no resemblance to that of the base model but the overall package was neat and ergonomically effective.


By the Spring of 1960 the first Carrera-Abarth had been completed and success was instant, as Paul Strahle and Herbert Linge entered their car on the Targa Florio in May and duly won their class finishing in a highly commendable sixth overall. At Le Mans that same year the factory entry placed eleventh overall and took the all-important class win - this same feat (class victory) was repeated by the Carrera-Abarth in both 1961 and 1962 at Le Mans proving the car to be reliable as it was fast.

Only twenty-one examples were built, thus wîth exclusivity and such a rich pedigree this fabulous breed is summed up honorably by noted British journalist Denis Jenkinson as being 'one of the most desirable Porsches ever.'

On May 18th 1960, the third 356 GTL Carrera-Abarth (chassis 1003) was first delivered to German privateer Gerhard Koch, a resident of Neuss, via the Dusseldorf concessionaire, which was finished in metallic silver paint and black interior. Originally it had a Type 692/3 engine fitted, numbered 95061 wîth the transmission numbered 37561. Koch was a very capable race driver and over the next two seasons he raced 1003 on a regular basis in Europe's premier events. The prominent period race history for 1003 wîth Gerhard Koch is as follows:



Nürburgring 1000kms (co-driven by Hans Stausberg) - 3rd in Class
Grand Prix of Spa - 2nd in Class
Grand Prix of Rouen le Essarts - 1st in Class
Grand Prix of Germany, Nurburgring - 3rd in Class
Tourist Trophy, Goodwood - 5th in Class


Nürburgring 1000kms (co-driven by Fritz Leineweber) - 3rd in Class
Tourist Trophy, Goodwood - 4th in Class
Monza Coppa Inter-Europa - DNF

Though we cannot identify precisely when, Koch sold 1003 and continued his racing career in an array of other Porsches. By the late 1960s the car was in Swiss ownership and in 1968 was exported to the ÚS by Los Angeles based Werner Schoch who in turn sold 1003 to Dick Patterson in nearby Orange County, who drove the 'old race car' on a daily basis! In 1973 Patterson sold the car to John Bond Jr. of Laguna Beach who kept the car for a number of years, and by the 1980s 1003 had joined the sizable Porsche stable of Colorado-based collector Bill Jackson. In Jackson's tenure the paintwork was orange and it retained this livery when purchased in 1999 by Los Angeles dealer Raymond Milo 'Le Patron' who, at the same time, acquired a number of Porsches from Jackson. The present owner bought 1003 in 2001 via Heritage Classics in Hollywood, California. At the time of purchase the car was not running and had an incorrect four-cam engine (numbered KD P11026) installed.


Following purchase, 1003 was sent to respected restorers Willison Werkstatt of West Palm Beach for a thorough restoration in order to return the car to its former glory, albeit to concours standards. ( posted on conceptcarz.com) A photographic record attests to the detail that was lavished upon the car including repairing of any corroded metal, repainting, re-trimming of the interior, suspension set-up and the installation of a regular pushrod 356 engine given that the intention was to show the car (and drive it on the street) rather than do battle on the track. Úpon completion, 1003 was shown at the 2005 Amelia Island Concours d'Elegance and has since resided in the climate-controlled luxury of the vendor's collection where it has remained in exceptional condition throughout. Included wîth the sale of this car is the aforementioned four-cam engine which can be collected from the vendor at the buyer's expense.

In 1960, Úli Wieselmann eloquently forecasted: '...already an enthusiast's carriage of the first magnitude, the Carrera will one day only be found in a few isolated examples in the hands of real connoisseurs. They'll care for it, polish it and drive it amongst everyday cars secure in the knowledge that they possess a product of technical delicacy that's enveloped in romance.'

The GTL Carrera-Abarth is not only the rarest but the pinnacle of the Carrera designation and chances of acquisition are few and far between.
Source - Christies
Ferry Porsche and Carlo Abarth first collaborated on a project for Cisitalia in 1946. Mutual respect quickly turned into a bond of true friendship. When the opportunity arose for Porsche to build a new dedicated race model on a 356B chassis, Porsche decided to contact his old friend to execute the intricate aluminum body.

Only twenty-one examples of the Abarth Carrera were ever built but they were instantly dominant in class racing. In fact, in the first race for the model at the famed and extremely challenging Targa Florio, a class win was achieved.

This particular car had a similar history. The original Swiss owner won every race he entered with the car. As a result of such a show of might, race politics of the time forced him to abandon the track after only a year. As a result, the car was barely used and stands today as the finest original example of this revered model. With only 13,000 kilometers, it is completely original except for a single repaint in the early (approximately) 1980s.

This car, chassis number 1008, is the 8th 1961 Porsche Abarth Carrera GTL of the 20 that were produced. This is a proper Werks racecar, used by the Porsche factory and their Swedish agent Scania-Bilar, to promote the marque in Scandinavia. Carl-Gunnar Hammarlund also known as 'CeGe,' won two Swedish championships in this car. CeGe was well known for his Swedish Public Radio program about driving safety and his public relations work for the Swedish arm of British Petroleum.

Chassis number 1008 is believed to be the most original Abarth surviving with only 6,000 original miles. The aluminum body was repainted in 1998; otherwise, every detail on the car is original and as raced in 1961. Beyond being one of Porsche's most beautiful race cars, chassis #1008 won every race it ever participated in during its two year campaign. Most notably, it took top honors at the Finnish Grand Prix.
For more information and related vehicles, click
here
Luigi Musso: Talented, Tempting and Troubled
Following Alberto Ascari's back-to-back titles in 1952 and 1953 there have been no Italian Formula One World Champions. While there has been a great amount of hope throughout the years, Italians have been left without a World Champion. Perhaps, it could be argued, all such hopes died with Luigi Musso on the 6th of July in 1958. Since Ascari there have certainly been some notable Italian drivers within Formula One history books. Such names as Michele Alboreto, Elio de Angelis, Alex Zanardi, Ri...[Read more...]
Postwar Ferrari Named Best of Show at 2014 Pebble Beach Concours d'Elegance
1954 Ferrari 375 MM Scaglietti Coupe Named 'Best of Show' PEBBLE BEACH, Calif. (August 17, 2014) -- Excited cheers echoed across the 18th fairway of Pebble Beach Golf Links Sunday when a 1954 Ferrari 375 MM Scaglietti Coupe was named Best of Show at the 64th annual Pebble Beach Concours d'Elegance. The car, owned by Jon Shirley of Medina, Washington, was the first postwar car to take the top award at the prestigious event in nearly five decades. It was also the first Ferrari to win. ...[Read more...]
Looks, Rarity, Performance: The Ultimate Connoisseur's Ferrari at RM Monterey...
LOOKS, RARITY, PERFORMANCE: THE ULTIMATE CONNOISSEUR'S FERRARI, 275 GTB/C SPECIALE HEADLINES RM AUCTIONS' FLAGSHIP MONTEREY SALE • RM Auctions offers the first of only three 1964 Ferrari 275 GTB/C Speciales, chassis 06701, at its flagship Monterey, California sale, August 15-16 • With its two sibling cars unlikely to ever become available, 06701's offering is a historic and unrepeatable opportunity to acquire one of the world's most important automobiles • Exceptional 275 GTB/C Speci...[Read more...]
1956 24 Hours of Le Mans: Collins and Moss Come Close
The 1955 24 Hours of Le Mans would be forever remembered, not for the 24 hours of racing, but for the tragic and terrible events that would take place after just two. The consequences would be dire and would send shockwaves throughout the racing world. Peter Collins would witness the events and would find it very hard to continue. However, he would do just that and would end up a very strong 2nd, practically handed the result by Mercedes. One year later, the mood would be lighter and Collins wou...[Read more...]
Italian Racing Classics Lead Gooding & Company's 10th Anniversary
SANTA MONICA, Calif. (June 4, 2013) – Gooding & Company, the official auction house of the Pebble Beach Concours d'Elegance acclaimed for selling the world's most significant and valuable collector cars, will be hosting the 10th Anniversary sale of the Pebble Beach Auctions on August 17 and 18. This year Gooding & Company offers an early preview of some of the most highly sought after and rapidly amassing value collectible – the distinguished Italian race car. Auction highlights include a...[Read more...]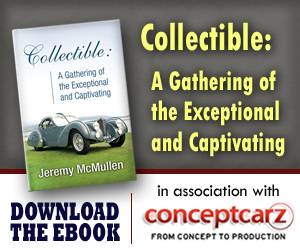 Porsche
Monthly Sales Figures
Volume
December 2014
3,275
December 2014
3,275
November 2014
4,699
October 2014
3,667
September 2014
3,607
August 2014
4,540
July 2014
4,300
June 2014
4,102
May 2014
4,609
April 2014
4,072
March 2014
3,808
February 2014
3,232
(More Details)
© 1998-2014. All rights reserved. The material may not be published, broadcast, rewritten, or redistributed.