1960 Aston Martin DB4 news, pictures, specifications, and information

Tweet
FastBack Coupe
Chassis Num: DB4/342/R
Engine Num: 370/362

When the Aston Martin DB4 was debuted in 1958, it was instantly apparent that the British could rival (or even best) their Italian rivals at creating the ultimate Gran Turismo. The touring-styled car would have a very long production career, lasting until 1970 with only minor revisions along the way.

Under the bonnet was a Tadek Marek designed, all-alloy, twin-overhead-camshaft six-cylinder engine with 'square' bore and stroke dimensions of 92x92mm. Total displacement equaled 3670cc and maximum horsepower was reached at 5500rpm offering 240 bhp. The entire package was mounted on a multi-tubular spaceframe structure with unequal-length wishbones in the front and a conventional live axle located by a Watts linkage in the rear.

Heavy-duty bumpers were added after the first 50 cars left the factory. The 2nd series arrived in January of 1960. The Series II cars included a front-hinged bonnet, larger brake calipers and an enlarged sump. The Series III had separate rear lights, two bonnet stays and a many interior updates. The Series IV, produced from September of 1961 through October of 1962, had a new grille with seven vertical bars, shallower bonnet intake and recessed rear lights. The Series V had 3.5-inches more in length which gave more room to the occupants and more trunk space. 15-inch wheels, an electric radiator fan and the DB4GT-type instrument panel were also new to the Series V cars.

This car is a DB4 Series 2. It is a left-hand drive model and one of a mere 249 SII produced. There is a larger hood scoop and a green exterior paint scheme with matching cream leather interior. It has been well cared for over the years and in its present ownership for many years.

In 2007 this DB4 was brought to Bonhams auction, An Important Sale of Collectors' Motorcars and Automobilia, at the Quail Lodge Resort & Golf Club in Carmel, California. It was estimated to sell for $150,000 - $200,000 but failed to find an interested buyer willing to satisfy the reserve. This was very surprising, as the Pebble Beach Concours, happening just miles away, was featuring the Aston Martin Company as one of their celebrated events. It was assumed this car would inspire excessive bidding feeding from the Pebble Beach enthusiasm. Sadly, this lot was unsold.
By Daniel Vaughan | Apr 2008
This 1960 Aston Martin DB4 left the Newport Pagnell factory in England in March of 1961. It was delivered into the care of its original owner who was a resident of Germany. It is a rare and original left-hand drive DB4 that returned back to the factory by 1964. While there, the original engine was removed and a new motor was installed, along with a latest-style sump and oil cooler. Aston martin subsequently changed the chassis tag to reflect the changes made.

Later in the cars life, it was brought to California and in 1993 it received an extensive mechanical overhaul. The engine was completely rebuilt and the transmission stripped, inspected and rebuilt where necessary. A high-performance suspension kit was fitted and vintage specification carburetors and air box were installed. A few years later, the wheels were completely rebuilt and the car was fitted with competition style seatbelts.

In the early 2000s, a full suspension and brake rebuilt was performed on the car. In 2006, the car received some cosmetic updates including fresh paint and upholstery.

In 2009, this Aston Martin was offered for sale by Gooding & Company at their Pebble Beach auction. The car was estimated to sell for $275,000 - $325,000 and offered without reserve. As bidding came to a close, the lot had been sold for the sum of $231,000, including buyer's premium.
By Daniel Vaughan | Jan 2010
The Aston Martin DB4 was produced between 1958 and 1963 and underwent a variety of subtle changes during that time. This example, chassis number DB4/458/L, is a Series II car, of which only 351 examples were built.

The DB4 has a modern tube-frame chassis, four-wheel disc brakes, and a 3.7-liter straight-six engine. This example wears Superleggera coachwork by Touring of Milan. It was originally completed in the summer of 1960 and finished in Desert White over a black Connolly leather interior. It was specified for export and constructed with a left-hand drive configuration, a 3:54:1 rear-axle ratio, Smiths instruments, KLG spark plugs and fully chromed road wheels with Avon Turbospeed tires.

The car was delivered through Mirabeau to Andre Fontaine, who resided in the Place de la République in Paris. The car remained in M. Fontaine's care for two decades then was exported to the United States and to its second recorded owner, Roland Pallas of San Rafael, California. It is believed that while in Mr. Pallas care, the car was refinished in its current shade of silver.

The current owner purchased the car in 1988. The following year, the car was driven from the Los Angeles area to Laguna Seca and back for the Aston Martin tribute at the annual Monterey Historic Automobile Races.

After that, the car was put into static state for two decades. The car has had only three owners since new, has 92,905 km, and retains its original leather upholstery and matching-numbers engine.

In 2012, the car was offered for sale by Gooding & Company at their Scottsdale, Az. auction. The car was estimated to sell for $300,000 - $400,000. The car found new ownership for the sum of $330,000, inclusive of buyer's premium.
By Daniel Vaughan | Feb 2012
The original owner of this DB4 Series II Coupe was Ernest Swigert of Portland, Oregon. The coachwork is by Carrozzeria Touring of Milan and powered by Tadek Marek's powerful new engine. The car was ordered on August 26th of 1959 through North Country Motors of Long Island, New York and specified with Snow Shadow Grey livery with a red leather interior. Other options included a radio, dual wing mirrors, chrome wheels and the 3.54:1 rear differential ratio.

This car is one of 351 second-series DB5 examples that were produced between January 1960 and April 1961. This car was also chosen by J.S. Inskip, the American importer, for use at the New York International Auto Show in April of 1960.

After the NY Auto Show, Mr. Swigert took delivery of his car. Ownership passed to Oregon resident Earl Grove in the early 1970s. After this point, the recorded history disappears until the late 1990s, when the car came into the possession of a San Francisco dealer of fine motorcars. Acquired in 2002 by John Jordan of Potomac, Maryland, it was treated to a comprehensive restoration that featured a major engine upgrade. The engine displacement size rose to 4.2 liters and was given triple SU carburetors. The bored-out engine was rated at 303 horsepower, which was a significant increase over the stock 266 horsepower. The DB4 GT models produce 302 horsepower.

Along with the engine work, a body restoration and bare-metal repaint was performed in 200, as well as significant refurbishment of the chassis in 2005. The current owner acquired the car in 2008.

In 2012, the car was offered for sale at Pebble Beach presented by Gooding & Company. The car was estimated to sell for $325,000 - $375,000 and offered without reserve. As bidding came to a close, the car had been sold for the sum of $495,000 including buyer's premium.
By Daniel Vaughan | Nov 2012
David Brown's first DB2 series of road cars, produced from 1949 through 1958, were largely based upon pre-war technology. The DB4, however, was a totally new and thorough modern motor car. They made their introduction at the 1958 London Motor Show to rave reviews. The monocoque, punt-type chassis, developed under Harold Beach, featured a coil-over A-arm front suspension with an anti-sway bar and a live rear axle located by trailing arms and a proper Watts linkage. The coachwork by Carrozzeria Touring was in the company's lightweight Superleggera process. A skeleton of small diameter steel tubing supported the all-alloy body paneling, creating a rigid and very light structure. Though they were styled by Touring, the DB4's fastback body was actually produced by Aston Martin's own skilled panel beaters in Newport Pagnell.

Powering the DB4 was an alloy six-cylinder dual overhead cam unit which displaced 3670 cubic centimeters and developed approximately 240 horsepower. It was designed by Czech-born Tadek Merak and would enjoy a long life powering the DB4, DB4 GT, DB5 and DB6 series of road cars. The alloy-cased, four-speed synchromesh gearbox was designed in-house and built by David Brown's gear and machine tool division. Brakes were either Dunlop or Girling depending on the model.

chassis 347/L
This car was one of only 45 LHD Series II cars and was completed on August 12th of 1960, prior to being dispatched to Montreal, Canada's Aston dealer, Budd & Dyer. The car was sold to the first owner, the proprietor of Percy Dress Inc. on 460 St. Catherine Street West in Montreal, and registered on June 12, 1961. It is not known how long this DB4 remained with the first owner in Quebec, but, by 1979, it was acquired from the second owner, the Performance Garage in Ontario, by the current restorer. The new owner commenced a total body and mechanical restoration, which was to occupy the best part of a decade, being completed in 2008.

The car earned a First Place in the DB4 class (2008) and the Elite class (2009) at the Lime Rock Park Aston Martin Owners Club Meeting. Further wins at British Car Day in Bronte Park, Ontario, as well as First Place in the 2012 Marques d'Elegance at Paletta Mansion in Burlington, Ontario, confirm the car's current condition.

Since the restoration, the car has travelled around 4,000 miles.
By Daniel Vaughan | Jan 2014
This Aston Martin DB4 features a modern chassis, four-wheel disc brakes, a dual overhead cam straight six engine, and superleggera coachwork by Touring of Milan. Production of the DB4 spanned from 1958 to 1963 and during that time the model underwent a variety of subtle changes in trim and proportion over five series.

This example is a Series II car of which just 351 examples were hand-built. The car was dispatched to Plimley Motors of Vancouver, BC, in late November 1960 and was first sold in January of 1961. The car left the factory finished in Desert White over a red Connolly leather interior and give left-hand drive. It was equipped with a Motorola radio, Marchal fog lamps, and fully chromed road wheels fitted with Dunlop RS5 tires. The rear axle ratio is 3.54:1, higher than was typical for its US-bound counterparts.

The first owner was Herbert Matson of Victoria, BC. Within the first year of service, the car was sold to Dr. McLennan of New Westminster, BC.

The car was eventually sold to a new caretaker in Europe, eventually coming to France by 1995, spending its next nine years in the custody of M. Dulac. Reportedly, under M. Dulac's ownership, the DB4 received an engine upgrade to 4.2-liter displacement and was fitted with a triple SU carburetor setup as were the Vantage-spec cars of later series. In 2004, it was acquired by M. Bossut and received Parisian plates.

The car has been re-painted in its original color but still retains the original red hides fitted at the factory.

The current owner acquired the car in 2013 and had it imported to the United States.
The car now has a Becker Europa radio, and the dash features a pair of analog stopwatches. The car has its large hood scoop, eggcrate grille, and Lucas cathedral taillights.
By Daniel Vaughan | Feb 2014
The Aston Martin DB4, a replacement for the DB Mark III, was launched in 1958 and was the first Aston martin to be built at the company's then-new Newport Pagnell factory. It was given a number of new components and manufacturing processes that would continue to influence the cars that would leave Newport Pagnell for many years.

Harold Beach was tasked with creating the chassis design, creating the company's first pressed-steel-type frame. Power was from a 3.7-liter, twin-cam inline six-cylinder engine that was engineered by Tadeck Mareck. The block and head were made from lightweight aluminum and was rated at 240 horsepower in standard form. The engine was mated to David Brown's own gearbox, and it had Dunlop disc brakes fitted at all four corners.

The elegant and sporty body was designed by Carrozzeria Touring, of Milan. Touring's patented Superleggera technique was used to produce lightweight but sturdy bodies out of aluminum-magnesium, which were wrapped around small-diameter steel tubing. Aston Martin produced the production bodies at their Tickford Works, under license from Touring.

Production of the DB4 lasted for a five-year lifespan, and during that time it underwent numerous running changes

This particular example, chassis number DB4 395R, is considered a Series II example, of which there were 351 built. The second series cars featured modifications to solve certain problems with the early production examples. They also were the last series with the one-piece 'cathedral' tail lamps, the tall bonnet scoop, and the original grille design.

This car was delivered to W.E.C. Knoff, of Dorset, in 1960. It remained with Mr. Knoff for seven years before being sold to Jack Brunwin, of Croydon, England. That same year, Mr. Brunwin - and the car - moved to New Zealand, where it was registered with plate NZ DX6332. After the Brunwin's ownership, the car remained in New Zealand, going through several owners, before it came into the care of its current owner, who purchased it on February 18th of 1986.

The Aston Martin DB4's engine was rebuilt in 1996. After the engine was rebuilt, the Aston Martin returned to its homeland in 1996, where it represented New Zealand on the FIVA World Rally. Since then, the car was stripped down to its bare chassis, and all of the bodywork, which included outfitting the car with all-new, solid front and rear bumpers, was re-finished. The interior was reupholstered in Black Connolly leather, and the exterior was repainted in Almond Green. The car has accumulated just over 5,000 miles since the completion of its engine rebuild in 1996, and just over 100 miles since its recent restoration.
By Daniel Vaughan | Apr 2014
Only 45 left-hand drive 1960 Series II DB4s are listed in the Aston Martin Owners Club Registry. The Registry has DB4s in five series to (roughly) define the minute differences in specification.

The DB4 is a hand-built grand touring car styled by Carrozzeria Touring of Milan but fabricated in England using their patented superleggera body-building method. Under the hood is Aston's own 3.7-liter twin-cam 6-cylinder with 240 horsepower.
The DB name came from the name David Brown (later Sir David Brown), an individual who had purchased the Aston Martin Company.

The DB4 series was built from 1958 through 1963. A total of 1040 vehicles and five series were produced during this time frame. The coachwork was performed by Touring of Milan, Italy. The body panels were hand made of aluminum mounted on a steel tube frame and featuring the Superleggera method of construction. Superleggera means super light.

Initially, the DB4 series used disc brakes made by Dunlop but later switched to the Girling made disc brakes. Each of the five series featured improvements, design modifications, and technological enhancements. All of the DB4s received their power from a Tadek Mereck designed, 3670 cc, six-cylinder, all aluminum engine. The 220-240 horsepower engine could propel the car to a top speed of around 140 mph and the go from zero to sixty in just 8.5 seconds. David Brown, the owner of Aston Martin, produced the overdrive transmission.

The standard DB4 body style was the Saloon version; however, the Vantage series could be ordered and featured higher horsepower ratings.

In 1959, Aston Martin introduced the DB4 GT series. This series featured a shorter wheelbase and higher output than the standard DB4 Saloon. Due to the shorter wheelbase there were no rear seats. The engine had three twin-choke Weber Carburetors and twin distributors increasing the output of the standard engine to 302 bhp. This extra horsepower increased the top speed to around 153 mph and the zero-to-sixty time of around six seconds.

Other distinguishable features of the GT series were the exposed, racing style, fuel filer caps located on the rear wings. Perspex headlamp covers adorned the front of the vehicles.

The GT series was produced from 1959 through 1963. During this time period, 75 models were produced. The Italian coachbuilder Zagato was tasked at producing the bodies of 19 of these vehicles.

In 1960 the Zagato bodied cars were introduced at the London Motor Show. These hand-built vehicles were built to outperform Ferrari's. The short wheelbase, light weight construction, 314 horsepower engine, and a top speed of 160 mph made them very competitive.

The DB4 Drophead Coupe was produced from 1961 through 1963. During this time frame, 70 examples were created. They were convertibles built on the DB4 Saloon body style using the same aluminum, Superleggera body construction. The standard six-cylinder 3670 cc engine was now producing 260 horsepower. Thirty-two of the convertibles received the Vantage specifications which increased the output of the engine. The overdrive transmission was also available as an option.

In the 1960's, the DB4 Drophead Coupe was used in the movie 'The Italian Job.'

During the 1980's, an Aston Martin specialist named Richard Williams produced the remaining DB4's using the assistance of the Aston Martin factory and unused chassis.
By Daniel Vaughan | Jul 2010
For more information and related vehicles, click
here
The Best of British
The 2015 Les Grandes Marques auction on 5 February at the Grand Palais in Paris will be the biggest to date, with around 130 motor cars on offer. The sale will be led by two fantastic vehicles from British luxury marque, Aston Martin. Synonymous with Britain - and, of course, British movie heroes - Aston Martin has produced some truly iconic motor cars, and arguably none more so than those designed in the David Brown era: the DB4 and DB5. With only 70 produced, the 1962 DB4C is one of the rar...[Read more...]
Le Mans Winning Ferrari 275 GTB at The Scottsdale Auction
An historic 1966 Ferrari 275 Gran Turismo Berlinetta Competizione Scaglietti which was class winner at the 1967 Le Man 24 Hours, the 1969 Spa-Francorchamps 1000 Km, and the 1969 Imola 500 Km under the Swiss Scuderia Filipinetti team has joined the impressive early consignments for Bonhams Scottsdale Auction. The auction will take place on 15 January 2015 at the luxurious Westin Kierland Resort & Spa in Scottsdale, Arizona. From the day it was delivered to legendary race-team owner, Georges...[Read more...]
Gooding & Company Adds Two Legendary Ferraris to Scottsdale Offerings Including a 1959 250 GT LWB California Spider
The two-day event will also drop the hammer on a 1962 Ferrari 400 Superamerica SWB Coupe Aerodinamico along with over a dozen other models from the Italian marque SANTA MONICA, Calif. (December 12, 2014) – Gooding & Company, the record-setting auction house acclaimed for selling the world's most significant and valuable collector cars, announced today the addition of two superlative Ferraris to its Scottsdale roster. New consignments include a 1959 Ferrari 250 GT LWB California...[Read more...]
Russo and Steele Collector Car Auctions Kicks off 2014 in a Big Way with Outstanding Results and New World Records at Scottsdale
Phoenix, Arizona (January 22, 2014) – At Russo and Steele Collector Car Auctions, we are thrilled to announce the achievement of outstanding results and world-record sales at our January 15-19 Scottsdale, Arizona Sports and Muscle auction event. Throughout the event's five action-packed days, beautiful weather helped draw record attendance numbers, estimated at 35% higher than 2013 levels. At the time of writing, preliminary sale results exceeding $21 million were generated with a very st...[Read more...]
One of the Three Final Cars Built by Famed Italian Engineer Giotto Bizzarrini To Be Offered at Russo and Steele's Highly Anticipated Monterey Auction
Monterey, California – As the engineer responsible for the design and development of some of the most successful and innovative racing and GT cars ever conceived, Giotto Bizzarrini remains one of the most revered names in motorsport history. Hailing from Livorno, Italy and eventually leaving Alfa Romeo for Ferrari where he began as a test driver and quickly rose to Chief Engineer, Bizzarrini collaborated with Carlo Chiti on the 250 Testa Rossa's V-12 engine and the 250 SWB, with his caree...[Read more...]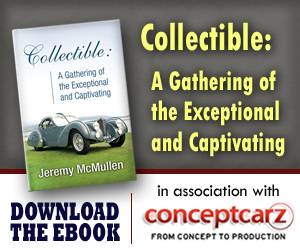 © 1998-2014. All rights reserved. The material may not be published, broadcast, rewritten, or redistributed.