1936 Auburn 852 news, pictures, specifications, and information

Tweet
Priced at $2,245, the elegant Auburn Speedster marketed in 1935-1936 was a 'loss leader' intended to stimulate showroom traffic. The Auburn Speedster was a two-seat roadster introduced in 1928. After Auburn discontinued its V12 models, Gordon Buehrig was called in to design a car from leftover Speedster bodies. The long-hooded front was made to conform to the new 851 sedans he had already designed, and the rear retained the original Speedster's pointed 'boat tail,' which, along with pontoon fenders, Vee-type windshield, cutout doors and four showy chrome-plated exhaust pipes on the left side, contributed to a rakish appearance. The Speedster for 1936 - Auburn's last year - was identical except for the '852', rather than the '851' on the radiator. With racing driver Ab Jenkins at the wheel, the Auburn Speedster set more than 70 speed records and, at one time, held all U.S. stock-car speed records up to 24 hours and 15,000 miles. A dashboard plaque on each car contained a signed guarantee by Jenkins that it had been driven to more than 100 mph before shipment. This example has been extensively restored, both cosmetically and mechanically, and has won many of the competitions in which it has been entered.
By Daniel Vaughan | Jul 2010
The Auburgn 851/852 vehicles were stunning. With Ab Jenkins behind the wheel, a 851 Speedster traveled at 100 mpg average speed for 12 hours making him the first American to this endurance record. In commemoration of this accomplishment, each vehicle was given a dash plaque bearing Ab Jenkins' signature stating that the vehicle was capable of achieving the 100 mph barrier.

Though these vehicles were the complete package, encompassing a daring style, durable engine, and superior performance, they failed to amass a profit. It is estimated that at the $2245 sticker price, the company lost $300.

This 1936 Auburn 852SC Boattail Speedster with chassis number 2914E was estimated to fetch between $350,000 - $450,000 at the 2006 RM Auctions at Meadow Brook. After some interest from buyers, the bid achieved $240,000. This was not enough to satisfy the reserve and the vehicle was not sold.

It is equipped with a 280 cubic-inch side valve eight-cylinder engine with Schwitzer-Cummins supercharger that produces 150 horsepower. It sits on a 127 inch wheelbase and is suspended in place by leaf spring and solid axle front suspension. In the rear are leaf springs and a live rear axle. Brakes are four-wheel hydraulic drums.

In 2003 it was entered in the Meadow Brook Concours d'Elegance where it received the coveted Peoples Choice Award. It has also been awarded an AACA National First Prize.
By Daniel Vaughan | Dec 2006
This 1936 Auburn Model 852 Straight Eight Supercharged 'Boattail' Speedster was offered for sale at the 2007 Christie's auction of 'Exceptional Motor Cars at the Monterey Jet Center.' It has a turquoise exterior with beige leather interior. It is powered by a Lycoming eight-cylinder engine with side-valves, and a Schwitzer-Cummins supercharger. The 279.9 cubic-inch engine is capable of producing 150 horsepower.

The Art Deco designed 852 was a flamboyantly designed vehicle that featured a racked windshield and tapered tail, accented with chrome trim throughout.

A.B. Jenkins drove a stock Auburn on the Bonneville Salt Flats to an American class speed record and proving the vehicles potential. Sadly, the company officially closed its doors in October of 1937.

This turquoise Speedster has been treated to restoration, though it was completed in the 1980s. The restoration still appears very fresh in modern times. At auction the car was offered without reserve and estimated to fetch between $250,000 - $450,000. That estimate proved to be accurate, as a willing buyer was found. Including the buyer's premium, the car found a new owner for the price of $423,500.

This year marked the end of the Auburn automobiles. The Auburn line for 1936 consisted of three six-cylinder models and four eight-cylinder models. This 1936 Auburn 852 Supercharged Dual Ratio speedster is an extraordinary example of the most significant pre-World War II automobiles built.

While little is known of its early history, the vehicle was part of the famous Blackhawk Collection in the late 1990s before being sold to a European collector. The vehicle remained in the European collection until August of 2007 when it was sold to its current owner.

Chassis number 34631E ahs been expertly and correctly restored from an excellent and original example. It is fitted with engine number GH4742 which retains its original Columbia two-speed, dual ratio rear end.

The original wire wheels have been fitted with appropriate polished wheel disc and whitewall tires.
By Daniel Vaughan | Aug 2008
This 1936 Auburn 852SC Cabriolet was in a prominent Texas collection for many years where it was well maintained and cared for. The current owner purchased the car in 2004 and brought it to auction in 2008. It has recently been repainted and given a new interior. It is finished in light blue and has a tan convertible top. There is a chrome exhaust, a rear-mounted spare tire, and blue painted wire wheels with chrome-plated hubcaps riding on wide whitewall tires. The interior is brown leather upholstery and there is a rumble seat in the rear.

In 2008, this car was brought to the 2nd Annual Vintage Motor Cars of Hershey presented by RM Auctions where it was estimated to sell for $100,000 - $125,000. Those estimates were proven accurate when bidding reached $104,500 including buyer's premium. The lot was sold.
By Daniel Vaughan | Oct 2008
Ab Jenkins took an Auburn to the Bonneville salt flats in July of 1935 where he set 70 records including posting a flying mile at 104.17 mph, 1,000 miles at 102.77 mph, and averaging 102.9 mph for 12 hours. In recognition of this accomplishment, Auburn affixed a plaque on the dash of every 851 and 852 Speedster stating that Jenkins had exceeded 100 mph with it.

The eye-catching styling and proven performance inspired more replicas and tributes than any other All-American automobile.

This example is a 1936 Auburn 852 Supercharged Dual Ratio Speedster. It has been in the care of its current owner for the past twenty-plus years, since the mid-Eighties. It has a Senior National First Prize badge dated from 1976. It is finished in bright red with beige leather upholstery. It rides on wide white wall tires on body colored steel wheels with hubcaps and trim rings. It is well equipped with a beige cloth soft top and matching side curtains packed appropriately in the tiny trunk next to the matching spare wheel and tire.

The car has been restored since new. Power is from a 279.9 cubic-inch eight-cylinder L-head inline engine with supercharged, rated at 150 horsepower, and riding on a 127-inch wheelbase. There is a three-speed gearbox and four-wheel hydraulic brakes.

In 2009, this 852 SC Dual Ratio Boattail Speedster was offered for sale at the Houston Classic Auction in Seabrook, Texas, presented by Worldwide Auctioneers. The lot was estimated to sell for $360,000 - $390,000. As bidding came to a close, the lot had failed to sell after achieving a high bid of $300,000.
By Daniel Vaughan | May 2009
| | | |
| --- | --- | --- |
| | | Supercharged Dual Ratio Phaeton Sedan |
The 1936 Auburn 852 Phaeton was powered by an inline Lycoming eight-cylinder engine. Fitted with a supercharger, this motor is capable of producing 150 horsepower. The wheelbase measures 127 inches. The supercharged phaeton was priced at $1725.

The Auburn 852 was the company's last hurrah for the Auburn Automobile Company. As was the case with many of the independent manufacturers, their final products were often among their best. The styling, introduced in 1935, was the last Gordon Buehrig designed Auburn line to see production. Sales of the Alan Leamy designed Auburns were sluggish, and production of the 1934 line was ended mid-year. Gordon Buehrig was given the task of designing and implementing the new 1935 line with a budget of just $50,000. Using the basic design of 1934, Buehrig changed the front end and the hood removing the Auburn design hallmark of the hood molding. The result was the elegant, graceful, and smooth design that was carried through to the 1936 Auburn line.
By Daniel Vaughan | Jul 2010
| | | | |
| --- | --- | --- | --- |
| | | | Supercharged Dual Ratio Cabriolet |
1936 was the final year for production of the Auburn Automobile. The company went out with style building memorable classics such as this right hand drive, supercharged Cabriolet. This example was built for export to England, and is fitted with European style trafficators, the small, illuminated indicator arms that emerge from slots in each side of the car to forewarn a turn. The individuals who donated this vehicle to the Auburn Cord Duesenberg Museum spent six years researching and gathering parts for the restoration of this automobile. When the restoration was completed in 1983, the car captured a successive string of impressive awards including the Best Senior Class Car in the United States from the Antique Automobile Club of America. When the vehicle was donated in 1984, it was the finest restored Auburn in existence.
By Daniel Vaughan | Jul 2010
This example is one of about 13 852SC Cabriolets remaining, and it is equipped with the supercharged engine, Philco radio and Columbia two-speed axle. It has had a full nut-and-bolt restoration in the fall of 2003. The exterior is finished in a shade of maroon, with cream colored painted wheels and period-style wide whitewall tires. The interior and rumble seat are finished in tan Connolly leather, and there is a tan convertible top that folds neatly underneath the matching tan tonneau cover.

In 2010, this Auburn 852SC Cabriolet was offered for sale at the Vintage Motor Cars of Meadow Brook event presented by RM Auctions. The car was estimated to sell for $80,000 - $120,000. As bidding came to a close, the car had been sold for the sum of $93,500 including buyer's premium.
By Daniel Vaughan | Aug 2010
Launched at the beginning of 1935, the Auburn 851 was made famous by Ab Jenkins who completed a 12-hour drive averaging over 100 mph in a completely stock Supercharged Speedster. To commemorate this record all Supercharged Speedsters had a plaque mounted on the dashboard. In its first year the 851 sold incredibly well with a production run of close to 5,000 cars. For 1936 very little changed, but for marketing reasons the model was renamed the 852. This 852 Supercharged Speedster is the second to last built and is the only known model to survive with its original wooden frame forming the boattail body.
In spite of the lingering effects of the Great Depression that gripped the United States and most of the world car designers continued to find inspiration and hope and produced some of the most memorable and remarkable custom coachwork. This wasn't just relegated to the Bugattis, Duesenbergs or Mercedes-Benzes of the world, there would be others that offered some truly fantastic and provoking designs. One such company could be found in Auburn, Indiana.

Born out of the Eckhart Carriage Company, Auburn Automobile Company would begin producing automobiles as early as 1904. By the 1920s, the company would be partnered with the Duesenberg Corporation. Having such a partnership helped the company employ some of the best and most imaginative designers. Alan Leamy would be one of those. He would go on to produce the well-respected Auburn Speedster and the 654 Cabriolet.

Having a motor racing influence, Auburn's designs would be futuristic, sleek, and yet, very elegant at the same time. Perhaps no design better embodied this than the Boattail Speedster.

The brainchild of Gordon Buehrig, the Boattail Speedster would be nothing but a work of art from nose to tail, each and every one that would be produced. It featured the Art Deco influences of the day, but also, the aerodynamic influences of tomorrow.

By the time the Boattail Speedster came onto the scene Auburn was already barely standing on its final leg. Production would cease in 1937, and this meant the number of Boattails would be small. In fact, between 1935 and 1936 just a total of 147 examples would be built, each one pieces of art from a gallery that was soon to close its doors.

Chassis 33914E would be one of those 147 and would be completed in 1936. One of the options offered at the time was the car could be painted in nearly any conceivable finish. This particular car would virtually stand alone among the others of its day as it boasted a striking hue of maroon and dark brown that only became more and more intriguing with different levels of light. But the finish wouldn't be the only exciting aspect to the car. Only the 147 examples that would be built between 1935 and 1936 would make use of the EX-32 Stromberg carburetor. Inspection of the car would reveal it still had this uncommon feature. Complete with the dramatic shape, unique engine and carburetor, exquisite finish and the undeniable exhaust, this Boattail certainly demanded respect.

It would be out of respect for the design and its inspiration the car would undergo an extensive restoration beginning in 2002. One of only about 50 examples of the Boattail Speedsters, no expense would be spared and as much of its original qualities would be kept. This would include the deeply stunning exterior finish and many other details.

Upon completion, the car would take part in the 2003 Meadow Brook Concours d'Elegance. The work would be recognized and rewarded as the Auburn would come away with the People's Choice Award. This would attract the attention of the Petersen Automotive Museum and a deal would be struck sending the car to the museum for a period of about three years before it was again purchased, this time by Paul Petrovich of Sacramento.

The car would receive an invitation for the 2011 Pebble Beach Concours d'Elegance and this would spark another, very detailed, restoration effort in which every small detail, even the original factory measurements of the splash pans, would be sought after and applied in order to make the Boattail as correct as possible. The efforts would be rewarded and the car would come away having earned the Editor's Choice award. This would lead to a Best in Show at the Niello Concours in El Dorado Hills, California.

A fine, award-winning example of the masterful Auburn Boattail Speedster, chassis 33914E would be made available for purchase as part of Gooding & Company's Scottsdale, Arizona auction in January of 2015. Striking and evocative from almost every angle, this Auburn would draw pre-auction estimates of between $700,000 and $850,000.
By Jeremy McMullen
The success of the vehicles and the survival of the company up to this point were due mostly to Erret Lobban Cord. The Auburn Company had come into existence in 1877 producing wagons. In 1903 the direction of the company switched to creating automobiles, their first being a one-cylinder chain-driven runabout. The styling and diversity of the vehicles evolved over the years, as did the mechanical capabilities and technological innovations. The Great Depression had taken its toll on the Auburn Company and was headed to receivership when it was rescued by William Wrigley. Cord was recruited to assume the duties of general manager. This fast-talking, energetic, sales man, though less than thirty years old, was the right man for the job. By applying new paint to a parking lot of excess vehicles, Cord was able to sell over 750 cars in just a few months. This earned him the title of vice president and in 1926 he became president and primary stockholder of the Auburn Company.

Throughout the next few years, the Auburn/Cord Company would experience highs and lows. The L-29 featured front-wheel drive, a first in the industry.

Designer Gordon Buehrig and engine designer Augie Duesenberg were tasked with creating a new design for 1935. A V-12 Speedster was used as a starting point. The front-end, cowl, and bonnet were completely reworked. It was given a convertible body-style that was low and complimented its small side windows. The masculine look of the Auburn 851 was due in part to its teardrop headlamps, chrome exhaust pipes, pontoon fenders, and newly styled grille and hood.

Under the hood lurked a 279 cubic-inch eight-cylinder engine. An existing six-cylinder engine had been outfitted with two additional cylinders while keeping the bore and stroke the same. The result was a 115 horsepower in natural aspiration form and 150 when outfitted with the Schwitzer-Cummings supercharger.

The vehicle was put through its paces at a 24-hour endurance run in the Bonneville Salt Flats with driver, Ab Jenkins proving the vehicle was capable of exceeding 100 miles per hour.

The car was introduced in 1935 and expectations were high but sales were low. Just over 5,000 examples were sold during its initial production year. For 1936 the name was switched to 852 and this did nothing to help sales, with just 1850 vehicles sold.

Unfortunately, in 1936 the Auburn Company went out of business. The Auburn 851's exclusivity is guaranteed by it limited production. It is a wonderful creation and hinted at what might have been if the company would have stayed in business. It was unique and distinctive.
By Daniel Vaughan | Nov 2006
For more information and related vehicles, click
here
MERCEDES-BENZ 2014 G63 AMG: THE ULTIMATE G-CLASS
The latest technology for the AMG off-road icon: the new 2014 G63 AMG impresses with a state-of-the-art powertrain, expressive new design and improved efficiency. All this is largely attributable to the AMG 5.5-liter V8 biturbo engine delivering 536 hp and the AMG SPEEDSHIFT PLUS 7-speed automatic transmission. Every new AMG high-performance vehicle offers an outstanding mix of 'more power from less fuel' – and the G63 AMG is no exception. The 'strong man' in the AMG model range has been furt...[Read more...]
1953 FERRARI 375 MM SPIDER LEADS LATEST HIGHLIGHTS FOR RM'S MULTI-MILLION-DOLLAR MONTEREY SALE
• RM Auctions secures a championship-winning 1953 Ferrari 375 MM Spider competition car for its flagship Monterey, California, sale, August 16–17, after single ownership for 45 years • Also announced are a 1939 Mercedes-Benz 540K Special Roadster, a 1958 Lister-Jaguar 'Knobbly' Prototype, and a 1960 Aston Martin DB4GT • Sale held during the Pebble Beach Concours d'Elegance motoring week features no less than 25 automobiles estimated to fetch in excess of $1,000,000 each • Complete list of en...[Read more...]
Magnificent Series of Coachbuilt Classics To Grace RM's Amelia Island Concours D'Elegance Sale
• RM Auctions returns as the official auction house of the Amelia Island Concours d'Elegance, March 9, 2013 • Single-day sale features breathtaking roster of more than 80 investment-quality collector cars • Notable highlights include an outstanding series of coachbuilt classics headlined by a multi-million-dollar 1935 Duesenberg Model SJ Walker-LaGrande Convertible Coupe and a trio of Cords from the personal collection of Jim Fasnacht • Frequently updated list of entries available online at r...[Read more...]
Lost Mercedes - Surfaces At Bonhams
One owner, unrestored, supercharged 'S' Type Mercedes to be sold by Bonhams at Goodwood Revival this autumn One of the greatest and most important motor car finds of the last decade, the 'Lost Mercedes' is to be offered at Bonhams Goodwood Revival sale on Saturday 15th September 2012. Bonhams announced today that it has been commissioned to sell a recently discovered 1928 Mercedes-Benz 26/120/180 'S' Type Sports Tourer which almost without precedent for motor cars of this type and d...[Read more...]
Worldwide's fifth annual The Auburn Auction to be held at the National Auto and Truck Museum
In recent years, Worldwide Auctioneers has established its annual catalogue event, The Auburn Auction, as an integral part of the Labor Day festivities at the long standing Auburn Cord Duesenberg Festival Weekend. This year the fifth annual event will be at the heart of the action, with today's announcement that The Auburn Auction will take place in the historic setting of the National Auto and Truck Museum (NATMUS), housed in the former factory L29 Cord building of the legendary Auburn Automobi...[Read more...]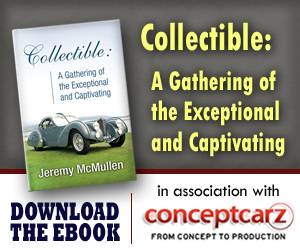 © 1998-2014. All rights reserved. The material may not be published, broadcast, rewritten, or redistributed.