1964 Jaguar XKE E-Type news, pictures, specifications, and information

Tweet
| | |
| --- | --- |
| | Roadster |
The new Jaguar roadster unveiled at the March 1961 Geneva Auto Show looked more like a racing car than a production model, and it was, indeed, based on a racer - Jaguar's own Type D. Known as the Type E in Europe and called the XK-E in the United States, it could surpass 150 mph. Looks, performance and a price below $6,000 - this car had everything. Completely different in appearance from its XK predecessors but powered by a 3.8-liter version of the same six-cylinder engine, the XK-E roadster (and accompanying coupe) were the products of wind-tunnel research that shaped the radically aerodynamic form. Built around a central monocoque, the XK-E had front and rear tubular subframes to support the engine, and it had Jaguar's first four-wheel independent suspension.
This Jaguar E-Type Roadster has an aluminum bonnet, doors, and hood, and was built to race specification. Jaguar E-Type 880115 was ordered directly from the factory in 1963 by Toronto-based Hugh Sutherland to compete in the 1964 LeMans 24-Hour race. Hugh Sutherland with accomplished drives for the Aston Martin factory team at LeMans and the Austin Healey factory team at Sebring, ordered this specially prepared competition Jaguar with a steel monocoque, 2.8 competition engine with high compression head, lightened flywheel, competition clutch, close ratio gearbox, racing specification cool-ducted larger front brakes and special offset wheels. Hugh also arranged with the factory to fit his newly delivered car with additional 'Lightweight' specification aluminum bonnet, hood, boot-lid, and doors as well as a 5-speed gearbox. The car was delivered at the factory and registered with the factory numbers '6321 WK.'

6321WK was accepted for LeMans in 1964, with Sterling Moss and Hugh scheduled as the drivers: however, Mr Sutherland's sponsorship for the race did not materialize and he was unable to take the car to the LaSarthe event. 6321WK subsequently returned to Canada with Hugh, where he had occasion to race the car at club events.
| | | |
| --- | --- | --- |
| | | Coupe |
This E-Type Fixed Head Coupe S1 4.2 was built in November of 1964 and is number 299 of the first left-hand drive models. It is also a direct California import, which is indicated by J65 on the California registration and aluminum plate on the body. This vehicle had been garaged and off the road since 1976 with a blown gasket. The present owner purchased the car in 2006 and was treated to a complete restoration.
This 1964 Jaguar Series I E-Type Roadster was offered for sale at the 2007 RM Auctions held in Amelia Island, Florida. The car was offered without reserve and estimated to sell between $60,000 - $75,000. It is equipped with a 3781cc twin-overhead cam inline six-cylinder engine capable of producing 265 horsepower. There is a four-speed manual gearbox and four-wheel disc brakes. It has been treated to a full restoration and has traveled less than 40,000 miles since new.

The E-Type was Jaguars first production vehicle not to use a separate body bolted onto a rolling chassis. The E-Type employed the modern design of a monocoque body tub attached to a tubular framework. The hood was hinged in the front and opened upwards. Lying underneath the long bonnet was the engine, which was bolted directly to the framework. The front-hinged hood design had been borrowed from the C-Type and D-Type Lemans racers. This gave complete access to the engine, front suspension, and the firewall.

The E-Type was the first production vehicle to have a top speed in excess of 150 mph.

This example has traveled just 39,600 miles since new. It was recently rebuilt by Jaguar of Denver. It exterior of the car is finished in red with a black interior and top.

At auction, the car was sold for $56,100, falling just short of the estimated value. Since it had been offered without reserve, the car was sold.
By Daniel Vaughan | Aug 2011
The successor to the XK-150 was the E-Type which began development in 1956 and was enriched by the technical experience acquired in three straight victories at the LeMans 24-hour race - 1955, 1956, and 1957. Those wins were scored by the D-Type, a pure racing machine. To exploit the on-track success, it was only logical to call the new car the E-Type.

Though the E-Type was not conceived as a race car, it did make one LeMans appearance in 1962 where it finished fourth. The 265 horsepower, 3.8 inline six-cylinder engine delivered formidable performance the day, giving it a zero-to-sixty mph time of just 7.1 seconds with a top speed of almost 150 mph, according to Motor magazine.

The performance was impressive but the sensuous curved and elegant proportions of Malcom Sayer's styling which created the most allure. Enzo Ferrari called it 'the most beautiful car ever made,' and an E-Type roadster has a spot in the permanent collection of New York's Museum of Modern Art, one of only two automobiles so honored.

The current owners of this 1964 Series I roadster purchased it in 2004, and gave it to Gerry Bonani's Classic Car Restoration to return it to Jaguar Heritage Trust Certificate specifications.
This Jaguar E-Type was produced in October of 1964. It has been given a recent cosmetic and mechanical refreshing, on top of a ground-up restoration that was completed in the late 1990s. It has been recently been repainted in its original exterior color of black. The red leather interior is also original with this car.

Power is from a 3781cc six-cylinder, dual overhead cam engine fitted with three SU carburetors and offering 265 bhp. There is a four-speed manual gearbox and four-wheel hydraulic disc brakes.
By Daniel Vaughan | Feb 2014
This roadster, the 'Bouillot Helsel E-Type' began as a right-hand drive Series 1 Coupe. The roof was removed, the steering wheel switched sides, and numerous mechanical upgrades were installed. It was originally shown at the London Motor Fair at Earls Cour in 1983. For the sum of £50,000 the car featured a 5-speed Jaguar synchromesh gearbox, beefed up suspension and an aesthetic makeover that was both striking and luxurious. It had matching luggage, a plus leather interior with burled walnut dashboard fascia and its own style of knock-off hubs. The Bouillot Helsel E-Type was finished in their own cream and burgundy throughout and a 'BH' insignia can be found across the headlining and on the luggage, while a chrome 'Bouillot Helsel' signature can be found on the lower hood edge.

It is unclear how successful the venture was and this may be the sole example produced. The car remains as a bold attempt at improving upon the original E-Type concept. It has a 3781cc dual overhead cam 6-cylinder engine fitted with 3 SU carburetors. There is a five-speed manual transmission and four-wheel disc brakes.
By Daniel Vaughan | Nov 2014
The Jaguar E type, also known as the XK-E, brought style and performance together to create a mass-produced supercar. The road-going sports car was conceived in 1956 as a replacement for the D-type. In March of 1961 the E-Type was officially introduced to the world at the Geneva, Switzerland Motor show.
It's design was created by an aerodynamic engineer named Malcolm Sayer. The front engine, rear-wheel drive vehicle featured a moncoque body and a tubular front chassis. The six-cylinder double-cam engine had three SU carburetors and produced 265 horsepower. The suspension was independent with disc brakes on all four wheels. It brought together the best or aerodynamics, coupled with the latest technology and propelled by a potent engine. The vehicle was not only fast, it offered excellent performance and handling. Some of the most common complaints it received were the cabin being too cramped and it suffered from poor ventilation.

The E-Type was a popular vehicle. It was fast, performed well, and was competitively priced. Due to the United States safety and emission regulations, some of the horsepower was lost. The headlamp covers were also removed prior to the close of the 1960's.

A 4.2-liter engine and synchromesh gearbox was introduced in 1964. In 1966, the 2+2 coupe was introduced and featured a longer wheelbase. The Series II cars were not as quick as its predecessors. The Series III, however, was a different story. Powered by a V-12 engine they were once again able to propel the E-Type over 145 miles per hour.

Production for the E-Type ceased in 1975, after 72,520 examples being produced. It was replaced by the XJ-S; a vehicle that was larger, heavier, and not as visually appealing.
By Daniel Vaughan | Mar 2006
For more information and related vehicles, click
here
The Trident is Raised
One of Italy's most famous marks, and perhaps most troubled, the trident-bearing automaker continues to provoke passion through its search of excellence. Five brothers would come together in December of 1914 to found a motor company bearing their name—Maserati. Alfieri, Bindo, Carlo, Ettore and Ernesto had all demonstrated a passion for automobiles, particularly racing, during those early years at the turn of the 20th century. The foundations of the company would actually begin ...[Read more...]
THE CHOICE OF CHAMPIONS' WITH 23 OVERALL WINS IN 26 YEARS
• Supplying 90% of Teams, Brembo Triumphs in LMP1 & GTE-PRO
LE MANS, France, June 15, 2014 – In the world of motorsports, this weekend's 82nd running of the 24 Hours of Le Mans is the ultimate bench test for automotive development…always evolving, sometimes revolutionary, almost always changing…except for the teams' choice of Brembo brakes – the 'Choice of Champions!' This year's evolution was based on new regulations requiring the Le Mans LMP1 prototypes to get the most spee...[Read more...]
ASTON MARTIN TARGETS LE MANS SUCCESS WITH FIVE-CAR ENTRY
Le Mans, 17 June 2013 - Aston Martin Racing prepares for its most ambitious assault on the 24 Hour of Le Mans as it takes five Vantage GTEs – the team's largest entry to date – to the world-famous endurance race this weekend (22-23 June). The 2013 event is set to live long in the memories of racing fans as Aston Martin celebrates its centenary and the 24-hour event marks its 90th anniversary. The team returns to the Circuit de le Sarthe in a strong position as it leads the FIA World...[Read more...]
Montezemolo: 'Ferrari Must Remain Exclusive'
Maranello, 8th May - Luca di Montezemolo addressed more than 250 members of the media today at the Maranello factory to explain key areas of the business to the media, as well as announcing impressive results for the first quarter of 2013. 'I base my plans for Ferrari on four key areas,' said Montezemolo. 'Our team spirit, our passion, our extreme technology and our exclusivity' this is how he summed up his feelings to the assembled journalists from over 30 countries. Montezemolo a...[Read more...]
1955 Tourist Trophy: One Last Victory
The tragedy at Le Mans on the 11th of June, 1955 would dramatically affect motor racing. For one of the manufacturers involved, Mercedes-Benz, it would be a confirmation of what it had already come to believe. Toward the end of the 1955 season it was known Mercedes-Benz would withdraw from all motor racing having achieved just about everything possible in Formula One and sportscars. However, on the 18th of September, there would be one last race in which the mighty Silver Arrows would be gunning...[Read more...]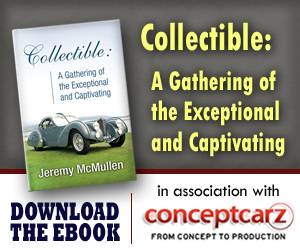 Jaguar
Monthly Sales Figures
Volume
December 2014
1,683
November 2014
1,253
October 2014
1,007
September 2014
1,142
August 2014
1,184
July 2014
1,187
June 2014
1,263
May 2014
1,304
April 2014
1,035
March 2014
1,816
February 2014
1,552
January 2014
1,347
(More Details)
© 1998-2014. All rights reserved. The material may not be published, broadcast, rewritten, or redistributed.