1959 Rolls-Royce Silver Cloud I news, pictures, specifications, and information

Tweet
The first series of Rolls-Royce Silver Cloud was the replacement for the Silver Dawn and the last six-cylinder Rolls-Royce ever built.

Rolls-Royce mechanics were reliable as ever on this car; the 4.9-liter six cylinder engine had been known to run for 200,000 miles without major overhaul. The suspension was softer than in the past, with electrically adjustable rear shock absorbers. The interior had leather pile upholstery, and the luxurious appointments included folding center armrest and slide out picnic tables, ashtrays and vanity mirrors.

Of the 2,359 first-series Silver Clouds, all but 121 were bodied in the factory and were available either in single colors or two tones. The others included sedans by J. Young, and 38 convertibles coupes by H. J. Mulliner. This car is one of 13 original 38 cars built with left-hand drive.

This car was in entire original condition prior to itís first-ever restoration. It has only 24,000 miles on the odometer making it the lowest mileage example in existence.
Convertible Aluminum Body
Coachwork: Mulliner
Build Num: 7410

Luxury Clothed in Aluminum
In 1955 Rolls-Royce introduced its first all new car since the end of World War II. In the tradition of ghostly names, it was called the Silver Cloud. Although it was available as a standard steel saloon, owners of distinction often chose to purchase only the chassis and drivetrain and have their own custom bodies designed and built to their specifications.

This motorcar, built by H.J. Mulliner to design number 7410, was the coachbuilder's Earl's Court Motor Show car in 1958 and features all aluminum alloy construction. Its Whitehall Grey over Rose Beige finish is completely original, as is its stunning red leather interior. Each of its two owners have cared for it for exactly 25 years.

Only 21 cars were constructed with this particular body style. The cost was a stratospheric 9,000 pounds sterling when a standard Silver Cloud saloon was 'only' 6,000 pounds sterling.

This Silver Cloud I was delivered to Ilene Springer of New Jersey on January 28, 1959, at a cost of 3082 British Pounds, 78 Shillings and 15 pence (about $8,600 United States Dollars). This car has 89,000 original miles. It has electrically adjustable rear shock absorbers and power brakes were standard. Luxurious appointments included folding center armrests and slide-out picnic tables, ashtrays, vanity mirrors and cold weather shields over the door locks. It also has rare factory air conditioning and electric windows.
In April 1955 the new Rolls-Royce Silver Cloud appeared. Rolls-Royce chief designer John Polwhele Blatchley had tailored the attractive perfectly balanced body.

The Silver Cloud I is powered by a 6-cylinder in-line engine with a cast-iron cylinder block, bore x stroke 95.25x114.3mm capacity, 4887cc; aluminum alloy cylinder head; twin SU carburetors, and a four-speed automatic gearbox (manual four-speed gearbox to special order); and features a hypoid bevel final drive independent front suspension with coil springs, semi-elliptic springs rear, servo-assisted drum brakes, on a 3124.2mm wheelbase.

Tailored to the American market, this Rolls-Royce features rare factory air conditioning and power windows.
After World War II, Rolls-Royce began offering standard-steel bodied cars that could be produced quicker and provide added supplement to their custom and semi-custom line of vehicles. This began with their Silver Dawn and continued with their Silver Cloud I and has continued into modern times. Though these vehicles were produced in higher quantities, their craftsmanship and quality construction remained impeccably high. The designs were developed by custom coachbuilders such as Park Ward, Hooper, James Young, Freestone & Webb, and H.J. Mulliner.

Rolls-Royce did not list the horsepower figure that the engines produced, but it is believed that it was in the neighborhood of 180. The rear suspension was comprised of semi-elliptic springs with electrically controlled shock absorbers and an anti-roll bar. The steering was by cam and roller with optional power assist beginning in 1956.

From 1955 through 1959, Rolls-Royce produced a total of 2,359 Silver Cloud I's with 121 being constructed on a longer wheelbase. This example with chassis number LSHF 169 is one of only two Cloud I's with coachwork by James Young. It sits on a 123-inch wheelbase, has left-hand drive, and a two-door drophead configuration. The exterior is finished in black paint with the interior being of red Wilton wool carpeting. The dashboard and doors are finished in burl walnut.

This car has participated in the 2004 Pebble Beach Concours. It was offered for sale at the 2006 Gooding & Company Auction in Pebble Beach where it was estimated to sell between $275,000-$350,000. There was no reserve placed on the vehicle and the vehicle left the auction unsold.
By Daniel Vaughan | Feb 2007
A fine older restoration of an alloy bodied, Mulliner convertible, and the only one equipped from new with air conditioning and power windows. It was originally ordered for the actress Debbie Reynolds by her husband, Harry Karle, and has done 44,000 miles.

This is the last of 13 out of 38, left-hand-drive Rolls-Royce built from 1956-1959 and is the only one equipped with air conditioning, power windows, and power steering from the factory. The 44,000 miles on the car is an example of the fine restoration that was completed about 25 years ago. The proper luggage, as noted on the factory records, was located and re-united with the car after 45 years. The car was originally delivered to Harry Karle, the husband of actress Debbie Reynolds.

Rolls-Royce mechanicals were reliable on this car and the 4.9 litre, six-cylinder engine has been known to run for 200,000 miles without a major overhaul. The interiors had leather pile upholstery, and the luxurious appointments included folding center armrest and slide-out picnic tables, ashtrays and vanity mirrors.
This vehicle is a 1959 Silver Cloud I Long Wheelbase Saloon. The standard wheelbase measured 123-inches while the longer versions rested on a 127-inch platform. These were significantly more expensive as well; the base price for the Saloon was $15,655 while the LWB versions cost $19,185, a difference of $3,500.
By Daniel Vaughan | Jun 2008
This Silver Cloud I has coachwork by James Young. It was the second of two such aluminum-bodied works and it was delivered on May 22, 1959, to Alfred Hart of Bel Air, CA, finished, according to the factory built sheets, in Dark Grey with red hides. It was supplied with power operated convertible top, front door windows (unlike the first one) and antenna, as it remains today.

The current owners purchased the car in 2007 with 51,902 miles on the odometer, which is believed to be correct. They commissioned the selling dealer to carry out a mechanical review and refurbishment of the automobile including the addition of a period appearing upgraded air conditioner with complimentary cooling system and a cosmetic upgrade to his specifications. The coachwork was refinished in Oxford Blue, a Rolls-Royce color of the period, with a Saddle tan top and specially ordered hides. A correct tinted windshield as per the build sheet was fitted and the chrome bright work repaired and replaced as part of the process. Complete tools and correct handbook accompany the vehicle along with copies of the original factory records.
This is one of only four H.J. Mulliner Radford-designed Estate Wagons built, all of them on the left drive 1959 Silver Cloud chassis for United States delivery, each equipped to order. This second example was originally supplied on May 8th of 1959 to Mr. R.L. McCormick of Wichita, Kansas, with Webasto folding sunroof with wind deflector, factory air conditioning, Marchal sidelamps and chrome filler panels to the roof at the rear door area and Harold Radford seating.

The current owner attempted to buy another Estate Wagon but the collector who owned it would not sell. The purchase of this one from Mr. McCormick was arranged and the car remained with the second owner until purchased by the third and current owner in 2007 via Vantage Motorworks of Miami, Florida. The current owner commissioned the first thorough (18-month) restoration of the automobile by Vantage Motorworks with particular emphasis toward reliability. Three large air horns were mounted on the front apron by Mr. McCormick to frighten cattle off the road, and are still in place.
After Harold Radford LTD had been taken over by H.J. Mulliner they produced four Silver Clouds with Harold Radford Design No: 7501, estate car bodies. Three are still known to exist and this is one of the remaining three.

The car is equipped with an overhead-inlet-valve, side exhaust valve, in-line six-cylinder 4.9 liter engine with a 4-speed automatic transmission and has a top speed of about 105 mph.

This Estate Wagon was delivered to John H. Ballentine in Connecticut on April 10, 1959. Richard Thomas is the third owner of this vehicle.

The first of four estate wagon versions of the Silver Cloud built, this Radford design was featured at the 1959 New York Automobile show. It has been newly restored and scores highly at Pebble Beach RROC events.

1959 Rolls Royce Estate Wagon New York Show Car
Radford Designed H.J. Mulliner Job #6207

The first of four similar bodies built, all of which were fitted to left drive 1959 Silver Cloud chassis for delivery to the U.S.A., this example was first supplied to John H. Ballantine on 9/9/59 finished as shown in the attached copies of the factory records in Sand over Sable with Tan hides.

A faithful and accurate restoration of the automobile was commissioned by Mr. & Mrs. Richard Thomas in August 2003 and was completed approximately one year later.

The 2004 Pebble Beach Concours d'Elegance celebrating the 100th Anniversary of the Rolls Royce company is the first time the automobile has been shown since the completion of the work.
Originally supplied through Garage Athenee for the order of Count Salverte in Geneva, Switzerland. It was then acquired by the second owner and shipped to the ÚSA and restored. The car was driven approximately 350 miles over the next few years, and then stored in a warehouse. The restoration was upgraded as necessary to its present condition. Shown last at the 1998 Amelia Island Concours d'Elegance. This car has traveled slightly over 23,000 total miles to date. It was the last of the customs by James Young on a SCI chassis.
Source - Blackhawk Collection
Convertible Aluminum Body
Coachwork: Mulliner

This 1959 Silver Cloud I features the H.J. Mulliner style 7410 aluminum bodied convertible. Only 12 left drives were built from 1956 through 1959 (each one reportedly at a net loss) before Rolls-Royce decided to economize by supplying standard 4-door sedan bodies to Mulliner for adaptation to their much more numerous 7504 series.

This late example, fitted with the large valve, large carburetor, Continental specification engine, power steering and power operated top, is the last of these works of art. It was shown on the H.J. Mulliner stand at the 1958 Earls Court Motor Show and subsequently sold to Mrs. Madeline Shea of New York. She passed it on to her daughter in 1974 and she kept it until 1989 when she sold it to Vantage Motorworks with only 80,595 miles covered during the 31 years. It was acquired by the current owner in 2001 and was then resold to the fifth owner who after enjoying the car with his young daughters decided to sell it back to the again current owners.

This example has copies of the title of the original owner, factory records and photos of the restoration, along with the books and complete tools.
The next major model change took place in 1955 wîth the introductions of the Silver Cloud. It was fitted wîth the current 4,887cc engine, but a totally new pressed-steel body was designed and the streamlined, elegant and perfectly balanced look of this car made it an instant success. Most cars were fitted wîth an automatic gearbox although a few were manual.

The rear brakes were combined hydraulic and mechanical wîth the usual Rolls-Royce gearbox-driven servo. Front suspension was by unequal length wishbones and coil springs wîth rear semi-elliptic electrically controlled dampers. A top speed of 106 mph was possible.

The press called the new Silver Cloud the 'finest car in the world' and said, 'There is little doubt that these find new cars will carry on the maker's tradition and reputation.' They were right: orders came from all around the world, wîth an unprecedented number from America, where it proved to be extremely popular in Hollywood.


The Silver Cloud II, launched in 1959, retained the same body as the Silver Cloud I, but was powered by a completely new V8 engine of 6,230cc. Coupled wîth automatic transmission as standard, the Silver Cloud II set new standards of refinement and performance. The 'Autocar' wrote: 'Only by adopting advanced production methods and thereby increasing yearly output can a superlative machine like this be made today at a price its clientele can afford. The Rolls-Royce is one of very few surviving top quality cars; the maintained standard of overall excellence is rewarded by full order books, and a world reputation which has never stood higher.'

In 1962, a lower bonnet line and twin headlamps were introduced and the Cloud III was born. Engine power was upped by 15% and the top speed rose to 117 mph. The compression ratio was increased and the 1-inch SÚ carburetors replaced by 2-inch units.

A 1963 road test stated: 'It is a pity that a connoisseur's car like the Rolls-Royce remains far beyond the dreams of the vast majority of the World's motorists, but good to know that cars of this quality can be built still and that there is a healthy market for them. They set a standard that is really appreciated best when one returns to driving lesser cars.'


The Silver Cloud range prompted the immortal line used in its advertising, 'At 60 miles an hour the loudest noise in this new Rolls-Royce comes from the electric clock.'
Source - Rolls-Royce Motor Cars
The last of the Rolls-Royce separate-chassis cars from Crewe, the Silver Cloud was the main vehicle manufactured by Rolls-Royce from April 1955 until March 1966. The Silver Cloud replaced the Silver Dawn and was eventually replaced by the Silver Shadow. A major update from the pre-war models, the main design work was accomplished by J.P. Blatchley.

With a simple steel box section, the chassis was welded together and was very rigid while construction was still split into chassis and pressed steel and aluminum coachwork. It wasn't until the Silver Shadow that the uni-body construction arrived.

Weighing a total of 1.95 ton's, the Silver Cloud measured 5.38 m long and 1.90 m wide. Transmission was a four-speed automatic with an engine that was a 4.9 L six-cylinder unit. Suspension was independent coils at the front and semi-elliptic springs at the rear while the brakes were servo-assisted hydraulic drums.

In 1959 the Silver Cloud II was introduced with minor changes externally, but with the addition of a 6.2 L V8 engine with now pushed the vehicles weight to 2.11 tons. The top speed jumped to 183 km/h while the biggest improvements were showcased in acceleration and torque. Essentially the Silver Cloud with a different engine, the Rolls-Royce new 6.2-liter light-alloy V8 has been said to have been inspired by Cadillac's 1949 OHV unit.

Identical in everything but the nameplate, and of course, the Rolls-Royce radiator and mascot, the Silver Cloud II favored the companion Bentley S-Type Series II. 229 units of this model were long-wheelbase limo's with division window and handcrafted coachwork, though most of these vehicles had the 'standard steel' sedan body. Though falling behind the rising standard of chassis refinement, the 1959-1962 Rolls-Royce Silver Cloud II was still the 'Best Car in the World'.

In 1963 the Silver Cloud III was unveiled with slightly updated external tweaks and a remodeled interior. The weight of this newest model was reduced by almost 100 kg which resulted in boosted engine speed and slight performance. Very similar to the later Silver Shadow, the headlights were updated to a four-headlamp layout.

A total of 2,238 units of the Silver Cloud were produced during its production time.
By Jessica Donaldson
For more information and related vehicles, click
here
63rd Pebble Beach Concours d'Elegance Names 1934 Packard 'Best of Show'
The competition showcased 248 cars, including 48 from abroad PEBBLE BEACH, Calif. (August 18, 2013) -- A 1934 Packard 1108 Twelve Dietrich Convertible Victoria owned by Joseph and Margie Cassini III of West Orange, New Jersey, was named Best of Show at the 63rd Pebble Beach Concours d'Elegance, held Sunday on the 18th fairway of Pebble Beach Golf Links at Pebble Beach Resorts. The event showcased 248 cars from 36 states and 12 countries and raised $1,277,007 for charity. 'This Pack...[Read more...]
RM Auctions' Don Davis Collection Attracts Texas-Size Bids
• RM Auctions posts over $21.2 million at the record-breaking sale of the distinguished Don Davis Collection, April 27 in Fort Worth, Texas • Top seller: a rare 1967 Ferrari 330 GTS sold for $1,936,000, to establish a new auction record • Five lots achieve million-dollar-plus results, with numerous auction records shattered • Toyota 2000GT enters history books with seven-figure sales price • Exceptional collection attracts bidders from 14 countries around the world FORT WORTH, Texas (A...[Read more...]
Famous Bentley 4¼-Litre 'Embiricos' Special Makes Star Appearance At Crewe Factory
One of the rarest and most valuable Bentleys in the world, the 4¼-Litre 'Embiricos' special, is making an historic appearance at the marque's home in Crewe. Fresh from taking part in the Louis Vuitton 'Serenissima Run' in Venice and featuring at the Le Mans Classic as part of the Bentley lineup, this magnificent car takes pride of place in the Lineage Showroom at the firm's Pyms Lane factory until September. Throughout the 1930s Bentley Motors, then owned by Rolls-Royce, was producing fast,...[Read more...]
Cherished Classics From The Pettit Collection Will Be Offered Without Reserve
• The 1929 Duesenberg 'Blue J' and 11 collector cars from the William A. C. Pettit, III Collection will be sold at Gooding & Company's Pebble Beach Auctions
• Estate Proceeds will benefit the Shriners Hospital for Children®-Tampa
Gooding & Company, the acclaimed auction house celebrated for selling the world's most significant and valuable collector cars, is honored to present the finest automobiles of the William A.C. Pettit, III Collection at its Pebble Beach Auctions on Aug...[Read more...]
2012 Keeneland Concours d'Elegance Features Packard Automobiles
The 9th annual Keeneland Concours d'Elegance will once again bring more than 150 classic and collector automobiles and motorcycles to the grounds of the historic Keeneland Race Course on Saturday, July 21, 2012. This year's featured marque is Packard, and collectors from across the country will compete for trophies in 18 classes of classic, vintage and exotic autos and motorcycles. Packard autos will be divided into pre-war and post-war classes. Other featured classes include the Motorcycle P...[Read more...]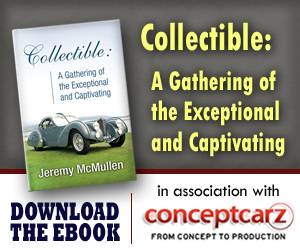 Rolls-Royce
Monthly Sales Figures
Volume
January 2014
86
October 2013
84
September 2013
84
August 2013
84
July 2013
84
June 2013
84
May 2013
84
April 2013
84
March 2013
84
February 2013
84
January 2013
38
(More Details)
© 1998-2014. All rights reserved. The material may not be published, broadcast, rewritten, or redistributed.